Florida Tops the List of the Highest Foreclosure Rates in the U.S. in 2014
Jan 23, 2015 January 23, 2015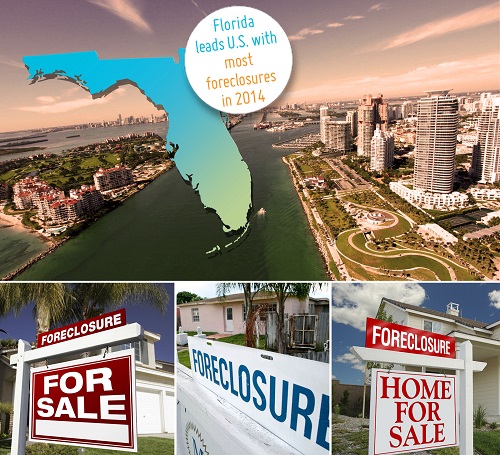 According to new end-of-year data, Florida has the highest foreclosure rate for 2014 out of all markets in the United States.
2.3% of all housing units in Florida had a foreclosure filing in 2014, the highest in the country. Other notable high foreclosure rate states were New Jersey, Maryland, Illinois, and Nevada.
Amidst the major cities, Miami was second in foreclosure rates in 2014 at 2.79%. Atlanta City was the only one to surpass Miami at 3.06% foreclosing. Three more Florida metro areas were next: Orlando, Palm Bay-Melbourne-Titusville, and Tampa, making four out of the top five areas on the list from Florida.
Florida ranked third in the states with the longest time taken, on average, to foreclose in the last quarter of 2014. Florida takes an average of 946 days, surpassed only by Hawaii and New Jersey with over 1,000 days to file.
For the past few years, Florida has been the state with the highest foreclosure rates. In 2011, Nevada was the highest, but 2012 to now, Florida reigns supreme.
Overall, foreclosures throughout the United States, which include default notices, scheduled auctions, and bank repossessions, reported over 1.1 million properties in the United States in 2014. That number is down 18% from 2013 and down 61% from the high-point of 2.9 million properties foreclosing in 2010.
Source: therealdeal.com
Photo credit: Aerial - 7-themes.com
Share your thoughts with us
Sign up now
Get news and updates delivered to your inbox