Flurry of Activities at Coconut Grove with Commencement of Construction and Pre-construction Sales Now Open for the Grove at Grand Bay
Dec 26, 2012 December 26, 2012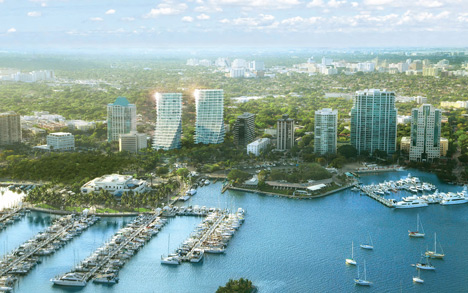 Mixed emotions rule South Bayshore Drive with the demolition of the Grand Bay Hotel, the only neighborhood five-star that has stood as a landmark in Coconut Grove since the 1980s, as we are now set to gain two iconic structures instead, together known as the Grove at Grand Bay. This set of "dancing towers", that seem to be in a tango of sorts from the way that they've been designed, has been declared to be developed into "the world's most highly evolved condominiums" by the Terra Group.
Miami based Terra Group is the developer team behind the Grove at Grand Bay condominium project and has already begun preparations for construction of the dancing towers. While the first week of February, 2013 has been decided as the date of commencement for construction, the Fall of 2014 is being anticipated as the time when the condo towers will be complete and ready to move in.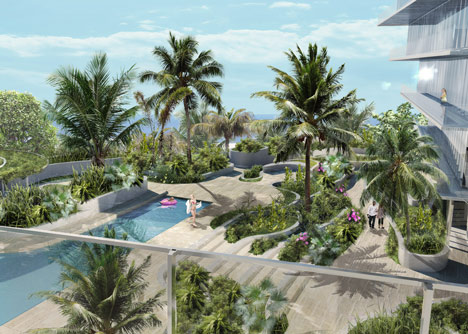 Also, with announcement of the pre-construction sales now being open, you have the unique chance to reserve yourself a handpicked spot in these futuristic towers that offer enviable, panoramic views of the marina, Sailboat Bay and Miami skyline. Read below for more information on these ultra-luxury residences.
A peek into what you can look forward to at the Grove at Grand Bay:
A handful of 96 luxury condos spread across two twisting, high-rise towers offering panoramic views of the Bay, idyllic Coconut Grove and exclusive 'Avante-garden' that shall be made part of the three acre property.
A unique bayfront residential complex that responds to its surroundings, designed by Bjarke Ingles of the Bjarke Ingles Group (BIG) who is best known for his edgy, yet sophisticated structures that are almost always considered to be a landmark in their respective communities.
An option of 2, 3, 4 and 5-bedroom chic residences and lavish penthouses.
A world-class residence that puts you at close proximity to various parks, shopping venues, leisure, nightlife and entertainment options in the tranquil Coconut Grove neighborhood.
An 'Infinite, Intimate' approach to amenities and services that not only indulges you in the best of South Florida living, but also pampers your kids and pets in a safe and secure premises.
For further details, click here.
Call Sep Niakan now at 305-725-0566 to reserve your spot.
Image Source: dezeen.com
Share your thoughts with us
Sign up now
Get news and updates delivered to your inbox