Fort Lauderdale and Palm Beach's New and Pre-Construction Condo Update: July 2022
Aug 08, 2022 August 08, 2022
While national markets may be starting to see shifts towards corrections, South Florida is still enjoying stability in its luxury markets after a more than a year exceptional housing demand from highly paid, work-from-home employees, wealthy transplants from major U.S. cities and international buyers. And developers in South Florida continue their bullish streak on luxury housing.
This July, we have Boca Raton-based Forest Development joining forces with Miami's Dan Kodsi to accelerate the completion of Nautilus 220. Savanna announced plans to build its three-tower Olara Residences in West Palm Beach. Jeffrey Soffer is proposing another beachfront condo in Tequesta. And, Palm Beach Shores' SeaSpray Beach Resort will be demolished to make way for a luxury condo..
Read below to find details on these and other projects in our monthly condo pre-construction market roundup for Fort Lauderdale this July 2022: 


---
Fort Lauderdale and Palm Beach Luxury Condos - Planned/Proposed
---

Savoy Residences – Tequesta, Palm Beach County
Billionaire developer Jeffrey Soffer has proposed a second beachfront condo in Tequesta at 300 Beach Road. Currently the site of a small condo built in 1967, Soffer's plans for Savoy include a luxury, 10-story building with 26 extra large residential units ranging from 3,915 to 5,695 units, three penthouses with plunge pools and private rooftops terraces, and two lanai units with pools.  
The Savoy will also offer residences a beachfront pool, a fitness center, a social room and a garage with 52 parking spaces. Robert Swedroe is the architect. In 2021, Soffer broke ground on SeaGlass Jupiter, another luxury condominium in Tequesta.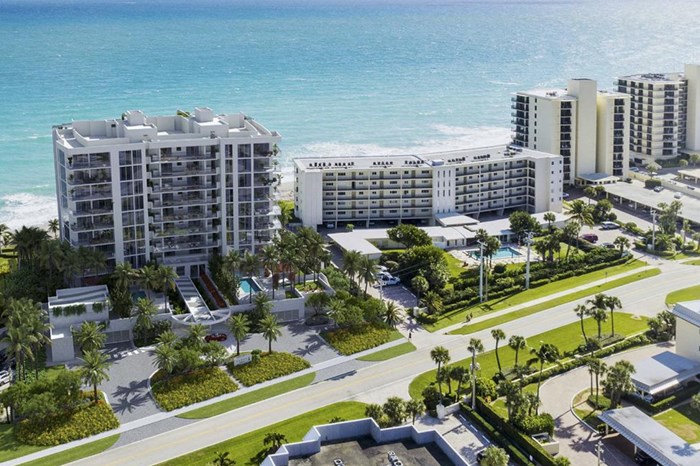 Olara Residences – West Palm Beach
New York-based developer Savanna is looking to build a three-tower condo project across from the Intracoastal at 1919 and 1911 N. Flagler Drive in West Palm Bach. The project will replace the existing one- and two-story office buildings on the 1.82-acre lot. 
Proposing Olara Residences in July, Savanna representatives mentioned launching sales by fall this year. Designed by the Miami-based Arquitectonica, the three-tower condo project will rise with 315 condos and 170 apartment units. New York-based Gabellini Sheppard Associates will be in charge of interior design duties.
Perched on a 1.82-acre lot, Olara Residences are expected to offer over 70,000 square feet of amenities. Highlights will include two pools, a fitness center, a lounge, a coworking space, a waterfront restaurant, and a marina with boat slips.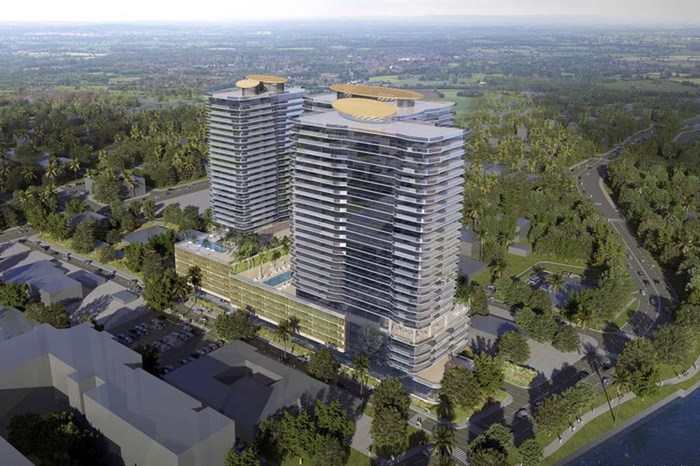 Luxury Condos Replacing SeaSpray Inn and Beach Resort – Palm Beach Shores
Following the trend of replacing older waterfront buildings with brand-new luxury condos, developer Kannega Glades LLC has submitted a proposal to the city's Development Review Committee. Proposing to replace the beach resort at 123 S. Ocean Drive with a 6-story luxury condo, the developer has been asked to revise plans and revisit in August. 
Currently, the 50-room hotel is proposed to be replaced with a 6-story, 30-unit luxury condo including rooftop and ground-floor pools plus a 53-space underground parking garage. Designed by Atlanta-based PFVS, the project is expected to sell for $4.2 million a unit. The 0.65-acre site sits right next to the Palm Beach Shores Community Center and the town's parking lot for the public beach.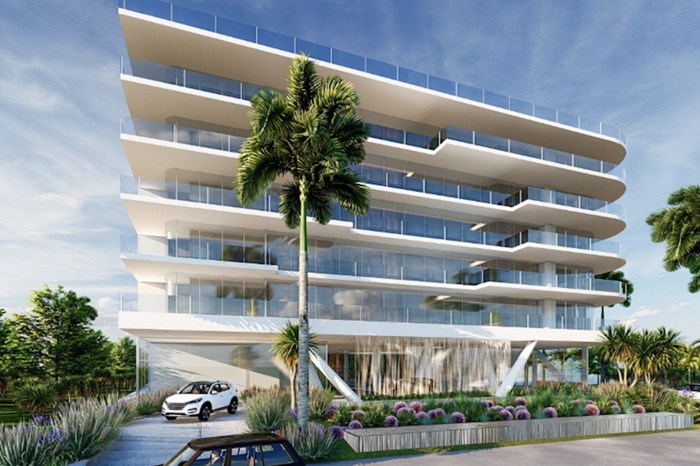 ---
 

Fort Lauderdale and Palm Beach Luxury Condos - Other Updates
---

Nautilus 220 – Palm Beach County
Groundbreaking – May 2022 | Completion – Summer 2024
Bringing Lake Park its first high-rise in years, Boca Raton-based Forest Development has now secured a $269 million construction loan for its 60% sold-out project. The developer has also brought in a successful partner to complete the project - Miami-based Royal Palm Cos., led by CEO Daniel Kodsi known for building the highly-amenitized Paramount Miami Worldcenter.
The Nautilus 220 will rise as twin, 24-story towers, carrying a total of 330 luxury condos. Designed by Boca Raton-based R+N Architecture, the towers will feature interiors by the highly acclaimed Steven G. A bi-level 7,500-square-foot waterfront restaurant with indoor and outdoor seating led by renowned chef David Burke will serve as the centerpiece of the project. The restaurant will offer modern American cuisine.
The amenity-rich tower will also be home to a one-acre outdoor amenity deck. Highlight amenities will include two pools (including a rooftop pool), a yoga deck, mini-bowling, billiards and card tables, a multipurpose soundproof studio for music and podcasts, a golf simulator, theater lounge, club room, lounge, a large chess board, putting greens, a dog wash area, a spa, movie room, game room, kid's center, and more. Residents will also gain access to 8,000 square feet of retail on the ground floor as well as an active marina with 100 slips next door. 
Prices range from $1 million to over $4 million, with a choice of one-to-four-bedroom residences.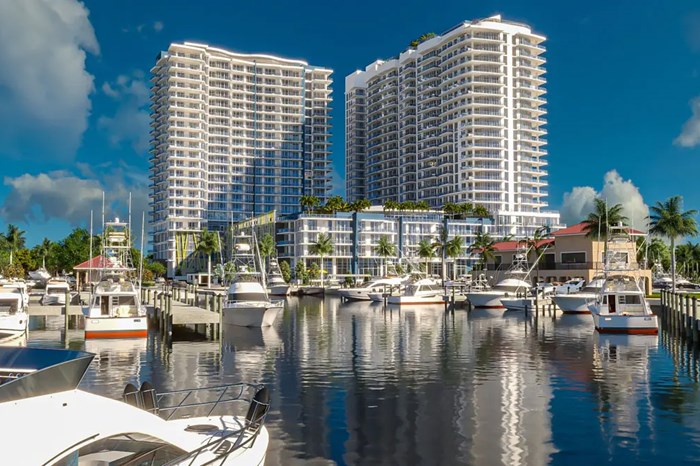 ---
Fort Lauderdale and Palm Beach Luxury Condos - Watchlist
---

Rezoning & Redevelopment of Church Site – Fort Lauderdale
If Fort Lauderdale-based Home Venture Investments LLC has its way, the First Ebenezer Missionary Christian Church at 312 N.W. Seventh St. along with its neighboring parcels could soon be re-developed as a mixed-use development. The parcels, including the 1991-built Church, span 2.32 acres and 2.1 acres in size, and are currently zoned as "multi-family mid-rise."
As the mentioned parcels are currently under contract with the developer, the Tal A. Levinson-led LLC is pushing to have the land re-zoned as "Northwest Regional Activity Center Mixed-Use." The rezoning will allow the developer to construct buildings of up to five stories, or 65 feet tall, with a mix of residential, commercial, and hospitality uses.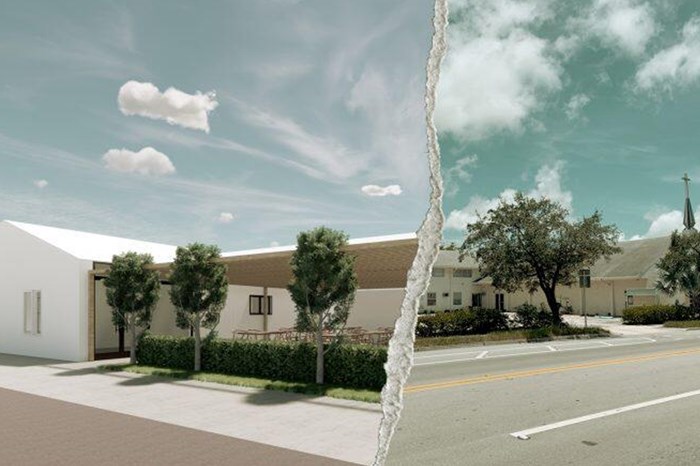 Ready to invest or move into a brand-new luxury condo in or around Fort Lauderdale? Call, chat, or email us to have a local, pre-construction condo expert guide you to your desired property.





Love staying on top of pre-construction news in Fort Lauderdale and Miami? Subscribe to this blog or our YouTube channel for monthly updates!
Share your thoughts with us
Sign up now
Get news and updates delivered to your inbox