Fort Lauderdale's New and Pre-Construction Condo Update: October 2022
Nov 16, 2022 November 16, 2022
Boosted by an influx of wealthy residents from high-tax states and new businesses, South Florida continues to stay a destination and hotbed for construction activity. Attracted by golden beaches, year-round warmth, and a yachting lifestyle, the waterfront housing market is still expected to grow. So, even as the luxury condo market took a seasonal break from recording new sales highs this past quarter, developers here have continued announcing new projects to appeal to sophisticated dwellers from across the globe. 
This October, Fort Lauderdale got busy. We had two ultra-luxury projects launch sales - The Residences at Pier Sixty-Six & the Edition Residences Fort Lauderdale Beach. The Related Group and New York-based New Leaf Development proposed two new condo projects in Fort Lauderdale. And, Ocean Land Investments re-launched its rental apartment tower called Sixth & Rio as a condo development. 
Read below to find details on these and other projects in our monthly condo pre-construction market roundup for Fort Lauderdale this October 2022:


---
October 2022 – Fort Lauderdale Condo Pre-Construction Market at a Glance
---

Sales Launched
The Residences at Pier Sixty-Six – Fort Lauderdale

Edition Residences Fort Lauderdale – Fort Lauderdale
Planned/Proposed
Sixth & Rio – Fort Lauderdale

Muse Tower – Fort Lauderdale

Las Olas Condo – Fort Lauderdale
Watchlist
OKO Group and Cain International's $147M Purchase – Palm Beach

Alta Developer's $21M Shovel-ready Purchase – Fort Lauderdale


---
October 2022 – Fort Lauderdale Pre-Construction Condo Market - Sales Launched
---

The Residences at Pier Sixty-Six – Fort Lauderdale
Groundbreaking – Fall 2021 | Completion – Early 2024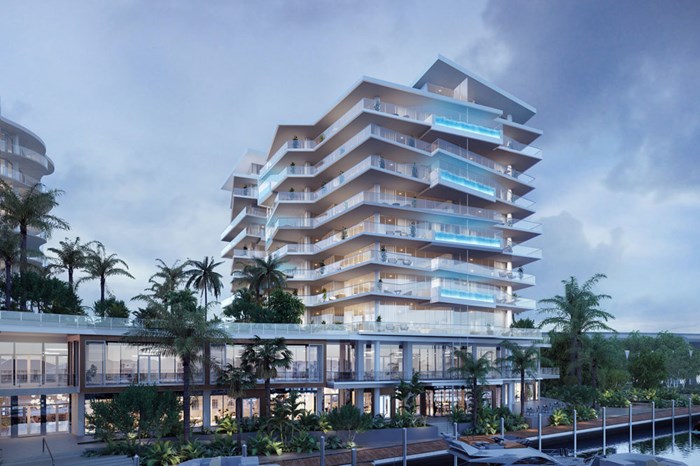 As expected, Tavistock Development Co. launched sales for its most luxurious project in one of East Coast's premier yachting destinations this October. Designed by West Palm Beach-based Garcia Stromberg, renovations and construction are already underway at the historic and reimagined Pier Sixty-Six hotel and marina as well as its two, 11-story condo buildings plus two 4-story villa buildings.
Affording a unique combination of history and amenities, residences at this waterfront project will be delivered designer-ready. Offering a total of 93 units, its two condo towers will feature 31 boutique condos each along with 31 boutique villas in the shorter waterfront buildings. Besides absolute owner customization and fine finishes, each of the residences will feature its own private pool.
Residents will further enjoy direct access to the marina, a promenade with shops and restaurants, a private restaurant and lounge in The Club Room, a dynamic multi-level pool experience, a lavish spa, a Technogym-powered fitness center, a kids' club, a family entertainment lounge, 42,000 square feet of meeting and event spaces, and much more.
Prices start at $3 million, with a choice of 2 to 4-bedroom residences. 


Groundbreaking – Early 2023 | Completion – Early 2026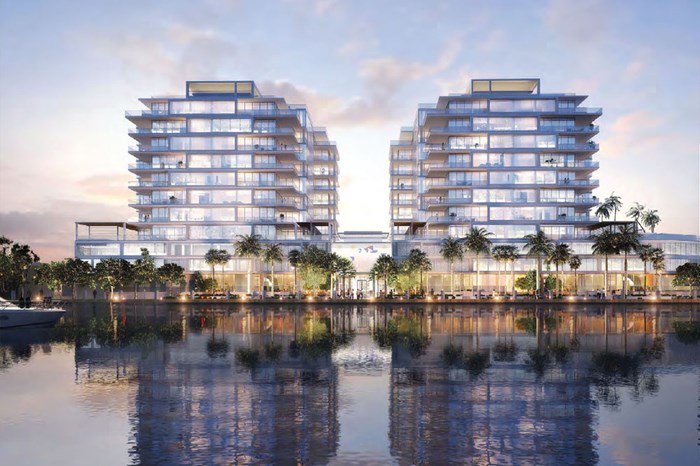 Soon after launching their first-ever stand-alone Edition Residences in Miami's Edgewater neighborhood, Marriott International's EDITION Hotels launched sales for their very first condo offering in Fort Lauderdale this October. Co-developer Rishi Kapoor's Location Ventures had first filed plans for the 1.5-acre site at 551 Bayshore Drive in early 2021.
The waterfront Edition Residences Fort Lauderdale will feature two, jewel-box-like, 11-story condo towers designed by West Palm Beach-based GS4 Studios/Garcia Stromberg. Meticulously uniting modern sophistication with cultural artistry, the towers will feature only 65 waterfront residences.
With interiors designed by the internationally-recognized Clodagh Design, each unit will be delivered fully finished with the option to purchase furniture packages. All amenities and hospitality services in the condo buildings, such as dining and entertainment, will be managed by Edition Hotels. 
Built for utmost privacy, Fort Lauderdale's first Edition-branded towers will allow annual leases only and no short-term rentals. Featuring more than 20,000 square feet of outdoor amenities, residents will gain access to two pools, including an oversized resort-style pool with private cabanas, a residents-only poolside restaurant, a moonroof and sunroof with Zen gardens, an outdoor movie screen, a health and wellness center, plus an eat-in lounge with gourmet kitchen. There will also be lushly landscaped pathways leading to an outdoor meditation walkway and an Intracoastal riverwalk with temporary boat dockage.
Prices range from $3 million to $7.5 million, with a choice of 2- to 4-bedroom residences. The four penthouses are priced at $10 million onwards.


---
October 2022 – Fort Lauderdale Pre-Construction Condo Market - Planned/Proposed
---
Groundbreaking – Q3 2023 | Completion – Summer 2025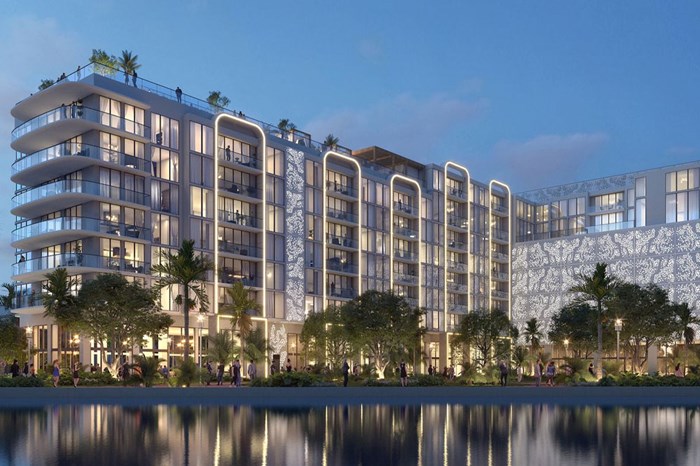 Following in the successful footsteps of The Elser Hotel and Residences in Miami, Sixth & Rio – originally a rental apartment tower – will be re-launched as a condo project. The development firm behind the meticulous "Aqua" series of condos, Ocean Land Investments, decided to make the switch owing to rising construction costs following Hurricane Ian.
Launching sales soon, Sixth & Rio will rise 9 stories with 94 luxury condos along the south bank of New River at 501 SE Sixth Avenue. The boutique residential building will mark the first new condo project in over a decade for the Rio Vista neighborhood. The waterfront development was previously called Aviva on the River.
Owners at this waterfront community will be restricted to rentals of at least 3 months, which means short-term rentals won't be allowed. Amenities at this boutique tower will include a rooftop swimming pool and cabanas, a fitness center, a cafe/restaurant, and co-working space.
Prices expected to start in the $900,000s and go up to more than $2 million, with a choice of 1- to 3-bedroom residences and four penthouses.
Submitting plans to the city's Development Review Committee this October, New York-based New Leaf Development proposed a 30-story condo tower just north of downtown Fort Lauderdale. The proposed Muse Tower is expected to feature an exoskeleton design, similar to the late Zaha Hadid's One Thousand Museum Park in Miami, and appeal to future residents with large floor plans and extra-large balconies.
Designed by New York's INOA Architecture in association with R-Method in Deerfield Beach, the tower is expected to house 112 condos, an 854-square-foot art gallery on its ground floor, a 4th-floor amenity deck with two pools, and 137 parking spaces in a mechanical garage with car elevators. The condo tower is expected to feature a mix of 2 one-bedroom units with lofts, 6 two-bedroom units with lofts, 52 two-bedroom units, and 52 three-bedroom residences. 
Currently home to two small apartment buildings, the combined 0.43-acre site at 408 and 416 N.E. First Ave. was acquired by developer New Leaf Development in 2021 for a total of $4.05 million in 2021.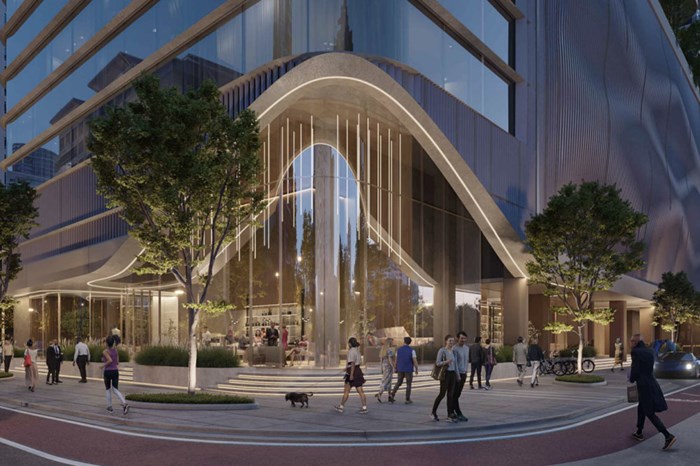 After almost a 15-year hiatus spent building apartment towers in Fort Lauderdale, the Related Group made a comeback with its proposal for a 45-story condo at 529 and 521 E. Las Olas Blvd. Affiliates of the Group assembled the 0.65-acre site for a combined $11.25 million in 2020. Plans for the condo project are currently under review by the city's Development Review Committee.
Designed by Cohen Freedman Encinosa & Associates Architects in Miami Lakes along with the Italian automotive and architecture company Pininfarina, the building will complement Fort Lauderdale's nautical history while standing out from its surrounding structures. The entire building will prominently feature curvilinear glass along with full wraparound balconies with rounded edges that flow in a wave-like appearance, instead of the standard staggered balconies. 
Named Las Olas Condo, for now, the project is expected to feature 192 units, a 3,684-square-foot restaurant, and 354 parking spaces. Most of the amenities would be housed on the 10th and 11th floors. Expected amenities include a roof deck with two pools and a pool bar, another pool, a fitness center, a spa, an outdoor kitchen, a loggia, an outdoor lounge, fire pits, a kid's room, a game room, a club room, a card room, a library, and co-working space.
 
---
October 2022 – Fort Lauderdale & Palm Beach Pre-Construction Condo Market - Watchlist
---

OKO Group and Cain International's $147M Purchase – Palm Beach
Partnering to purchase two aging co-op buildings, the OKO Group and Cain International closed on the Ambassador Hotel & Residences plus Edgewater House for a combined $146.6 million. The deal gives this developer duo access to two prime waterfront sites in one of the most expensive residential real estate markets in South Florida with tremendous redevelopment potential along the beachfront.
OKO and Cain purchased The Ambassador Palm Beach Hotel & Residences for $87.7 million and the Edgewater House for another $48.6 million. The buildings sit across the street from one another - one along the oceanfront and another on the Intracoastal. The duo now has ownership of all 97 units of the oceanfront Ambassador Hotel located at 2730 South Ocean Boulevard as well as the 36 units of the Edgewater House at 2720 South Ocean Boulevard. While the hotel was built in 1963, Edgewater House was built in 1967.
Even as the duo claims that they will continue to operate the hotel as normal, we're keeping this deal on our watchlist since the co-developers have given Miami two of its most iconic waterfront developments in recent times - Edgewater's Missoni Baia and Brickell's Una Residences.

Alta Developer's $21M Shovel-ready Purchase – Fort Lauderdale
Pre-approved to carry a 35-story project, Miami-based Alta Developers closed on the nearly 1-acre site at 608, 612 and 614 S.W. Flagler Ave. plus 100 S.W. Sixth St. and 609 S.W. First Ave. for $20.75 million. The prime parcel sits south of the New River and within walking distance of Downtown Riverwalk Park.
Previously owned by New River Property Owner LLC, managed by Alessandro Pallaoro of New York-based Bizzi & Partners, the shovel-ready site is already approved to carry 400 apartments, 4,198 square feet of retail, and a 463-space parking garage. We'll be keeping a close watch on this deal since developers have been converting their rental projects into condo developments owing to an increase in demand for luxury housing by wealthy out-of-towners and empty-nesters looking to downsize.
Ready to invest or move into a brand-new luxury condo in or around Fort Lauderdale? Call, chat, or email us to have a local, pre-construction condo expert guide you to your desired property.
 

Love staying on top of pre-construction news in Fort Lauderdale and Miami? Subscribe to this blog or our YouTube channel for monthly updates!
Share your thoughts with us
Sign up now
Get news and updates delivered to your inbox