Fresh New Miami Luxury Condos Feature Gas Stoves
Mar 31, 2021 March 31, 2021
For those who love the ease and convenience of condo living, Miami is a paradise offering thousands of luxury condominium residences to choose from, with ever more options and new constructions each year. These posh new residences offer the prospective buyer stylish luxury and maximum comfort, each offering an array of design features.
Many Miami condo buildings feature exquisite details such as extra-high ceilings, floor-to-ceiling glass walls, expansive views, private elevators, designer finishes, marble bathrooms, stainless steel kitchen appliances, and natural stone countertops. But a feature that is conspicuously absent from the vast majority of condominium options is one that may prove disappointing for buyers with a penchant for cooking: the versatile and classic gas range or cooktop, an item cherished by the world's top chefs.

Last updated March 16, 2021


---

Meeting the Growing Demand for Gas
For those who demand a gas range, the market was limited until recently to smaller, older boutique condos, mostly in South Beach, many of which were built before it was fashionable or possible to incorporate many of these other new, show-stopping contemporary features. But, what about the prospective buyer who wants it all and to be able to cook with gas?
Fortunately, developers are starting to answer that call, and many new Miami luxury condo buildings are now providing gas ranges or gas cooktops in luxury units to satisfy these discerning buyers. While in the past, the running belief was that gas lines were impossible to install in newer buildings, the fact is that installation of gas lines may appear as an unjustified cost to some developers because it's a complex process requiring specialized personnel and permitting. Fortunately for creative cooks, that way of thinking has changed in recent years, as developers see an increased demand for this simple yet very significant kitchen feature.
The ranges themselves are often pricier than their electric counterparts, although the use of gas appliances will lower monthly electric bills and also afford the convenience of being able to cook during power outages (which is very rare but in the off chance is a welcomed feature). So let's take a look at some of the best Miami condo buildings that offer gas stoves and ranges.


---
Miami Luxury Condo Buildings with Gas Ranges
---
| | | | | | |
| --- | --- | --- | --- | --- | --- |
| Building Name | Neighborhood | Floors | Units | Sq Ft range | Waterfront |
| | Coconut Grove | 5 | 26 | 2,906-3,206 | Yes |
| | Coconut Grove | 20 | 96 | 3,363-10,065 | Yes |
| | Coconut Grove | 23 | 130 | 681-1,306 | Yes |
| | Coconut Grove | 20 | 54 | 2,884-3,247 | Yes |
| | Coconut Grove | 22 | 90 | 2,532-3,233 | Yes |
| | Coconut Grove | 5 | 52 | 1,467-2,010 | No |
| | Coconut Grove | 3 | 40 | 5,660-6,140 | Yes |
| | Brickell | 57 | 180 | 690-3,012 | No |
| | Edgewater | 57 | 100 | 2,209-3,939 | Yes |
| | South Beach | 22 | 67 | 2,756-4,154 | Yes |
| | South Beach | 5 | 19 | 1,126-3,705 | No |
| | South Beach | 7 | 50 | 1,109-3,041 | No |
| | South Beach | 7 | 28 | 1,439-6,009 | Yes |
| | Miami Beach | 9 | 111 | 1,301-4,535 | Yes |
| | Miami Beach | 19 | 104 | 1,421-2,326 | Yes |
| | Miami Beach | 17 | 47 | 1,185-3,215 | Yes |
| | Miami Beach | 18 | 70 | 851-3,140 | Yes |
| | Surfside | 12 | 16 | 4,229-5,186 | Yes |
| | Surfside | 12 | 150 | 1,591-5,675 | Yes |
| | Bal Harbour | 18 | 183 | 510-3,120 | Yes |
| | Bal Harbour | 27 | 282 | 1,069-3,884 | Yes |
| | Aventura | 11 | 190 | 1,535-3,184 | Yes |
| | Aventura | 31 | 214 | 2,030-4,109 | Yes |
| | Sunny Isles | 52 | 235 | 709-6,360 | Yes |
| | Sunny Isles | 50 | 245 | 2,908-5,148 | Yes |
| | Sunny Isles | 47 | 76 | 4,609-9,218 | Yes |
| | Sunny Isles | 56 | 308 | 1,080-4,150 | Yes |
| | Sunny Isles | 52 | 154 | 2,900-6,740 | Yes |
---
Coconut Grove Condo Buildings with Gas Stoves and Ranges
---

An independent village located in the heart of greater Miami, but at once secluded from the city's faster pace, Coconut Grove is known for its laid-back, artsy atmosphere and its eclectic and novel boutiques, art galleries, restaurants, nightlife, and quaint sidewalk cafes. The area is home to some of Miami's most breathtaking lush landscaping, marked by the presence of ancient and impressive Banyan trees, wild peacocks, and the sight of sailboats docked along the omnipresent Bay.
There are several new and even pre-construction condo buildings in Coconut Grove offering gas cooktops and ranges, including boutique condos The Fairchild and Arbor. Here's additional information larger, luxury Coconut Grove condo buildings with gas cooktops.
Park Grove in Coconut Grove is an elite condominium community consisting of 3 waterfront towers housing almost 300 distinctive residential units ranging from 1 to 4 bedrooms. The property offers the usual gamut of contemporary luxury amenities, including 24/7 concierge services, butler service, wine storage and pool cabanas, and each tower provides its own community experience. While Towers 1 and 2 are the most luxurious and expensive of the three, including highly desirable residence features such as 12-foot ceilings and vast waterfront terraces, Tower 3 features slightly smaller residences with 10-foot ceilings, as well as SubZero and Wolf appliances. 
Open kitchens with European finishes also include desirable gas cooktops. Each unit is designed to create a fabulously seamless indoor-to-outdoor environment perfect for intimate gatherings or lavish entertaining. 
Prices start at about $800,000.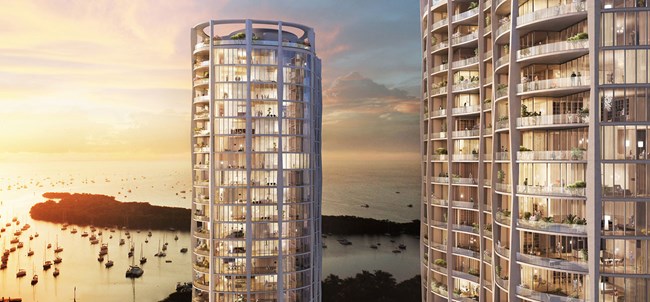 Park Grove in Coconut Grove
The Grove at Grand Bay is an architectural wonder designed by the famed Bjarke Ingels Group, known as one of the world's most daring and innovative architectural design teams. Located in the artsy and laid-back village of Coconut Grove, the Grove towers are the first LEED gold-certified buildings to be erected in Miami-Dade County, providing a green, sustainable lifestyle, and designed to weather the local elements. They are also the first twisting buildings to be erected in the United States. 
These two amazing dancing towers are designed to provide varying breathtaking panoramic views of Biscayne Bay and the Miami skyline. They feature 95 luxurious, custom residences ranging in size from 2,500 to 11,000 square feet, with 12-foot-high ceilings, floor-to-ceiling glass walls, and 12-foot-deep balcony terraces equipped with summer kitchens. Residences include private elevators, vast open spaces with flowthrough design for relaxed year-round indoor/outdoor living, marble flooring and walls complemented with teak wood in the bathrooms. Residence kitchens are equipped with top-quality European-designer cabinetry and Miele appliances, including natural gas stoves.
Grove at Grand Bay residences are currently selling for $3.2 to $20 million.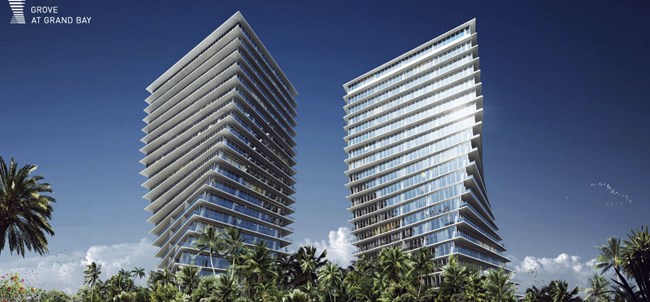 Grove at Grand Bay


---
Brickell Condo Buildings with Gas Stoves and Ranges
---

The Brickell lifestyle is all about life/work balance, eliminating the concept of the commute for those who live and work in the area. Known as the home of some of Miami's finest restaurants and nightspots, Brickell is also home to world-renowned Brickell City Centre, an internationally acclaimed modern shopping mall, as well as Mary Brickell Village, a diverse commercial center that houses unique boutiques, shops, and eateries, in a neighborhood full of such wide-ranging options as fitness clubs, art galleries, spas, salons, and other small, upscale businesses.
Located in the upscale Brickell neighborhood, the vibrant, financial hub of Miami, this luxury skyscraper features 180 smart-home technology residences delivered furniture-ready and featuring dramatic 9-14 foot ceilings, floor-to-ceiling glass windows, expansive terraces with private outdoor barbecue areas, and panoramic views of Biscayne Bay and the Miami skyline. Cooking enthusiasts will be delighted with the oversized gas stoves and custom exhaust hoods in each kitchen, as well as wine storage and built-in coffee and espresso machines, along with such other luxuries as oversized soaking tubs in the master bathrooms, and semi-private elevators. 
The building features penthouses as well as luxury residences, impeccably designed with all of the most coveted contemporary amenities, as well as boutique shops, restaurants, and other on-site conveniences such as 24/7 concierge service. 
Prices range from $415,000 to $​3,900,000.



Echo Brickell


---
Edgewater Condo Buildings with Gas Stoves and Ranges
---
One of the first recent projects to break ground in meeting this consumer demand is Elysée in Edgewater, a new condo tower that is including gas ranges in each of its 100 condominium residences, delivered furniture-ready. Located in the ever-popular Edgewater neighborhood, a highly desirable bayfront community anchored by a 5-acre park, the 57-story Elysée building also features, among its array of lavish amenities, outdoor summer kitchens with barbecue grills, wine storage, and such unique extras as a 30th story deck with a grand piano. 
Exclusive residences range from three to five bedrooms, with den options, breathtaking high ceilings, and floor-to-ceiling glass windows. With only two units on each floor, each residence comes with two expansive private terraces that serve dazzling, unobstructed views of Biscayne Bay, Downtown Miami, and Miami Beach. 
Rated one of Miami's most walkable neighborhoods, Edgewater is growing in popularity among young professionals and families seeking culture and fitness, by providing a casual urban experience with walkable access to many of the area's biggest attractions. These include the Wynwood Arts District, the Miami Design District, and such landmarks as Museum Park, where Miami's prized Perez Art Museum is housed, along with the Frost Science Museum, and nearby Margaret Pace Park, with its array of sporting activities.
Average prices per residence range from $1,300,000 - $4,200,000.



Elysée in Edgewater

If you're looking for a Miami condo with a gas stove, call or email us, and we will compile a personalized list of available properties that match your desired features and amenities
---
South Beach Condo Buildings with Gas Stoves and Ranges
---

Apogee, South Beach
Perched on the southernmost tip of South Beach, Apogee sits in one of the most exclusive neighborhoods of Miami. This ultra-luxury building rises 22 stories in the gorgeous South of Fifth (Sofi) area on the oceanfront, South Pointe Park, and houses 67 exquisite residences positioned perfectly to capture incredible ocean views. Dubbed the "Ultimate Address" on South Beach by the Robb Report, features designs by the award-winning architecture firm Sieger-Suarez and common areas decked by the Canadian interior design duo of Yabu Pushelberg.
With only four residences per floor, each ultra-luxury residence at the Apogee is positioned to capture both city and water views. Featuring high-end finishes in each soundproof unit, residents are treated to extra-deep and long balconies (some up to 75 feet) with summer kitchens, a gas fireplace in the master suite or living room, and Miele and Sub-zero appliances with gas cooktops, flow-through floorplans, private elevators, and smart panel access to security, spa and valet services. Amenities at this oceanfront building include an infinity-edge, curvilinear lap pool in a tropical garden setting, oceanfront cabanas, open-air pavilion, curated artwork and supreme exclusivity.
Prices range from $7,940,000 to $14,400,000.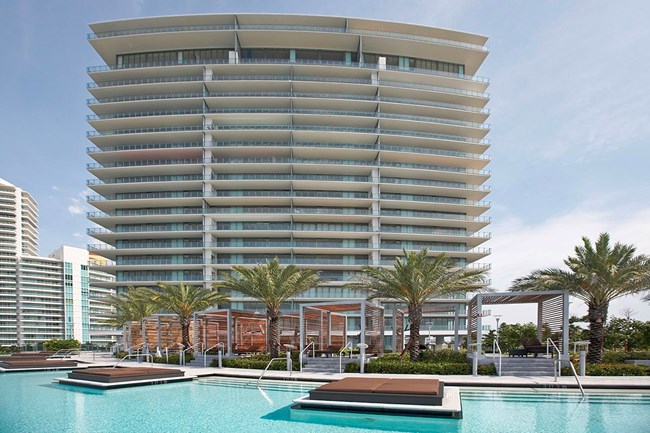 Apogee in South Beach
One Ocean is a super deluxe residential venture developed by the celebrated Related Group, widely appreciated for their elite condo residences like the Apogee, Murano at Portofino, W South Beach and Murano Grande. Designed by the architectural genius Enrique Norten of the TEN Arquitectos with interiors by Yabu Pushelberg and landscaping by Enzo Enea, this uber-luxurious mixed-use condo building features only 50 five-star residential units ranging between 2000 and 4000 sq. ft. in area and 3, 4 or 5-bedrooms. Featuring spacious, flow-through floor plans, airy patios and dramatic terraces overlooking the gorgeous Ocean Drive, each unit has a private elevator, natural stone surfaces, and Wolf and Sub-Zero appliances including gas stoves.
Amenities at One Ocean meet the expectation of any high-end luxury condo in South Beach and more. Complete with a robotic garage, high-speed elevators, infinity edge pool, park and outdoor areas, Zen garden, covered private clubhouse outdoors, porte-cochere entrance, state-of-the-art fitness centre, assigned covered parking with 24-hour valet and exceptional concierge services.
Prices range from $1,749,000 to $5,300,000.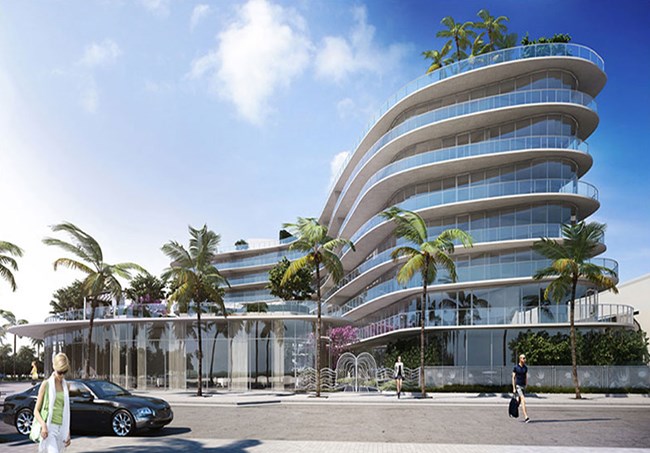 One Ocean in South Beach

Three Hundred Collins, a boutique residence community nestled in the laid-back South of Fifth area of South Beach, houses 19 fully-finished, furniture-ready luxury 2, 3 and 4-bedroom residences that feature wall to wall white oak flooring, designer cabinetry in the kitchens, and Miele appliances that include a gas cooktop, as well as a bevy of other luxuries such as custom soaking tubs and premium fixtures in master bathrooms, as well as expansive terraces perfect for entertaining. 
The units also feature dramatic 18' ceilings and huge yards with outdoor summer kitchens. Building amenities include a 75' pool and whirlpool on the rooftop, and the usual array of contemporary benefits such as a state-of-the-art fitness center. For those who want to experience the excitement of South Beach while still retaining some quiet space, the South of Fifth neighborhood is a jewel, providing convenient access to beaches, shops, restaurants, and local businesses that you can walk to, as well as the joys of lazy, sunny afternoons.
These residences are priced between $1,985,000 and $8,500,000.



300 Collins in Miami Beach
The Ocean House is a boutique condominium community located in the quiet South of Fifth neighborhood in South Beach, often considered the most desirable t in Miami Beach, thanks to its easy access to the buzzing South Beach lifestyle while maintaining an exclusive neighborhood identity, characterized by quiet serenity and leisurely beach access. The Ocean House features 28 luxurious private residential units ranging from 1300 to 6200 square feet in size. With dazzling direct views of the Atlantic Ocean, exclusive private beach access, and luxurious master suites and guest bedrooms, these luxurious residences also feature designer kitchen cabinetry with Sub-Zero and Miele appliances, and a convenient Wolf gas cooktop for those who want the utmost control in the kitchen. 
The building features the gamut of luxury amenities with extras such as a Great Room with a piano area, bar, and lounge; HD TVs in every living space, Crestron home automation system with iPad-operated lighting and security cameras, and Italian porcelain flooring. Each residence also includes an expansive storage unit and two parking spaces.
Prices for Ocean House residences range between $1,999,000 and $16,300,000.



Ocean House in South Beach


---
Miami Beach Condo Buildings with Gas Stoves and Ranges
---
This new 16-story, oceanfront Miami Beach condominium tower, designed by the world renowned architects Foster+Partners, represents a new concept in beach living, blending indoor and outdoor life seamlessly and luxuriously. Only 47 unique 1-5 bedroom condominium residences are offered, each with fully finished custom Foster+Partners interiors. A unique design of floor-to-ceiling glass walls allows uninterrupted breathtaking ocean, bay, and skyline views. The walls open up to 12'-6" in width on to "alero" terraces of remarkable spaciousness, up to 37' in depth.
Amenities include in-house fitness center with direct ocean views, timber flooring, and best-in-class fitness equipment by TechnoGym, a private residential Beach Club, wellness, art and culture activities, and more.
Prices range from $2,500,000 to $7,500,000.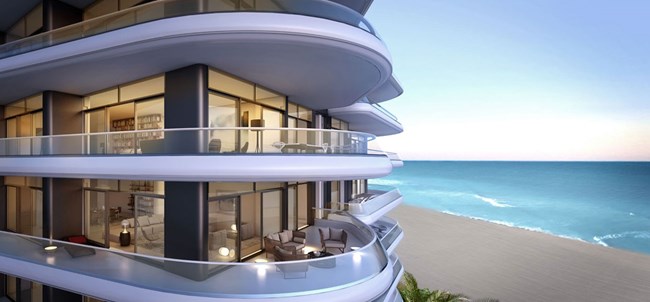 Faena House in Miami Beach
The Ritz-Carlton Residences is a five-star luxury resort-style condominium that reinvents Miami Beach living, spread across seven magnificent acres of lush waterfront gardens that provide unobstructed ocean, lake and panoramic city views.  Expansive living spaces designed by Piero Lissoni showcase heart-stopping views with clean European design, dramatic 10 foot ceilings, and a tranquil lifestyle marked by private luxury and convenient access to local Miami Beach offerings.
Master bedrooms feature luxurious floor-to-ceiling glass walls and private panoramic views, with spacious walk-in closets and generously appointed en suite bathrooms rendered in sumptuous Italian marble. Designer Boffi kitchens by Lissoni boast chic Italian cabinetry, natural stone countertops, Gaggenau appliances including gas stoves, a wine cooler and cappuccino maker and Zucchetti plumbing fixtures in both the kitchen and baths, which are Boffi. Additionally, every residence is pre-wired to accommodate smart home technology, while also featuring a full-size washer and dryer for your maximum convenience.
Enjoy waterfront gardens and the gold-star standard lifestyle that the Ritz-Carlton is known for, such as a luxurious rooftop pool deck with spacious cabanas and poolside grille, as well as breathtaking views of the ocean, city and lake. Luxury amenities also include a Club Room with a pool table and virtual golf, a state-of-the-art Fitness Center and accompanying Spa, a unique first-of-its-kind Art Studio, and a fully equipped Children's Playroom provide additional comfort and convenience.
Prices range from $525,000 to $6,490,000.



Ritz Carlton Residences in Miami Beach
The Caribbean condo in Mid-Beach began its life as a Miami Beach art deco icon originally built in 1941, which now houses luxury residential condo units as well as world class five-star hotel suites. In recent years, this classic building has undergone a drastic facelift and complete architectural upgrade to become one of the most coveted addresses in Miami Beach. With fully renovated interiors by designer Christopher Ciccone, the building consists of two all-glass towers that guarantee amazing water views of the Atlantic Ocean and the Intercoastal Waterway from practically every single room in every single apartment. The North Tower is 35 stories high, while the South Tower has 19 stories, and together they include 103 posh residential units. 
This building features all of the most desirable contemporary luxury amenities, such as a heated infinity edge pool and lavish sundeck with stunning views, a private lounge for residents, a new-age fitness center with state-of-the-art workout equipment, and direct ocean access. Extra perks such as high-speed elevators, a cigar humidor, a fire pit perfect for social gatherings, bicycle storage, a billiard lounge, and 24-hour concierge and security service add to residents' comfort and convenience. 
With ceilings ranging from 9 to 10 feet in height, the glamorous residential units at the Caribbean come fully furniture-ready and equipped with marble and granite bathrooms, high-end designer finishes, expansive balconies, luxurious master suites with expansive walk-in closets. Residence kitchens feature designer cabinetry and fixtures, SubZero and Miele appliances, and kitchen islands with versatile gas stoves.
Residential units at the Caribbean range in price from $1,195,000 to $4,750,000.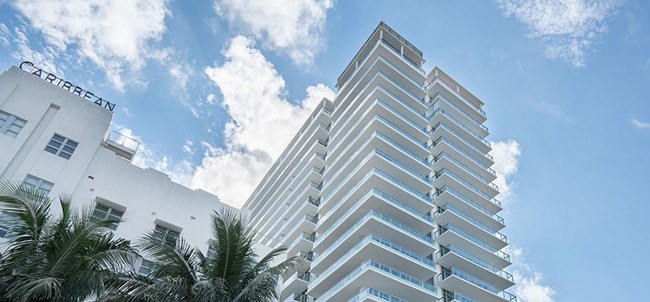 The Caribbean in Miami Beach
Eighty Seven Park has transformed the North Shore community in Miami Beach with seventy new elegant airy, ultra-luxury residences designed by the renowned Renzo Piano. The Pritzker Prize-winning architect is known for a poetic and elemental approach that combines architecture, design, and the natural landscape and has earned his fame from such projects as the London Shard, the New York Times building, and Japan's Kansai Airport. The design goal of Eighty-Seven Park is a recreation of the serenity embodied in the tension between earth and sky, and the project captures this tension exquisitely.

Clean simplicity defines maximum luxury at Eighty Seven Park, an exclusive, luxurious tower with only 64 residences spread over 16 stories, providing maximum privacy and exclusivity. Expansive terrace balconies and sleek floor to ceiling glass panel walls let the dazzling beauty of the outdoors into every residential unit, while interiors feature Italian cabinetry with glass doors, natural stone countertops and finishes, Oak veneer panels, kitchen appliances by Wolf and Sub-Zero including gas stoves, and outdoor summer kitchens.
The natural beauty of North Shore Park provides a lush natural landscape for this exclusive condo tower and the building's impressive architectural design and luxury amenities are enhanced by its extraordinary location and natural surroundings, as well as its breathtaking views of the Atlantic Ocean. Underground parking ensures an expansive landscape for residents.
Prices range from $1,600,000 to $10,900,000.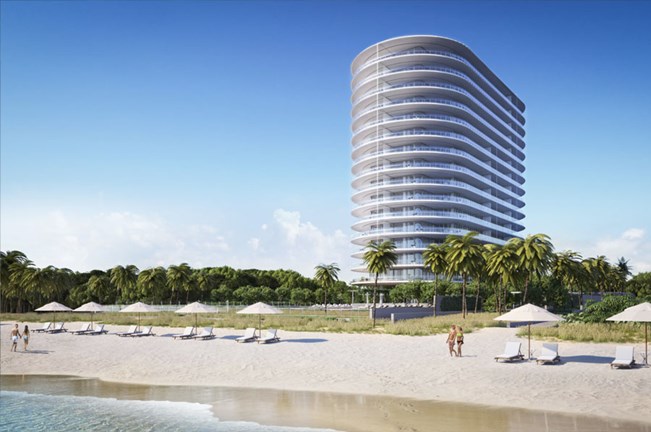 Eighty Seven Park in North Miami Beach


---
Surfside Condo Buildings with Gas Stoves and Ranges
---
Enhancing the immaculate beachfront of Surfside is Arte, an ultra-luxury, boutique condo experience designed by Milan's starchitect designers Antonio Citterio and Patricia Viel. The iconic building stands out with its pyramid shape and mostly glass façade. Exotic landscaping by renowned landscape architect and artist Enzo Enea surrounds the boutique building that rises just 12 stories high and includes only 16 exclusive residences.
Each of the Arte residences have been designed to capture the best of ocean and city views through their gridded bronze Schüco window system. Built with the Mediterranean way of life in mind, the building uses richly veined Roman travertine as its signature material, bronze-colored accents and resort-style amenities conducive to stress-release like a meditation pond, yoga studio and more.
Each sophisticated residence further opens up to a large terrace, great for full family dining by the ocean, including Gaggenau appliances and gas stove, and Poliform cabinetry. And, textures and touches such as European white oak flooring throughout the living and dining areas, marble countertops, and hand-carved soaking tubs create a unique sense of warmth and opulence for Arte condo residents.
Located on Surfside's charming beachfront, Arte's amenities include a 75' heated indoor lap pool with travertine deck, a yoga studio, fitness center, residents' lounge with billiards and catering kitchen, rooftop tennis court, and more.
Prices range from $10,300,000 to $22,000,000.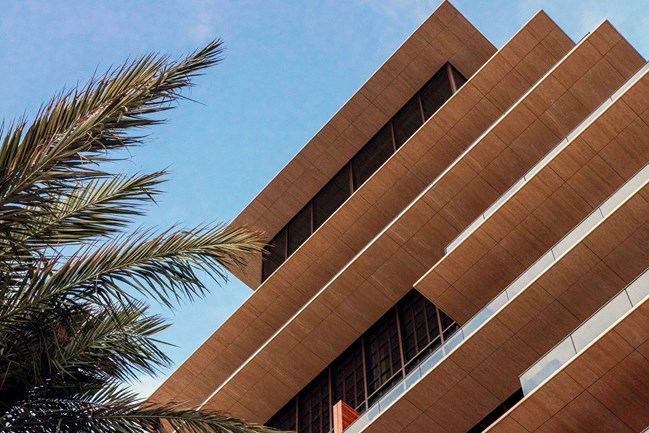 Arte by Antonio Citterio in Surfside
Located in the quiet and residential seaside village of Surfside, nestled between Miami Beach and Bal Harbour, the Surf Club sits upon a vast expanse of oceanfront gardens overlooking the azure Atlantic, on a property that consists of the Four Seasons Hotel, a private country club, two restaurants, and two residential towers. Surrounded by gorgeous gardens that showcase four swimming pools, a lavish spa, and state-of-the-art fitness center, as well as over 40 beach cabanas, the Surf Club towers are each 12 stories tall, housing a total of 150 residences. 
Located in prestigious Bal Harbour Village, an eminent Miami neighborhood and popular hideaway for the rich and famous, One Bal Harbour is an impressive 26-story luxury condo community adjacent to the Ritz-Carlton Hotel, which also houses condo residences as well as five-star hotel suites. One Bal Harbour is a distinctive location, built directly on the ocean, and bordering the glittering Intracoastal Waterway, providing effortless access to white sandy beaches and the aqua surf of the Atlantic. Breathtaking Atlantic and Intracoastal views provide a backdrop for glamorous luxury living, enhanced by five-star resort-style services and conveniences. These include 24-hour valet and room service, white-glove housekeeping service, and a full-time concierge to assist residents and guests with travel arrangements, dining and theatre plans, as well as specialized needs such as pet care.
Bal Harbour Village offers close proximity to South Beach and Miami's famed Art Deco District, as well as walkable access to the famed Bal Harbour Shops, one of the world's most acclaimed shopping destinations, also known for its fine dining options. Yacht owners can dock at the nearby Haulover Park Marina and The Bal Harbour Club. In addition to neighborhood restaurants, residents can also enjoy luxurious dining at One Bal Harbour's very own world-class gourmet restaurant. The residential units at One Bal Harbour showcase expansive flow-through floor plans that allow leisurely indoor/outdoor living, and feature luxurious marble bathrooms, private elevator foyers, top-of-the-line finishes, and high-end Wolf kitchens with versatile gas cooking.
Priced between $495,000 and $​5,500,000 there are various residence options to choose from at One Bal Harbour.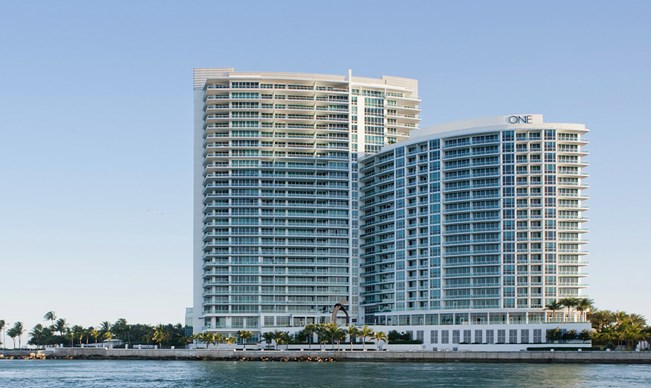 One Bal Harbour in Bal Harbour


The St. Regis Bal Harbour Resort is a luxury condominium and hotel set upon the pristine white sands of the Atlantic Ocean and directly across the street from the legendary Bal Harbour Shops, with the distinction of being one of Miami's most prestigious and enviable residential locations. Designed by renowned architectural team Sieger Suarez, the majestic St. Regis houses 270 luxurious private residences with one-to five-bedroom floor plans, ranging in size from 1,777 to 6,868 square feet, as well as elegant hotel condominiums. 
Private residences feature panoramic windows with expansive ocean and bay views, floor-to-ceiling glass walls, and spacious indoor/outdoor flow-through living spaces that provide maximum comfort and relaxation. Building amenities include an exclusive pool and fitness center for residents only, as well as resort-style concierge services, personal security, 24-hour room service, and such personalized conveniences as in-room catering with a personal chef, overnight shoeshine, white-glove housekeeping, dry cleaning and laundry services, as well as personalized childcare and pet care services. 
Residents also enjoy access to exclusive St. Regis events, and preferred tickets for local area theatre and sports events. Each residence enjoys sumptuous master suites with marble bathrooms and walk-in showers, and kitchens with European-designed cabinetry and professional-grade kitchen appliances. Residents are free to choose between gas or electric stoves.
Starting from $2,175,000 to about ​$20,995,000 these residences are among the most luxurious and exclusive in all of greater Miami.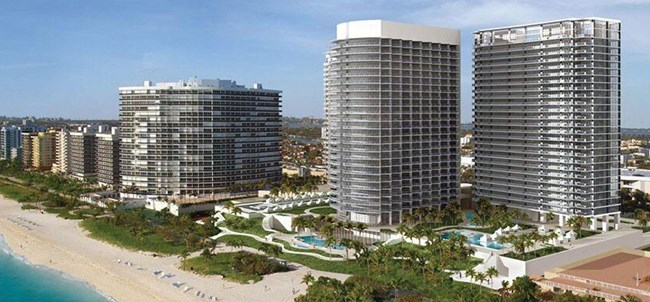 St Regis in Bal Harbour
Echo Aventura is a luxury tower built that features Apple Smart Home Technology within all of its 190 luxury residences. These gorgeous and expansive private condominium units include flow-through floor plans that provide seamless indoor/outdoor living and dazzling views of the Bay. With ceilings over 10 feet high and floor-to-ceiling windows, huge bayfront terraces with summer kitchens, and private elevator foyers, these residences also feature luxurious bathrooms, and master suites with His and Hers walk-in closets and midnight kitchens. 
Echo Aventura in Aventura


---
​
Sunny Isles Beach Condo Buildings with Gas Stoves and Ranges
---
The Residences by Armani Casa bring home the iconic fashion and understated elegance of the famed Italian brand. Designed by the famous César Pelli, 308 designer units come nestled in a 649-foot-tall modern glass tower. Sitting on 300 feet of pristine oceanfront, the 66-story luxury condo building is preceded by three acres of Enzo Enea-landscaped gardens.
A first by Giorgio Armani, each and every residential element comes handpicked by the legendary fashion designer. In addition to designer-approved residences, hotel-style amenities offer expected luxury. An in-house art collection, on-site Armani Privé lounge, temperature-controlled wine cellar, on-premise fine dining restaurant with in-residence delivery, a clubroom, two-story spa and five-star beach amenities set these ultra-luxury residences a class apart.
Units feature expansive 10-foot-deep private balconies with glass railings, summer kitchens, while interior kitchens include premium European-designed cabinetry, imported stone countertops and backsplashes, Sub-Zero refrigerator and wine cooler, and Wolf appliances.
Prices range from $1,195,000 to $6,000,000.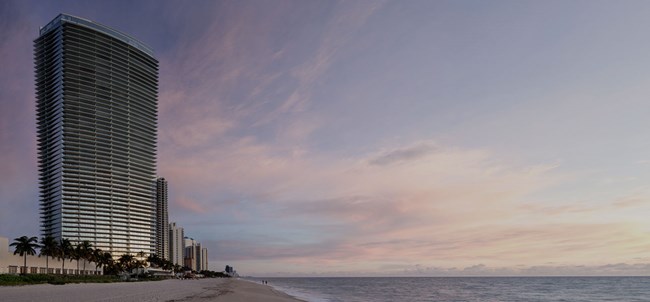 Residences by Armani Casa in Sunny Isles Beach
Acqualina is a place where the charm of a Mediterranean villa meets elegance on the beach. Located on 4.5 beachfront acres with 400 feet of stunning Atlantic Ocean coastline, Acqualina is part of a three-buildings complex, and features 188 residences, 97 impeccable guests rooms and suites, a 20,000 square feet of ESPA oceanfront spa, three oceanfront restaurants including the acclaimed Il Mulino New York, three oceanfront swimming pools and an innovative marine biology-based AcquaMarine children's program.
Prices range from $720,000 to $14,950,000.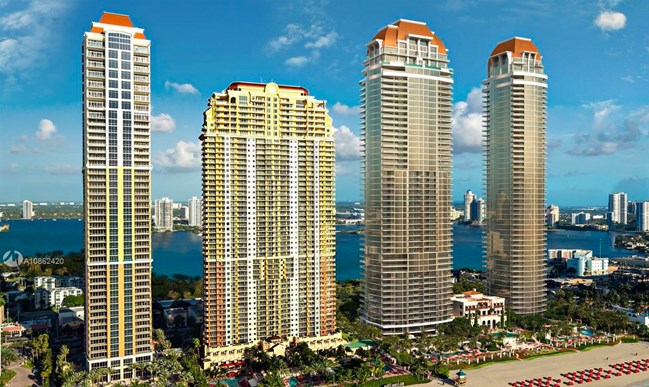 Acqualina in Sunny Isles Beach
The Mansions at Acqualina was designed to surpass expectations at every level, and offer residences with larger floor plans. The result is the extraordinary Mansions-in-the-Sky with breathtaking views, inspiring design, exquisitely nuanced finishes, materials and fixtures, and a level of construction never before seen in residential development. Interiors boast of Minotti finishes, Miele appliances, semi-precious stone materials and hardwoods, expansive views and unsurpassed service. 
Prices range from $5,498,000 to $12,000,000.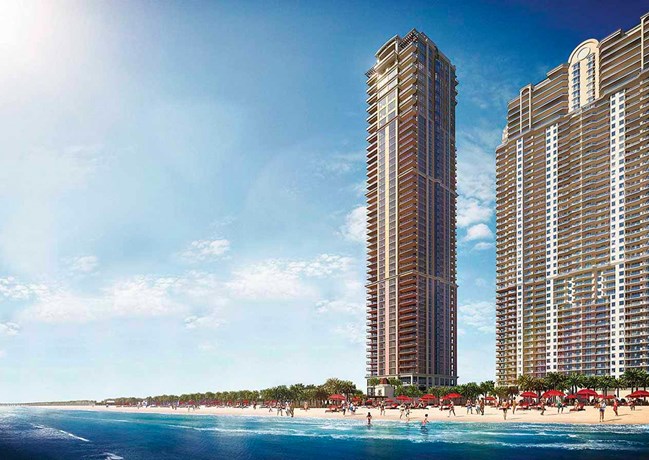 The Mansions at Acqualina in Sunny Isles Beach
The latest in the Acqualina family of super-luxury residences, The Estates at Acqualina offers the spaciousness of estate-sized living in a boutique atmosphere in two dramatic towers both 50 stories tall. Dramatically proportioned and exquisitely finished, all of the residences have been designed to create a lifestyle of true sophistication. Soaring 10'6" ceilings and floor-to-ceiling window walls capture the breathtaking panorama of the Atlantic Ocean, and city views from sunrise to sunset. 
Rare and exotic stones and woods adorn interior surfaces, chef-caliber kitchens are appointed with the finest European appliances, and bathrooms bring the rejuvenating features of a spa into the privacy of your residence. Floor plans have been thoughtfully arranged with grand living rooms overlooking the Atlantic Ocean, with private wraparound terraces from 1,550 to 1,700 square feet and fully equipped summer kitchens. A limited collection of full-floor and duplex residences from 8,000 to over 15,000 square feet, including a Tower Suite, a Penthouse Estate, and a single-family home, all have private pools.
Prices range from $4,100,000 to $59,000,000.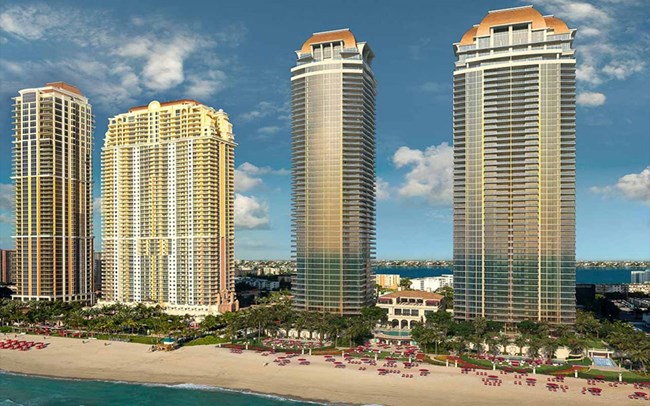 Estates at Acqualina in Sunny Isles Beach
The Turnberry Ocean Colony is a residential community consisting of two 38-story towers overlooking the ocean, and featuring 260 luxurious condominium residences in the seaside city of Sunny Isles Beach. Located along the coast and conveniently positioned between the elite neighborhoods of Bal Harbour and Golden Beach, Turnberry Ocean Colony overlooks some 650 feet of sandy Atlantic Ocean waterfront. Amenities at Turnberry Ocean Colony include a members-only beach club with elegant gourmet restaurants, as well as a state-of-the-art fitness center and world class spa. 
Spacious two-to-five bedroom residencies feature private elevator foyers and security systems, as well as the highest quality finishes, ten-foot ceilings, marble surfaces in bathrooms, and such unique features as steam showers and jacuzzi hydrotherapy tubs with built in TV screens. 
Residences also feature expansive wraparound balconies with stunning unobstructed views of the Atlantic ocean and the Intracoastal Waterway. Residence kitchens feature Italian designer cabinetry, natural granite countertops, European appliances, Sub-Zero refrigeration, and gas stoves as well as built-in coffee machines.
With prices ranging from $350,000 average to a high listing of about $9,000,000, there are various floor plans to choose from at Turnberry Ocean Colony.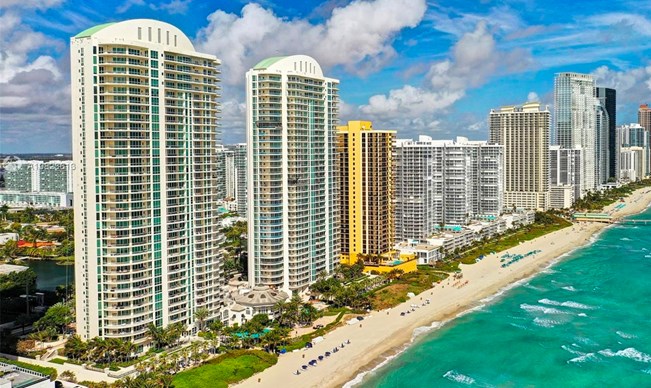 Turnberry Ocean Colony in Sunny Isles Beach

---
Finally, cooking aficionados in Miami who also love luxurious living can have their cake and eat it too, enjoying the most up-to-date amenities and state-of-the-art condo living, while indulging their creative side in the kitchen with the benefit of chef-inspired gas cooktops, stoves and ranges. No longer do prospective buyers have to sacrifice the joys of cooking to enjoy the most lavish luxury amenities, as developers wake up to the fact that providing a simple yet essential feature such as an improved cooking experience can prove a lucrative draw for many prospective buyers. To this, we raise our cups and joyfully exclaim the popular old refrain: Now you're cooking with gas!
Share your thoughts with us
Sign up now
Get news and updates delivered to your inbox