Genting's Resorts World Miami Moving Closer to Reality (and Becoming Miami's First Casino)?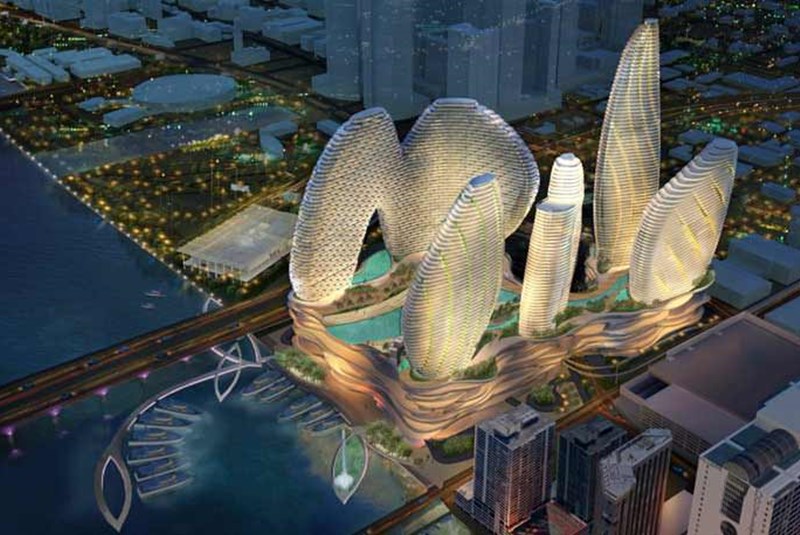 May 25, 2021 May 25, 2021
Malaysian casino-resort giant, Genting Group is back dominating real estate news in Miami. It's massive Resorts World Miami project has once again received recent development approval, and this time, the political climate for adding a casino is much more positive. Love it or hate it, read on to see the latest developments that could bring this transformative Miami condo-hotel project to life.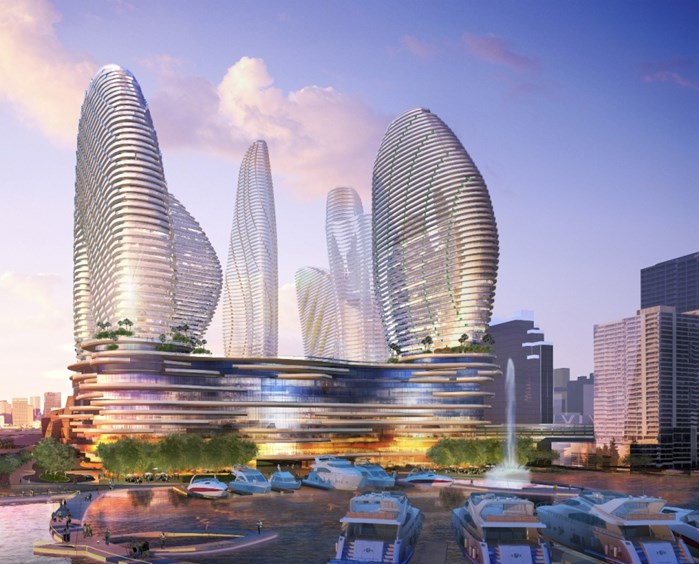 Resorts World Miami - History 
A short trip down memory lane to 2011, many will remember Genting unveiled its ambitious and controversial project called the Resorts World Miami. It was poised to be one of the biggest projects in Miami, sitting on a prime waterfront parcel that was the famed Miami Herald site in Downtown. With the proposed six, LED-lit, coral reef-like towers, a 3.6-acre lagoon stretching from Biscayne Bay to Biscayne Boulevard, came something Miami has never had, a casino.
Fast forward eight years... and nothing has been built. What's the hold-up, you ask? Gambling permits! For years, local governments have rejected the Malaysian company's proposal to build a world-class casino in the heart of Miami. However, with recent shifts in the political climate in favor of gambling, Genting's dream of building a commercial casino in Magic City could be seeing new and favorable betting odds.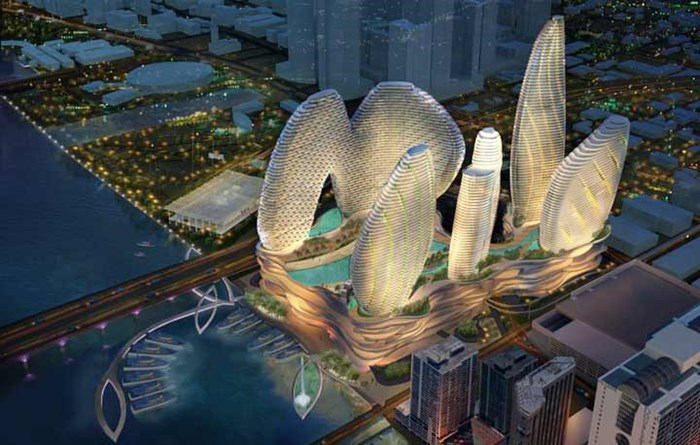 Latest Resorts World Miami Approval 
While Genting's previous proposal to build three waterfront towers from 2017 expired last year, they recently resubmitted plans, and this month, Resorts World again won approval from the FAA to build the three, 649-foot-tall (above sea level) towers. The Malaysia-based group has also filed plans to build a 580-foot tower at the Omni bus terminal – a property it secured in recent years.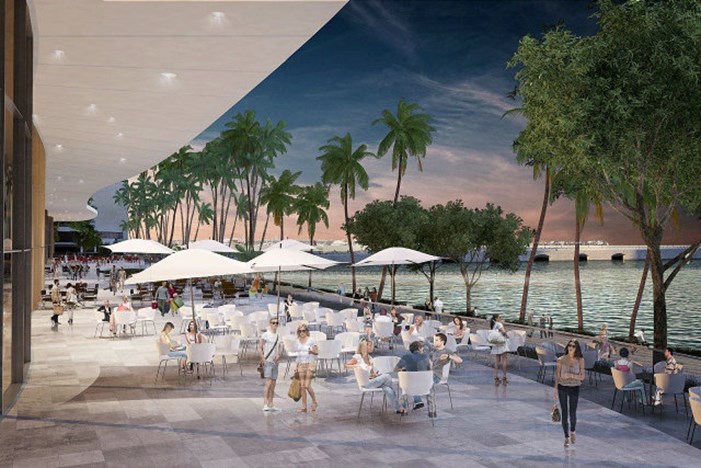 Original Resorts World Miami Proposal
So what are they planning for the old Miami Herald site? Here's a quick reminder of what Genting's plans for its Resorts World Miami project at One Herald Plaza (Miami Herald's former headquarters) look like:
4 Hotel Towers, with a total of 5,200 rooms

2 Residential Towers, with a total of 1,000 residences

8-story Podium with

2-story shopping mall featuring 250,000 square feet of luxury retail

More than 50 restaurants, lounges, bars, and nightclubs

World-class casino (the main bone of contention)

700,000 square feet of convention space featuring a 200,000 square-foot, column-free ballroom (would be the largest in the U.S.)

3.6-acre Lagoon with sand beach perched atop the podium, spanning the size of 12 Olympic-sized swimming pools, stretching from Biscayne Bay to Biscayne Boulevard

Baywalk along Biscayne Bay, connecting Museum Park to Edgewater

3-story Underground Parking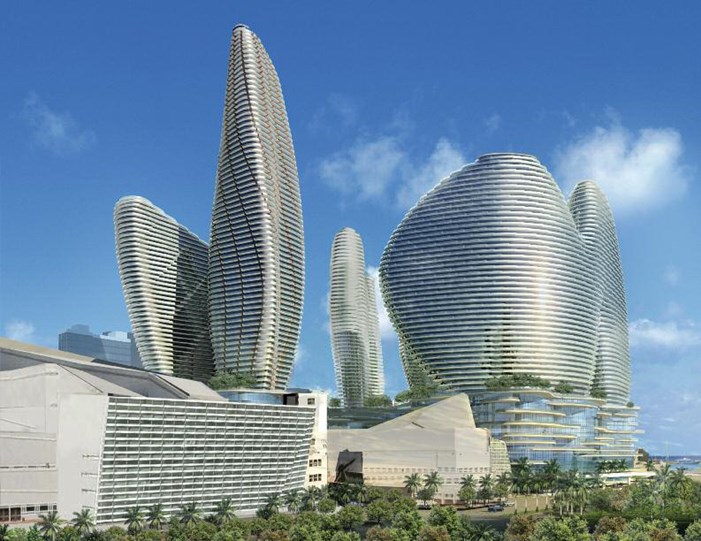 A Zoning Expansion, Monorail Extension to South Beach, and Baywalk
Miami-Dade Commissioners have also voted to add zoning density in the Brickell-Downtown area (including Genting's site), thereby clearing the way for Transit-Oriented Development, including a monorail extension. In March, Genting (along with its consortium of developers) was approved to work on feasibility studies for the monorail project.
The consortium is approved to elevate the Miami Beach station and build a new station on the Resorts World Miami property for the Monorail to cross the Bay. Simply put, the BayLink monorail extension would allow Resorts World's guests direct access to the beach via a short ride. Genting also still has plans for expanding the baywalk and marina at its One Herald Plaza, connecting Museum Park to Edgewater.



A Resorts World Miami Casino?
Genting is a casino resort developer that bet on a city that still has mixed feelings about bringing gambling to the area. Miami's Mayor Francis Suarez vetoed county approvals for a proposed smaller gambling establishment in Edgewater, supported by Miami magnates Jorge Pérez, founder of the Related Group, and Norman Braman, owner of several South Florida luxury auto dealerships. Both Perez and Braman have consistently expressed their staunch opposition to the development of casinos and legalized gambling facilities in Miami, with Perez writing an Op-Ed in the Miami Herald in 2018.
Further complicating an approval for a full-fledged Miami casino is the role the Seminole Tribe of Florida plays in holding rights to gambling operations in the State. Its Hollywood Hard Rock Hotel & Casino is well-known across the world. However, this hasn't seemed to sit well with other major Florida business owners, including former President Trump, and Fontainebleau Miami Beach owner Jeffrey Soffer, who are interested in bringing gambling to their properties.
This May, Florida legislators approved a deal with the Seminole Tribe, who hold the current monopoly on gambling in the State, making it easier to bring casinos to Miami (and surrounding cities). Negotiated by Gov. Ron DeSantis (R), the May 2021 agreement states that the tribe will not object to any new casino that is further than 15 miles from their Hard Rock Hotel & Casino in Hollywood. This conveniently puts former President Trump's ailing Doral golf resort at a "safe" distance. In theory, this deal would not only allow gambling at Trump Doral, but also Genting's Resorts World, and Fontainebleau Miami Beach (Soffer is said to be an interested party as well).
Although this doesn't exactly clear the path for transferring gambling licenses into areas where casinos are prohibited, it does bring them a step closer to materializing the vision. If the State and Seminole Tribe give their final approval to the transfer of permits, by law, local governments will not be able to prohibit casinos anymore – and Genting plus Soffer could become the pioneers of casino gambling in Miami.
With the casino getting closer to materializing, we'll be watching to see if the Genting Group submits any revisions to its original proposal or submits new building permits. For now, it is simply going ahead with 3 out of its 6 originally proposed towers. Meanwhile, you could read our Resorts World Miami update from March 2021 here.
 
---

How do you feel about this development? Does Miami need casinos? How will that change Edgewater? Let us know your thoughts and feelings on all of our social media accounts, @blackbookproperties.
Share your thoughts with us
Sign up now
Get news and updates delivered to your inbox