Get to Know Miami's Safest Neighborhoods
Aug 01, 2018 August 01, 2018
In spite of South Florida's colorful history of mobsters and midnight cowboys, the days of Miami Vice have happily gone by the wayside and been replaced by what we may some day refer to as the new Golden Age of Miami. With the influx of many new residential and commercial developments, neighborhood renovations and improvements, and the growth of influential cultural institutions, the greater Miami area, with its surrounding islands, villages and beaches, has blossomed into a lucrative urban metropolis that is generally considered a safe place to live and work.
While the greater Miami area has some rough patches, Numbeo, an online ranking website, ranks the city as having an overall 51% crime index, which is considered moderate, and a safety index of 48%, making it comparable to other major cities in the U.S. Nonetheless, several areas in the greater Miami metropolis are considered among the safest places to live in the United States. Below is a listing of some of the safest neighborhoods to call home in the Miami metropolitan area, especially if you want to be in or near the most central (urban and beach) parts of Miami.
Fisher Island
Generally speaking, the islands surrounding Miami, particularly the most elite, exclusive private islands such as Fisher Island in Miami Beach, practically guarantee utmost safety, as these communities are highly protected by 24-hour security, and allow access only to local residents. In the case of Fisher Island, which was named by CNBC the wealthiest zip code in the entire United States, and is a beloved hideaway for celebrities seeking privacy, there are no bridges to the island, so no cars can reach it, and access is restricted to ferries that run on a limited schedule. Residents also enjoy 24-hour marine patrol as well as on-land security, ensuring that no intruders can access the island easily by any means. Fisher Island even has its own elementary school onshore, so parents don't have to worry about their kids traveling on and off the island. If you're interested in purchasing a home on Fisher Island, the average listing price is around $11,905,490 with a high listing of $26,411,500, averaging around $2,099 per square foot, as high as $3,975.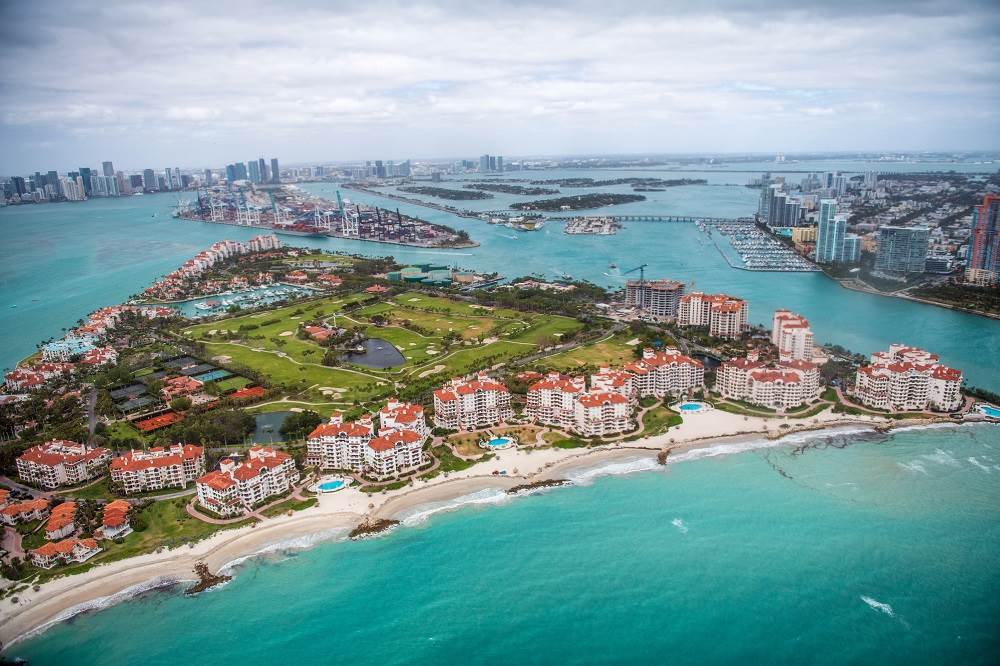 Fisher Island
Bay Harbor Islands
For families seeking a safe and mellow middle-class residential neighborhood with an excellent school in its midst, Bay Harbor Islands is a particularly good choice. With a small-town population of only 5,885, and a median household income of $61,000, this charming village community enjoys an easygoing lifestyle with a crime rate that is 79% lower than that of the rest of Florida, according to Niche 2018 Best Places to Live rankings, while still retaining quick and easy access to popular destinations such as Bal Harbour, South Beach, Aventura, Haulover, and the Miami Arts and Design District.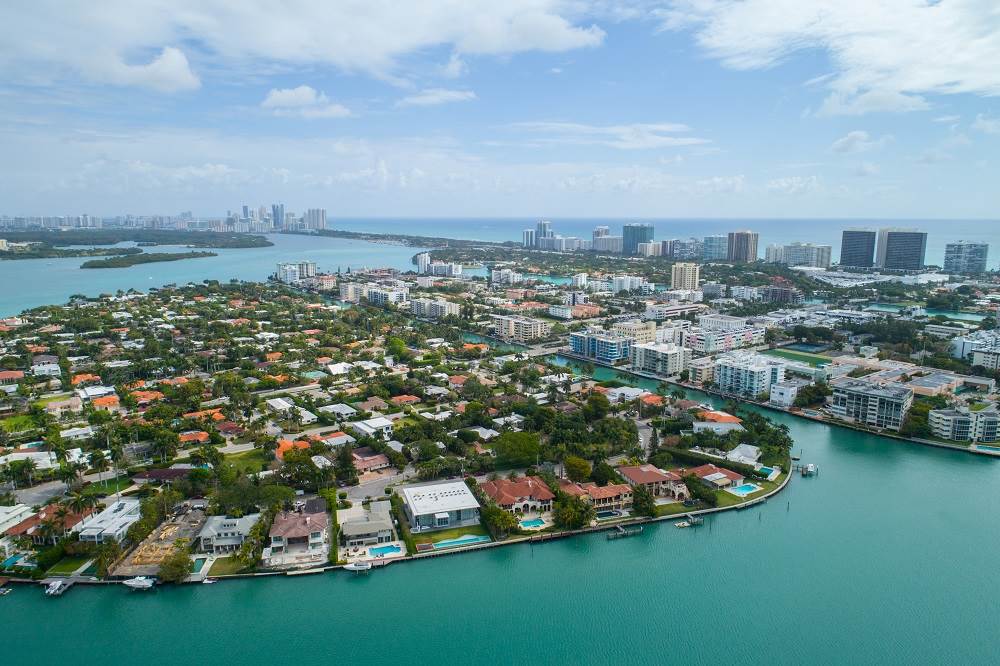 Bay Harbor Islands
Key Biscayne
Another elite and exclusive island community, the Village of Key Biscayne is home to some 12,900 residents who enjoy a median household income of about $125,000. Isolated from the mainland and accessible only by boat or by the stretch of Rickenbacker Causeway, this cozy and sophisticated isle is known for its upscale, laid-back lifestyle, gorgeous sunsets, unspoiled parks and beaches, and walkable neighborhoods filled with chic boutiques, restaurants, and plenty of yoga studios. The local health-conscious, fit, and active community can be seen out and about, often even driving around in their golf carts, making the area a safe place to walk around freely, with plenty of bike paths. The crime rate in Key Biscayne, according to Area Vibes, a website that ranks cities for livability, is about 62% lower than the average rate for the entire state of Florida, qualifying this Miami suburb as one of the safest in the state. Rated 76% safer than all U.S. cities on the average, according to Discover Homes' 12 Safest Neighborhoods in Miami, Key Biscayne is also considered to be one of the safest municipalities in the entire United States. In Key Biscayne, the average home lists for around $1,989,737 with the highest listing calculated at $24,900,000, averaging $827 per square foot but extending as high as $3,149 per square foot.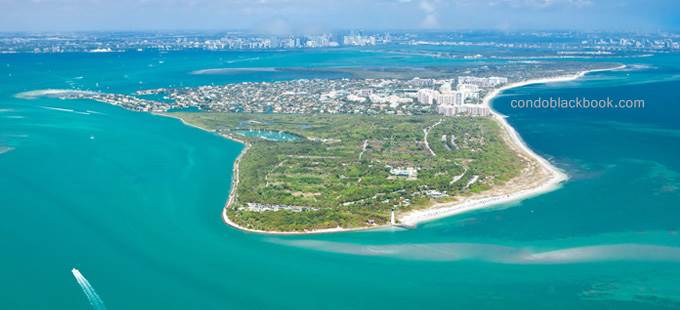 Key Biscayne
Golden Beach
Along A1A and bordering the Atlantic shores, the tiny and charming town of Golden Beach is best known for its spectacular mansions and elite celebrity homes. An exclusive community of only 635 residents with a median household income of $151,000, per Niche rankings, the area is home to only a sprinkling of some of the most exclusive elite condominium residences in all of greater Miami. Heavily patrolled 24-hours daily by the Golden Beach Police, the area also enjoys 7-day-a-week marine patrol, and boasts one of the lowest crime rates in comparison to the rest of Florida as well as the entire United States, with a crime rate that is estimated by Area Vibes to be 71% lower than the U.S. average, the town of Golden Beach is safer than 80% of cities in the United States.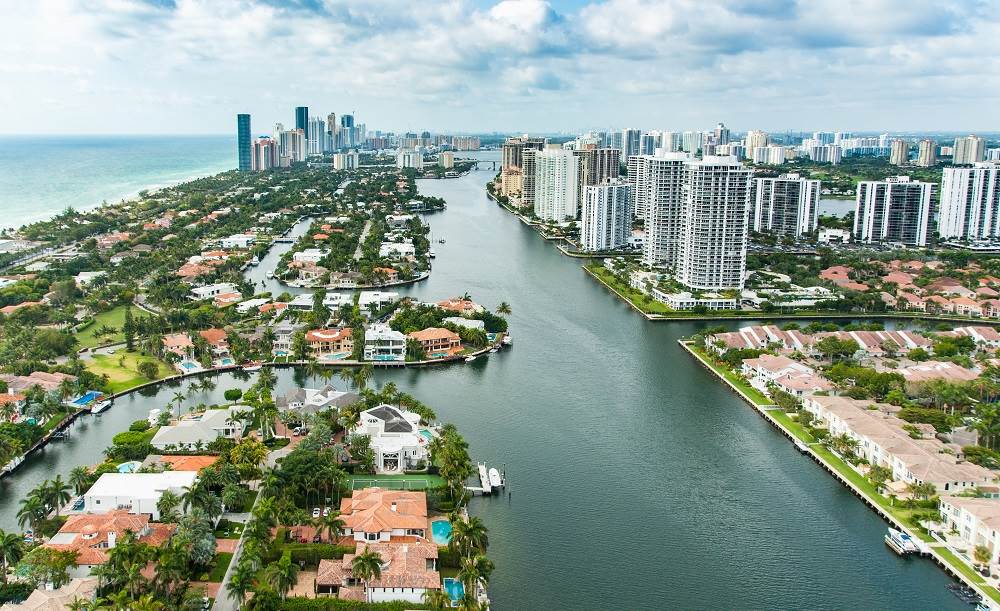 Golden Beach
Coral Way
The neighborhood of Coral Way is among Miami's most beloved residential communities. This shady tree-lined and walkable boulevard is a particular favorite among local residents, with a crime rate that has been steadily decreasing from year to year, and remains about 28% lower than the national average and 65% lower than the average in comparable Florida cities, per the Discover Home list. The vibrant shops, restaurants, and small business activity in the area means that there is generally ample movement and foot traffic in the neighborhood, making it a safe space to walk around in. Coral Way listings average around $451 per square foot, with a high of $666, with condos averaging in price around $454,670 with some listings as high as $825,000.
North Coconut Grove
While Coconut Grove is one of the oldest and most historically significant communities in the greater Miami area, there are some specific pockets, such as North Coconut Grove, that are especially prized as havens of serenity and safety, with a crime rate that is about 60% lower than the Miami average, per a study published by Movto.com. A small and diverse community of some 21,200 residents, averaging a median household income of $89,000, per Niche statistics, Coconut Grove, and particularly the North Coconut Grove area, also offers laid-back, Caribbean-inspired living and a friendly and close-knit community with excellent public and private schools surrounded by lush tropical landscapes. Many long-time North Grove residents have been known to boast that they feel so safe in their neighborhood that they don't even bother to lock their doors. Though this may not be recommended for all, it gives you an idea of how worry-free life can get in these parts. The average listing price for a condo in the Grove is around $1,781,206, with a high listing price nearing $11 million. Square footage price averages are about $665 with a high of $1,550.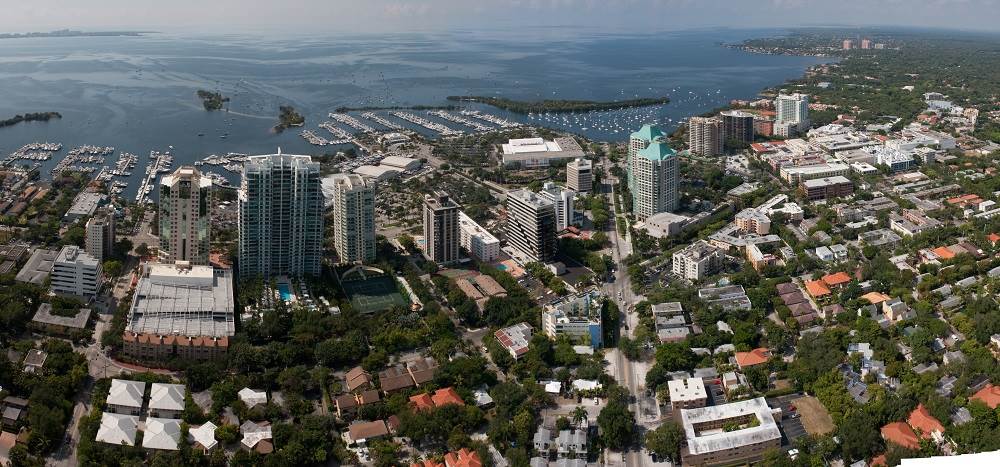 Coconut Grove
Sunny Isles Beach
Conveniently located near Miami Beach, Bal Harbour, and Aventura, Sunny Isles Beach is a highly desirable neighborhood for many prospective property buyers because of its direct access to sparkling Atlantic ocean beaches, excellent shopping and local resources, and convenience in proximity to other desirable areas. Hosting a modest population of approximately 22,000 inhabitants who earn a median household income of $52,000, per Niche estimates the area enjoys an active police presence thanks to the many commercial centers and tourist resorts in the neighborhood, as well as frequent foot-traffic at all hours. Overall, Sunny Isles Beach ranks as one of Florida's safer neighborhoods with a crime rate that is 46% lower than the Florida mean and 41% lower than the national average. Where violent offenses are concerned, Sunny Isles Beach, boasts a rate that is 75% lower than the Florida average and 72% lower than the national average. Living in Sunny Isles Beach may cost you around $722 or as high as $4,155 per square foot, with an average condo listing at around $1,743,974 and high-end property listing at about $38,000,000.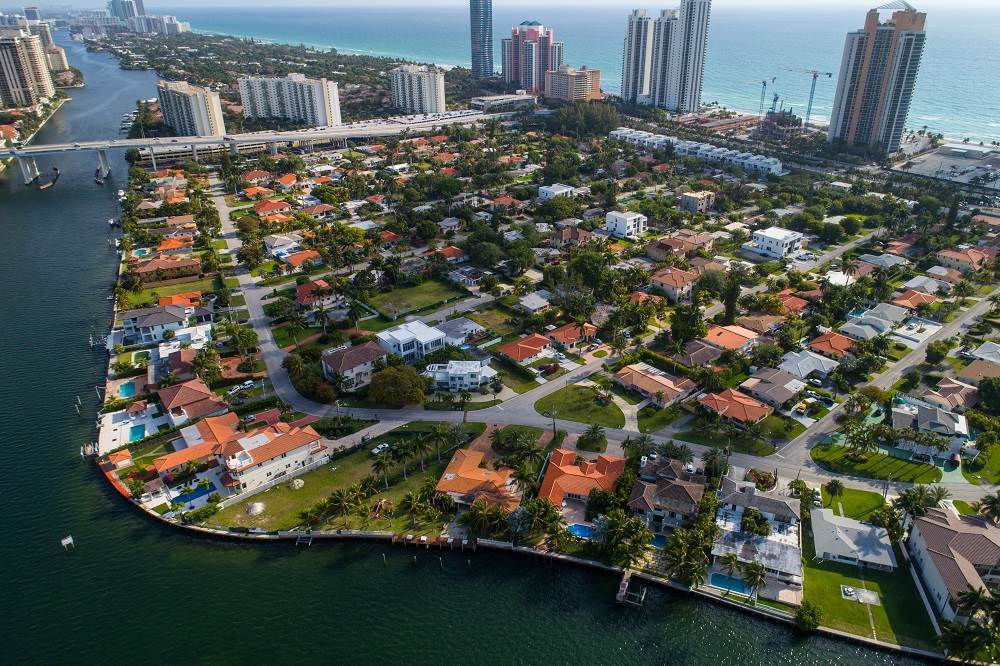 Golden Shores, Sunny Isles Beach
North Bay Village
Consisting of three islands known as North Bay Island, Harbor Island, and Treasure Island, and accessible along the Kennedy Causeway between Miami and Miami Beach, North Bay Village is another residential area with an excellent school in the neighborhood and a crime rate that is ranked by Area Vibes as being 42% lower than the Florida mean and 37% lower than the average for the entire U.S. Violent crimes rank 57% lower in North Bay Village than in the state Florida of Florida, and 52% lower than the national average. Niche estimates that the population of the three Islands totals no more than about 7,860 with a median income of $55,270. While originally designed as an isolated residential development of tree-lined streets and comfortable houses, the past few years have seen an increase in condominium tower developments, providing the option of condo apartment living in this small seaside community known for its assortment of restaurants and small businesses. The average cost per square foot for a condo residence in North Bay Village is $294 with a high listing cost of $430. The price of a residence in this area is $386,833 with a high listing of $575,000.
Coral Gables
Coral Gables is one of Miami's most prized residential jewels and a highly desirable neighborhood for families seeking good schools, peaceful surroundings, beautiful architecture, and easy access to such key locations as the University of Miami, the famed Miracle Mile shopping district, and the uniquely beautiful Venetian Pool, as well as art galleries and places of cultural interest, bookstores, boutiques, restaurants, and an assortment of small neighborhood businesses. Coral Gables earned an Area Vibes livability index of 80, meaning that it is a highly recommended place to live, and Discover Home gave it a crime index rating of 11, meaning that it is safer than 11% of comparable cities in the United States. Niche gives the city an A+ Livability rating, and lists its population as being 50,333 residents with a median income of $91,452. Condos cost an average of $789, 352 or about $445 per square foot, but a high-end listing may be around $9,800,000 or about $1,173 per square foot.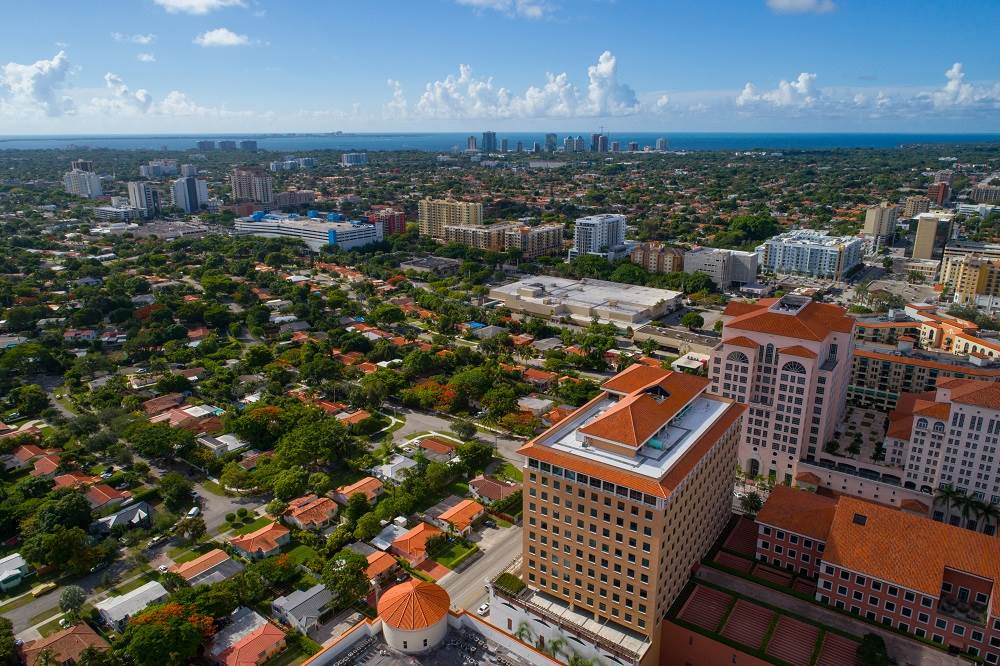 Coral Gables
Brickell Key
Brickell Key is actually a more residential extension of the Brickell neighborhood and part of Downtown Miami. This residential island enclave is inhabited by young upscale professionals as well as retirees and families with children, who make up a safe and easygoing community. Brickell Key provides quick access to the busy business district, while retaining the laid-back feeling and lifestyle of a small island, and the security of only one entrance to and from the island, manned by a 24-hour guard. According to Discover Homes, Brickell is one of the safest neighborhoods in Florida, and even in relation to other regions in the U.S. with a crime rate that is 25% lower than the national mean. This region also seems to grow increasingly safer, and has experienced a 9% decrease in crime over the past year. The cost per square foot for a condo on Brickell Key will come to an average of $533, with home prices averaging $891,983. The high listing for this area is about $7,750 or $1,550 per square foot.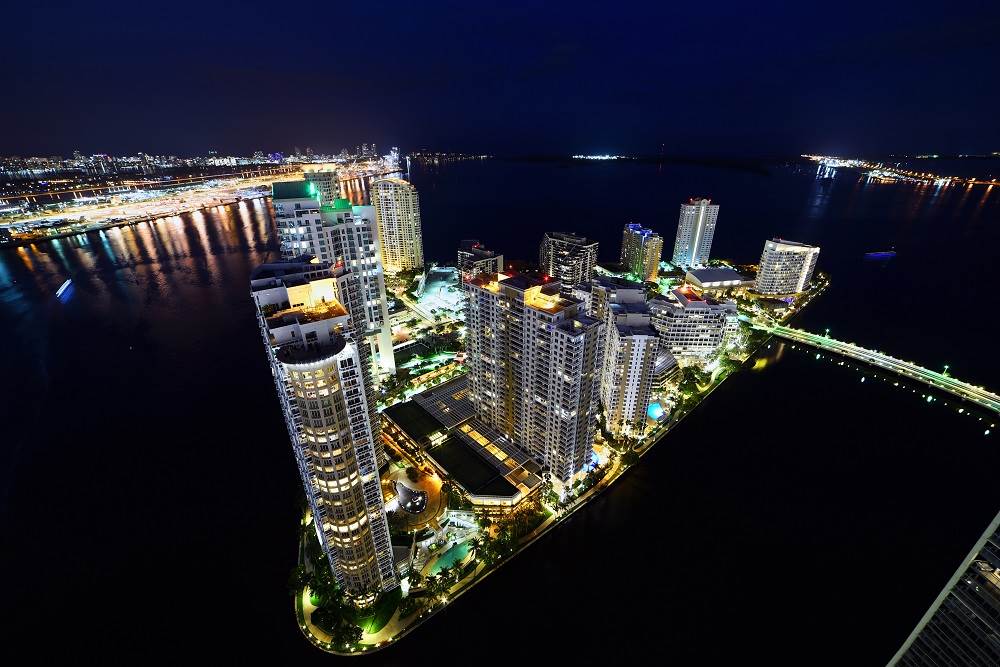 Brickell Key
Share your thoughts with us
Sign up now
Get news and updates delivered to your inbox