Guide to Miami's Top Farmers' Markets
May 03, 2017 May 03, 2017
With spring in full swing, it's time to shed those extra pounds (and clothing) for a cool dip in the ocean. And, what better way than to fill up on healthy, delicious eats found at your local farmers' market. Miami's sprawling with such markets that'll have you hooked to fresh, healthy, organic eating in no time. Amazing health benefits come as an added bonus!
So, whether you wish to expand your standard culinary repertoire, go vegan, get fit or simply support your local vendors, here are Miami's Top Farmers' Markets that will keep you and your body beaming with nature's goodness:
Location: 1300 Biscayne Blvd, Downtown Miami
Hours of Operation: Mondays 4:00 p.m. – 8:30 p.m.
You can stop by this nighttime market on your way home from work! Choose from a selection of produce grown in Florida along with prepared foods available for a quick dinner. If you've got the time, hang around for a workshop, cooking demo or live music. Notable vendors include tropical fruit seller LNB Grovestand, USDA certified organic farm Urban Oasis Project, and uniquely-flavored Keez Beez Honey.


Photograph: Courtesy of arshtcenter.org/Justin Namon
Location: Between 7th & 8th Street beneath the Metromover Track, Brickell
Hours of Operation: Sundays 11:00 a.m. – 6:00 p.m.
Enjoy a leisurely Sunday afternoon stroll, while checking off items on your grocery list. Prick up a prepared meal at Zak the Baker bread for dinner, or snack on cheeses and Argentinian empanadas. Besides the usual fresh fruits and veggies, check out the herb plants and artisanal olive oil at this organic paradise.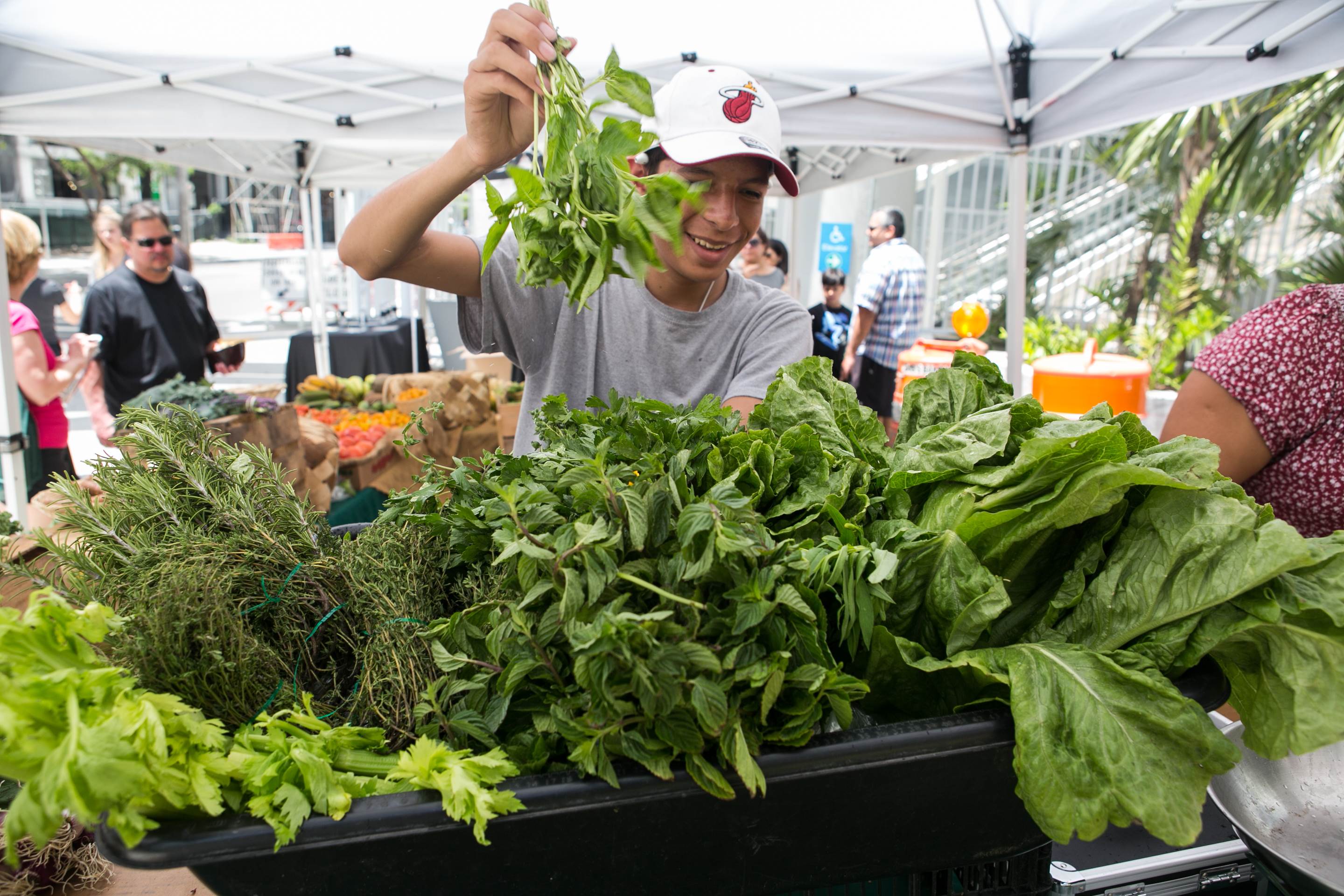 Photograph: Courtesy of brickellcitycentre.com
Location: 3300 Grand Avenue, Coconut Grove
Hours of Operation: Saturdays 10:00 a.m. - 7:00 p.m. 
Bring a big appetite to this vegetarian wonderland, as it houses organic food for every diet and allergy. Begin your tour with selections from Glaser Organic Farms selections, including a salad made from local produce or vegan "sushi" rolls, and top it off with vegan ice cream. For the main course, there's delicious Indian food, gourmet sandwiches, and a choice of veggie burgers with vegan cheese. In between courses, shop for homemade items like soaps and jewelry for beauty that shines from the inside-out.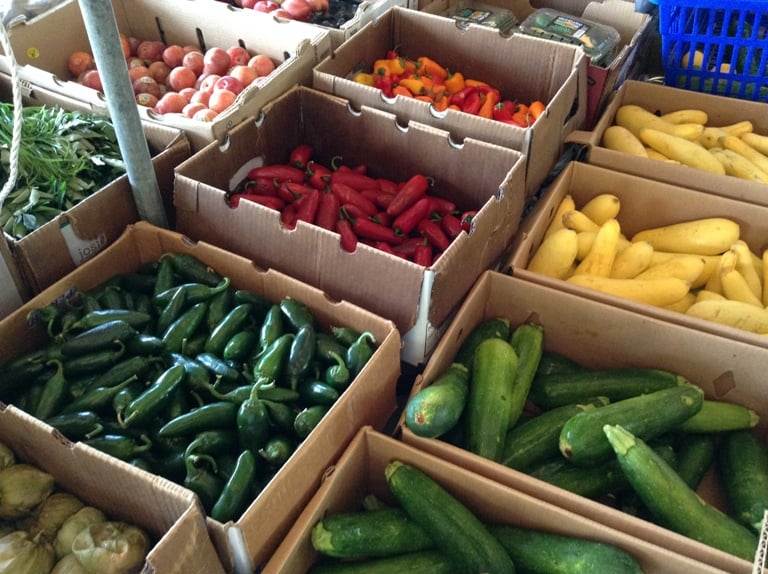 Photograph: Courtesy of Yelp/Julie R.
 
The Farmers' Market at Merrick Park
Location: 358 San Lorenzo Avenue, Coral Gables
Hours of Operation: Sundays 11:00 a.m. - 5:00 p.m.
After browsing through the Shops at Merrick Park for a couple, go ahead and tour the outdoor farmers' market before heading home. Right between Tourneau and Nordstrom will be a selection of organic produce and fresh baked goods loaded with natural goodness. It definitely beats fast food from a food court.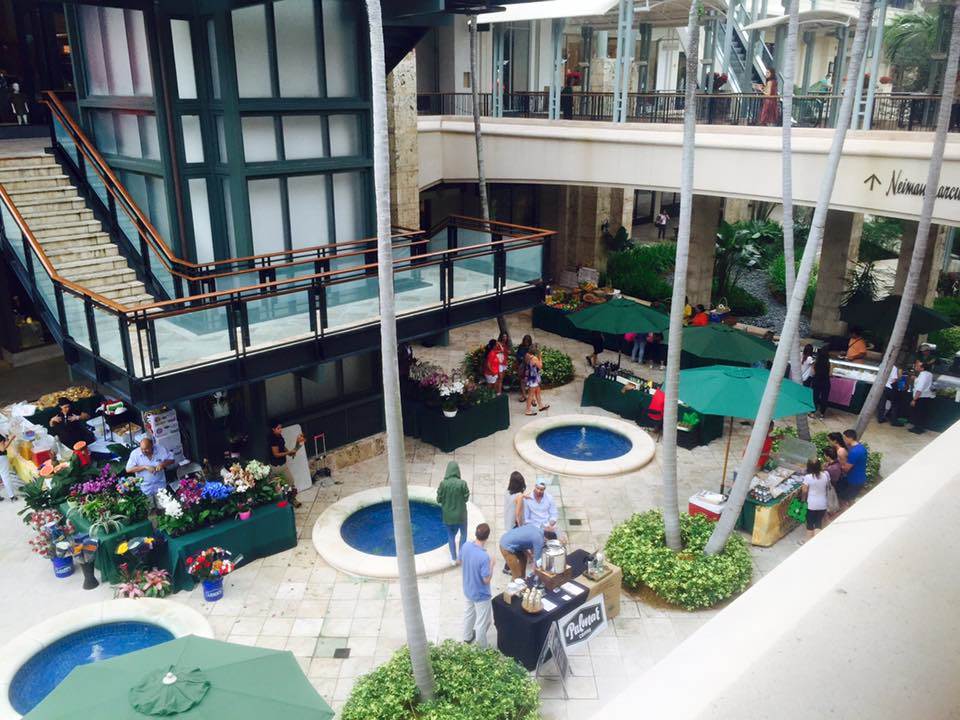 Photograph: Courtesy of Facebook/The Farmers Market at Merrick Park
Location: Lincoln Road between Washington and Meridian Avenues, South Beach
Hours of Operation: Sundays 9:00 a.m. - 6:30 p.m.
Spend a leisurely Sunday wandering through Lincoln Road Mall's outdoor market. You'll find everything here, from organic produce to honey to jams and jellies. Pick out fresh-cut flowers or one of their famous fruit smoothies. Clothing and antique vendors also set up shop from October to May, so there's still time to check them out.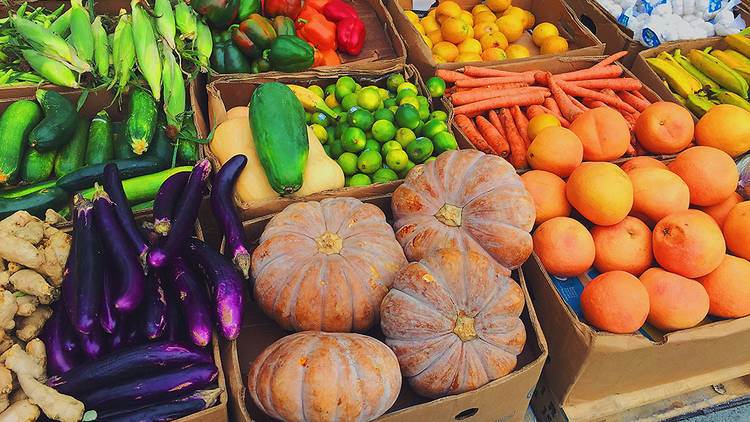 Photograph: Courtesy of CC/Flickr/Edgar Zuniga Jr.
 
Normandy Village Farmers' Market
Location: Normandy Isle Fountain at 7892 Rue Vendome, North Beach
Hours of Operation: Saturdays 9:00 a.m. - 4:00 p.m.
This small, but bountiful market has the iconic Normandy Isle Fountain as its backdrop. You'll find the expected fresh produce - honey and flowers - and then there's the prepared foods and French pastries. It's the perfect setting for an evening picnic.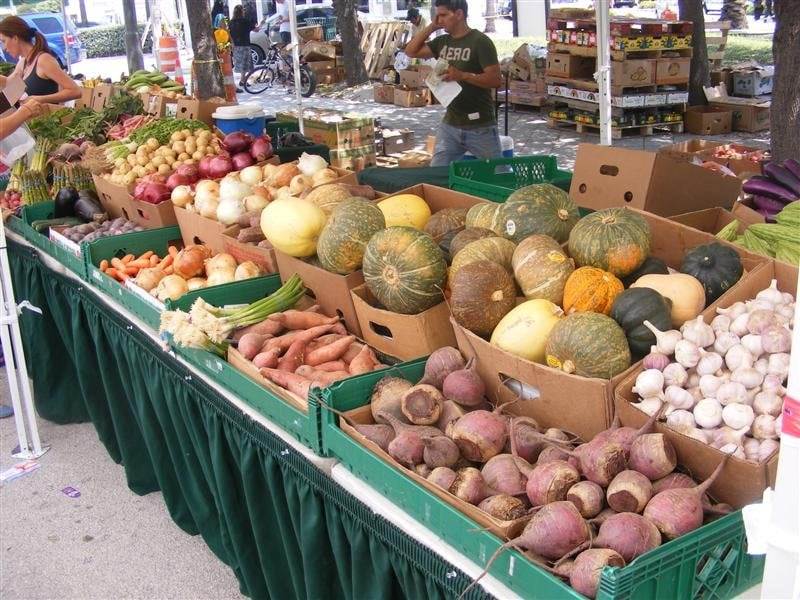 Photograph: Courtesy of Yelp/Rich D.
Location: 11000 Red Road, Pinecrest
Hours of Operation: Sundays 9:00 a.m. - 2:00 p.m.
Dedicated to local, organic and sustainable farms, Pinecrest Gardens Farmers' Market supplies visitors with enough selections to fill a buffet. All of the fruits and vegetables are in season, plus the meats and cheeses will save you a trip to a chain supermarket. Seek out the conch fritters, BBQ and pizza stands for a satisfying lunch. Don't miss the spices, teas and soy products like candles and soaps.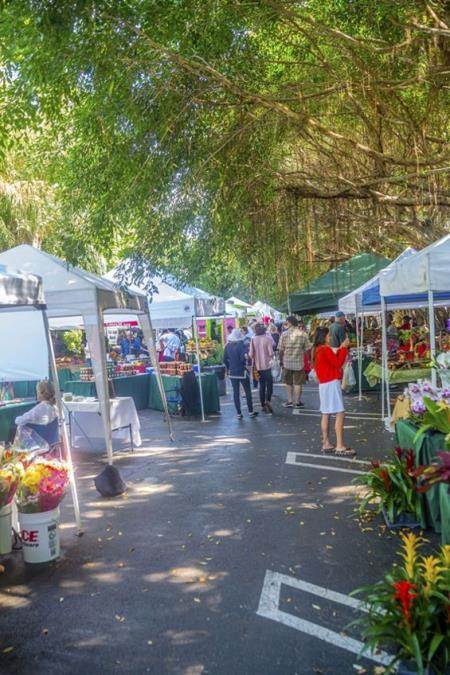 Photograph: Courtesy of pinecrest.fl.gov
Location: Legion Park at 66th Street and Biscayne Boulevard, Little Haiti
Hours of Operation: Saturdays 9:00 a.m. - 2:00 p.m.
Even though this market is small, it has plenty of produce thanks to the Urban Oasis Project. Their stand is full of beautiful tropical fruit you won't see in supermarkets. Move on to specialty items such as essential oils, vegan cookies and gluten-free bread. You can even take part in a free yoga class to start the day right.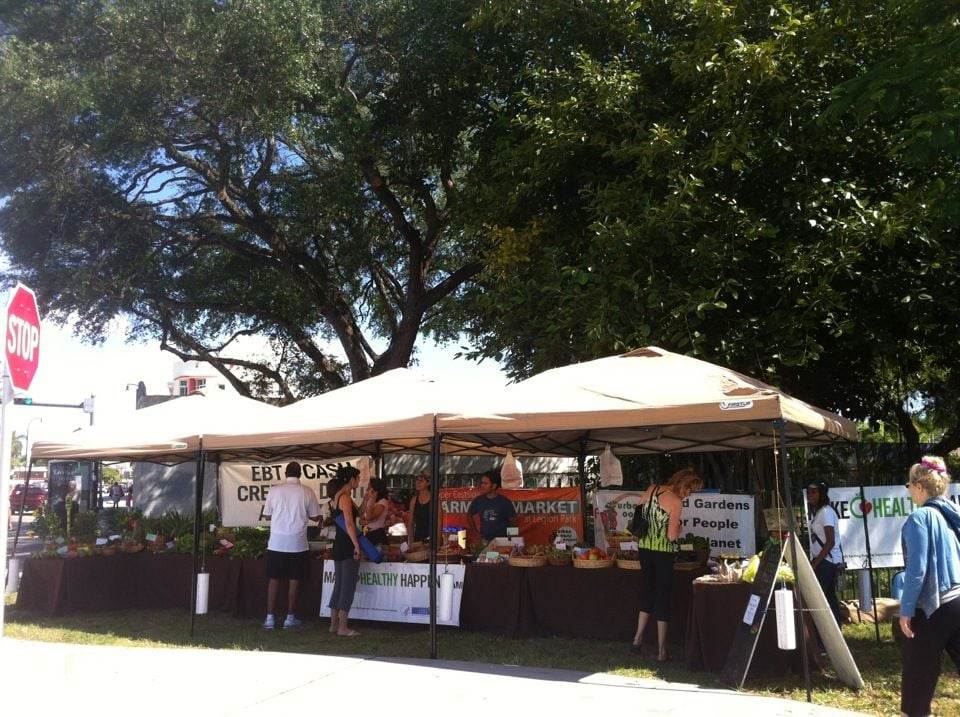 Photograph: Courtesy of Yelp/Upper Eastside Farmers Market
Location: NW 26th Street between Third and Fifth Avenues, Wynwood
Hours of Operation: Saturdays 11:00 a.m. - 6:00 p.m.
Bring the family to a place that's part-market, part-block party. Enjoy live music and entertainment or watch a culinary demonstration. Aside from the regular fresh produce and prepared foods, you'll have tons of snack options. Pick up a refreshing glass of coconut water, a baked goodie to suit your diet or allergy, or a flavored homemade granola. Be sure to stop by tables of homemade jewelry and other natural products, some provided by Etsy vendors.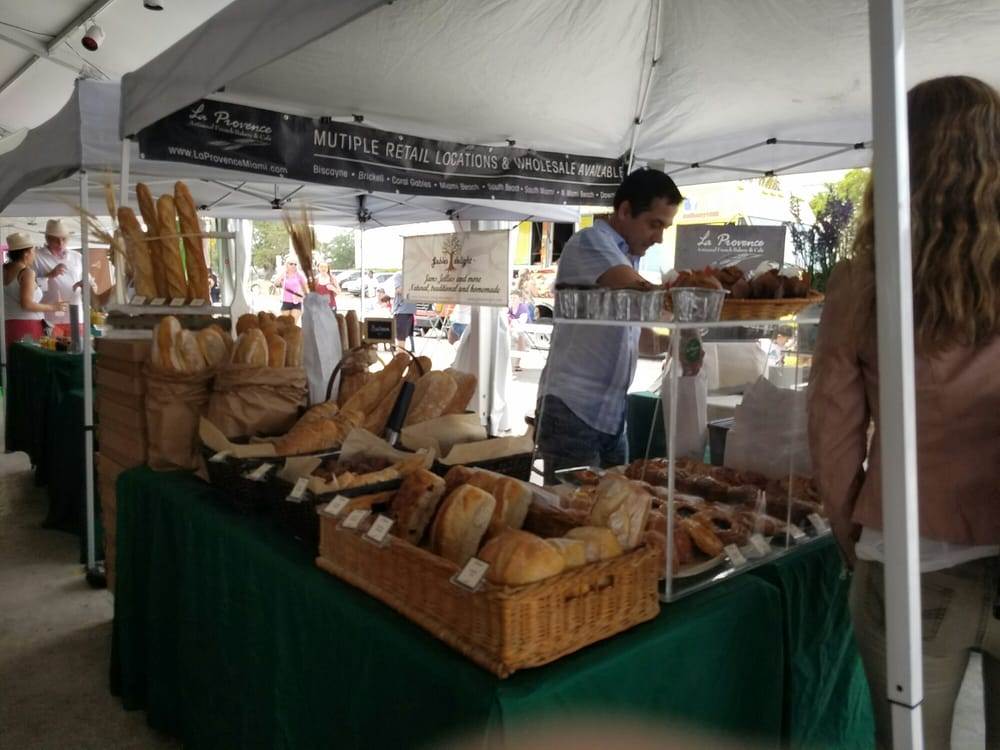 Photograph: Courtesy of Yelp/Marilyn M.
Location: Tropical Park at 7900 Bird Road, SW 40th Street, Olympia Heights
Hours of Operation: Saturdays 9:00 a.m. - 3:00 p.m.
This market is on a mission to bring fresh food to the South Miami community. A bit off from the city's center, they provide the customary seasonal fruit and quality honey, but there's also an assortment of unique items and prepared meals that could get you hooked. Try a sugarcane juice called "guarapo", go for the King Fish seafood creations, or sample some Peruvian dishes. Prepared foods' stand Vilma's Creations hosts fun events, while Daubar's Products sells natural beauty items for you and your canine companion.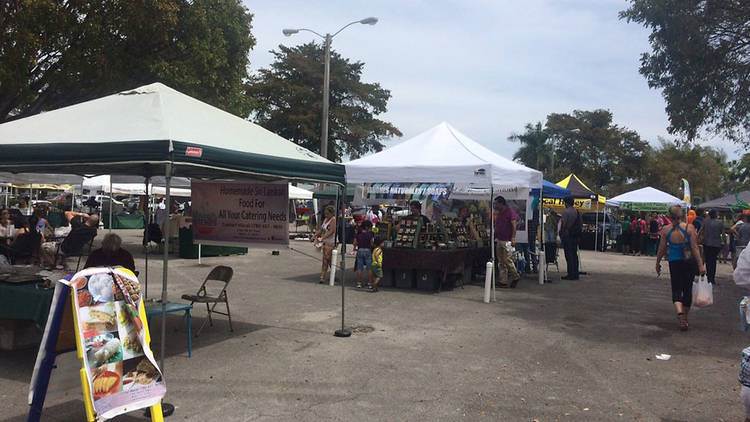 Photograph: Courtesy of Yelp/Julio H.
 
Think I missed a spot? Which one of these markets do you like to shop at? Have an experience you'd like to share? Let me know in the comments below.
Share your thoughts with us
Sign up now
Get news and updates delivered to your inbox