Historic Church in Edgewater sold for $14.3 million
Nov 24, 2014 November 24, 2014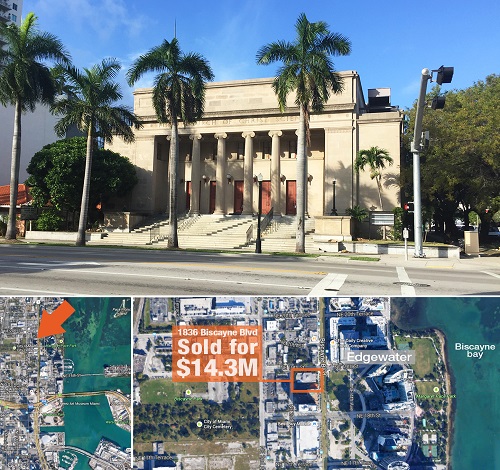 A company made quite a profit from the sale of the old First Church of Christ Scientist building in Edgewater recently.
Reading Room Partners, an affiliate of QueensFort Capital based out of Miami Beach, sold the two-property plot for $14.3 million. The company originally paid $6.3 million for the properties years ago.
The boost in property value was due to Reading Room's ability to upzone the properties. That is, they convinced legislators to zone the property for 500 units per acre instead of the original 150 units per acre.
The historic properties, located at 1836 Biscayne Boulevard and 256 Northeast 19th Street, are planned to be reinstated as high-end restaurants.
The purchasing party is an affiliate to the Fifteen Group based out of Miami.
The Fifteen Group has been buying and selling Miami properties a lot this year. Fifteen Group has sold a Midtown plot for $12.3 million, and bought a downtown FedEx building for $19 million, along with other transactions in the area.
Source: therealdeal.com
Share your thoughts with us
Sign up now
Get news and updates delivered to your inbox