How to Airbnb: Getting your Condo Airbnb ready
Feb 16, 2021 February 16, 2021
Unless you have been living under a rock for the last 10 years, chances are you've heard of Airbnb and, most likely, used it or a service like it. For those of you who haven't, Airbnb lets people with spare rooms, a condo or house rent out their property to the site's customers on a daily or monthly basis. If you're looking for a place to stay, whether in your same city, another city or state, another country, or overseas, it's a great way to find personalized accommodation. That means that if you own a condo, townhouse or home, you can also possibly rent it out, and Airbnb can provide a healthy source of second income. 
While it might feel strange letting a stranger into your home, Airbnb hosts have said that it can be quite rewarding, and not just to your bottom line. And if you have the privilege of condo-living 24/7 that allows short-term rentals, why not offer up that opportunity to others? So let's go over the do's and don'ts of how to Airbnb your home, how to get your condo or home ready for your guests, and how to list your vacation rental condo or home.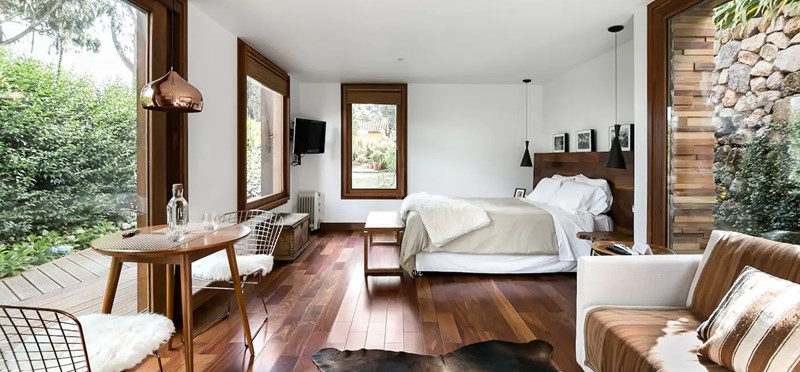 Cuzco Stylish Getaway Cabin below Sacsayhuaman Archeological Site. Photo: Airbnb

Signing up to Airbnb. Frequently Asked Questions (FAQs) 
What is it going to cost you? Well nothing…upfront. It is completely free to list your property on Airbnb. That being said, when you get a booking, Airbnb takes a 3% commission. Small, however, in comparison to the rates you could make per night.


How much should you charge? That is up to you. It's worth looking at what other hotels are charging in your city as well as what condos in your neighborhood or building are charging so that you don't end up under-charging or over-charging. Bear in mind that you can also charge a cleaning fee as well as special fees for late check-in and pets.


Can Airbnb help you find the right price? Finding the right price is always important, charge too much and you are left with an empty property generating no income. Charge too little and you miss out on extra cash and need to cover your expenses. With Airbnb's Smart Pricing feature, your rates will automatically update, controlled by a variety of factors determined by the local market.


What do guests need in order to book?

Airbnb asks for a bit of basic info from everyone who books through the site, and requires an account. This is not just for security reasons. It also allows the hosts to put a name to a face! It gives everyone peace of mind with regards to house rules so there is no confusion later down the line. Airbnb will ask each user for:

Full name, Email address, Confirmed phone number, Introductory message, Agreement to your House Rules, Payment information.


What if you are not happy with the person you are hosting?

If you have already rented your property, and the customer is already in your house and are breaking the rules you can cancel their reservation. If they haven't arrived yet but you are still not comfortable hosting them you can cancel the reservation with no penalty. 
What happens if your property gets damaged? Firstly, with Airbnb you can arrange a security deposit if you want. Beyond that, Airbnb has you covered up to $1,000,000 for any excess damage to your property. That's a pretty good deal for insurance that you don't need to take out yourself.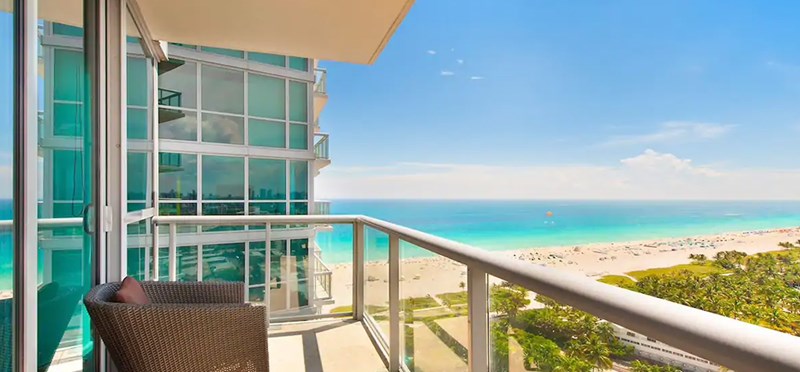 Suite at the Setai South Beach. Photo: Airbnb


What's an Airbnb Superhost and how do I become one?
Becoming an Airbnb Superhost is an indication to travelers that you have a good track record hosting guests, and those guests are happy with their stays. Once you become an Airbnb Superhost you will find it much easier to get bookings and Airbnb will be more inclined to recommend you to its users based on its algorithms. But how do you become a superhost in the first place?
Firstly, make sure you keep your acceptance rate as high as possible. You need to have hosted at least 10 guests to become a superhost. Also, you can't have a cancellation rate higher than 1%. If you cancel bookings, airbnb will start to demote your listings. Because of this, it's best that your calendar only shows bookings that you can fulfill.


Always respond and respond as quickly as possible. If you are an active user who responds quickly, Airbnb will reward you. So make sure you have your notifications on and reply to messages as soon as possible.


Airbnb is a community-driven site. Just as guests will leave reviews for you, it's important that you also leave reviews for your guests. Airbnb encourages this as it will allow future hosts to decide whether or not to host guests.



And most importantly be a good host! You need a host rating of at least 4.8 stars in order to become a super host.

Setting up your Airbnb or short-term rental listing
When it's time to set up your listing, there are a few tips that will help you to avoid making common and sometimes major mistakes. Firstly, be transparent and detailed with your listing and photos. As with any property listing, taking good photographs is key. If you can, have your property professionally photographed and stage it if you can. Clean it, remove clutter from floors and countertops and have it well lit, especially bathroom areas. 

For advice on how to photograph your property, read our in-depth blog here. 
Another good tip is to show photographs of the common areas of the building and your neighborhood, especially stand-out amenities such as the pool or a neighborhood park. If your condo has incredible views, show that in the listing. From big details to little details, visitors using Airbnb will also want to have a sense of the things that make staying there comfortable - photographs of things like toiletries, towels, a freshly made bed, and kitchen accessories can go a long way to make your rental property a favorite one.
On the other hand, transparency is key to giving guests a positive stay and providing positive reviews.  Be sure to mention any potential drawbacks that your condo might have, and try to frame those negatives in a way that doesn't put customers off. Maybe your condo is "cozy" instead of "small." If it's a loud neighborhood describe it as"'lively and exciting."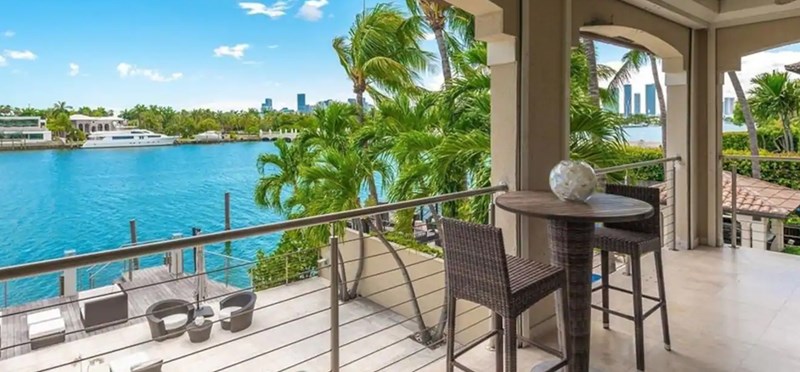 Beautiful villa on the Miami Beach. Photo: Airbnb

Make your listing
stand out
!
There are thousands of condos on Airbnb and no sane person is going to read through every single listing. If you can get your cover photo to pop you are going to be able to reel in a lot more guests. 

But how?
#1 Cover Photo
Make sure your cover picture is an interesting part of your house….wow factor is always good! Maybe your condo has an awesome balcony? Or it could be that master bedroom with the killer view? The point is it has got to get the user to stop and click. 

#2  Pictures like a pro… or even better, by a pro!
Research has shown that home pictures taken using professional techniques boosted bookings by as much as 7%, and listings with verified professional photography by as much as 16%. And with Airbnb's new scheme, pro photographers can be booked and paid for using your future Airbnb bookings! Meaning you don't have to front the cash.

#3  Captions, captions and more captions.
Captions are a great way to give little bursts of info to potential customers all while they get to look at the photos of your glamorous property. This is where you can highlight details that may not be clear from the pictures, maybe you have a concierge or specific home technology? These are key selling points of your Airbnb and you should show them off! (By the way if you don't have home tech you should definitely check out this article.)

#4  Property Description
The listing description is your chance to offer future guests details about your condo or home and surrounding area, but also about you as a host. Don't let that opportunity go to waste! Many people love the human touch that comes with staying at Airbnbs, and become friends with their hosts, returning year after year, and also recommending you to friends and family. Still, keep your description concise and keep all the info up-to-date to prevent any surprises. 
Short but sweet, make sure your description is easy to read.


Sell yourself! The host can play a crucial role in the ultimate success of people's trips, so show yourself off.



Get to know your audience. If your condo is getting booked up by artists, include the nearby gallery in your description, or if you have a family home don't forget to mention that playground down the road!

#5  Reviews
Airbnb runs on trust and the only reason it can do that is because of its brilliant review system that allows the community to share its experiences and rate them accordingly. The more reviews you have, the more likely people are going to book. In order to make sure that you keep all 5 of those stars, find out what you can do to improve from tenants and make sure you do it. Remember, if you are able to keep your star rating above 4.8, you can become a super host, making it a lot easier to get bookings!



If you're looking for a Miami investment condo or home for daily rentals, reach out to us and we can help you find the right investment. And don't miss our
Guide to Miami Condos that Allow Airbnb
.


What will your guests need? 
It's all very well and good having the perfect listing and getting bookings, but if your condo doesn't live up to hype, your Airbnb career will be short and far from sweet. As we mentioned previously, good reviews are everything. So here are a few tips to ensure that your condo makes for a pleasant stay for your guests. 

Home safety is key
If your condo isn't totally safe, whether it is because of exposed wires, broken locks or a lack of smoke detectors, you immediately put yourself at danger of getting kicked off the site altogether. That being said you can't prevent every possible disaster and guests understand that. Even so, leave an emergency contact number just in case something does go wrong. 

Keep it clean
One of the easiest ways to dissatisfy your guests is by not cleaning your condo. Arriving at a clean place is what your guests are expecting. Wouldn't you? After their stay, your guests will be quizzed on the cleanliness of your Airbnb and their score will contribute to your overall rating. So it might be worth hiring someone to tidy up!  

Tech that's simple and up to date
No one wants to spend hours battling with a dodgy internet connection or a cryptic password. It also might be nice to have a good tv set up just for a bit of rainy day entertainment for your guests. 
Thoughtful touches will go a long way. This definitely applies to your Airbnb! Small details such as a bottle of wine on arrival, fresh flowers, or a locally-made product, along with a list of local attractions on the countertop will show your guests that you have taken the time to think of them.
Also, make sure to give your house some character. Good interior design will set you apart from the thousands of other condos to choose from and will leave a good impression with your guests. Things like indoor plants for example can brighten up your condo instantly and add that much-needed wow factor.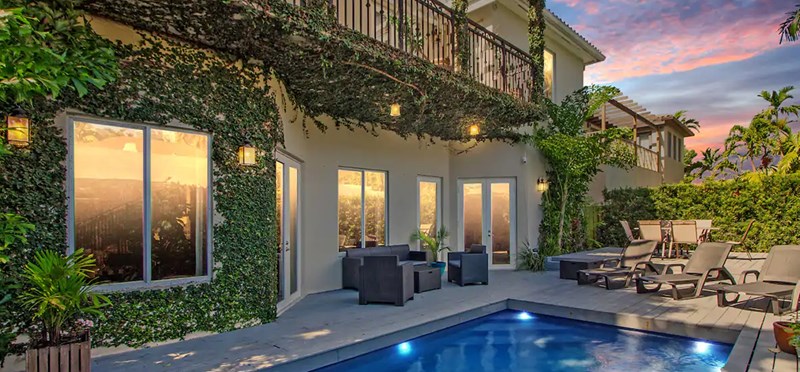 Villa Vuitton - Sleeps 16 | Pool | Center of Miami. Photo: Airbnb


Getting Your Condo in Order

Living Rooms
The first thing your guests will see when they come into the house is the entry way, you only have one chance of a good first impression so make the most of it! I know that might sound a little dramatic, but things like a doormat and a coat rack will not only please your guests but will save work for you in the form of cleaning.
Moving on to the living room, a comfortable living room that your guest can unwind in is crucial. Things like a smart tv that give your guests access to streaming services such as Netflix are a good idea, as are books and a game or two to keep your guests entertained. The living room is also a great opportunity for a sofa bed that will allow you to fit in more people, making your Airbnb more attractive to potential guests. 
Ideas to include in Living Room:
Sofa bed 

Smart TV 

Good lighting 

Books and games

Kitchen
One of the main perks of booking an airbnb over a regular hotel room is that you get all the workings of a regular home. Crucially, you get a kitchen! But what use is it giving your guests a kitchen if they cannot cook in it? Your condo's kitchen should be stocked with cutlery, glassware and dinnerware, as well as basic kitchen utensils and at least a stove top. While it is true that people don't usually cook four course dinners on holiday, it doesn't hurt to give them the option. Also, having a popular coffee maker or Nespresso machine or another similar type of coffee maker is always a crowd-pleaser. And why not add a few cooking books while you're at it, might be a nice touch.
Items to include in Kitchen:
Stove/hob

Cutlery

Pots & Pans

Dinnerware (Service for 6 at least)

Glassware and coffee mugs

Hot pads and kitchen towels

Cleaning equipment

A vase

Bedrooms
This is where the 5-star reviews happen! Nothing annoys people more than a bad night's sleep, and grumpy guests tend to be a lot more critical than content ones! Things such as comfortable mattresses and nice sheets will go a long way in making your guests comfy in the bedroom. Avoid white sheets as these stain easily, and be sure to use cotton sheets (no polyester!). Egyptian cotton is always a good choice, the higher the thread count the better! Also, in winter a down-like duvet will keep your guests snug! Blackout curtains are also a good idea if your bedrooms get a lot of light, as it allows your guests the option to sleep in. And finally, be sure to provide a few extra pillows.
Items to include in bedrooms:
High quality sheets

Comfortable mattress 

Good curtains

A warm duvet

A few extra pillows

Bathrooms
The bathroom is another important room in any Airbnb and one that gives you the opportunity to spoil your guests, making your property go from a good to a great experience. Be sure your towels are fluffy, and you have extras. Also, a good bath mat is key. From nice soaps and shampoos to basic toiletries and matching bathrobes, you can turn what would otherwise be a normal bathroom into your very own miniature spa. 
Items to include in the bathrooms:
Matching towels

Robes

Good bath mat

Heated towel racks

Complimentary toiletries and shampoos

Outdoor Space (if you have it)
If you have a nice balcony, condo terrace or outdoor area, a key pointer is to maintain the space and your plants. Withered and dead plants will stand out like a sore thumb instead of speaking to your green thumb. Also items like water features and outdoor lights can be a lovely addition! Outdoor spaces also make for a great place to entertain so don't forget a table and chairs if you have the room! 
Items for outdoor spaces:
Outdoor Furniture

Healthy Plants

Outdoor Lights 

Water Features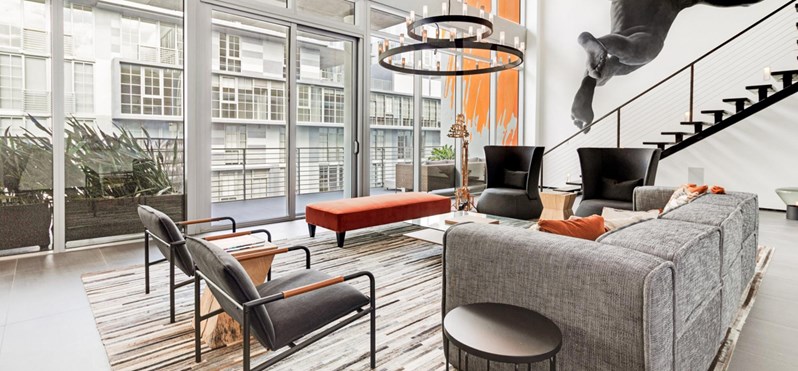 Wynwood Penthouse. Photo: Airbnb


Other Daily Rental Sites similar to Airbnb
Along with Airbnb there are a few other sites that provide a similar service, such as VRBO (Vacation rental by owner) and Homeaway. 

VRBO
There is very little that separates VRBO and Airbnb, however there are a few small differences. 
VRBO doesn't allow you to rent out spare rooms.

You will only be able to find entire properties on the VRBO website. While this can limit your options (Airbnb has 4 million hosts compared to VRBO's 2 million, according to

Mashable

). It does ensure that you won't have to share your space. That being said it is easy enough to unselect shared properties on Airbnb.


Better Searching,

VRBO has a filter for everything and is designed to find the perfect vacation home for

you.

There are a ton of house and condo options to choose from. Everything from chalets to yachts.

Homeaway
Homeaway and VRBO are both owned by the same parent company, so it's no surprise that the site's functionality is similar. That being said, the different brandings and aesthetics of the website do have a big impact on the user experience and VRBO wins hands down. 


---

If you're thinking of buying a condo as a short-term rental investment or have a condo you're considering listing and need advice, reach out to us anytime - chat, email or call - and we'll be happy to help you.


Cover: Sextant | 2-Story Waterfront Penthouse #15 | Heated Pool | 10 mins to Beach. Photo: Airbnb
Share your thoughts with us
Sign up now
Get news and updates delivered to your inbox