IFE-ILE Afro-Cuban Dance Festival – It's Hot
Aug 06, 2015 August 06, 2015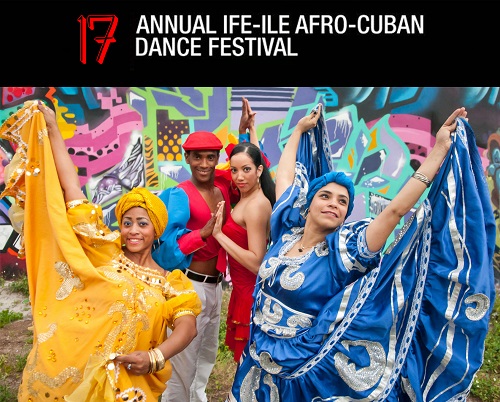 Miami's summer temperatures easily reach 90 daily. But if that's not hot enough, IFE-ILE's Afro-Cuban Dance Festival turns up the heat even more. Join the 17th annual celebrations August 20th -22nd. Two full days of dance workshops, live music, panel discussions, energetic performances, a street fair and fun after parties. It's an excellent time to soak in the vibrant culture and rich heritage of the Afro-Cuban community while getting down with some hot Afro-Cuban beats.
A non-profit organization, IFE-ILE is dedicated to the preservation, promotion and advancement of Afro-Cuban culture through dance. So, undoubtedly the festival is all about shaking that thing while learning about Afro-Cuban traditions. You'll enjoy afro-modern, mambo, rumba, conga, yuka, salsa rueda, son, cha-cha-cha and the ritualistic orisha dance forms.
Renowned Afro-Cuban dancers and drummers will be demonstrating their skills. And a gala performance will be a befitting conclusion. This year, closing day will feature the world premiere of "Under Heaven and Earth." A brand-new choreography by Company Director and Founder Neri Torres was inspired by the Mariel Boatlift and its impact on the social tapestry of the U.S. Catch workshops, performances and flavorful excitement at Miami Dade County Auditorium, at 2901 W Flagler St.
Share your thoughts with us
Sign up now
Get news and updates delivered to your inbox