Intriguing Real Estate Statistics from South Florida by the Numbers
Dec 04, 2014 December 04, 2014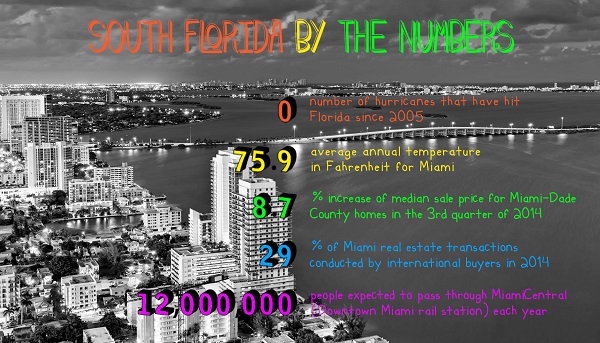 Sources have compiled a "South Florida by the Numbers" commentary, which includes a few real estate statistics that might interest you.
As Thanksgiving is just around the corner, it is good to sit back and see what we are truly thankful for. The twists and turns of the market and the promise of a bright future are all coming together. Enjoy South Florida by the Numbers.
0 – The number of hurricanes that have hit Florida since 2005. It has been nine years since a hurricane it Florida
75.9 – The average annual temperature in Fahrenheit for Miami, with an average high of 82.8°F and an average low of 69°F.
8.7 – The percent increase of median sale price of homes in Miami-Dade in the third quarter of 2014. This marks 11 repeated quarters of growth.
29 – The percent of Miami real estate transactions conducted by international investors in 2014. Although this is impressive, it is actually down from 35% in 2013.
12,000,000 – The number of people expected to go through MiamiCentral, All Aboard Florida's downtown Miami rail station, every year. In addition to the commercial and retail aspects of the station, many believe it will attract visitors by potentially going to Orlando with the Metrorail, Metromover, and Tri-Rail.
Source: therealdeal.com
Photo credit: Background - bh-3.com
Share your thoughts with us
Sign up now
Get news and updates delivered to your inbox