Is Coral Gables Capable Of Transformation?
Sep 18, 2015 September 18, 2015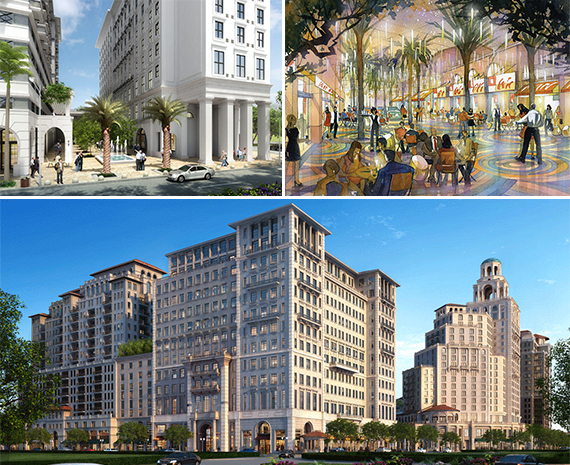 Coral Gables is taking strides toward creating more mixed use spaces introducing new public art, pedestrian-friendly developments and an excellent commercial sector.
Paseo de la Riviera is among the projects. They are planning a mixed use development to replace the Holiday Inn with an open-air hotel and residential tower. The project, located at 1350 South Dixie Highway, will cover 2.7 acres and activate a corner of U.S. 1. The plan reserves a half-acre plot for green space across the street from the Underline.
The walkway at the Paseo will be about 350 feet long and 70 feet wide. A 10-story, 252-room hotel, as well as a 224-unit residential building will replace the former Holiday Inn.
The Mediterranean Village at Ponce Circle is another project adding pizzazz to Coral Gables.
The 6.7-acre, mixed-use building complex will contain a five-star hotel, 300,000 square-feet of office space, 300,000 square-feet of retail space, two condo towers, 15 townhomes, a rooftop restaurant and several parks. It will take up about three city blocks and cost $500 million to create.
Many sources have been researching pedestrian-friendly and green solutions for Miami. One source, Marina Foglia, director of the Coral Gables Business Improvement District (BID), says that they are attempting a $20 million Miracle Mile and Giralda Avenue streetscape project. She believes it will "change the coding to activate downtown Coral Gables."
The $20 million funding was approved in August of 2014, the City of Coral Gables will source half of it and independent BID property owners will finance the other half. The Gables BID is fully funded by the members of the organization.
Several other projects planned along the same principles are currently under construction. These include the Aloft Hotel at 2524 LeJeune Road, a residential project at 2020 Salzedo, the University of Miami Health Center and other similar projects have been approved at 4311 Ponce de Leon and 1200 Ponce de Leon.
Source: therealdeal.com
Photo credit: therealdeal.com
Share your thoughts with us
Sign up now
Get news and updates delivered to your inbox