Luxury Condo Project Moving Forward on McArthur Causeway's Terminal Island
Jul 03, 2019 July 03, 2019
Terminal Island is a small, triangular island off the MacArthur Causeway that up until now has not been developed for residential use. The island has been used primarily to house the fleet maintenance of vehicles such as police cars, and sanitation buildings for the City of Miami Beach, as well as a gas station for city vehicles, an electric plant, and the Fisher Island ferry terminal. There's also an active Coast Guard station on a nearby neighboring island.



At the moment, a new condo project proposed by Related Group will start moving forward with plans to build a 35-story luxury condo tower housing some 90 residential units on Terminal island. To convince the City of Miami Beach to grant the required permit to build a 400-foot residential tower in an industrial zone, Related Group has proposed to build the city a new fleet maintenance building, providing a badly needed upgrade to the current structure.
While city officials are tempted by the developer's offer, the U.S. Coast Guard has voiced objections to the project, claiming the development would have a negative impact on its capacity to safely and effectively conduct its normal operations and activities. The objections stem from the Coast Guard's concern that residents' luxury yachts would interfere with such vital functions and activities as intercepting sea vessels carrying contraband and drugs. The agency also expressed concerns that the residential condo tower could become a lookout point used by criminal groups that could threaten Coast Guard security. They also fear that the tower may interfere with their communication systems, and that condo residents would object to their noisy day-to-day operations, which include such activities as ship repair, cargo loading, and forklift operations.
Still, the city has a lot to gain from the project. At Terminal Island, Related Group's plans include a new 50,000-square-foot facility that will house the city's fleet maintenance and sanitation operations, an upgrade to the existing gas station, and a new parking garage. Related Group also estimates that its luxury condo project, designed by Arquitectonica, would further benefit the City of Miami Beach by generating some $2.9 million in tax revenue yearly. These negotiation points have convinced city officials and plans appear to be moving ahead.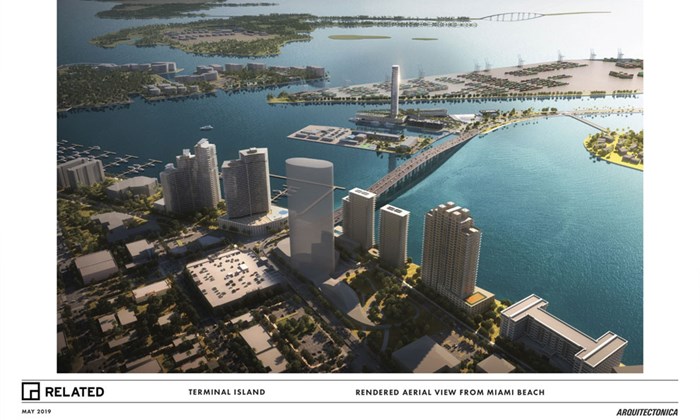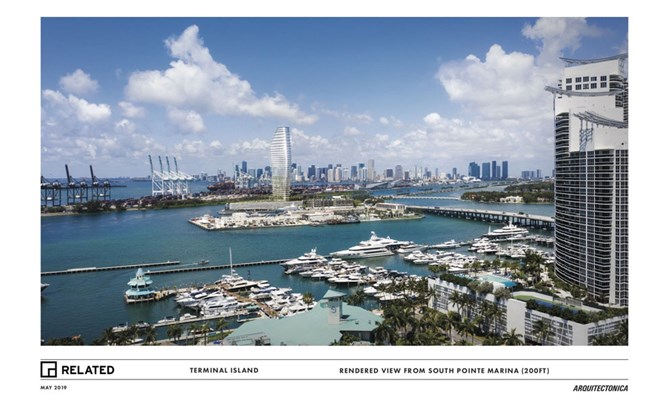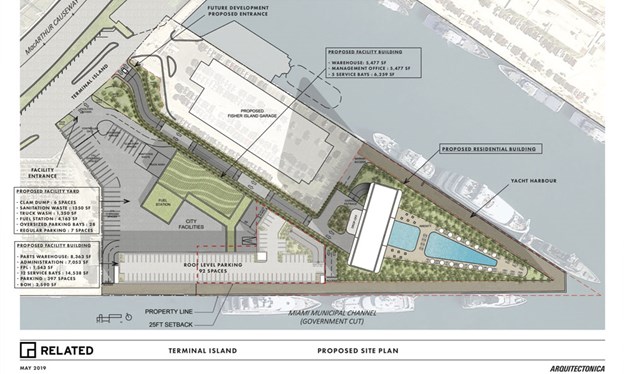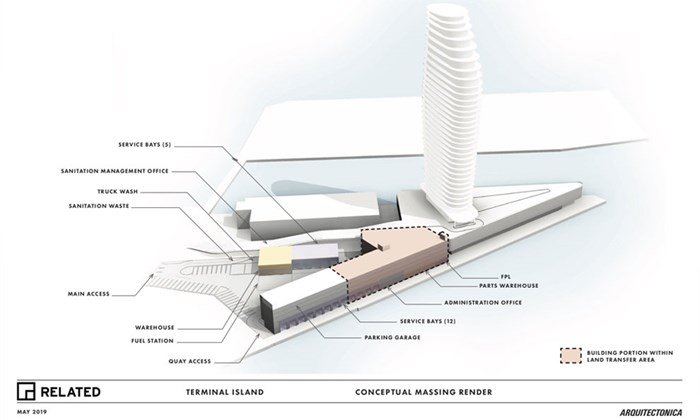 ---
Renderings: Arquitectonica
Share your thoughts with us
Sign up now
Get news and updates delivered to your inbox