Miami Beach Area Neighborhood Comparison: Sunny Isles Beach vs Hollywood
Aug 30, 2021 August 30, 2021
If you want to live close to the beauty and tranquility of the quieter neighborhoods of greater Miami area beaches and coastal communities, but still want to be close enough to enjoy all of the perks of living in a big city, you might consider Sunny Isles Beach, or head just a bit further north into Hollywood. 
We chose to compare these two popular Miami area beachfront and coastal neighborhoods because while they are very close to each other, they each have a unique vibe and lifestyle. Sunny Isles Beach is a beachside resort community on the fringes of everything that Miami has to offer. Hollywood is a full-fledged city unto itself. Located in Broward County, Hollywood has a beachside community, as well as a historic downtown area and a variety of residential neighborhoods and communities, and shared naming rights for the Fort Lauderdale-Hollywood International Airport. 

Lifestyle: Sunny Isles Beach vs. Hollywood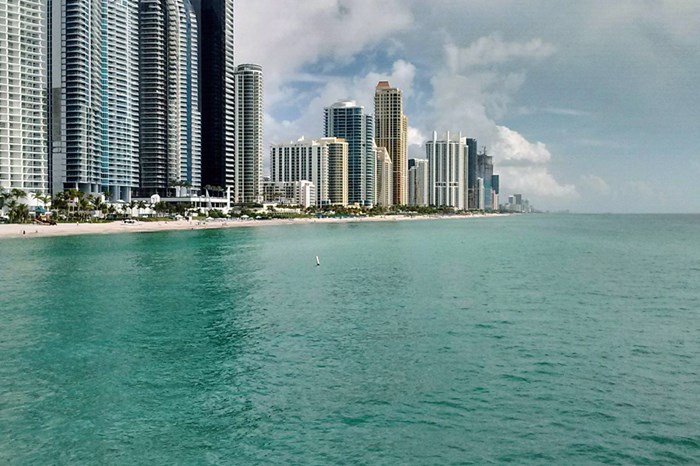 Sunny Isles Beach is ideal for individuals and families who worship the ocean, want a second home by the sea or want to live as if they're on vacation year-round. It's very a popular community for those who want to own a beachside vacation property in South Florida. A quick drive north from South Beach, Downtown Miami, and Brickell, Sunny Isles Beach is a great place to live if you want to keep a healthy distance between home and work (if you work in Miami proper or even Aventura).

Hollywood, which was founded as a city in 1925, is a much larger area that includes coastal living opportunities, single-family homes, Art Deco and mid-century bungalows, golf course communities, and mid-rise apartment buildings, as well as newer condo developments. Strategically located between Fort Lauderdale and Miami, Hollywood also has its own culture and lifestyle as a city, with a vibrantly diverse population, a notably bohemian and Caribbean flavor, and a historic downtown boulevard with a city circle.

Business: Sunny Isles Beach vs Hollywood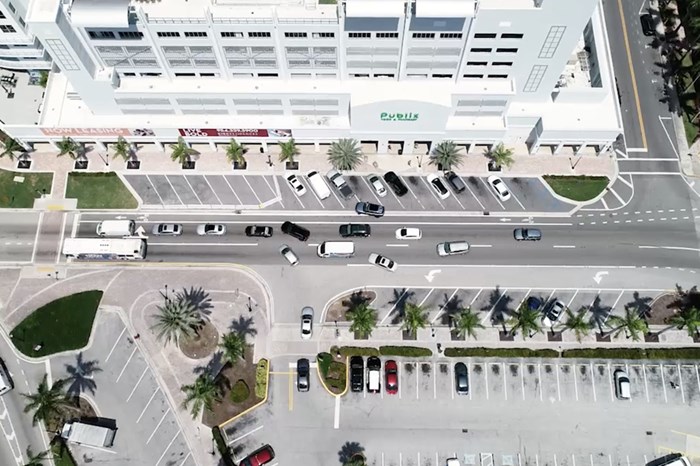 Hollywood Circle. Photo courtesy of Hollywood Circle

Both Sunny Isles and Hollywood are filled with many small local businesses, from high-end restaurants to fashion boutiques, fitness and yoga centers, and hair and nail salons. However, Hollywood has far more corporate business and commercial activity than Sunny Isles Beach. Hollywood is also home to many corporations in industries such as shipping (Port Everglades is part of Hollywood) IT, media production, engineering, aerospace, hospitality, and many others. 

Walkability and Transportation: Sunny Isles Beach vs Hollywood
Both Sunny Isles and Hollywood are served by bus lines. Hollywood is also served by the Tri-Rail service that runs between Miami and Fort Lauderdale, as well as to other points north. Both areas have walkable options within the neighborhood, with essentials such as Publix and Walgreens always close by.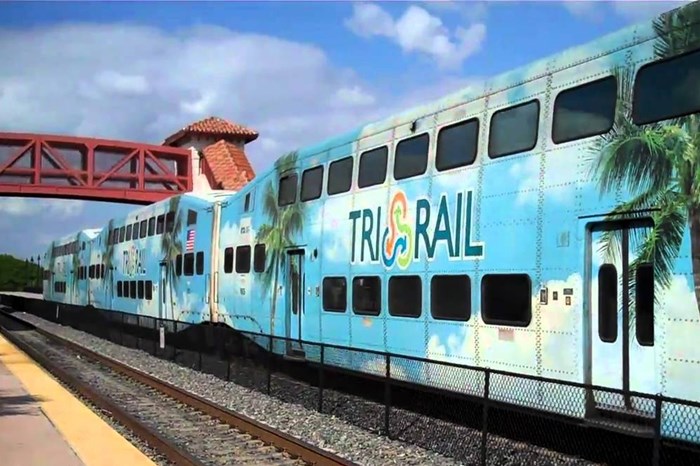 In Sunny Isles, the beach is within walking distance, as are commercial shopping areas and local parks, as most of the community is situated along A1A. Hollywood Beach is also positioned along A1A and has a free trolley service for getting around within the city, as well as bus lines and bike trails for those who opt for living car-free.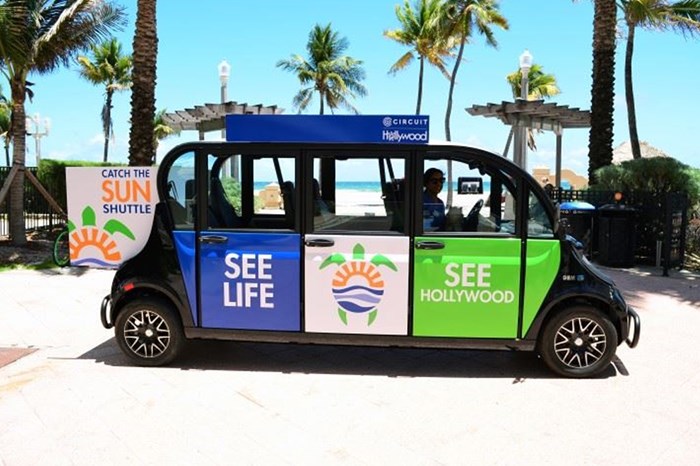 While getting around car-free is easy within both neighborhoods, you may need a car to travel to other parts of Miami and South Florida. From Sunny Isles, it's fairly easy to commute to areas such as Brickell, Downtown Miami, South Beach, and Aventura. Living in Hollywood means a shorter commute for those who work in Aventura or Fort Lauderdale.




Parks and Greenspace: Sunny Isles Beach vs Hollywood
Sunny Isles Beach and Hollywood Beach both provide direct access to the beautiful Atlantic Ocean beaches.  Sunny Isles also has several parks and green spaces, such as Heritage Park, spanning 4 acres and features two children's playgrounds and a leash-free dog park; Senator Gwen Margolis Park, which features a soccer field and picnic areas; Town Center Park, which has an outdoor fitness trail and shady gazebos for picnics; and Gateway Park 5, a 5-acre park with a beautiful butterfly garden and a stage for concerts and performing arts.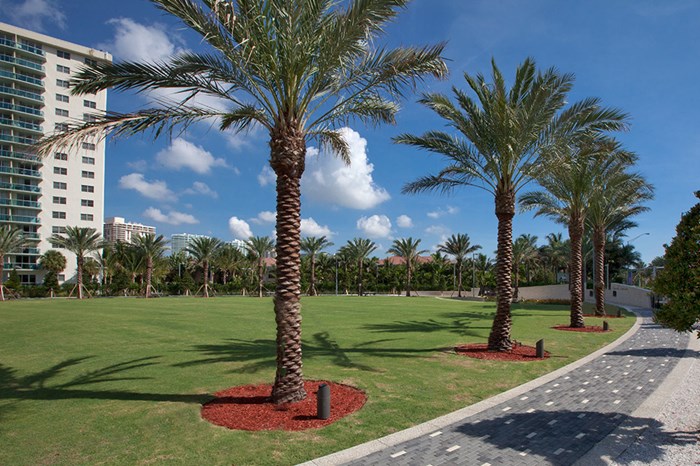 Heritage Park - Sunny Isles, FL. Photo courtesy of Miami In Focus

Hollywood is home to 60 parks, including plenty of small neighborhood parks with kids' playgrounds and seven miles of pristine beaches. It also has seven golf courses. But it is most known for its 2.5 mile-long Broadwalk, a promenade meant to offer residents and visitors a place to stroll, skate or bike along the beach that was named one of America's Best Beach Boardwalks by Travel + Leisure magazine.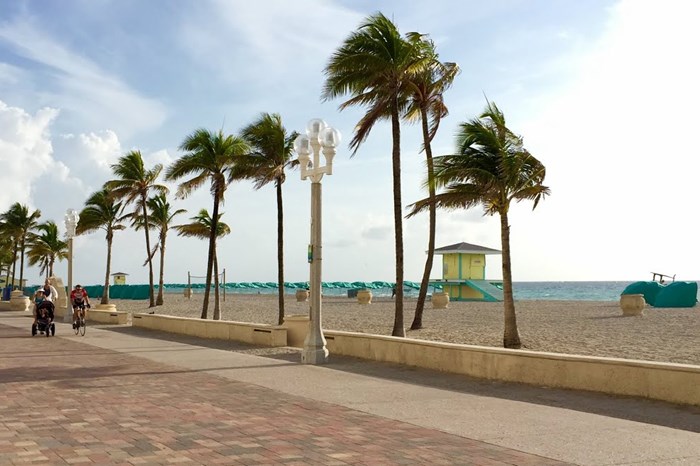 Hollywood boardwalk, Hollywood FL

And there are also great county parks located in Hollywood, such as Anniversary Park, located in the heart of the Historic District in Downtown Hollywood, Topeekeegee Yugnee (T.Y.) Park, John Williams Park, and West Lake Park, all of which have beautiful hiking and biking trails as well as kayaking options.  

Arts and Culture: Sunny Isles Beach vs Hollywood
While Sunny Isles is a resort community that takes advantage of the lively arts scene in neighboring Miami Beach, the city of Sunny Isles does host an Annual Jazz Fest as well as concerts at Gateway Park.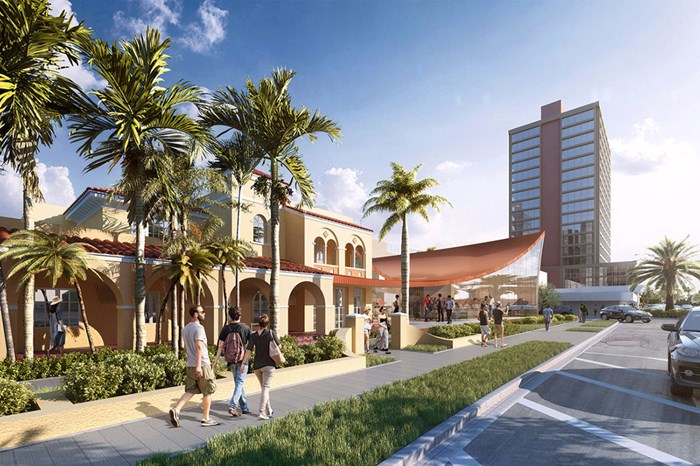 Art and Culture Center of Hollywood - Rendering by Brooks and Scarpa

Hollywood, on the other hand, has far more cultural offerings, including the prestigious Art and Culture Center of Hollywood, where exhibitions change regularly, and ongoing classes and workshops are available for locals. Hollywood also has the cultural events presented at Young Circle, a monthly Art Walk, and the Hollywood Mural Project, which pairs local artists with vacant properties to provide public art for the community.

Eating and Shopping: Sunny Isles Beach vs Hollywood
In Sunny Isles, you can enjoy shopping at the RK Village Plaza as well as nearby Bal Harbour and Aventura. Fine dining options include several exquisite restaurants at the Acqualina Resort, such as Il Mulino, AQ Chop House, and Ke-uH, as well as authentic Middle Eastern at Chayhana Oasis, Argentinian open-fire steaks at La Barra, and traditional Cuban fare at El Tropico. For the health-conscious, lite fare at Sproutz or Miami Juice makes a perfect lunch, and for the discerning gourmet, Epicure Restaurant and Gourmet Market has some wonderful gastronomic surprises.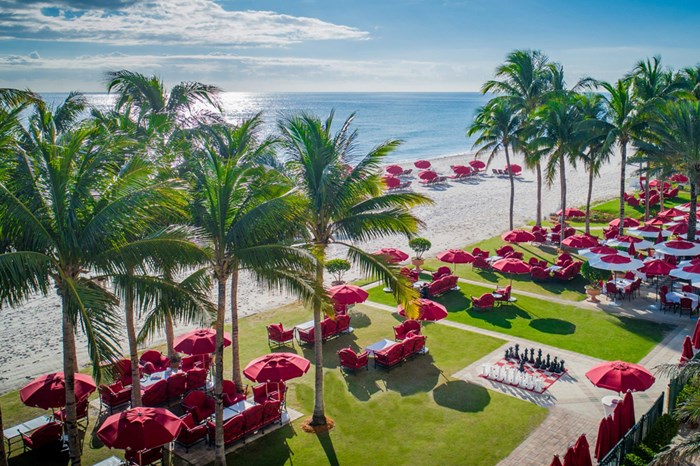 Il Mulino at the Acqualina Resort - Sunny Isles Beach, FL

In Hollywood, there are several options for great shopping, including Oakwood Plaza, Hollywood Hills Plaza, and Young Circle Shopping Center.  Hollywood also offers a veritable smorgasbord of dining options, including local icons such as GG's Waterfront and Billy's Stone Crabs, authentic Peruvian at Runas or Pachamanka, Middle Eastern fare at A La Turca, Brazilian at Viva Brazil, off-the-beaten-path Japanese at Kuro, or the best burger in town at Le Tub Saloon. 

Schools: Sunny Isles Beach vs Hollywood
Sunny Isles Beach students are served by highly-ranked public and private schools in Miami Beach and Aventura, including Bay Harbor Elementary School, Nautilus Middle School, and Miami Beach Sr. High School in Miami Beach or Michael Krop Sr. High School in Aventura, as well as private parochial schools such as Lehrman Community Day School, Temple Menorah Jewish Montessori, and Mesivta Yeshiva Elementary School in nearby North Beach.  Other private parochial schools in the area include St. Patrick's Catholic School in Mid-Beach and the Hebrew Academy in South Beach.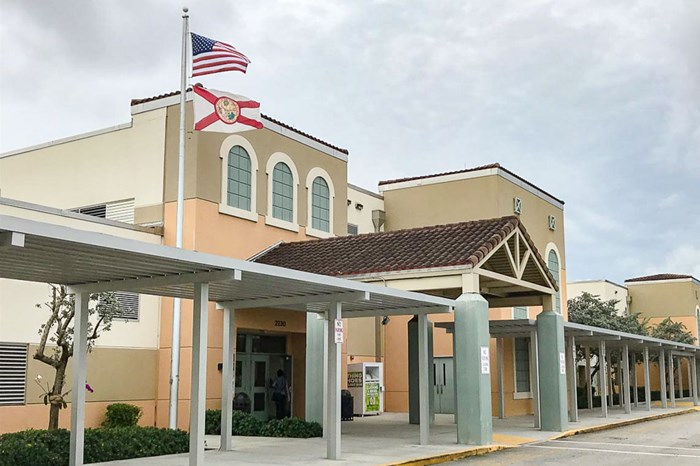 Beachside Montessori Village | Hollywood, FL

Hollywood encompasses a much larger area, so there are many more options. Some of the most highly ranked schools in the area include Beachside Montessori Village K-8, South Broward High School, Sheridan Park Elementary, Sheridan Hills Elementary, Hollywood Hills Elementary, and Hollywood Park Elementary, among others. Charter schools in the area include Hollywood Academy of Arts & Sciences (Charter), Ben Gamla Charter School, Bridgeprep Academy of Hollywood Hills, Avant Garde Academy, and many others. Private parochial schools in the area include Calvary Christian Academy, Nativity Elementary School, St. Bernadette Catholic School, Annunciation Catholic School, Chaminade Madonna College Prep. Other private schools include Beacon Hill School, Westlake Preparatory School & Academy, and Lycee Franco-American International School. 

Architecture and Housing Options: Sunny Isles Beach vs Hollywood
Both Sunny Isles and Hollywood have been transformed in recent years by new developments. In Sunny Isles, some ultra-luxurious resort-condominium buildings have broken sales records for property values in the area. Many newer condo residences include floor-to-ceiling glass walls with dazzling ocean views and enjoy such top-of-the-line amenities as in-suite elevators, infinity pools, state-of-the-art fitness centers, health spas, yoga studios, and beauty salons, all within a few steps of your front door, as well as concierge, valet parking and other resort-style conveniences.  A few older buildings remain in the neighborhood that have slightly fewer amenities but enjoy spectacular views and beach access while remaining more affordable.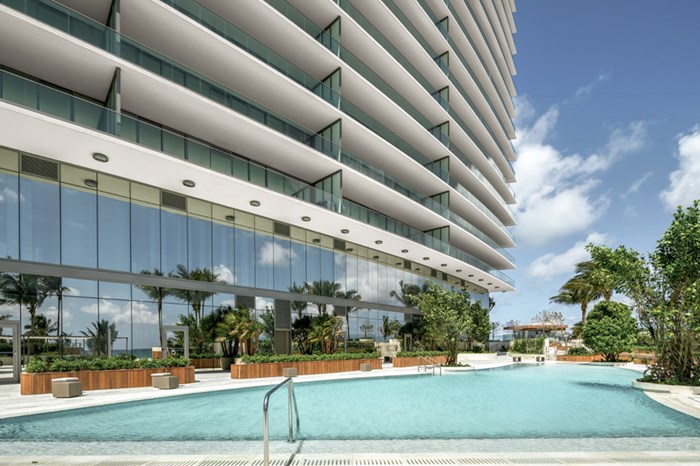 Residence by Armani Casa - Pool Deck

In Hollywood, you'll find a more traditional variety of housing options, from small historic bungalows from the 1940s to single-family homes at varying price points, to golf-course townhomes, as well as condo units of all types and sizes and across various price ranges. Hollywood is also home to a variety of condo towers, both older and newer, with several new waterfront developments planned in Hollywood Beach.  

Cost of Living: Sunny Isles Beach vs Hollywood
Sunny Isles has more recently catered to an affluent resort community that appeals to high-net-worth individuals and those who want to live in luxury and peaceful tranquility, with direct beach access and close to everything the city has to offer. Condo property listings in Sunny Isles Beach average around $1,640,000, or $514 per square foot, although higher-end properties have broken records, listing for as high as $172,500,000, or $22,959 per square foot. 
In Hollywood, the range of listings is more varied, and average condo listings in Downtown Hollywood range around $177,116 or about $186 per square foot (this does not include single-family homes).  High listings in the area average about $345,000 or $407 per square foot for condos.  In Hollywood Beach, condo listings average $476,067 or $341 per square foot, with high listings averaging $14,600,000 or $1,635 per square foot.

Which Neighborhood is Better? Sunny Isles Beach or Hollywood?
There are a lot of factors that you'll want to consider in making the decision to live within Miami-Dade County in Sunny Isles Beach or to move north to Broward County and live in Hollywood. These factors may include your place of work, kids' choice of schools, specific space requirements, desire for beach access or other specific amenities, what you are looking for in a community or any other factor that attracts you to one location over another. 
One thing we can say is that both neighborhoods can offer a wonderful lifestyle near the ocean, with community and culture. If you want more details or our local's view of these and other Miami neighborhoods, just let us know.
And read more of our Miami neighborhood comparisons at the links below: 
At Condo Blackbook, we know South Florida. When you sit down with our team, we will be happy to discuss with you the pros and cons of each location and neighborhood that you are considering, so we can steer you in the right direction toward your ideal new home in South Florida.
Share your thoughts with us
Sign up now
Get news and updates delivered to your inbox