Miami Beach Convention Center Update: Bjarke, Rem at it Again (PHOTOS)
Jul 09, 2013 July 09, 2013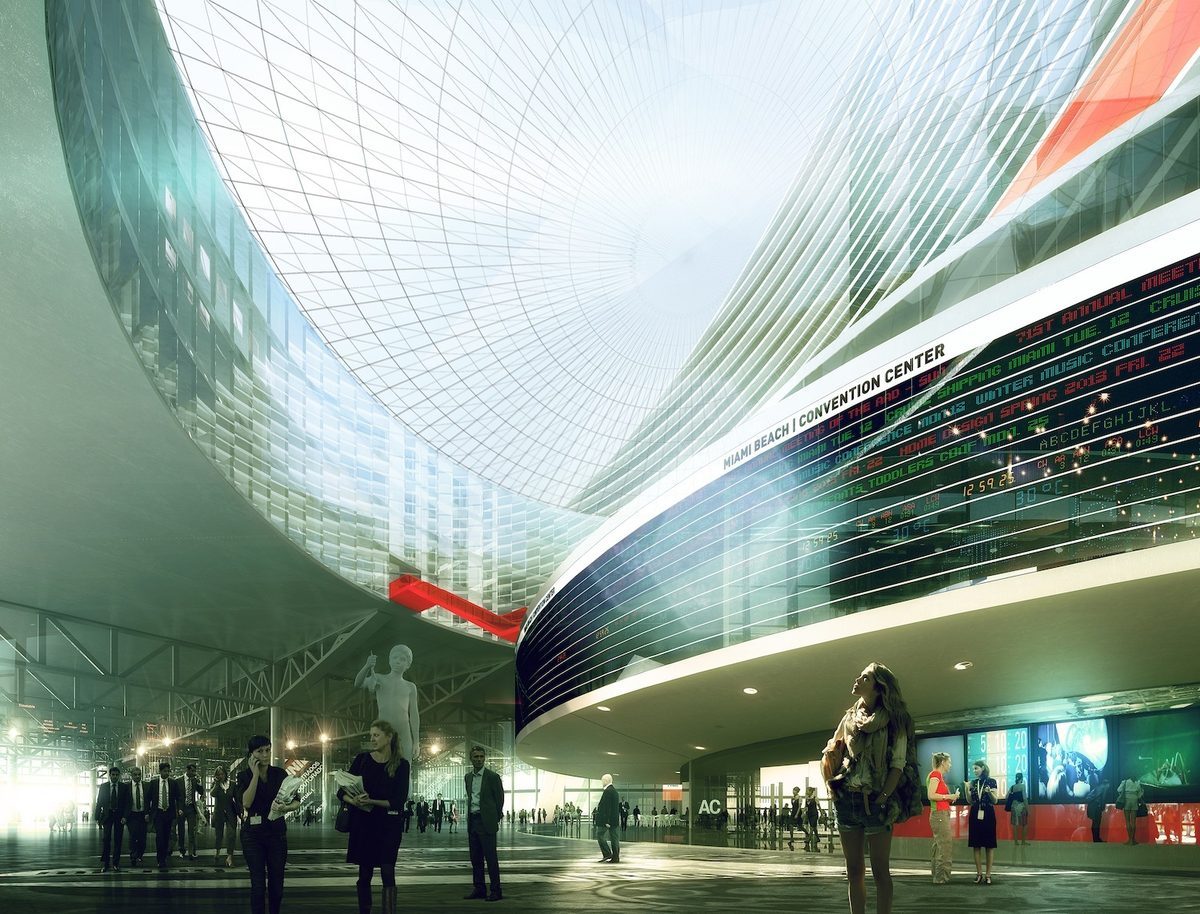 As the battle continues between the two teams vying for the development contract to renovate and expand Miami Beach's convention center, finely tuned design changes and further refinements are being slung back and forth in a duel to the death between superstar architects Bjarke Ingles and Rem Koolhaas. As it stands, Miami Beach is still undecided on which development team to award its $1 billion contract to overhaul the convention center, add a ballroom, and generally spruce up the landscaping, residential units, and shopping in the area. The winning team are also expected to receive work designing and building an affordable hotel deemed necessary to attract a critical mass of conventioneers.
While layouts have not changed too much since the first round of proposals, both Ingles and Koolhaas have made considerable modifications to their design plans. Ingles has dished out the designs of the hotel at the old Jackie Gleason Theater site (scheduled to be rebuilt next door to the hotel). A nearby former parking garage has also received a facelift and transformed into a dedicated retail space.
Landscaping present an especially European feel full of palm trees, leafy greenery, and a central water feature. Parking space will be moved further off-site to provide enhanced efficiency and undisturbed beauty. The theater to replace the Gleason will also rely heavily on greenery and floral additions with gardens throughout the premises.
Koolhaas completely overhauls the eclectic (and random) nature of his prior offering (complete with an exercise track and farmer's market on the roof), for an industrial-setting-within-a-jungle motif. Specifically, entrances to both the convention center and hotel have been moved further south to better suit the addition of a large concourse and majestic hotel atrium. The 17th street area is cross-cut with parking, residential, and retail areas coupled with generous crosswalks and spacious medians.
Public debates about the fate of the renovation are ongoing with no clear indication of if and when the project will begin.
Renderings of Miami Beach Convention Center:
See more pictures here
Share your thoughts with us
Sign up now
Get news and updates delivered to your inbox