Miami Building Boom 2021: These are the 12 New Condo Development Projects Planned to Date
Jun 16, 2021 June 16, 2021
It's a trend we've been talking about since the last quarter of 2020 - waves of buyers are contributing to one of the biggest real estate booms in Miami history. As individuals and businesses escape high tax states like New York and California, and have the freedom to work from any location, luxury condo developers in Miami are announcing new project after new project.  
Miami condo developers have announced over a dozen new and relaunched condo projects since the beginning of 2021. In an attempt to appeal to a wide range of new residents, each new project aims to be taller, more luxurious, and offer the most exciting set of amenities imaginable, and could bring more than 10,000 residential units to Miami over the next few years.
With the real estate market in Miami in one of its most lucrative cycles yet, here's a look at the latest condo projects proposed in Miami since January 2021 (till the time of this post):


---
New Miami Condo Development Projects 2021
---
Developer: E11even Partners & PMG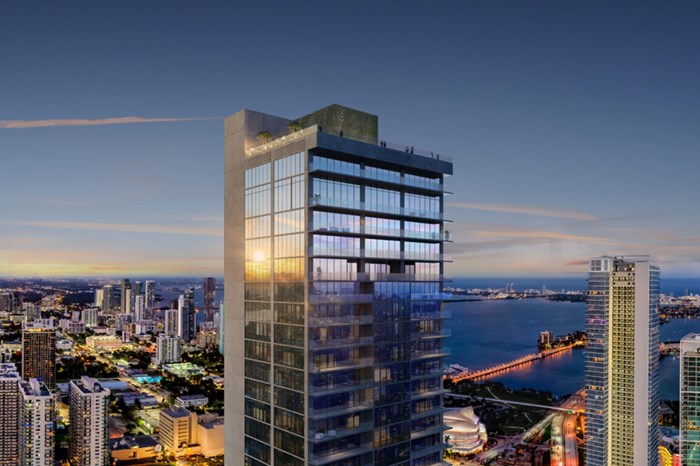 Over 90% sold in less than 2 months of launching sales, this suave condo-hotel comes developed by one of the hottest (and notorious) club-makers in town, E11even Partners. Bringing Vegas-style amenities to the heart of Downtown, the 65-story luxury tower will feature a 20,000-square-foot, multi-level E11even Beach Day Club and Pool along with introducing Miami's first-ever "24/11 residential entertainment" concept. 
Designed by award-winning architect Sieger Suarez, all 375 fully-furnished units at E11even will feature high-end finishes by New York-based AvroKO Hospitality Group. Besides its unique 24/11 rooftop experience, the ultra-luxury condo-hotel will also include a 5-star gourmet food hall, casino-style sports lounge, a Deepak Chopra-designed spa & studio, the Club E11EVEN Bar & Lounge, art installations, and much more. Owners will also have the option to enroll in E11even's short-term rental program.
Prices start at $385,000 and go up to $12 million, with a choice of studios to two-bedroom residences. View available units here.  
Developer: Related Group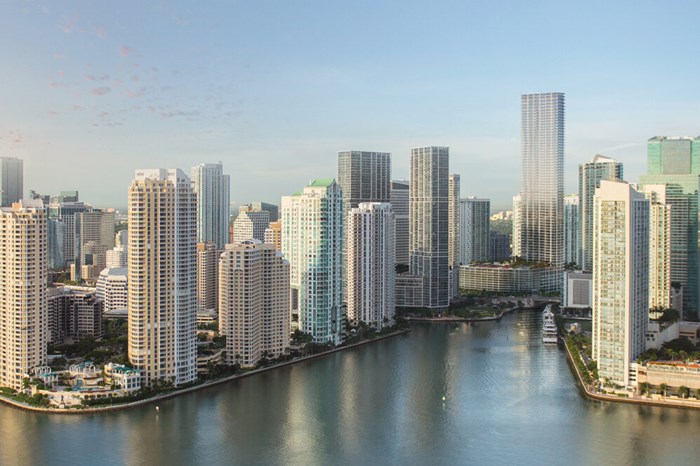 Just steps from the Brickell City Centre will be Related Group's most luxurious project to date. Partnering with Baccarat - one of the world's finest crystal makers and jewelers - the Group looks to bring French opulence to Brickell's skyline. Designed by Arquitectonica to resemble undulating waves, the statement towers will rise 57, 77 and 82 stories each. 
The high-rises will be home to a total of 1,400 residences designed by Meyer Davis. The 3-tower complex will also include a five-star hotel, class-A office space, retail, and luxury yacht dockage. Amenities will include access to the riverfront promenade, a rotating art collection, a curated collection of furnishings, a resort-style pool, a business center, landscaping by Enzo Enea, and more.
Prices range from around $800,000 to $10 million per unit, with a choice of one- to four-bedroom residences

One Brickell City Centre | Brickell
Developer: Swire Properties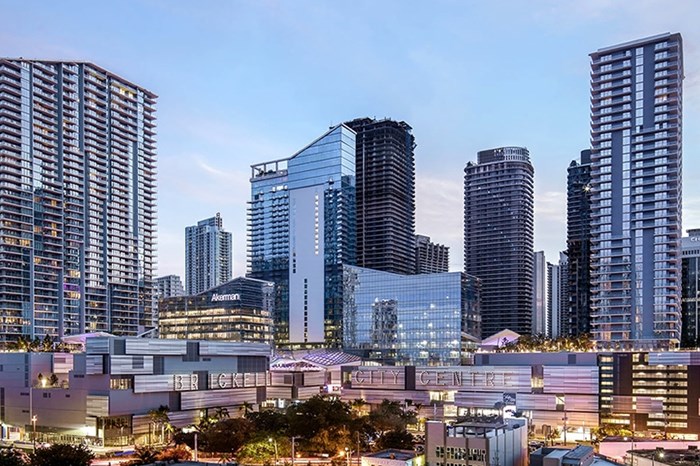 After successfully selling off the final 81 condos at Reach and Rise, more new developments are planned around Brickell City Centre. Developer Swire Properties announced the next phase of development with an 80-story, 1,049-foot supertall tower called One Brickell City Centre. 
A second, 62-story tower is planned for the Associated Photo site, a 52-story tower planned for the former Tobacco Road property, and while more development is planned for the lot known as North Squared across the street from La Centrale at BCC. Swire has not revealed which towers will be condos or apartments. 

Brickell Gateway – Brickell
Developer: Gazit Horizons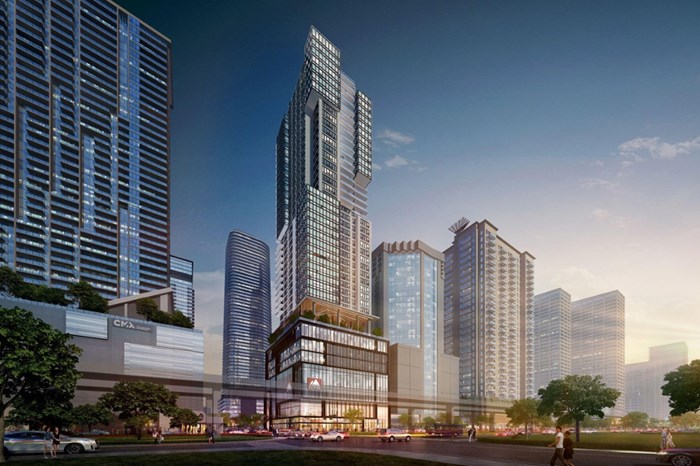 Plans are underway to develop a 48-story, mixed use tower in Brickell. Current owner and developer Gazit Horizons (a subsidiary of Gazit Globe) filed for a demolition permit to clear the 3-story building situated at 90 SW 8th Street in Brickell. The half-acre, hard-corner lot is the future site for the tower that will feature retail, office, hotel, and residential components. Once approved, 45,564 square feet of space will be demolished to make way for the 650,000-square-foot proposed mixed-use.
Developer: Aria Group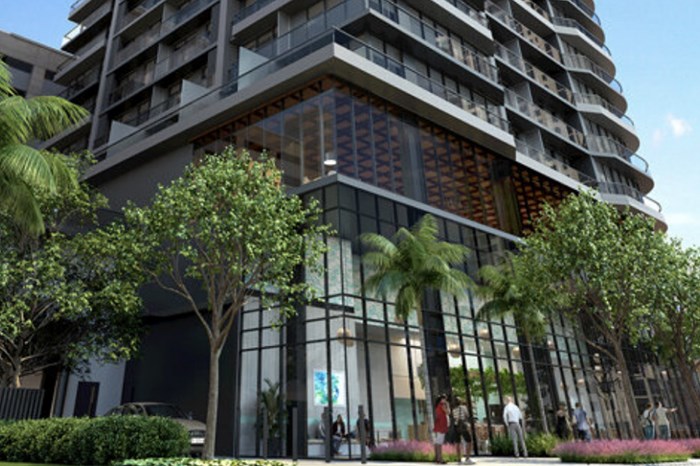 Boasting of "no rental restrictions," 501 First is being built for those who know what it means to be first. Much like their nearly sold-out Natiivo, owners at the 448-unit luxury high-rise will be able to rent their units short-term to the likes of Airbnb, HomeAway, and VRBO or simply enroll in the building's management program.
The 40-story, mid-century, modern building will come designed by Revuelta Architecture, with fully furnished interiors by Shim Projects. Complementing the plush interiors will be a host of amenities such as a rooftop movie theater, rooftop pool, residents' lounge, media room, game room, "Greenhouse" with plenty of shade, co-working spaces on the lower floors, and a ground-floor restaurant managed by GPG Hospitality 
Prices start from the $300,000s, with a choice of studio, one- and two-bedroom residences
Developer: Related Group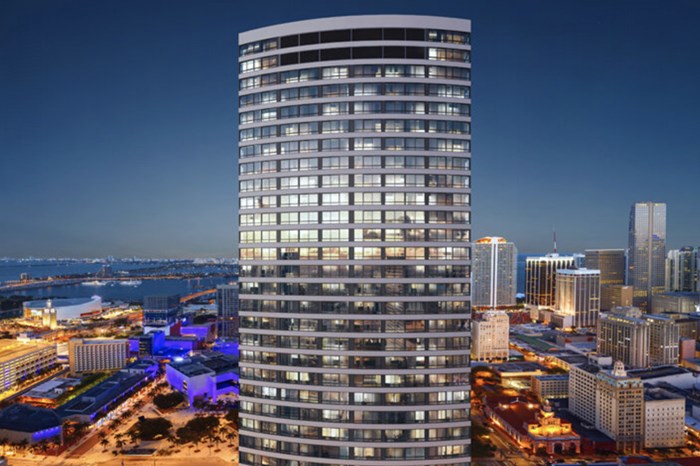 Another condo project allowing short-term rentals with the likes of Airbnb, The District looks to bring sleek design and luxury living to the heart of Downtown. Next door to MiamiCentral, the 37-story tower with 347 residences comes artfully designed by Sieger Suarez. Amenities at this contemporary high-rise will include a resort-style pool deck with lounge, rooftop amenity deck with spa and BBQ area, basketball & racquetball courts, rock climbing wall, on-site café, co-working spaces, ground floor retail, and electric bikes with charging stations.
Prices start at $352,900 to about $ 652,900, with a choice of studios to two-bedroom residences 

Two 83-story Supertowers at MiamiCentral | Downtown Miami
Developer: Brightline Parent Company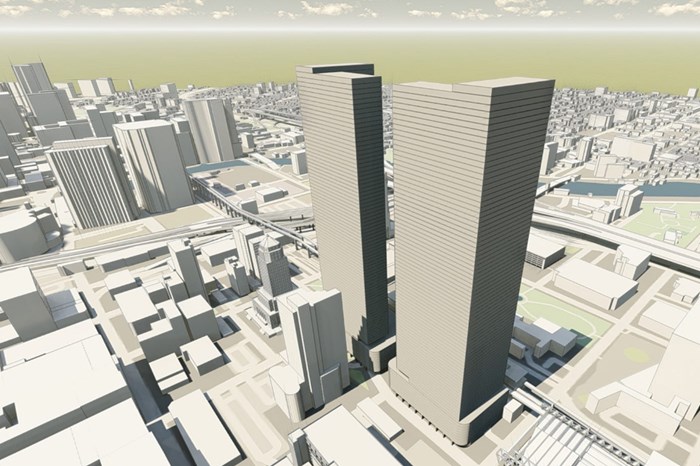 With plans submitted to Miami-Dade, Brightline's parent company is looking to build two new supertowers at MiamiCentral. After successfully completing its two Park Line rental towers, the company has proposed two 83-story residential buildings. Designed by architect Zyscovich, the two towers are expected to include 2,007 residential units (1,004 in the north and 1,003 in the south tower), 49,634 square feet of retail, and 2,136 parking spaces.
Developer: Melo Group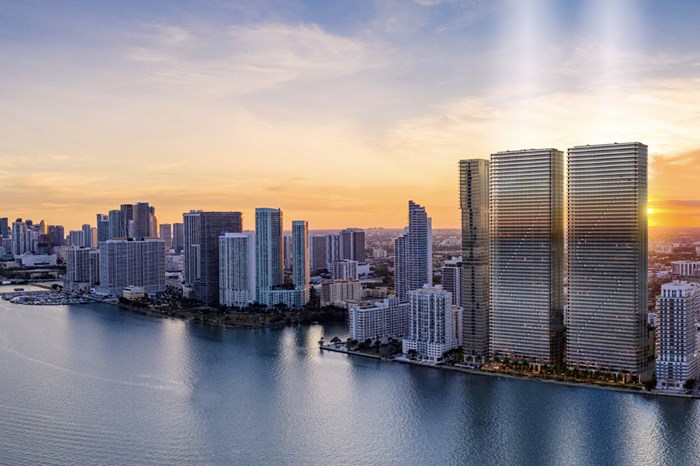 Known as Island Bay during the approval process, these 60-story towers will become the tallest waterfront residential twin towers in the U.S., encompassing a 5.2 acre site. Designed by Arquitectonica to feature a unique zig-zag pattern on their façade, the twin towers will offer a combined 782 units (391 in the recently launched South Tower) with interiors by MORADA Haute Furniture Boutique. 
Looking to offer the best waterfront value to buyers (the project has 547-linear fee of water frontage), the well-priced condos will be accompanied by amenities such as a 2-acre recreation deck with a lap pool and spa, gaming center, tennis courts, basketball courts, paddle courts, miniature golf, playground, teen lounge, a wellness center, meditation garden, 12,600 square feet of retail, and more. 
Prices start at $750,000 to over $2 million, with a choice of one- to four-bedroom residences

36-story Condo Tower | Edgewater
Developer: Grupo T&C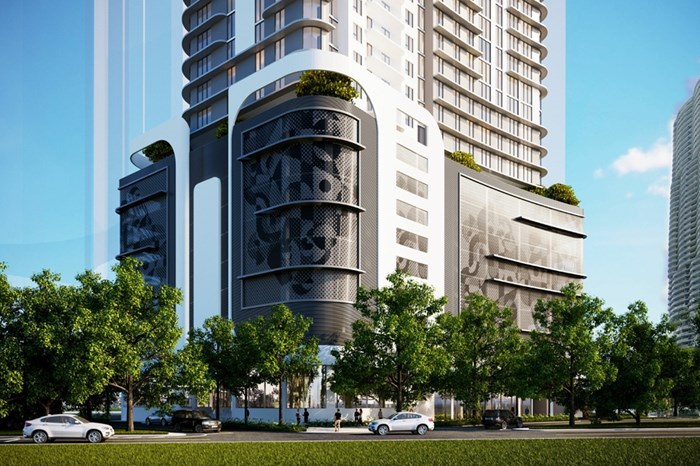 Designed by Kobi Karp and approved by the Urban Development Review Board this March, this Edgewater project will rise 36 stories with 322 residential units, 6,183 square feet of retail, and 372 parking spaces.
Developer: Dacra and Partners
With the vision to bring an architecturally significant development to the Design District, Craig Robins is looking to put a signature tower at the entrance of the neighborhood. The flagship building will come anchored by a 36-story condo tower and sit on 1.8 acres of prime real estate. The mixed-use development will also feature offices, two hotels, and some retail. The site also is adjacent to Brightline's train tracks and a commuter rail station could be built nearby. 
Developer: Allen Morris Company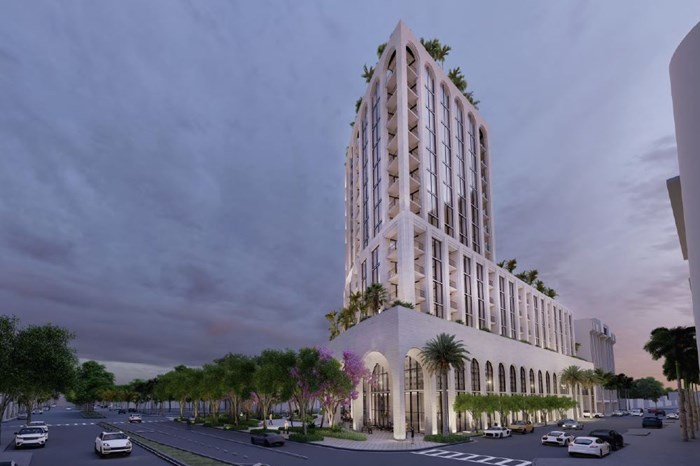 Complementing the architectural vibe of City Beautiful, this 16-story building will feature 171 Mediterranean-style, luxury residences. Designed by Oppenheim Architecture with landscaping by Naturalficial, Inc., the mixed-use development will feature a restaurant and retail-lined pedestrian paseo on its ground floor, an expansive double-ceiling-height arcade (like the one at Hotel Colonnade on Miracle Mile), specimen shade trees, multiple water features, various seating areas open to the public, and a brand-new 0.75-acre open-air space with an urban park dedicated to the City of Coral Gables.


---
New Miami Beach Condo Development Projects 2021
---
Developer: Vlad Doronin and Len Blavatnik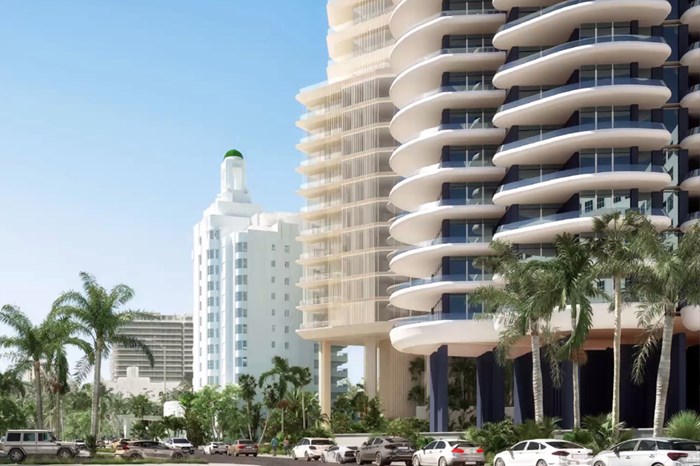 Bringing Aman's world-renowned, signature hospitality to Miami Beach, this ultra-luxury project will feature 41 condo units (separate 16-story tower), 23 condo-hotel units and 56 hotel rooms in the restored version of the historic Versailles building. While Jean Michel Gathy will be designing the hotel side, Japanese architect Kengo Kuma will be designing the residences. Amenities will include a rooftop pool deck with a restaurant and bar, a world-class spa, and a ground-floor restaurant in the separate condo tower.
Developer: Mast Capital and JV partner Rockpoint Group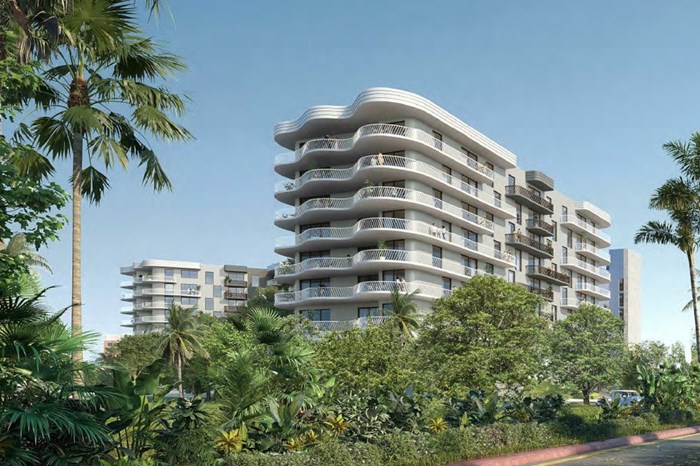 Going back to the drawing board multiple times, developer Mast Capital is finally making headway with this Alton Road project. Approved at a height of 85 feet, the 8-story mid-rise will be home to 176 residences. 
Designed by Arquitectonica, the modern curvilinear tower will feature east and west wings connected by a recessed central tower to allow the spacious amenity deck to bask in the afternoon sun. Proposed amenities include pedestrian walkways that lead to the lobby level and ground floor bicycle storage.
Developer: Matis Cohen and Russell Galbut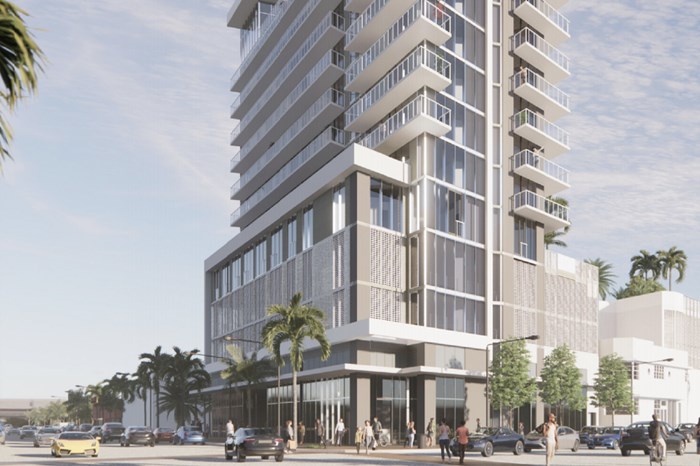 After Eighty Seven Park, North Beach could be welcoming a mixed-use development proposed for 880 71st Street, Normandy Isles. The 19,414-square-foot waterfront lot will house a 36-unit tower designed by Built Form Architecture. The 4-story building will also feature 3,650 square feet of ground-level retail space.
Developer: Continuum Company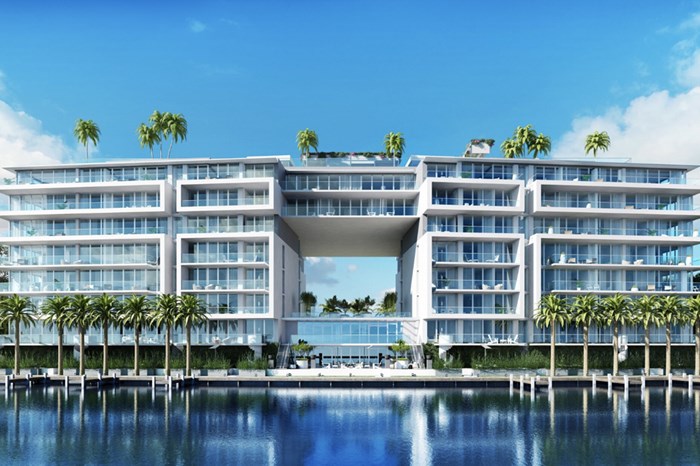 After a long hiatus, the developer behind the iconic Continuum Condo towers is back with two, 7-story luxury condo towers proposed for Bay Harbor Islands. Recently securing the final parcels of land at 9201 and 9461 East Bay Harbor Drive, Eichner will be bringing a total of 142 residences to the quiet coastal neighborhood. Designed by Luis Revuelta, the first building is expected to feature 70 units while the complex will be served by 34 boat slips.


Developer: Shoma Group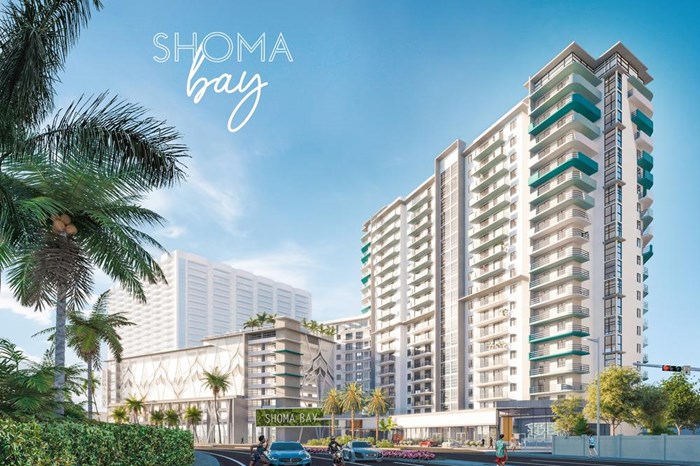 Previously planned as a rental, the Coral Gables-based Shoma Group decided to transform its 2.8-acre project to a condo, owing to heightened market demand. The 19-story building will feature 333 residential units, a pool, amenity spaces, a 36,068-square-foot grocery store, 6,315 square feet of retail, and a 666-space parking garage. 


Developer: Dezer Development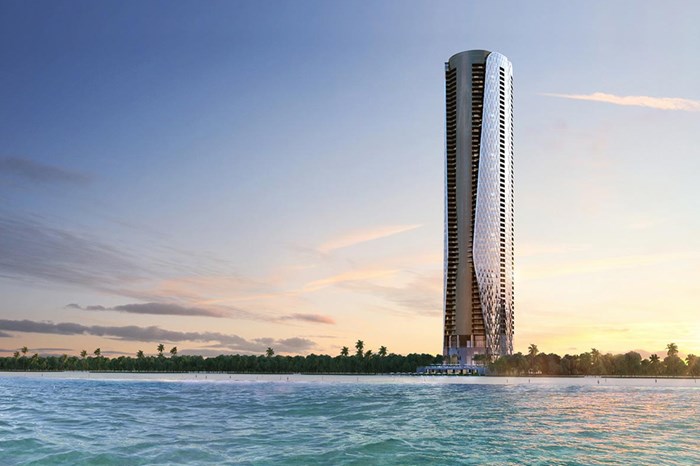 Gil Dezer's love of luxury car brands is bringing the first-ever Bentley residences to Sunny Isles by 2026 – an apt follow-up to the runaway success of the Porsche Design Tower. The Porsche tower's famous (patented) "Dezervator" – a car elevator that allows owners to drive into their units – will also feature in this Bentley-branded luxury tower. 
Approved for a height of 749 feet, the 60-story high-rise will be the tallest ever built on a U.S. beachfront. Designed by Sieger Suarez, the cylindrical tower will house more than 200 luxury condos along with bespoke touches including Bentley's diamond motif, sumptuous leather, and sustainable materials. Residents will be treated to ultra-luxury amenities such as a restaurant and lounge, cinema, whisky bar, cigar lounge, pool, spa, cabanas, and beautifully landscaped gardens.
---
Relaunched Miami Condo Development Projects 2021
---

Considering the favorable market winds, several shelved Miami condo development projects have been brought back to life. Related Group, Genting Group and Kar Properties all have relaunched projects. 
Developer: Related Group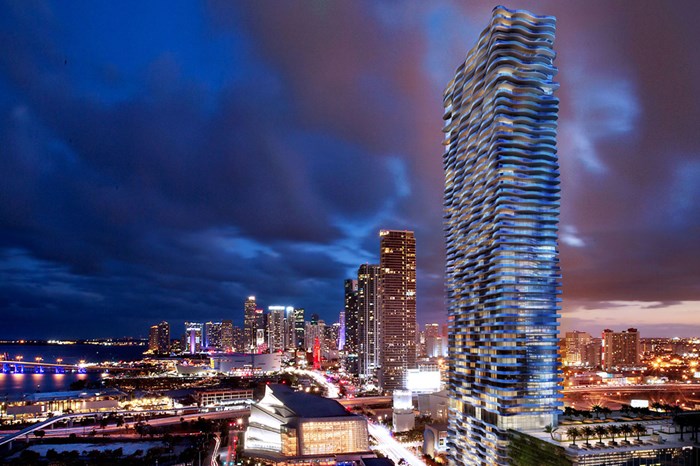 Related Group will relaunch sales for a previously shelved project at 1400 Biscayne Boulevard. Previously known as Auberge Downtown, Related was approved in 2015 for three towers at the site. Citing the favorable market conditions, Related Group will now launch sales of a 60-story tower called 1400 Biscayne on the same site. 
Developer: Kar Properties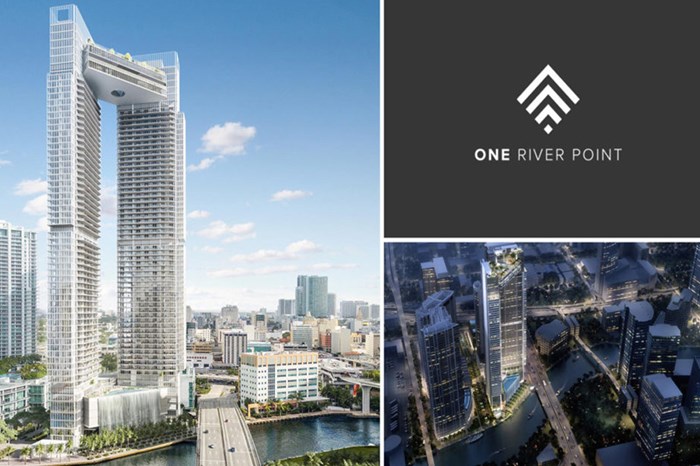 After filing its first building permits in 2015, One River Point is back in the building review process with the City of Miami. Designed by Uruguayan architect Rafael Viñoly, the twin luxury towers of One River Point will be connected by a floating sky bridge and feature a total of 300 condo units. Proposed amenities include an 8,000 square-foot waterfront restaurant and lounge, an infinity-edge oasis pool and regulation-size lap pool, poolside cafe and restaurant, a 6,000-square-foot fitness center, Medspa, children's activity area, rotating art exhibits, and more.
Developer: Genting Group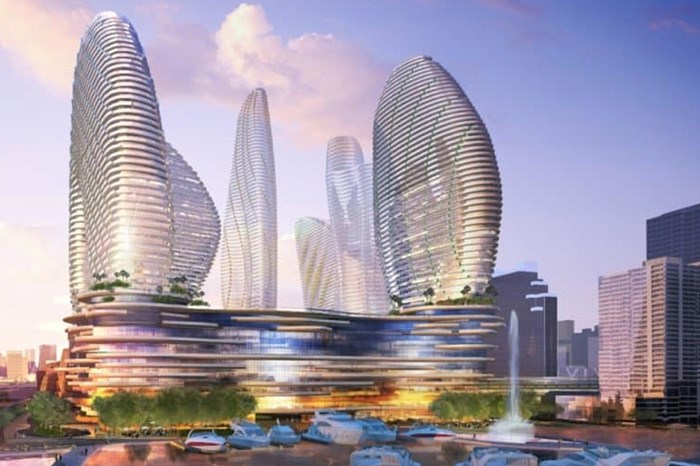 Approved for the second time in 5 years by the FAA, Genting Group again has the green light to build three 649-foot towers planned for One Herald Plaza, the former waterfront site of the Miami Herald. The group was last approved in 2017 for the same towers, but permits expired in August 2020. Finally moving forward after years of silence, Genting plans to bring 60-story towers to its waterfront site along with a baywalk and marina.
For more on Genting's original site plans from 2011, progress on bringing a casino to Miami, and other Resorts World updates, go here.

1,049-foot Supertall Towers by Norman Foster | Brickell
Developer: Florida East Coast Realty, McCourt Global (Tibor Hollo)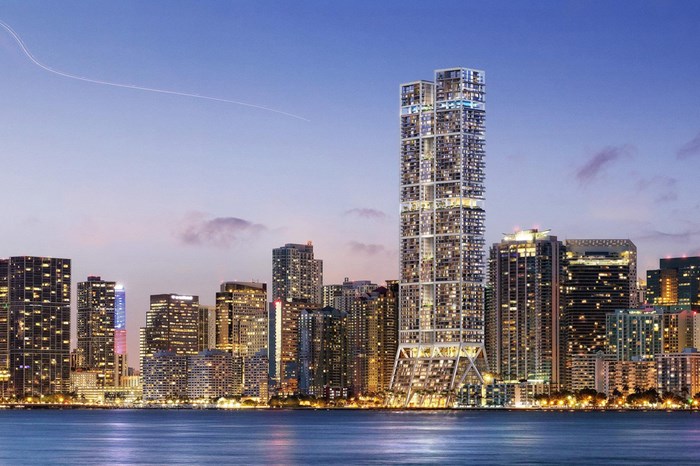 In development since 2016, developers Tibor Hollo's Florida East Coast Realty and McCourt Global were seen preparing the ground for its future supertall towers on Brickell Bay Drivel. Pending FAA approval, it's planned to rise 1,049 feet above sea level, possibly giving stiff competition to the already approved Waldorf Astoria, this could be the tallest building in Florida.
Designed by famed architect Norman Foster, the waterfront towers are proposed to rise 81 and 79 stories. They could be built to feature 660 residential units or a combination of 550 residential units and 220 hotel rooms. The proposed mixed-use would also house 34,731 square feet of commercial space, and 1,162 parking spaces, including an underground garage.



Looking to invest or buy a home in Miami? It's the perfect time to invest in a new Miami development project. Call, chat, or e-mail and we will be more than happy to assist you in your purchase. If you know of a project not listed, please reach out to us for inclusion.


Share your thoughts with us
Sign up now
Get news and updates delivered to your inbox