Miami Church Is Putting Their Building on the Market for Estimated $40 Million
Jul 06, 2015 July 06, 2015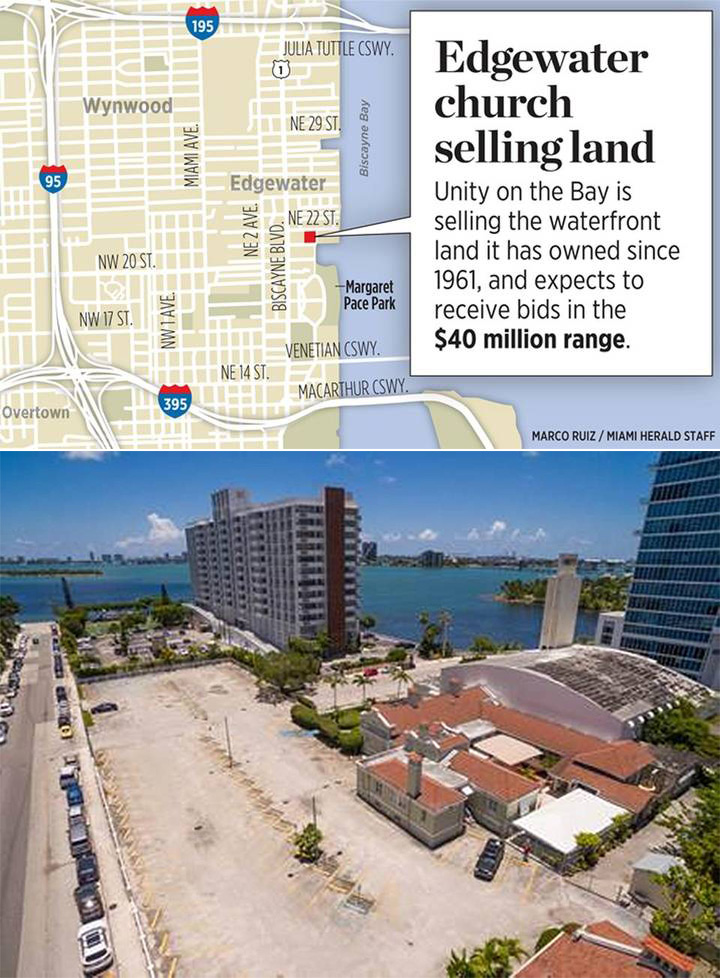 Prices for property in the Miami area are a hot commodity these days, so much so that even one particular church has decided to shut its doors and sell it to modern developers.
A nondenominational church, known as Unity on the Bay, is selling their two-acre bay front property, which they have owned since 1961.
"We were faced with making costly improvements and renovations in order to remain here," Reverend Christopher Jackson, the pastor of nine years at Unity on the Bay said, "Property values in Edgewater have gone up considerably and we've been approached by several developers over the years."
Jackson received several offers for up to $40 million before he decided to list the church for sale.
The church, located at 214 Northeast 22nd Street, is north of Paramount Bay, the new luxury condo that is underway. It also has a perfect view of Biscayne Bay looking to the southeast, making it an excellent location for developers in the future.
"This is definitely an ideal site for a high-rise condo," Adam Greenberg, broker for Newmark Grubb Frank Knight, the group handling the sale, said, "It's that southernmost district where Edgewater meets the Omni. It's a pedestrian-friendly area that's very close to the urban core."
The church has not set an asking price for the property, but many people, such as Greenburg, suspect that it will begin at $40 million and go up.
Source: miaminerald.com
Photo credit: miaminerald.com
Share your thoughts with us
Sign up now
Get news and updates delivered to your inbox