Miami Condos with Executive Office Spaces
Mar 23, 2021 March 23, 2021
Whether you're looking for a new home for your business, now have the liberty to work from home from a beautiful city like Miami, or just a place to sit amongst like-minded people, many Miami condo buildings offer a brilliant array of office spaces to meet your professional needs, either in-house or very close by, with all the tools to keep you as productive as you can be.
Here's a list of the best Miami condo buildings with rentable office space (or buildings with executive offices nextdoor) in each major neighborhood:


---
---
1900 N Bayshore Drive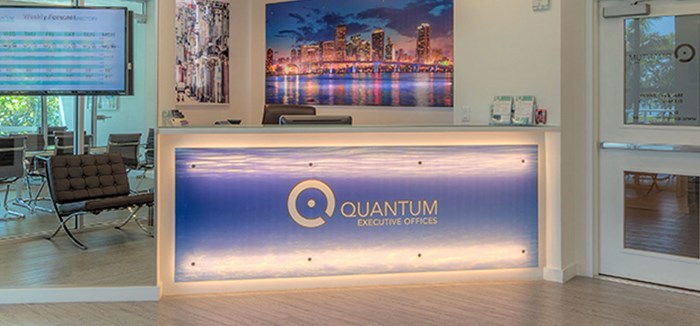 Located in the ground floor of the Quantum on the Bay condo in Edgewater, these executive office suites place you in one of the most central locations in all of Miami.  Quantum Executive Offices have two conference rooms as well as workspace areas, a dedicated receptionist with validated parking, and even a fully equipped kitchen. They also have a large outdoor terrace with views of Margaret Pace Park and Biscayne Bay for fresh air!

Luxury Condos Nearby:
---
---
900 Biscayne Boulevard, Downtown Miami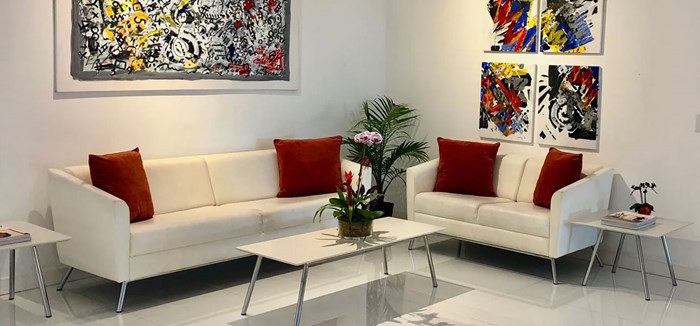 The executive office spaces inside the 900 Biscayne luxury condo building are ideal for those who want to live in one of Miami's best locations and have luxury condo options all around you. Miami Shared gives you everything you need in an office space - you have 24/7 access as well as a dedicated maintenance team for cleaning and repairs. There is high speed Wi-Fi throughout the premises and conference rooms, a full-size kitchen and event space that can be adapted to cater for video conferencing. Many of the offices have floor-to-ceiling windows and common areas look out over Perez Art Museum Miami and the park.
888 Biscayne Blvd, Downtown Miami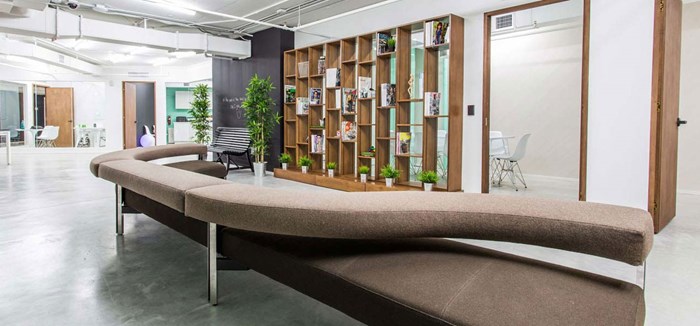 Part of a European co-working office company, Rent 24 offers more than 96,000 square feet of community working spaces, including double height ceilings, 2 conference rooms, 24 private offices and 18 working desks with expansive views of Biscayne Bay, PAMM and the Frost Museum. With interiors designed to inspire creativity and networking, this office space also features a coffee bar, latest audio and visual technology and flexible contracts. 

Other Luxury Condos Nearby:
100 SE 2nd Street, Suite 2000, Downtown Miami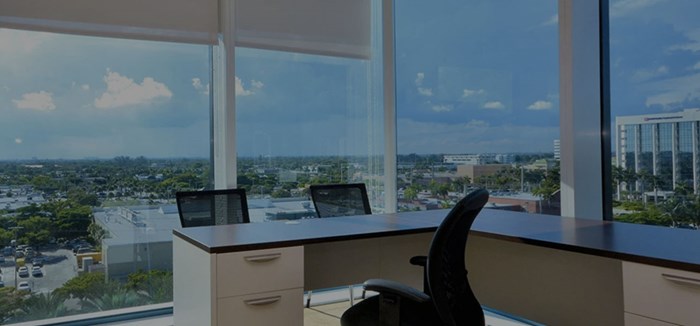 Premier Office Spaces certainly live up to the name. With a flexible concierge team, high-speed internet and fully furnished offices, you get a complete office experience without having to stump the capital. They also have conference rooms and an equipped kitchen, and are located within Miami's financial and business districts. 

Other Luxury Condos Nearby:
---
---
1101 Brickell Avenue, 8th Floor, Brickell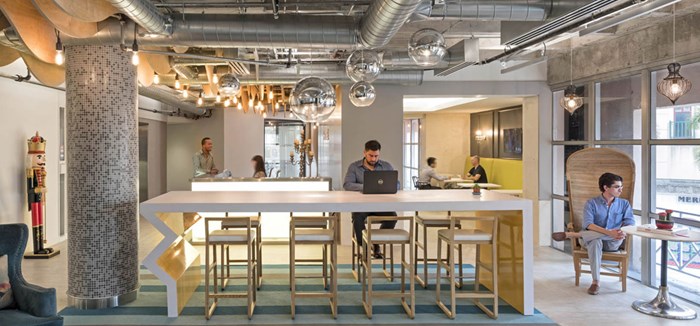 Pipeline is another brilliant option for executive and coworking spaces in Miami. Located in the Panorama Apartment Tower, Pipeline challenges the traditional norms of what an office space should look like. From forward-thinking design to high-end furnishing, Pipeline in Brickell is a hub for like-minded individuals.
Pipeline is flexible to your requirements with 24/7 access and top of the range printers and high-speed Wi-Fi. They have also been efficient in their response to the pandemic and now offer state of art video conferencing and comprehensive sanitation service to ensure your wellbeing.
78 SW 7th Street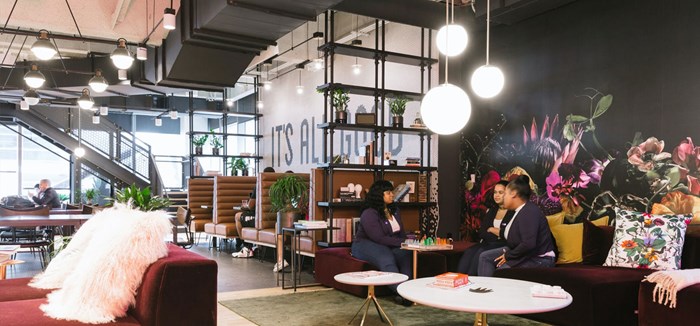 Located in the heart of Brickell, this WeWork office boasts of incredible perks in addition to the standard features of WeWork office spaces.  Featuring two floors of shared and private office spaces, this WeWork allows service dogs, has a stocked kitchen, a wellness room, outdoor spaces, phone booths, bike storage, event spaces, and electric vehicle charging stations. Basic features include high-speed Wi-Fi, conference and meeting rooms, onsite staff and receptionist services, and mail rooms.

Luxury Condos Nearby:
40 SW 13th Street, Brickell

Located just a short walk from Brickell City Centre in the Infinity at Brickell condo building, Morgan Media Office suites offer a more intimate space on a smaller scale. One of the main allures to the Morgan Media Suites is the exclusivity, with just two offices available to rent, you can ensure that you have a private setting which is great for sensitive meetings or projects that require a lack of distractions. This space is perfect for small businesses or individuals. 
777 Brickell Avenue, Brickell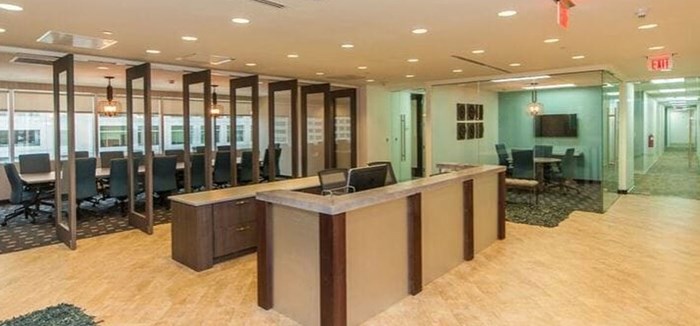 Quest Workspace features an upscale design with waterfront views while still offering all the bells and whistles of traditional office space. Pricing is inclusive of all features, including internet, reception services, conference rooms, kitchen space, unlimited coffee and virtual office services as well. Workspaces that are tastefully furnished and a design that takes privacy in mind. Quest also has a private garage, and even a restaurant in the building. 

Luxury Condos Nearby:
---
---
350 South Miami Avenue, Suite A, Miami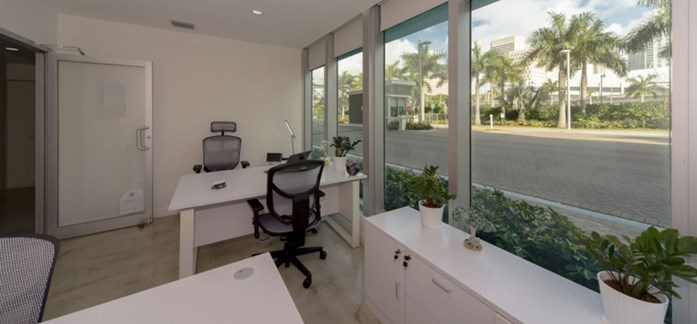 Located within the Mint Condo and Ivy Condo Complex, what's great about City Desk is that they are able to cater to individuals and firms of all sizes and budgets. Whether you are a freelancer in need of a co-working space or a startup looking for an office, City Desk has you covered and provides conference rooms with modern conferencing technology, an open kitchen, break areas, coffee and more. City Desk also offers virtual office spaces with staff to direct your calls and organize your emails.

Luxury Condos Nearby:
---
---
2980 McFarlane Road, Coconut Grove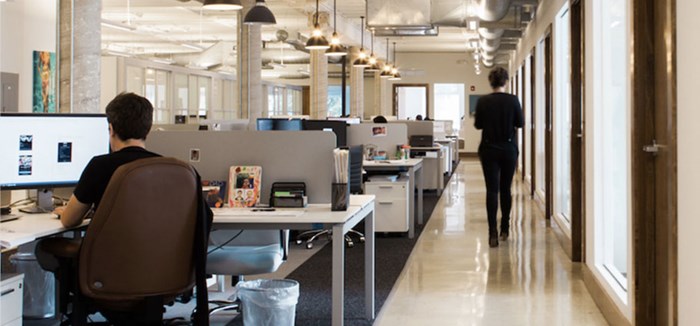 Buros is nestled in the heart of Coconut Grove, with charming surroundings and easy walking, Buro makes it easy to maintain a work-life balance. The team at Buro has covered every detail in trying to make the environment as comfortable and work-friendly as possible for professionals. With artisanal coffee on tap and dedicated networking events, Buro is a place where you can find a professional community that you might otherwise miss being self-employed or working from home. Another cool feature that Buro has is the lockable storage and mailbox room giving you peace of mind when it comes to packages and valuables.
3390 Mary Street, Coconut Grove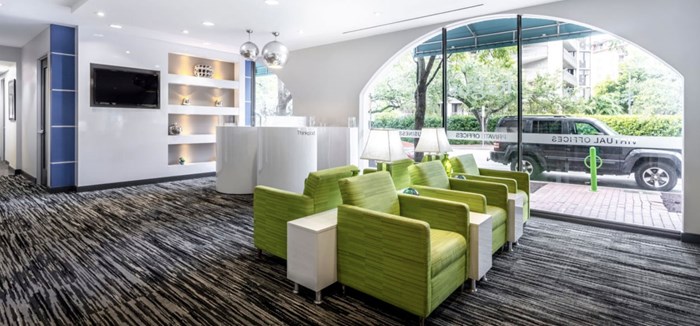 While the Grove might not be in the bustling center of Downtown (about 5 miles away), it still has all the trappings of a high-quality workspace while offering a slower pace in a charming seaside location. Offering 49 private office spaces, six  desks and three conference rooms, huge floor-to-ceiling windows let in a ton of natural light.  Membership with Regus also provides access to hundreds of locations nationally and internationally when traveling.

Luxury Condos Nearby:
---
List of Miami Coworking and Executive Office Spaces
---
| | | |
| --- | --- | --- |
| Office | Address | Neighborhood |
| | 200 South Biscayne Blvd | Downtown Miami |
| | 900 Biscayne Blvd | Downtown Miami |
| | 888 Biscayne Blvd | Downtown Miami |
| | | Downtown Miami |
| | 1900 N Bayshore Drive | Edgewater |
| | 2125 Biscayne Blvd | Edgewater |
| | 777 Brickell Avenue, Suite 500 | Brickell  |
| | 78 SW 7th Street | Brickell  |
| | 40 SW 13th Street | Brickell  |
| | 601 Brickell Key Drive | Brickell  |
| | 120 SW 8th Street | Brickell  |
| | 800 Brickell Avenue, 4th Floor | Brickell  |
| | 1111 Brickell Avenue | Brickell  |
| | 1200 Brickell Avenue, Suite 310 | Brickell  |
| | 1221 Brickell Avenue | Brickell  |
| | 1395 Brickell Avenue, Suite 800 | Brickell  |
| | 350 South Miami Avenue, Suite A | Miami River |
| | 360 NW 27th Street | Wynwood |
| | 400 NW 26th Street | Wynwood |
| | 3250 NE 1st Ave, Suite 305 | Midtown |
| | 3390 Mary Street | Coconut Grove |
| | 2980 McFarlane Road | Coconut Grove |
Share your thoughts with us
Sign up now
Get news and updates delivered to your inbox