Miami Condos You can Buy with Cryptocurrency
Dec 01, 2021 December 01, 2021
Cryptocurrency holders are most welcome to buy real estate in Miami. This is the message that echoed across the globe for crypto holders this May, when a 9th-floor, ultra-luxury penthouse at Surfside's Arte Residences closed using only cryptocurrency for a record price. The 5,067-square-foot, oceanfront residence sits in one of Miami's most exclusive boutique buildings and features 360-degree water views.
Closing at $22.5 million, the penthouse sale represents the most expensive residential crypto deal to date in the U.S. Considering the deal took only 10 days from start to end, it sets a new precedent in the world of real estate closings, demonstrating convenience and speed for both buyers and sellers.
Now that cryptocurrency is becoming an increasingly popular investment vehicle and mode of currency, condo developers, sellers, and city officials are getting on board with the idea to allow cryptocurrency in real-world transactions - in Miami, at least.
---
Miami Moves to Become Cryptocurrency Friendly City 
---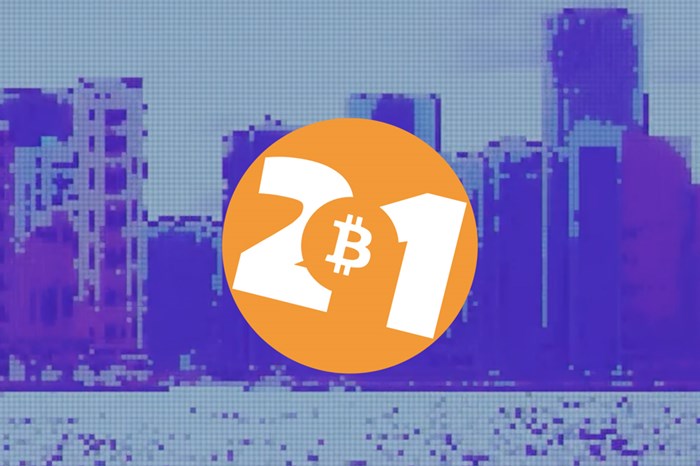 With Wynwood hosting the three-day 2021 Bitcoin Conference, and Miami Mayor Francis Suarez proposing to pay municipal workers and accept taxes in Bitcoin, Miami is definitely embracing and pioneering platforms to embrace the future of wealth.
It's no secret that Mayor Suarez has been courting tech companies and Silicon Valley investors for over a year. And it has had the desired effect, bringing scores of businesses such as Icahn Enterprises, Blackstone and other major VC and tech companies to Miami over the course of the year.
By attempting to take cryptocurrency mainstream, Mayor Suarez has pinned Miami on the map for top holders around the world. Miami has always been a city with a progressive outlook and such willingness to accept digital money in real estate transactions has opened the door for crypto millionaires the world-over, offering them a tangible alternative to park their profits.
For those who curious about what types of condos are available in Miami condos you can buy using cryptocurrency, here's a preview of available properties, as well as a look into what is cryptocurrency and how it is used in real estate transactions.


---
Which Miami Condos Can You Buy Using Cryptocurrencies like Bitcoin, Ethereum?
---

Those looking to fund a real estate transaction using only crypto have more and more options in Miami. Developers are launching new condo buildings with a cryptocurrency buying process already in place. For example, developer PMG is now accepting crypto for its most recent projects, including the highly anticipated Waldorf Astoria Residences, as well as its E11even Residences towers. All three of these projects were launched in the last year and will be built in Downtown Miami. 
As of this writing, there are four Miami condo buildings that are fully onboard with using cryptocurrency for all their sales:

One of the most exclusive and luxurious boutique buildings in Miami, with only 16 ultra-private residences, Arte sits on the pristine beachfront of Surfside, just north of Miami Beach. Most recently known as the home of Jared Kushner and Ivanka Trump, Arte was designed by Milan's starchitect designers Antonio Citterio and Patricia Viel, along with Kobi Karp, and developed by Alex Sapir. The iconic building stands out with its pyramid shape and mostly glass façade. Exotic and tranquil landscaping by renowned artist Enzo Enea surrounds the boutique building that rises just 12 stories high and includes only 16 ultra-luxury residences.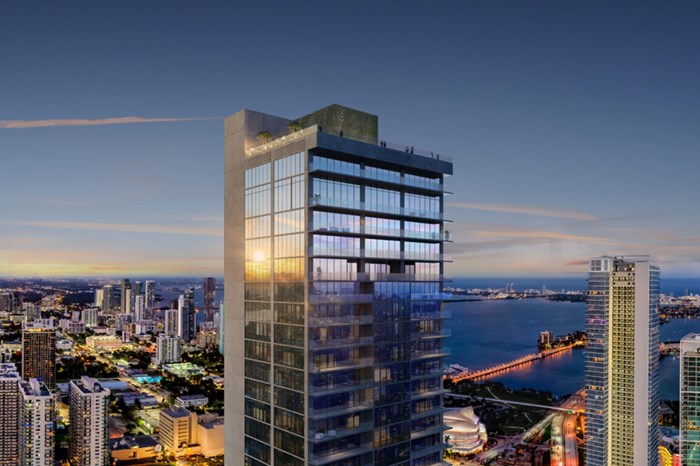 After fully selling out earlier this year, and having just broken ground, E11even Hotel & Residences will rise 65 stories with 375 condo units. Designed by Sieger Suarez, amenities at this suave condo-hotel will include an exclusive 24/11 rooftop experience, access to the 20,000-square-foot multi-level E11even Beach Day Club and pool, a Deepak Chopra-designed spa & studio, a 5-star gourmet food hall, casino-style sports lounge, signature bar and lounge, art installations, and much more. 
Owners at E11even Hotel and Residences will have the option to subscribe to the hotel's rental program, allowing them to rent out their units for additional income. Prices started at $385,000 and go up to $12 million, with a choice of studios to two-bedroom residences, and penthouses.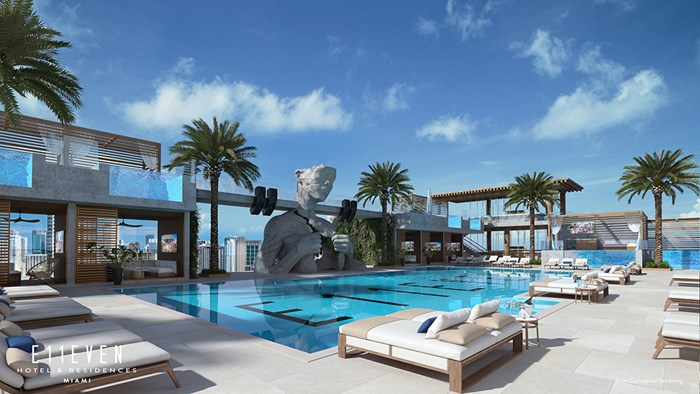 After selling out E11even Hotel & Residences in record time, PMG and E11EVEN Partners recently launched E11even Residences Beyond. The sister tower will be designed by Sieger Suarez Architects to stand as a twin, replicating the sell-out design of E11even Hotel & Residences, but offering more exclusivity and privacy. The new, 65-story tower is designed to be ultra-luxe, aimed at being a home fit for high-profile buyers who seek a more VIP, entertainment-driven lifestyle. Although not permitting daily rentals like the first tower, owners at E11even Residences Beyond will be allowed to rent out for a minimum of 30 days.
With groundbreaking scheduled for mid-2022, developers are aiming for a summer 2025 completion. Prices at E11even Residences Beyond start in the mid $300,000s or equivalent cryptocurrency rate.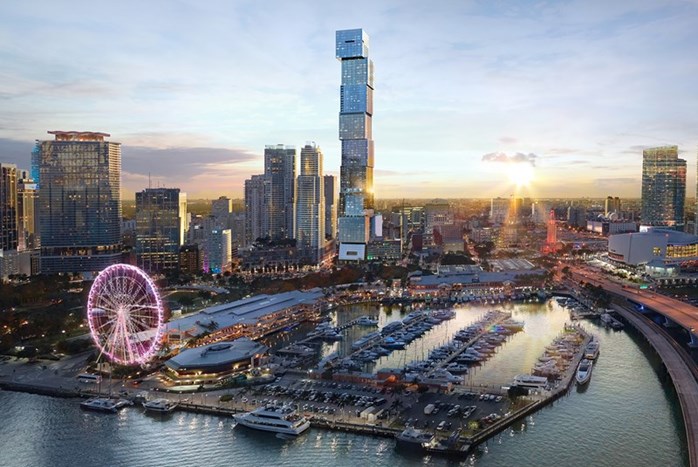 Perhaps one of the most awaiting luxury condo projects in Miami, set to transform the city and its skyline, Waldorf Astoria Residences will be the tallest residential building at 1,049 feet. Designed by Burj Khalifa-architect Carlos Ott in partnership with Miami's Sieger Suarez, the supertall will be built to look like a stack of nine offset glass cubes, and developer PMG is also allowing cryptocurrency to purchase into this storied, luxury brand. 
Rising 100 stories, the skyscraper will be home to 361 condos and 205 hotel rooms. While the hotel will occupy the bottom three cubes, the condos and amenities will come stacked above. With interiors by San Francisco's award-winning design firm BAMO, future residents will have access to a resort-style pool deck with outdoor café, the hotel brand's famous Peacock Alley lounge, a signature restaurant, signature spa, wine tasting room, luxurious owners' lounge, indoor-outdoor event spaces, a kids' club, smart-home tech with custom mobile app access, and much more. Owners will also get preferred rates and access to Waldorf's hotel services.
Expecting to break ground in the first quarter of 2022, PMG has applied for a construction permit to begin site work. Read here for more information on Waldorf Astoria's brand legacy and what it seeks to deliver in Miami. Prices start at $650,000 for Junior Suite Residences, $1 million for a 1-bedroom, $1.7 million for a 2-bedroom, $3,100,000 for a 3-bedroom, and $4,900,000 for a 4-bedroom residence.


---
Buying Individual Condos Using Cryptocurrency
---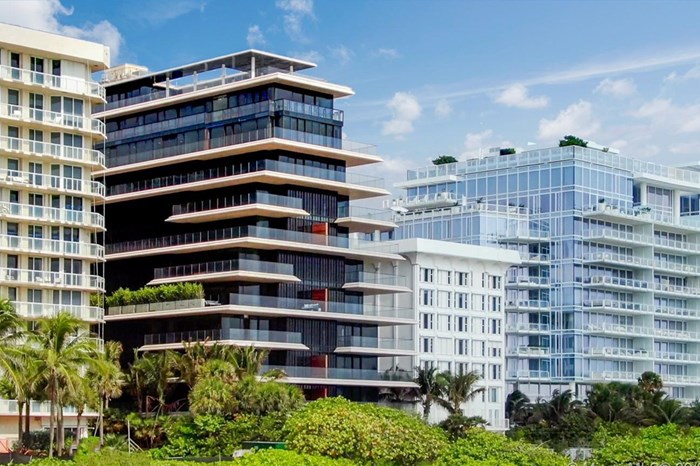 As more sellers gain confidence in crypto, a growing number of condos are being listed as crypto-friendly. Some current examples of available units in Miami include:
Past sales of Miami-area condos using cryptocurrency include:
Want to search for Miami-Dade condos that allow Cryptocurrency? 

Go here

. If you are interested in using Cryptocurrency to purchase a Miami condo, please contact us. 
---
What is Cryptocurrency?
---

If you are new to cryptocurrency, by definition (on Investopedia.com), cryptocurrency is digital money or virtual currency that takes the form of intangible tokens or coins. It is designed to be free of government control (at least for now) or any sort of intermediary interference.
This virtual currency is stored and secured using a code, or cryptography (hence the name), and distributed via a decentralized ledger network based on blockchain technology. Simply put, blockchain tech works on the premise of storing information for every transaction that takes place, adding a "block" of information or proof of transaction to the "chain" every time the currency changes hands. This combination of cryptography and blockchain technology makes it almost impossible to counterfeit or double-spend.
Traded similarly to stocks, some of the most popular types of cryptocurrencies in the market today include Bitcoin, Ethereum, Dogecoin, Litecoin, Cardano, and Polkadot.


---
How do you Buy Real Estate using Cryptocurrency?
---

A basic cryptocurrency transaction involves an amount, a sender's address (virtual), receiver's address (virtual), and private keys. Further, there are two ways to go about purchasing real estate using cryptocurrencies such as Bitcoin:
Seller Accepts Cryptocurrency, Closes in Dollars. With volatility being a major concern, some sellers are willing to accept cryptocurrency but prefer to convert it into dollars as soon as convenient at closing. Such deal are facilitated with the help of a cryptocurrency exchange that can easily convert digital currency to cash, such as BitPay, Coinbase, Binance, or FTX (America's first regulated cryptocurrency exchange, and the new owner of the former American Airlines Arena).


Crypto All the Way.

This is a true cryptocurrency transaction, where the seller will accept and keep the payment in crypto. However, it would be beneficial for both parties to negotiate upper and lower price parameters in such a situation. This will help safeguard both parties against any losses due to volatility. If the cryptocurrency's value falls out of the specified range, the sale price will automatically be modified to match the price in current dollar value on closing day.
Read more about buying and selling real estate with cryptocurrency.


---

Looking to buy real estate using crypto? Follow the link to see all condo listings accepting Bitcoin and other cryptocurrencies in Miami. Call, chat, or email us to have an expert real estate agent help you buy or sell properties in Miami or Fort Lauderdale.
Share your thoughts with us
Sign up now
Get news and updates delivered to your inbox