Miami Design District is World's First LEED-Certified Gold Neighborhood
Apr 26, 2021 April 26, 2021
Miami is making history again. Local architectural firm SB Architects, who oversaw the development of recent new constructions in the Miami Design District, announced that the Miami Design District has become the first neighborhood in the world to earn LEED (Leadership in Energy and Environmental Design) Gold Certification. Previously designated as the third neighborhood in the world to achieve standard LEED certification, Miami's luxurious art, design and shopping destination has now achieved the Gold standard as a leader in sustainable and eco-friendly development, setting the bar for communities across the US and around the world.



Luis Pons Reimagines Social Distancing - Art Installation. Photo courtesy of The Design District

SB Architects was in charge of overseeing the design of the development's entire architectural structure, and was also the architect of record for specific buildings such as Palm Court, Paradise Plaza, and several others. SB collaborated with the Spinnaker Group, an entity committed to implementing systems that fulfill the stringent LEED standards, to complete the Design District project.
While many Miami projects have achieved LEED certification, earning any LEED certification for an entire neighborhood is rare. Miami's Design District has set an example for the world by becoming the first neighborhood development in the world to achieve the highly prestigious LEED Version 4 Gold certification.


Check out our article on Miami's Most Green and Eco-Friendly Condo Buildings.

How did Miami's Design District earn LEED Gold Certification?
The neighborhood development project is designed to conserve energy, with systems to reduce the use of water, as well as green roof landscape design that has planted lush tropical gardens on the roof of nearly every building in the development. The green roof is not only a beautiful architectural feature, but green roofs also optimize thermal cooling, saving extensively on cooling costs, while filtering environmental toxins from the air. The project also employed recycled, sustainable, and locally sourced materials in construction, and construction waste was managed meticulously, reducing environmental impact.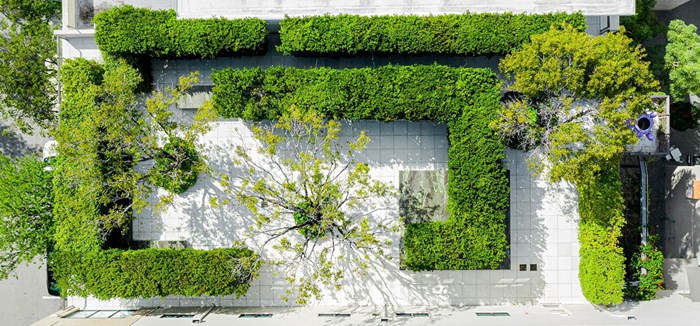 Garden Rooftop at the Garden Building in the Miami Design District. Photo courtesy of The Design Distict

The Miami Design District mixed-use urban development project encompasses 18 blocks and features 2,699,095 square feet of construction. In addition to its painstaking compliance with LEED sustainability standards, the Design District development project provides 50% more open space for residents than required by local zoning codes, while also maximizing access to public transportation, including multiple bus lines that provide over 200 stops daily.
The Miami Design District development project also features a four-block pedestrian promenade with two elegant department stores sporting lush rooftop gardens as its anchors, and mature shade trees keep the streets cool in summer. The design also includes a boutique hotel, condo tower, and five parking garages, with 100% of parking spaces designed to be under cover.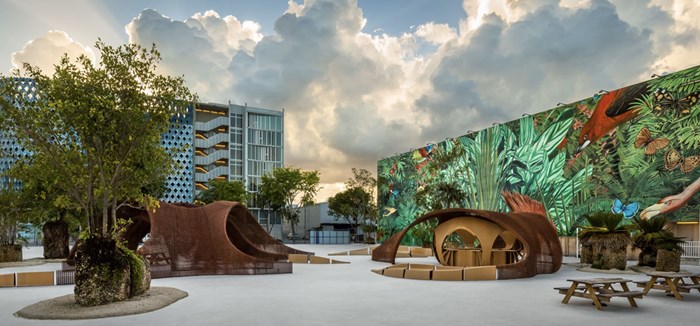 Pedestrian Promenade, - SB Architects. Photo courtesy of SB Architects

The U.S. Green Building Council, a non-profit voluntary program, awards the prestigious LEED certification to buildings, communities, and architectural projects in recognition of construction and development that is environmentally conscious. The degree of environmental impact considered is based on a simple 110-point system that takes into account such factors as energy efficiency, efficient use of water, indoor air quality, selected building materials, responsible use of land, emissions, and access to public transportation.
Other local projects that have achieved LEED certification include the Perez Art Museum Miami, several new buildings at the University of Miami campus, and a few private residential condo buildings that have been erected recently, such as Reach Brickell City Centre and Rise Brickell City Centre, Grove at Grand Bay, and 26 Edgewater.


Share your thoughts with us
Sign up now
Get news and updates delivered to your inbox