Miami Food Connoisseurs Share their Favorite Local Restaurants
Nov 04, 2014 November 04, 2014
Miami is becoming increasingly known for the lively food sensations appearing in places from Edgewater to Miami Beach. Upon review by some of the leading food critics of the area, these restaurants have been rated as the best.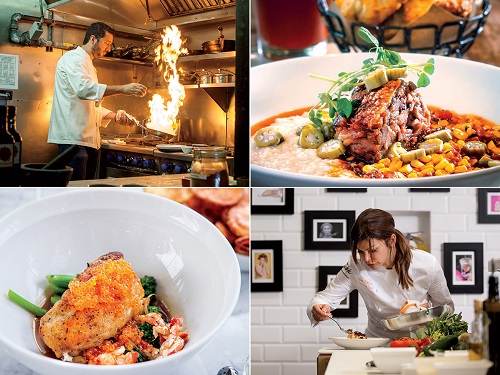 Positively Polenta
Located on Lower Alton Road, away from the hopping inner-city scene, lies Positively Polenta. A neighborhood-feel restaurant with its own brand of beach town charm. The recipes by Michael Pirolo have been described as genius and simple; Italian cuisine, served as appetizers.
Since the food is split up into smaller portions, it allows guests to try many small dishes to get a taste of everything. The recommended dishes are the cacciucco alla livornese, the seafood stew, the rustic charcuterie board, and Pirolo's polenta.
High on the Hog
The head chef of the Oak Tavern is David Bracha, a renowned chef who has operated restaurants in South Beach, Southern Miami, Coral Gables, Downtown Miami, and now in the Design District with the Oak Tavern.
Bracha took the approach of more contemporary cuisine with traditional American cooking. The recommended dish is the suckling pig with maque choux and cheddar grits. It is quite the meal to prepare, but comes critically acclaimed.
Basil Park
Out of Sunny Isles Beach comes another acclaimed restaurant. Sunny Isles Beach is known for quite a bit, but not necessarily their food. Tim Andriola, however, is bringing fine dining to the area with Basil Park.
Andriola is taking a different approach to this restaurant with dense nutrients and environmentally-friendly measures. They avoid any ingredients that are processed and choose whole ingredients instead. Their ingredients range from coconut palm sugar and dates to intact grains and grass-fed meats. The most highly recommended dish is the grass-fed skirt steak lettuce cups.
Mignonette
The Edgewater district claims one of the most commended restaurants, which is coming to be known by their oysters and monkfish. Daniel Serfer, the chef, and Ryan Roman, a lawyer and social media comedian, have partnered up with this idea.
Raw oysters are their most pronounced item, but they also have many cooked foods as well. The recommended dish is the monkfish with smoked trout roe, lobster sauce, and broccolini.
Touché
Located in downtown, on the third floor of the same building that holds E11even, neighboring the megaclub Space, is the Italian restaurant with a reputation for being worthy of Italy itself, Touché. Carla Pellegrino is the head chef of Touché, and has been cooking since the age of 10 when their family was so poor she had to stay home and cook for her mother's catering company.
The recommended dish is the fiocchetti di pera, which is slathered in a sauce of butter, sage, and dried cranberries.
Source: oceandrive.com
Photo credit: oceandrive.com
Share your thoughts with us
Sign up now
Get news and updates delivered to your inbox