Miami for Travel Buffs and Curious Locals
Jan 22, 2017 January 22, 2017
Mention Miami and people conjure up images of wild parties, beach bodies, luxury condos and high profile events. However, there's so much more to Magic City than its nightlife. Whether it's your first time here, you've just relocated, or are simply looking to explore the city with fresh eyes, there's loads to experience in Magic City!
This guide will help you explore the many facets of Miami beyond its cookie-cutter image:
 
ART & CULTURE
Adrienne Arsht Center for the Performing Arts
Arts & Entertainment District
Miami's cultural scene has turned into a legend of its own. A visit to Florida's largest performing arts center is a must for anyone in love with live opera, ballet, symphonies, recitals, plays and more. The Florida Grand Opera and Miami City Ballet are permanent residents at the Adrienne Arsht Center for the Performing Arts. The Knight Concert Hall, Ziff Ballet Opera House, Carnival Studio Theater, farmer's market and more are also part of the grand Arsht Center.
AmericanAirlines Arena
Downtown Miami
The AmericanAirlines Arena is the most happening sports and entertainment arena in Miami. A definite crowd-puller, the arena has a year-round calendar full of world-class events. Home turf for the Miami Heat NBA team, you'll also find celebrities and big-name entertainers frequenting these Bayside grounds. Besides the main arena, there are public and private event spaces, a multipurpose waterfront theater, party suites, lounges & plenty of casual eats.
Olympia Theater
Downtown Miami
What used to be a silent movies theater from the 1920s has now turned into a landmark performing arts center. The Olympia Theater hosts a variety of plays, concerts, special events, the Miami Film Festival and even community events. What definitely calls for a visit to this historic theater is its Moorish setting that features golden balconies and majestic towers for a one-of-a-kind viewing experience.
The Fillmore
South Beach
The Fillmore at the Jackie Gleason Theater has seen its fair share of celebrities on stage and off, with Frank Sinatra, Bob Hope and Jack Benny being regulars in the audience. It has also been the erstwhile venue for TV shows in the 1960s. Nestled in an Art Deco building, you can catch the biggest names in live entertainment, comedy acts, fundraisers and more at this historic venue.
Colony Theater
South Beach
This Paramount Pictures movie theater from the 1930s might have undergone major restoration, but still retains its Art Deco soul. The Colony Theater is now home to dance, music, comedy and theatrical acts. Managed by Miami New Drama, visit the theater for its Art Deco grandeur, if not the exclusively produced plays.
New World Center
South Beach
You'll come for the music and stay for the architectural and technical marvels at the Pritzker Prize-winning Frank Gehry designed New World Center. Under the artistic direction of 11-time Grammy award-winning conductor and co-founder Michael Tilson Thomas, this is the country's only full-time orchestral academy. The half-acre, open-air SoundScape area hogs the limelight with free "wallcasts" of select performances projected onto North America's largest, permanent projection surface.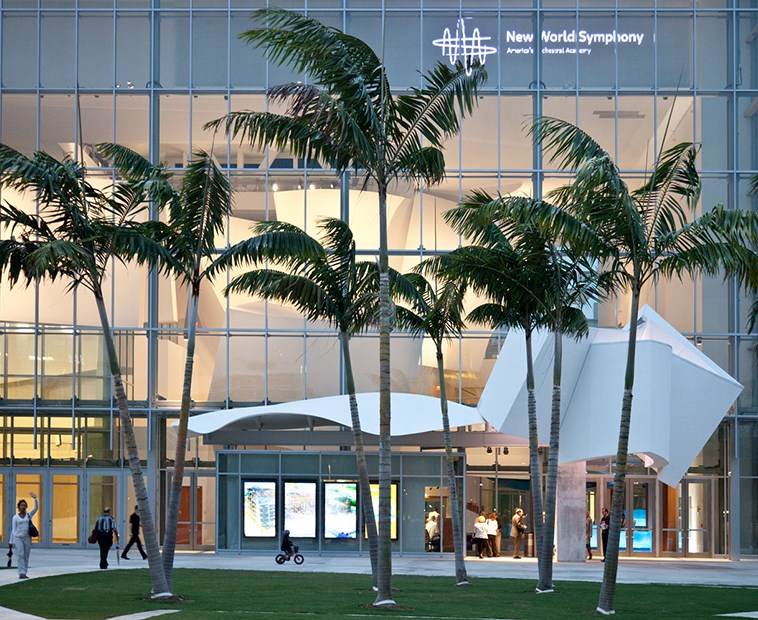 Wynwood Walls
Wynwood
A visit to the Wynwood Walls is a must for every (artistically) inquisitive mind out there. The largest street art gallery in the world, this outdoor museum features mindboggling graffiti, life-sized murals and much more from the greatest artists on the planet. The Walls not only consist of spray-painted façades of rundown warehouses, but also 'doors and gardens' and exhibits 'outside the walls'. A guided 'Art Walk' will have you falling in love with this one-of-a-kind district.
Art Galleries
Wynwood & Design District
Home to art, artists and curators alike, a tour around Wynwood and neighboring Design District is like taking a walk in art heaven. Wynwood alone boasts of over 70 art galleries. The galleries here offer a wide spectrum of art in its entirety - from what it was, is and could be. Touring all these galleries could take weeks or even months, so here are a few prominent ones to get started -
 
The Rubell Family Collection is one of the world's largest, privately owned, contemporary art collection in the world. Pan American Projects brings together the best works of contemporary artists from North and South America. The Bakehouse Art Complex has withstood the test of time since 1987 and is considered one of the coolest, classic galleries.
 
You can catch rotating collections from emerging to mid-career global artists at Art Fusion Galleries. Locust Projects is an experimental art space that offers complete freedom to contemporary visual artists. Plant the Future is not your typical gallery, but mixes up horticulture and art for some amazing 'living art works' for sale. And, find works from world-renowned pop art artists to fine art artists at the Markowicz Fine Art gallery.


 
Little Havana
Calle Ocho Southwest 8th Street
Coming to Miami and not sampling anything Cuban is a big no-no. And, there's no better place than Little Havana to dive into Miami's Latin connection. Walk into a cigar shop, bag a souvenir, gorge on authentic Latin eats, take a 'Walk of Fame', catch a game of dominos, or simply soak in the sights and sounds at Calle Ocho for a peek into the original Havana.

By Infrogmation of New Orleans - Photo by Infrogmation, CC BY-SA 3.0, Link
HISTORY & MUSEUMS
HistoryMiami
Downtown
You can't really claim to explore a city without a peek into its origins. HistoryMiami is the largest history museum in all of Florida simply because it has that much to tell. A tour around this Smithsonian Affiliate lets you dive into the multicultural soul of Miami with exhibits, artistic collections, an education center, research center, photography center and more helping you along your road to discovery.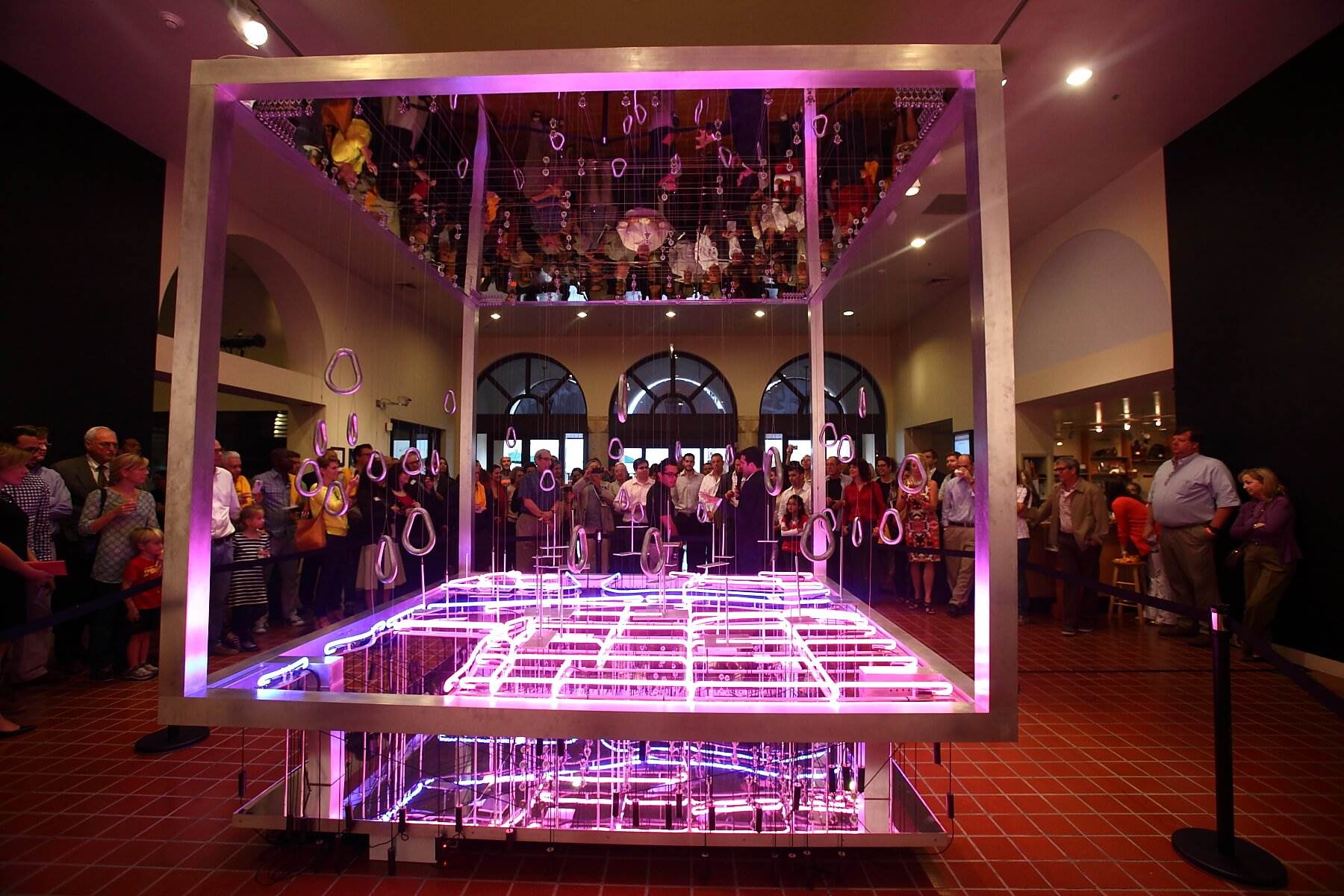 Art Deco Walking Tour
South Beach
Appreciators of all things beautiful will find a guided tour through the historic Art Deco District an awe-inspiring experience. Retro-fab buildings from the 1920s and 1930s have been conserved by the Miami Design Preservation League, creating a spectacular district full of pastel colors, glamorous neon signs and the soul of Miami. An 'Art Deco Walking Tour' will take you through some of the most famous hotels, restaurants and commercial structures along Ocean Drive.
MiMo/Biscayne Boulevard Historic District
Upper East Side
The MiMo Historic District is a time capsule taking you back to the Biscayne Boulevard of the 1950s. Straddling both sides of Biscayne Boulevard between 50th and 77th streets, iconic specimens of Miami Modern (MiMo) architecture stand as motels, shops, restaurants and other commercial structures. Unique to Miami, you'll be amused to see structures fashioned as acute angles, boomerangs and trapezoids, capturing a fascination with jets, futurism, space exploration and optimism that reined till the late 1960s.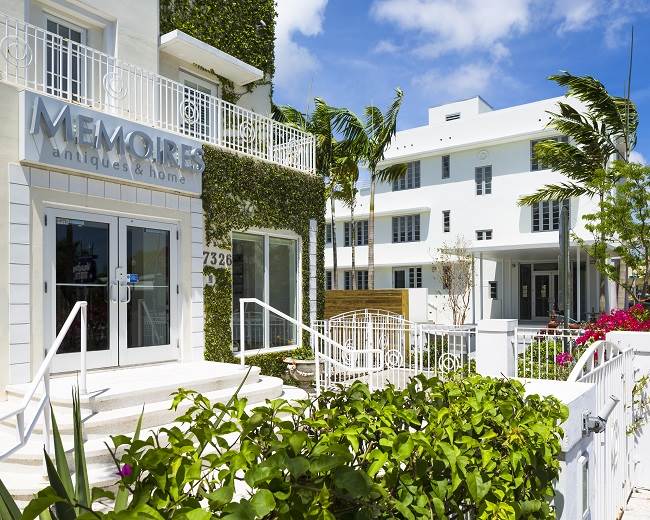 Pérez Art Museum Miami
Downtown
Pérez Art Museum Miami, or PAMM as it's more fondly known is one of the most sophisticated art museums in Miami. Nestled in the Museum Park with the lovely Bay waters for backdrop, a trip here is meant to be unique. Besides exploring modern and contemporary international art, you can enjoy strolling through the elaborate hanging gardens, marveling at its architecture by Pritzker Prize-winning architects Herzog & de Meuron, shop for souvenirs and giveaways at the gift shop, and indulge in waterfront dining.
Patricia and Phillip Frost Museum of Science
Downtown
Leaving behind its Coconut Grove home and persona, the Miami Science Museum has a brand-new address and avatar. Opening shortly at Museum Park, the Patricia and Phillip Frost Museum of Science, will be one of the few in the country to house a full-scale aquarium and planetarium. From a cutting-edge planetarium framing southwestern skies to Gulf Stream aquarium featuring sharks and barracudas swimming overhead, the museum is expected to put on quite the show that both children and adults can enjoy.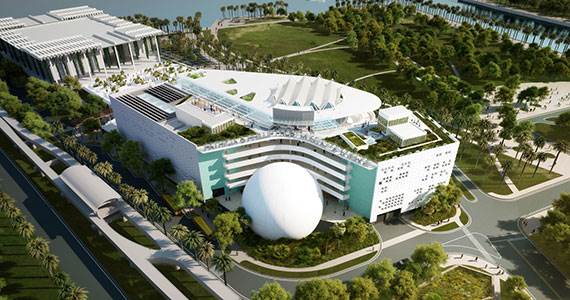 Freedom Tower
Downtown
Modeled after the Giralda Cathedral Bell Tower in Spain, the Freedom Tower was a beacon of hope for Cuban refugees seeking political asylum from 1962 through 1974. This former Cuban Assistance Center is 11 stories high and 3 bays deep. Besides its historical aspect, the Freedom Tower should also be visited for its sheer beauty. A Spanish renaissance-style building, you'll stand marveling at its cast concrete cherubs, groined ceilings, wrought iron balconies, cast iron decorative transom and oak main doors. Today, the tower is part of the Miami Dade College campus and features an art gallery on the 2nd floor.


Holocaust Memorial
South Beach
A tribute to the six million victims of the holocaust, the Holocaust Memorial stands in somber contrast to South Beach. A photo mural, sculpture garden and contemplation dome take you through the terribly tragic past of Jewish victims and survivors that will move you.
Vizcaya Museum & Gardens
Coconut Grove
This former winter residence of industrialist James Deering is part museum, part environmental paradise, part ode to the 'Age of Exploration'. At the historic Vizcaya Museum & Gardens you'll find art, antiques and, of course, gardens. It's easy to lose track of time exploring the ten acres of Europe-inspired formal gardens, orchid collection of 2,000, 25 acres of endangered forests, and 34 decorated rooms of the Main House with over 2,500 art objects and furnishings.

Other Notable Museums
Get more food for thought at the Bass Museum of Art, Lowe Art Museum, Frost Art Museum, Wolfsonian-FIU, Jewish Museum of Florida or the Miami Children's Museum.
NATURE & WILDLIFE
Everglades National Park
Homestead
Wilderness enthusiasts will have a gala time hiking, biking, kayaking, canoeing, fishing and camping in the 1.5 million acres of the Everglades National Park. This subtropical wetland is made up of sawgrass prairies and has a most unique ecosystem that's home to herons, bald eagles, flamingos, crocodiles, white-tailed deers, gray foxes, turtles and tropical fishes. You can have an authentic eco-adventure with an airboat ride, trekking through scenic jungle trails and getting to know the Florida alligator at the Everglades Safari Park.



Biscayne National Park
Homestead
Experience a magical underworld full of coral reefs, colorful fishes and shipwrecks as you boat, kayak, dive, snorkel, hike or camp at the Biscayne National Park. The park protects mangrove forests, coral reefs, the Bay and almost 10,000 years of human history. You'll find a whole range of exotic species at the park such as lionfish, African jewelfish, Burmese python and Cuban tree frog. Picnics by the water or snooze in a rocking chair by the visitor center are some of the tamer things to do at this exciting subtropical island.



Zoo Miami
Miami Heights
More than 300 acres are home to more than 2000 animals at Zoo Miami. Feed a parrot, have a rhino encounter, discover the 'wings of Asia', marvel at a silk floss tree, take a safari tram and much more at this amazing zoo. You can even camp out at the neighboring Larry and Penny Thompson Park.



Fairchild Tropical Botanic Garden
Hammock Oaks
There's a whole new world of flora and fauna to be discovered in Miami, besides its omnipresent palms. Find rare and exotic tropical fruits, flowers, trees and more in the sophisticated, 83-acre Fairchild Tropical Botanic Garden. If you're in luck, you could get to sample exotic treats such as mangoes and chocolate at one of their many ongoing events.


Jungle Island
Watson Island Park
For a more hands-on experience, head to the Jungle Island theme park and petting zoo. Leaving behind its Pinecrest location for the expansive Watson Island Park, this former Parrot Jungle now boasts of more than 3,000 animal, bird and plant species. Feed a parrot or take a selfie with a lemur, connect with a kangaroo or marvel at the hybrid liger, whatever you do, 'wild encounters' are guaranteed.
Miami Seaquarium
Key Biscayne
Visit one of the oldest oceanariums in the United States for an unforgettable swim with the dolphins at the Miami Seaquarium. A 38-acre marine-life entertainment park, you'll have the unique opportunity to interact with seals, dolphins, penguins and trek through tropical reef and fish. Programs such as Day Camp and Trainer for a Day offer a more hands-on experience, while the sea lion, killer whale and dolphin shows have these sea mammals putting on quite a performance.
Share your thoughts with us
Sign up now
Get news and updates delivered to your inbox