Miami Neighborhood Comparison: Downtown Miami vs Brickell
Feb 18, 2022 February 18, 2022
If you're a true urban warrior, the two neighborhoods in Miami that you're probably most interested in living in may be Downtown Miami and Brickell.  These two neighborhoods offer all of the advantages and excitement of urban living, with plenty of shopping and dining options, reliable public transit, and a buzzing, active nightlife.  But the two neighborhoods, despite being right next door to one another, divided only by the Miami River, have some striking differences, and each has its own personality.
Here's our comparison of Downtown Miami versus Brickell to help you decide which of these Miami neighborhoods is right for you!

The Miami Lifestyle: Downtown vs Brickell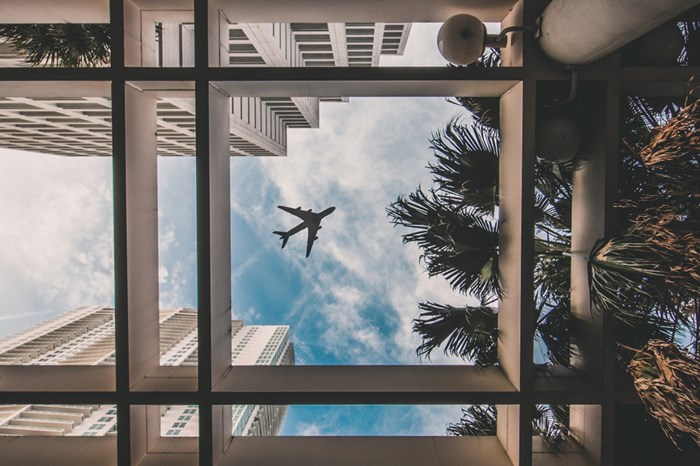 Downtown Miami generally refers to an area stretching along the coast of Biscayne Bay from the Miami River north to the Venetian Causeway. Along with Coconut Grove, Downtown Miami is Miami's oldest settlement, and was built around the historic city center known as the Central Business District. While many businesses still call Downtown Miami home, as business interests in the area grew, Miami's Business District spread south across the Miami River into Brickell, which is today the city's primary center of business and Miami's financial district. 
For those who want to be in the center of it all, Downtown Miami is an ideal location, as it provides easy access to the sandy shores of Miami Beach, as well as the city's most important cultural venues such as the Adrienne Arsht Center, Perez Art Museum, and the Frost Museum of Science, as well as the recently renamed FTX Arena that locals still refer to as the American Airlines Arena. There is also the Miami-Dade College, Government Center, and Bayside Marketplace and Bayfront Park.
Brickell is also a centrally located neighborhood, but with perhaps a bit more upscale appeal than Downtown as Downtown is still undergoing a revitalization. The ultimate "live, work, and play" location, Brickell has lured many celebrities to its lair, including such Latin pop and salsa stars as Jennifer Lopez, Luis Miguel, Marc Anthony, and the late José José. 
But Brickell is actually far more than just its Financial District, known for its array of shopping and dining options, its vibrant night life, and the popular Mary Brickell Village and Brickell City Centre, which are hubs where you'll find incredible shopping. Brickell is divided into three sub-divisions as follows:  

North Brickell - The Buzzing Financial District 
Miami's Financial District amasses the area around Brickell Avenue North of SW 15th Road, and is characterized by skyscrapers, most of which are typically mixed-use condo/hotel developments where many international corporations maintain headquarters and branch offices. This area, known a North Brickell, is divided from Downtown by the Miami River. When most people refer to 'Brickell,' this is the area that they're typically referring to.
The area consists of a mix between older developments dating back to the 1970s and new, luxury highrises and office towers. Many luxury condo developments are being planned along the bayfront and Miami River, such as the Baccarat Residences Brickell. The area's urban core, extending south of the River, has expanded from Brickell Avenue west as far as the Metrorail line, thanks to a recent construction boom. 

South Brickell - Also Known as Old Brickell 
The area known as Old Brickell, or more commonly, South Brickell, extends south of SW 15th Road (Broadway). This part of Brickell is far more residential than the Financial District, and is the oldest subdivision in the Brickell area. This area is known for its shady tree-lined streets and laid back way of life, including single-family homes and occasional ornate mansions dating back to the early 20th Century. Bordering Little Havana, Coral Way and The Roads to the west, South Brickell connects to Key Biscayne via the Rickenbacker Causeway, and is bordered by Coconut Grove to the south. Consisting primarily of older, established condo buildings, there are a handful of luxury waterfront towers planned for development in the area, including St. Regis Brickell and Una Residences. 

Brickell Key/Claughton Island – An Upscale, Gated Island Community 
Combining the ultimate in privacy and exclusivity with easy access to the busy, buzzing Financial District and all its offerings, Brickell Key is an affluent, gated community located off SW 8th Street in the heart of the Financial District. Nestled just south of the Miami River and Downtown Miami, this man-made island was built in the late 1800s and covers 44 acres. It includes several waterfront towers, some townhouses, a corporate office building, and the elegant Mandarin Oriental Hotel. Brickell Key's special appeal is the combination of a quiet island lifestyle with direct access to a bustling urban center.

Business: Downtown vs Brickell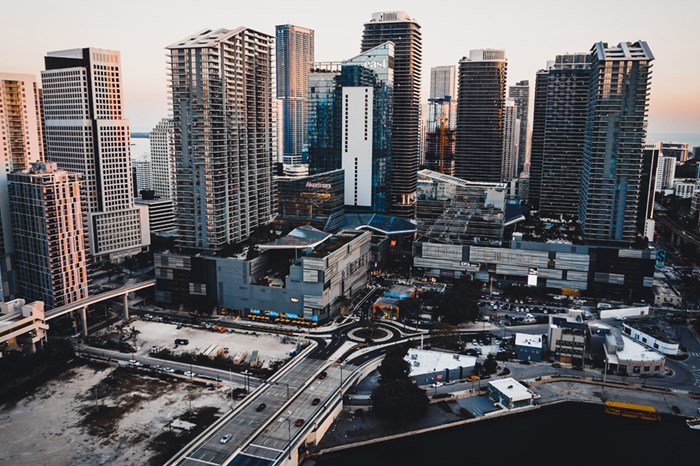 Downtown Miami is the historic core of Miami, bordered on the east by Biscayne Boulevard, Bayfront Park and Museum Park, and stretching south to the Miami River, north to NE 6th Street, and west as far as Interstate 95. While Downtown Miami has been overshadowed by the rapid and expansive growth of Brickell as the area's primary financial district over the past 30 to 40 years, there are more than a dozen office buildings here and more planned. 
Living in Downtown, you'll be within walking distance of the court houses, government buildings, businesses, arts district, historic theaters, cafes and a more traditional "downtown" feel. You'll also be within minutes of the financial district in Brickell, so even if you work outside of the Downtown area, your commute can still be quick and even walkable or bikable. For some, it may prove more economical to commute from Downtown Miami to Brickell, while others may simply wish to live a short distance from where they work.
Downtown Miami, along with parts of Brickell, also house most of the state's foreign consulates. The consulates of Argentina, Brazil, Chile, Dominican Republic, Ecuador, France, Guatemala, Japan, Mexico, the Netherlands, Peru, Switzerland, Trinidad and Tobago, and the United Kingdom, and several others, are located between Downtown and the Financial District in Brickell. 
While Downtown is more of a mixed-use neighborhood, the Brickell Financial District is the core of Miami's banking, investment, and financial sectors, and has a more corporate and modern feel. A vibrant commercial center with a bounty of regional, national, and international corporate headquarters alongside startups growing at unprecedented rates, the area is buzzing with international visitors and professionals in every industry. To satisfy this eclectic and sophisticated clientele, the Brickell area has plenty of restaurants, lots of retail, and a wide assortment of nightclubs and businesses catering to young urban professionals. 
The more residential South Brickell has far less business activity, and is dotted with smaller businesses such as physicians, attorneys, accountants and other professional service providers. Brickell Key is an even smaller community, with only a handful of essential small business such as a market and dry cleaner, and the restaurants, spa and fitness centers at the Mandarin Oriental Hotel. 

Architecture and Residences: Downtown vs Brickell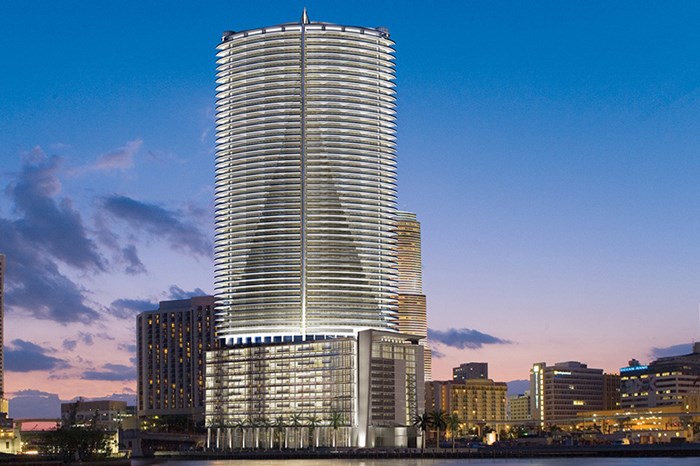 Epic Residences in Downtown Miami

Downtown Miami has both condos and apartment rentals; and new rentals offer modern amenities such as pools, saunas, and fitness centers, and new condo towers are sprouting up in the area, providing a wider array of options for those who want to own property in the area, including many luxury and investment opportunities.
Condos in Downtown Miami vary greatly in price and quality, ranging from the luxurious Epic Residences on the Miami River to the more affordable Loft Downtown I and Loft Downtown II. Towers such as 50 Biscayne, One Miami, and Vizcayne overlook Biscayne Bay, while the ultra-luxury Aston Martin Residences is set for completion by the end of 2022, with beautiful units overlooking the Miami River. 

 


In Brickell you'll find a bounty of older and newer condo buildings with spacious units, bay views, luxurious amenities, and a wide variety of architectural styles. Among the most popular condo buildings that have sprung up in the area recently are the Icon Brickell towers, the Reach and Rise towers at Brickell City Centre, 1100 Millecento, the recently completed Brickell Flatiron, and Jade Brickell.  
South Brickell is home to some of Miami's most famous buildings, such as the sleek Atlantis on Brickell, designed by Arquitectonica and immortalized in Miami Vice. Here, you'll also find single-family homes dating back to the 20th Century along South Miami Avenue. 
On Brickell Key, you'll find buildings such as Asia, Brickell Key I and II, Carbonell, and the Tequesta Point towers, which all feature such luxurious amenities as state-of-the-art fitness centers, spas, infinity pools, racquetball, squash and/or tennis courts, concierge service, and valet parking. 

Walkability and Transportation: Downtown vs Brickell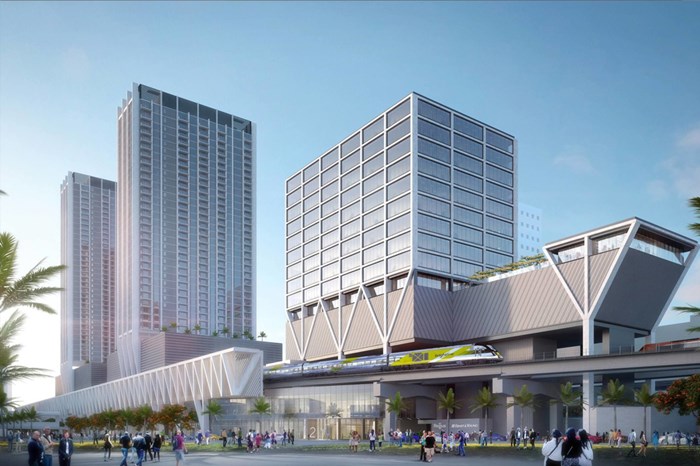 MiamiCentral station (Artist Rendering)

If you dream of a car-free lifestyle, both Brickell and Downtown Miami are an ideal choice of neighborhood to reside in. Miami's free and convenient Metromover serves both the Downtown and Brickell areas with 3 lines that include the Downtown Loop, the Omni Loop, and the Brickell Loop. The Metromover also provides service to Wynwood and Coconut Grove. 
Downtown has a slight advantage as it has more public transit options, especially with the new MiamiCentral station, where you can connect from the Metrorail and Metromover to Brightline trains that can take you as far north as Fort Lauderdale and West Palm Beach. The upcoming Tri-Rail service expansion will also extend service to areas such as Miami International Airport directly from Downtown Miami. 
In Brickell, the car-free life is also entirely possible. It's easy to get around the neighborhood by foot, bicycle or scooter, the Metromover and Metrorail, and the free trolley system serves the entire Brickell area, while also connecting to trolleys and buses serving Downtown, Midtown, and Coral Gables. There's also a local shuttle service that serves the Brickell Metrorail/Metromover station, South Brickell, and Brickell Key. 
Looking to live car-free? Don't miss our article on other Miami neighborhoods where you can live without a car. 

Parks and Greenspace: Downtown vs Brickell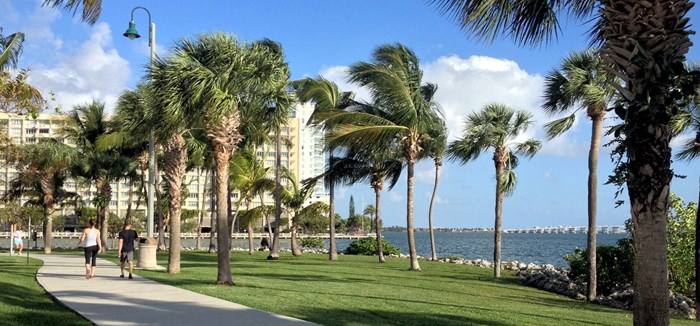 Margaret Pace Park - Edgewater

If parks and greenspace are very important to you, Downtown Miami has a slight advantage over Brickell. Downtown shares the 8-acre Margaret Pace Park with neighboring Edgewater. The part provides breezy waterfront hiking and walking trails, outdoor sculptures, and direct access to the Bay. And also has Museum Park and Bayside Park, where there is an amphitheater and outdoor yoga classes. A soon-to-be-completed Bay Walk will create a walking path from Edgewater to the Miami River. 
Brickell also has its share of great greenspaces, but they are a bit smaller and more what you would expect of urban parks. In the Financial District, you can relax and chill outdoors at Brickell Park, Miami Circle Park, and Simpson Park, whereas in South Brickell you can enjoy the outdoors at Southside Park, Alice C. Wainwright Park, or Allen Morris Brickell Park. Brickell Key Park, on the island's southernmost tip, offers a quiet bayfront respite beneath swaying palms. The walking path outlining Brickell Key is also a favorite walking trail among Brickell area locals. 

Arts and Culture: Downtown vs Brickell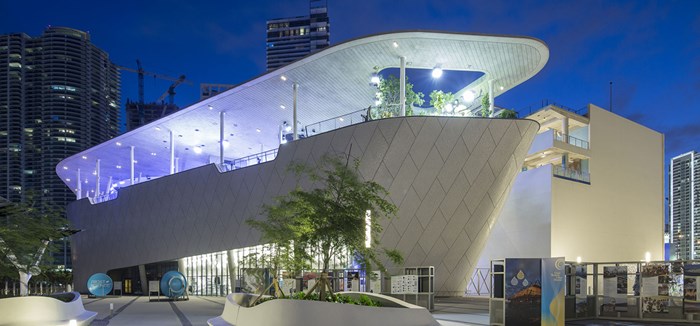 Perez Art Museum - Downtown

Downtown Miami is known as the Downtown Arts District, and is home to Miami's top cultural venues such as the Adrienne Arsht Center, Ziff Opera House, the historic Olympia Theater, Perez Art Museum, Frost Science Museum, The FTX Arena, Bayfront Park, and many local art studios and galleries.  Downtown Miami is also close to the Wynwood District, with its famous murals and yearly art fairs, as well as the historic Design District, home of the always-free-to-visit Institute of Contemporary Art (ICA Miami) and such renowned exhibition spaces as the Moore Building and The de la Cruz Collection.
While Brickell is best known for its restaurants and nightlife, the local art scene has been grown steadily in recent years, particularly with the opening of Brickell City Centre, where world-renowned galleries such as Avant and Eternity have opened flagship galleries. Other art spaces include the David Rosen Galleries and The Hippie Royals Gallery in Mary Brickell Village. In the more residential South Brickell area, a small community of artists has settled, while in Brickell Key, the Mandarin Oriental is among the exhibition venues used during Miami Art Week. 

Eating & Shopping: Downtown vs Brickell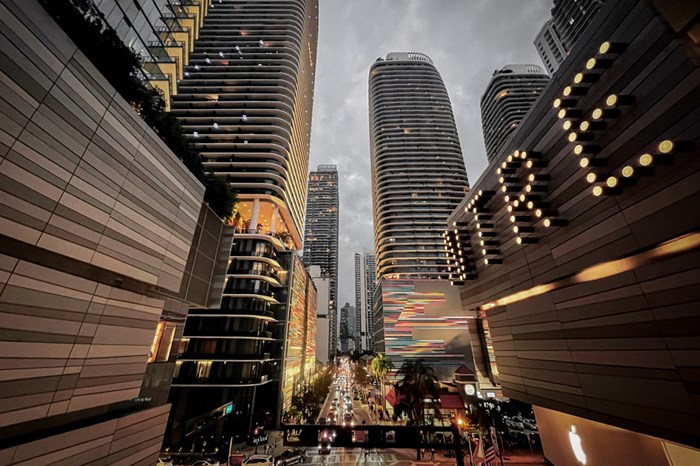 Brickell City Centre - Brickell. Photo by Ariel Tutillo on Unsplash  

Both Brickell and Downtown Miami are home to amazing eateries, with each neighborhood having its own vibe. In Downtown, there's an array of diverse international offerings, American comfort food, and exotic fusions, such as the iconic CVI.CHE, celebrated for its delicious Japanese-Peruvian cuisine.  Standard Italian fare is excellent at Fratelli Milano, and other local favorites include Zuma, Boss Cow Oyster Bar, Bouloud Sud Miami, Toro Toro, Tuyo, and the popular Esotico Miami, serving Hawaiian fair and tropical cocktails. Food halls are also cropping up, like Central Fare, the food hall in the MiamiCentral train station. The area also enjoys Shopping in Downtown Miami includes the shops at Bayside Marketplace, and Central Shopping Plaza at Miami Central. Nearby Brickell also offers ample shopping and for bigbox names, you can go to Midtown Miami with standard brands such as Target, PetSmart, and Marshalls. 
Brickell also features an excellent array of dining and shopping options, with locations such as the open-air Mary Brickell Village, and the vast Brickell City Centre, where European and U.S. fashion brands take center stage, along with a Saks Fifth Avenue, other popular retail brands, and a slew of gourmet food shops with exotic offerings from the world over. 
Some of the area's most popular restaurants include The Capital Grille, The Call, Crazy About You, The Big Easy Wine Bar & Grill, Brickell Bakery & Bistro, Marion Café (which also has a market and bakery; Tamarina Restaurant & Bar; Moxie's; North Italia; Baires Grill; and KOMODO, which give you an idea of the range and diversity of the area's eateries. Locals love Sunday brunch at the The Edge Steak & Bar, located at the Four Seasons Hotel.  In South Brickell, check out the sushi at Obba, and in Brickell Key, try the elegant Peruvian fusion cuisine at La Mar by Gaston Acurio set on the waterfront at the Mandarin Oriental Hotel.  

Schools: Downtown vs Brickell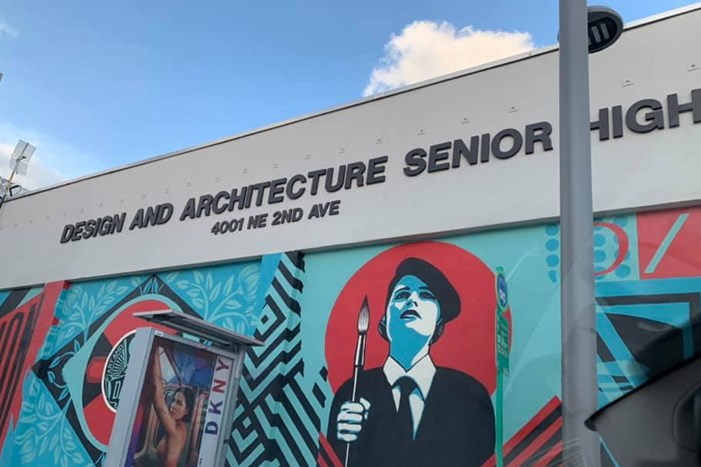 Because Downtown Miami and Brickell are so close to one another, students in these areas may attend many of the same public schools. Downtown Miami is home to the Downtown Charter School and Bridgeprep Academy, as well as the specialized New World School of the Arts. Miami-Dade Community College Wolfson Campus is also located in Downtown Miami. 
The prestigious magnet program at Design and Architecture Senior High School is also close by, in the nearby Design District.  
Area schools in Brickell include Coral Way K – 8 Center, Southside Elementary School, George Washington Carver Middle School, Ponce de Leon Middle School, Miami Senior High School, and the Robert Morgan Vocational Tech Institute. Students living in both the Downtown or Brickell area may also compete for admission to the highly competitive STEM program at MAST Academy, located near the Rickenbacker Causeway in Key Biscayne. 
Students in both Downtown Miami and Brickell may also opt to attend private schools such as  Open Hearts Language Academy (OHLA), Key Point Academy, Brickell International Academy, First Presbyterian International Christian School, Gordon Day Jewish School, and Prima Casa Montessori. Students also have the option of attending private schools in nearby Coconut Grove, including the highly acclaimed Ransom Everglades, Carrollton School of the Sacred Heart, and Immaculata-Lasalle High School. 

Cost of Living: Downtown vs Brickell

Downtown Miami is one of the areas that has seen the most growth in recent years, and one with the widest range of cost of living options in the area, including many new buildings in the pre-construction phase. The average listing price for a condo in Downtown Miami today ranges between $607,000 and $1,932,421, whereas the median listing per square foot is about $360 in mid-priced buildings. Higher-end units in Downtown's newest developments, typically those completed after 2018, are priced well over $1 million. In ultra-luxury towers such as One Thousand Museum on Biscayne Boulevard, units are generally listing for $5-20 million. Rental apartments also abound in Downtown Miami, with rents varying.  
In Brickell, rental apartments average about $2800 a month for a one-bedroom. For those looking to buy property, you'll have options that include smaller, more affordable units, luxurious residential units, and exclusive waterfront penthouses. The average condo listing in Brickell is around $399 per square foot, or about $530,966 per unit, although listings in higher-priced buildings may into the multi-millions. 

Which Neighborhood is Better: Downtown Miami or Brickell? 
When deciding between Downtown Miami and Brickell, you may want to focus on specific buildings, sub-neighborhoods, or specific amenities that you'd like to look at, in order to narrow down your options. If you want to be a little closer to the museums and the local art scene, with a faster access to Miami Beach and other areas beyond the city, you might want to consider Downtown Miami, as its access to MiamiCentral provides the maximum in local transportation options.  
If you want to be in the center of the international financial action and business community, and limitless eating and shopping options, living in Brickell's Financial District will offer you plenty of opportunities to work and play near your home. For those more interested in a quieter, more residential community that's a bit more suburban and family friendly, South Brickell may be your ideal home.
If you're interested in more of our neighborhood comparisons, check out these below: 
Share your thoughts with us
Sign up now
Get news and updates delivered to your inbox