Miami New- and Pre-Construction Condo Update: April 2017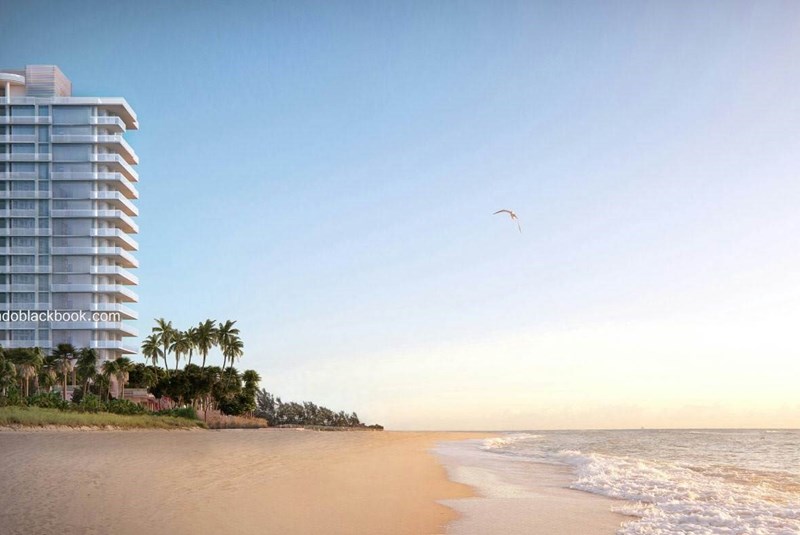 May 29, 2017 May 29, 2017
For this month's pre-construction market roundup, we have Biscayne Beach ready to welcome residents, a boutique condo proposed for South Beach, a lawsuit on sloppy documents/buyer's remorse (you decide), and two approvals.
Have a look below for details on Miami's new and pre-construction condo market happenings this April:
 
Now Open
After topping off in May last year, the 391-unit Biscayne Beach is now ready to allow residents to move in. The GTIS Partners and Eastview Development venture obtained its Temporary Certificate of Occupancy this April. To mark this, the decorative feature atop the 585-foot tower has been lighting up in multiple colors, visible from miles away.
The 51-story, waterfront condo building offers residents a beach club pool, bar, cabanas and lounge area, water sports equipment storage, swimming pier and dock, beach volleyball court, lobby-level art gallery, two tennis courts, entertainment 'great room', an on-premise high-end restaurant and much more.
99% sold out as of September, 2016 – Prices ranged from $446,900 to $2.05 million with a choice of one-to-three bedrooms + den and penthouses

Photograph: Biscayne Beach Pool
 

Vertical Construction
Construction of the oceanfront, 23-unit L'Atelier is moving full steam ahead. With its fourth floor poured out, the construction of this boutique condo building has now gone vertical. Top off is anticipated for fall 2017, while developers SMG Management and W Capital Group are targeting a 2018 completion.
This luxury condo mid-rise features amenities designed by luxury home furnishing entrepreneur Holly Hunt and Enzo Enea, an oceanfront infinity-edge pool, a private beach area, upper deck lap pool, poolside cabanas, pool and beach attendants, pool bar, BBQ area, hammock garden and more.
Limited residences available starting $3.5 million

Photograph: L'atelier - Exterior rendering

Photograph: L'atelier - Interior rendering
 

Planned Projects
A vacant lot fronting West Avenue has been bought by an entity linked to Boca Raton-based Redcliff Builders' Spencer Blank as well as Belgium-based investors Axel Knauf and Bernard Petit. The buyers now hope to build a modern condo with 14 units. While the exterior remains the same as the lot's previous owner envisioned it, the interiors have changed. The boutique building will have one to three bedroom units, cantilevered balconies, and a rooftop deck. An application will be submitted soon to the Miami Beach Design Review Board.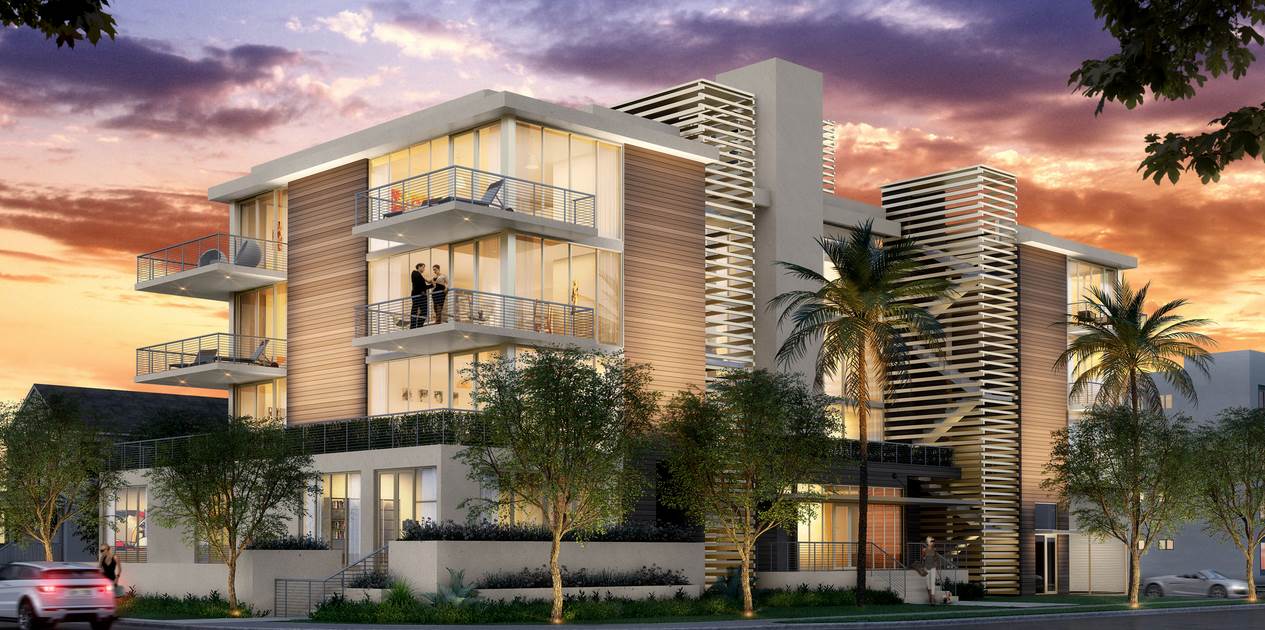 Photograph: Rendering of planned project
 

Approvals
Kuwaiti company AQARAT and Miami's Aria Development are planning a Yotel Hotel for Downtown Miami. The Urban Design Review Board has approved massive parking reductions for the multi-use development. The on-site parking has been reduced by 30% and setbacks around the building have been shrunk as well. Located close to a Metromover Station, once developed, the 45-story tower will feature 263 cabins (minimalist hotel rooms), restaurants, retail and condos on the upper floors.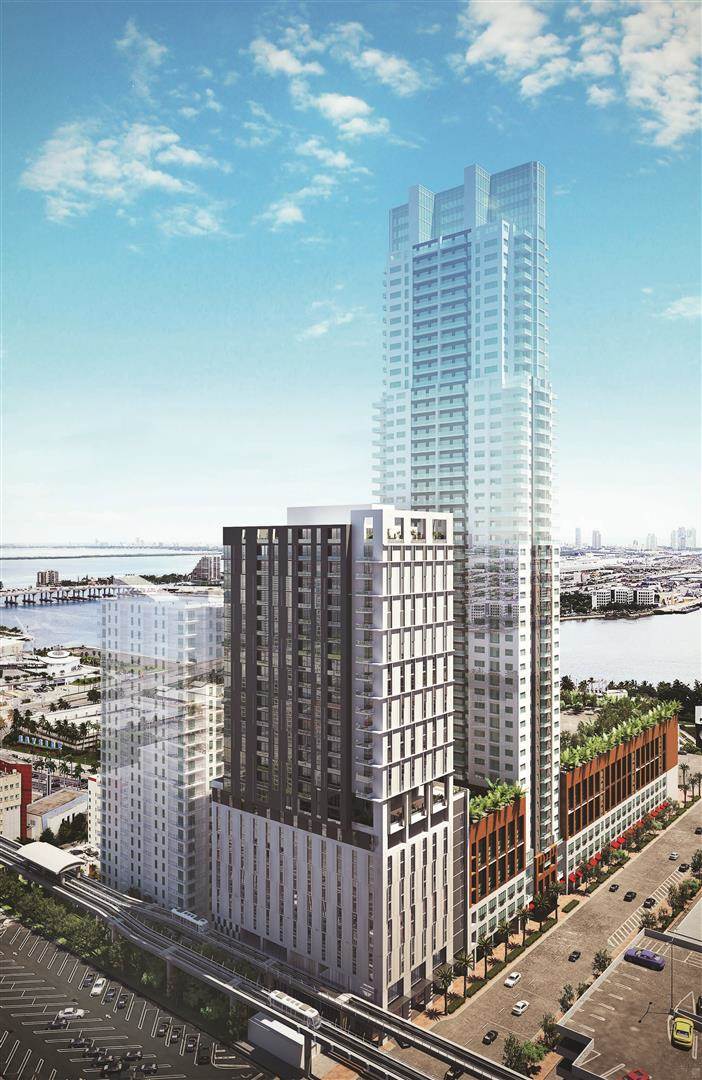 Photograph: Rendering of Yotel Condo-Hotel at Downtown Miami
China City Construction won approval on two variances of its 18-story condo tower from the Miami Beach Historic Preservation Board. The oceanfront development will feature 42 residences and 87 parking spaces. The two variances include the .98-acre development to reduce the width of interior driveways by one foot and to build a seven-foot-tall fence along its oceanfront portion. The ultra-luxury project will be designed by Arquitectonica and feature ground floor plus 4th floor amenity decks.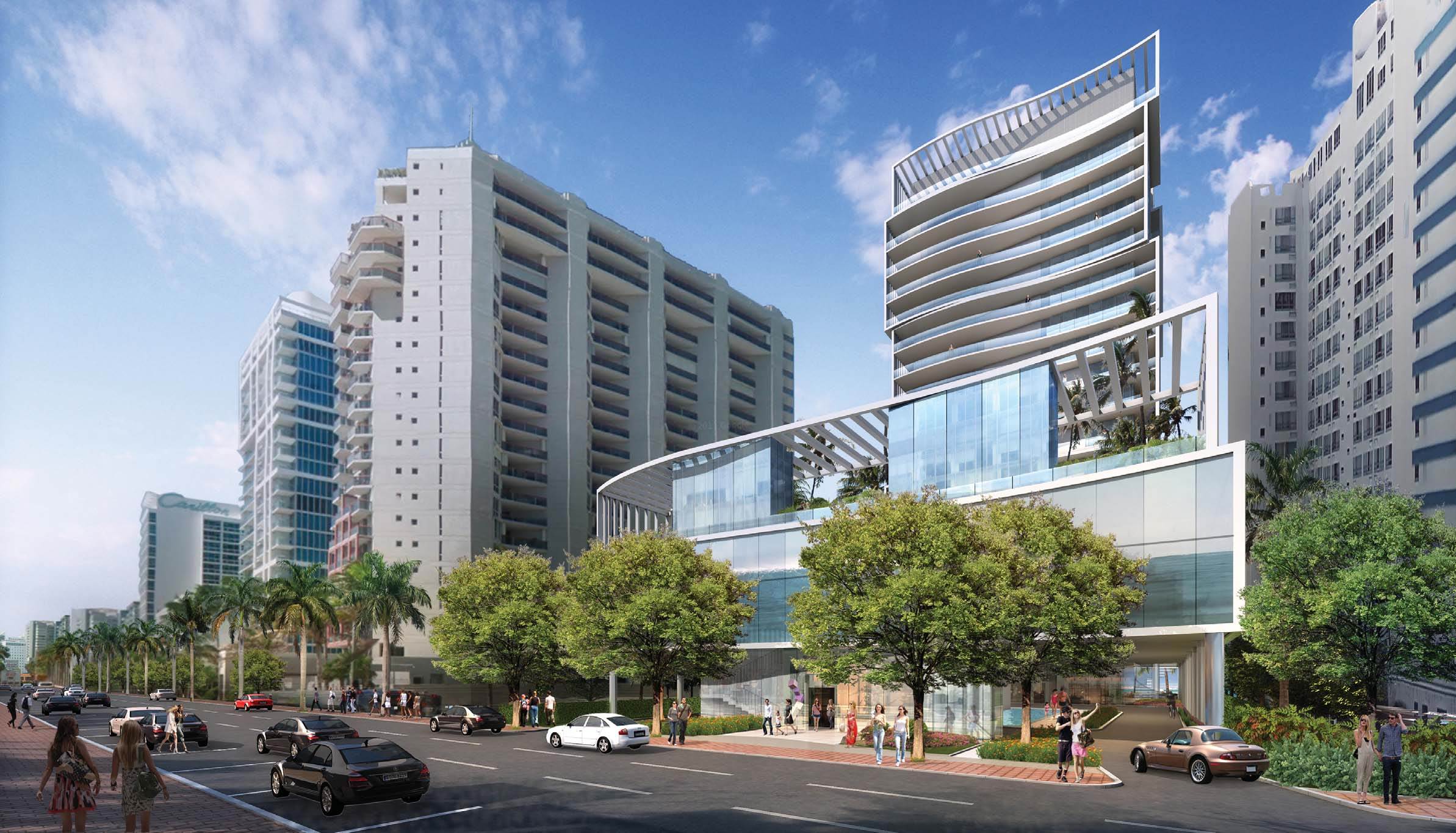 Photograph: Rendering of planned project
 

Other Updates
6080 Collins Avenue Beach House – Mid-Beach
There's been a change of sales team for the 6080 Collins Avenue Beach House by Urbis Real Estate and Domus Group. Compass is in as the new sales team, replacing Douglas Elliman. Sales for the 70-unit condo-hotel were launched in June 2015. Presales stand at 60% with buyers from Europe, New York and South America. Residents will get access to fully furnished units with beach service, a rooftop pool, gym, 1,200 sq. ft. ground floor retail, concierge, valet and custom art in the lobby.
Prices range from $300,000 for a studio to over $500,000 for a one-bedroom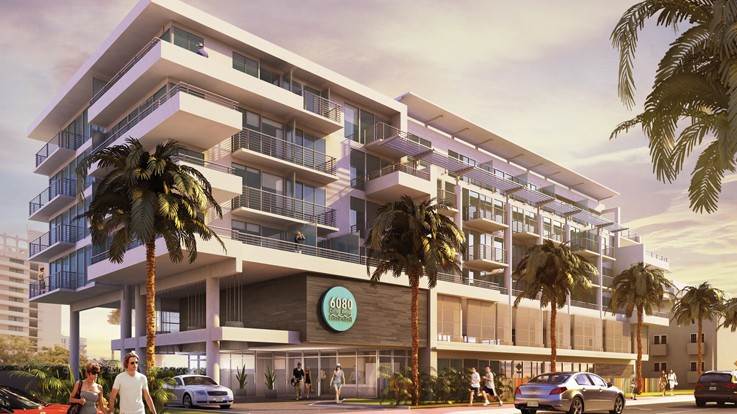 Photograph: Rendering of 6080 Collins Avenue Beach House
The Related Group has officially shut down its 1400-unit Auberge project by returning buyers' deposits. The sales center had already closed down in December and construction had been put on hold since August 2016. The project was cancelled due to a cooling preconstruction market, as sales stood at a mere 15% even in the second quarter of 2016.

Photograph: Rendering of Auberge Residences & Spa
 

Issues & Lawsuits
Buyers sue for deposit return
After putting down $650,000 on three condos as a 50% deposit, Victor Mijares and Caterina Angilello are experiencing buyers' remorse. According to the three lawsuits filed in a Miami-Dade Circuit Court, the buyers have claimed that the developers made fundamental changes to the building's design and failed to provide condo documents related to its association's bylaws and maintenance. The claimants have accused 1010 Brickel Holdings of violating Florida's Deceptive and Unfair Trade Practices Act and the Interstate Land Sales Full Disclosure Act.
1010 Brickell is a 50-floor, 387-unit luxury development by Key International and 13th Floor Investments. Read more about the lawsuit, here.


Photograph: Rendering of 1010 Brickell


 
The Crimson – Edgewater

Unfinished Crimson's architectural firm sued

The McKafka Development Group has sued Aventura-based architectural firm I.D.E.A for breach of contract and negligence leading to delayed construction. The 90-unit Crimson stands unfinished today, and according to McKafka it's because I.D.E.A. failed to respond timely on requests for information, couldn't coordinate with Facchina (the general contractor), prepared incomplete or inconsistent drawings and specifications, and generally failed in its responsibility to stay consistent with the design schedule. Find more details, here.

Photograph: Rendering of The Crimson
Share your thoughts with us
Sign up now
Get news and updates delivered to your inbox