Miami Nightlife: Show-Stopping Condos by Night
Jun 15, 2020 June 15, 2020
Florida may be known as the 'Sunshine State' but Miami proves to be equally dazzling at night. When the sun goes down, yes, the Miami nightlife scene is known the world over. But there's another kind of Miami nightlife, and that's the true beauty of the Magic City's many world-class condo skyscrapers. Their designs are complicated and unique, and this is shown off best when they're lit up on the Miami skyline at night. Here's some of Miami's most beautiful condos by night.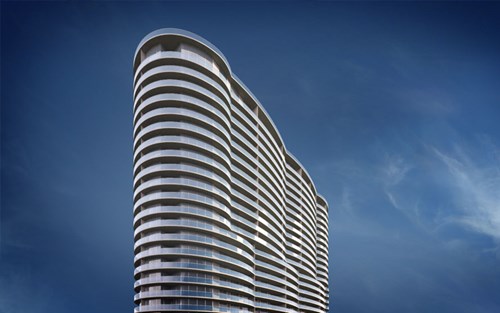 Aria on the Bay, a very recent luxury condo addition in Edgewater, is a striking sight at night. Designed by Architectonica, Aria's curved design, coupled with the beautiful soft light it radiates, sets it apart when night falls. Sitting two blocks from the Arts & Entertainment District and Miami's performing arts centers, the famed architecture firm used the undulating play of the condo's semi-circular balconies as a design homage to balconies inside classic opera houses, creating a visual of cylinders in performance. From the interior, Aria's well-lit marble foyer oozes class in the dark thanks to its slick and tasteful design.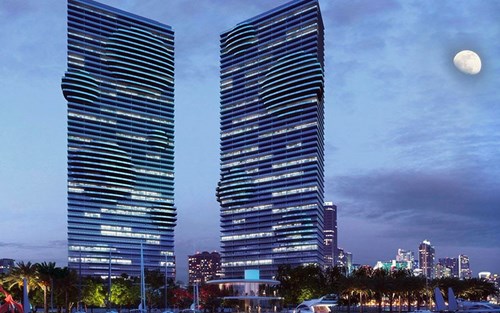 These twin condos are another brainchild of Arquitectonica, and have interiors designed by world-renowned architect and designer Piero Lissoni. Part of a four-tower complex known as the Paraiso District, these buildings have no trouble standing out on the Miami Skyline with their popping angular build and eye-catching, convex circular patterns. This is only amplified at night with all of their best assets being shown off, from their many well-lit swimming pools to tasteful fire pits that scatter the five-acre grounds.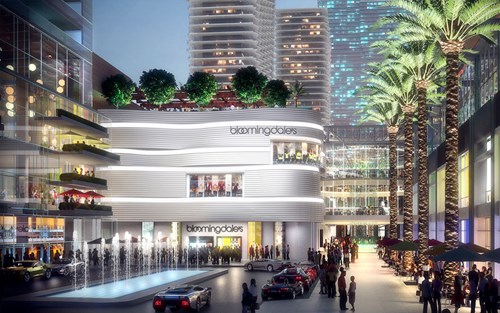 Sitting in the heart of the city and topping out at more than 700 feet, Paramount Miami is easily distinguished at night by its sail-like top that cuts through the Miami skyline with its pointed design. Designed by Elkus Manfredi Architects as part of a massive 27-acre site, this luxury condo's sparkling crescent-like shape reflects light from buildings all over Downtown, creating a mesmerizing effect.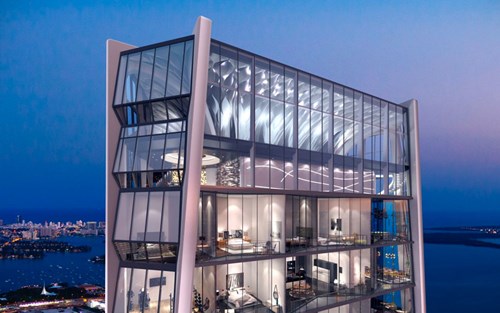 Arguably the most iconic building in Miami, One Thousand Museum, nicknamed the 'scorpion tower,' was designed by the late Zaha Hadid and is considered one of the most complex design builds ever. This beautifully complicated and futuristic build features glass-fiber, reinforced concrete, and a bone-white exoskeleton that only shines brighter in the night sky. At night, One Thousand Museum turns into the city's art installation.
Considered ultra-luxury and with many celebrity and professional athletes as residents (including David and Victoria Beckham), the building features 84 residences, including a two-story duplex penthouse, 4 townhouses, 10 full-floor residences, and 70 half-floor units.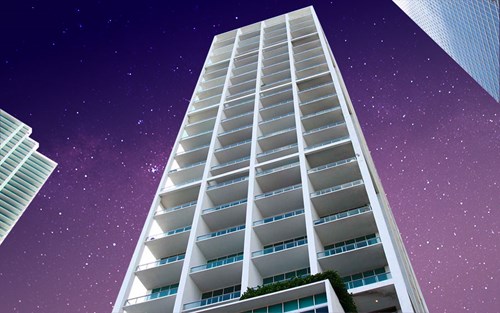 Just next door to One Thousand Museum sits Ten Museum Park, a symmetrical boutique high rise designed by architect Chad Oppenheim. Known for its geometric forms on the exterior, Ten Museum Park is incredibly visible from around Miami at night thanks to the sheer amount of glass used in the building, allowing light to shine from inside and reflect on the outside. With a total of 200 loft units inside, this condo tower was designed to play with proportion and scale, becoming a "sublime sculptural expression," according to the architect.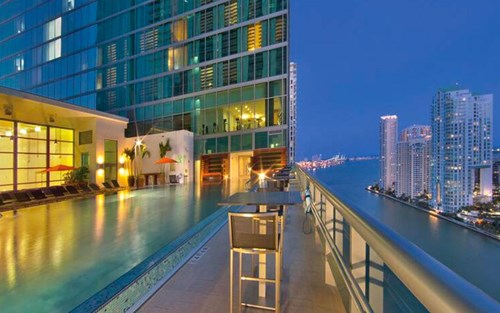 Another gem of a building by Arquitectonica, this award-winning design is known for its intersecting parallelograms and vertical rectangle that emerges from the top, which is lit up in blue at night. With its entire 67-story facade clad in glass and standing at nearly 700 feet tall, Marquis appears as a beacon of Miami's nightlife!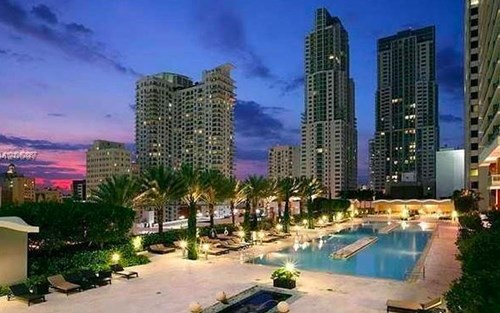 Designed by Sieger Suarez, 50 Biscayne is another condo that occupies an enviable location in Downtown Miami. Overlooking Biscayne Bay, this 57-story condo building's signature design element is its wave on its roofline. Noticeable from any aerial views of Downtown Miami, the wave lights up in red at night. From the street level, 50 Biscayne also features red and blue abstract murals on the facade.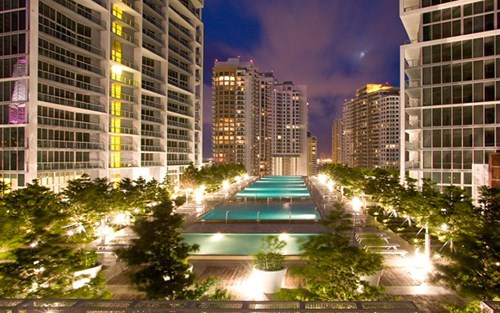 The Icon is a collection of three towers in Brickell positioned on Biscayne Bay, and they are immediately noticeable by their sheer size (180m in height). All three buildings (which includes the W Miami Hotel) have an angular Bauhausian design created by Philippe Starck and Arquitectonica. While simple, what stands out about the Icon at night is the bright strip of warm light that runs the full length of the towers, illuminating the geometric forms. Also, it's worth noting that the W Miami's 50-th floor "Whisper Lounge" boasts panoramic views of downtown Miami, Key Biscayne and South Miami Beach, a lounge deck and a pool, and celebrity cameos like David Guetta.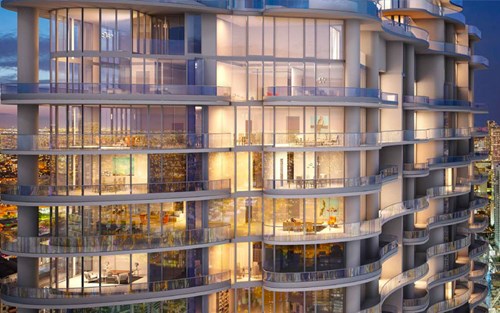 Like its New York namesake, Brickell Flatiron sits on a narrow, triangular piece of land in the middle of Miami's Business District. Developer Ugo Colombo and architect Luis Revuelta then translated this into an almost hypnotic and flowing architectural design for the 64-story tower.  Made almost entirely of flowing, curvilinear forms of glass, Brickell Flatiron is a real treat at night, whether you're taking in the immense structure from the streets below or you're lucky enough to be swimming in their exclusive sky pool looking out across the Miami skyline.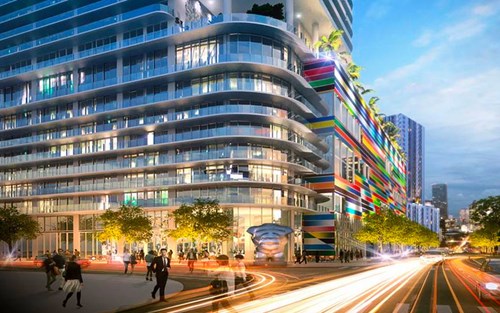 SLS Lux Residences, also part hotel, gives a nod to singer Rhianna when they say this tower "shines bright like a diamond." Indeed, SLS Brickell is one of the coolest condo buildings in Brickell and definitely the hardest to miss! The lower floors of the development are wrapped in a modernist, rainbow pattern, and at night these colors are lit up. The tower also dazzles in the dark with purple diagonal lights that wrap through the building, creating a slick pattern that runs the face of the tower; a real showstopper and a centerpiece when looking at the Miami skyline at night.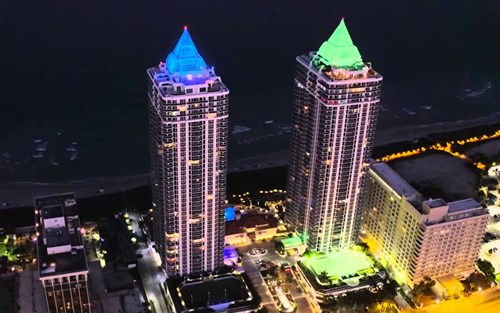 Speaking of diamonds, no Miami buildings stand out more in the dark than these twin landmarks on Miami Beach. Aptly named after their colored, pyramid-shaped tops, the Diamonds light up when the sun sets and are now beloved landmarks to all! These prisms of light give off a vibrant blue and green making them beacons for all of Miami to see.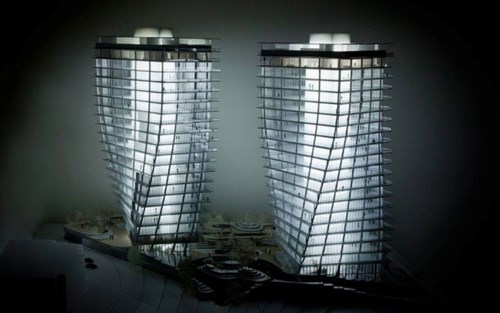 The Grove at Grand Bay twin condo towers, designed by the highly acclaimed Bjarke Ingels, has affectionately earned the nickname "The Dancing Towers" and for good reason -- the clever design brings these structures to life! At night, the view of the Grove is out of this world, as the twin build turns into twisting towers of light that evoke a sense of sophisticated play, a dialogue of dance in the night.
Share your thoughts with us
Sign up now
Get news and updates delivered to your inbox