Miami Open 2015: World-Class Competition, Entertainment & Glamour
Feb 19, 2015 February 19, 2015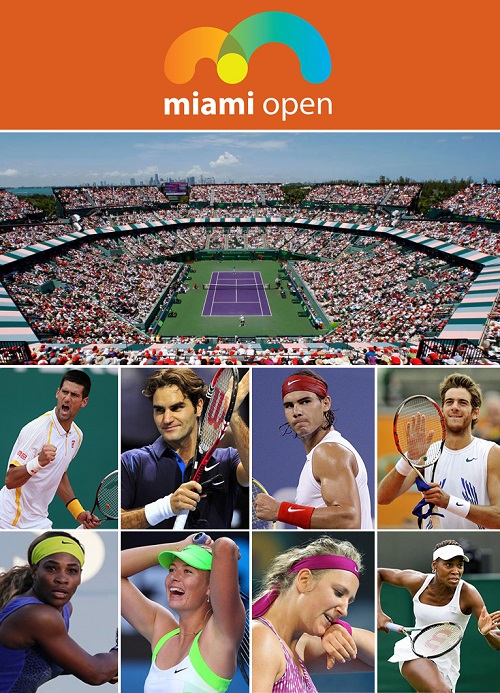 One of the most prestigious titles in professional tennis - the Miami Open (previously known as the Sony Open) – is here to kickstart spring. Delivering star-studded players in Crandon Park, you'll be treated to two weeks of world-class tennis along with high fashion, scrumptious food and Miami-level fun.
Opening with Men's and Women's Singles Qualifying events on the 23rd of March, the Grand Slam-quality tournament will wrap up on the 5th of April with Men's Singles and Women's Doubles Finals. The line-up includeds74 of the top 75 ranked men and all 75 of the top-ranked ladies. You can bet on catching one of your favorite stars in action.
The ATP acceptance list for the year brings World No. 1 Novak Djokovic; 17-time Grand Slam champion, Roger Federer; 14-time Grand Slam winner, Rafael Nadal; two-time Grand Slam and Olympic Gold Medalist, Andy Murray; as well as former US Open champion, Juan Martin del Potro. The women's field includes 19-time Grand Slam champion Serena Williams; seven-time Grand Slam champion, Venus Williams; five-time Grand Slam champion and reigning French Open champion, Maria Sharapova; two-time Grand Slam winner, Victoria Azarenka; and defending Wimbledon Champion Petra Kvitova.
With over $10 million in prize money at stake, the 2015 battle is set to take place at the newly renovated Crandon Park Tennis Center that now features landscaped greens and a host of new park facilities. However, it's not just tennis that's earned this first-class sporting event the 'most glamorous stop on the tour' tag. A celeb-studded entertainment stage, live musical performances, special events, more food than you can handle and fabulous shopping options on-site take extravaganza to the level Miami is world-famous for.
While individual session tickets begin at $31 and packages at $136, the Collectors Club, Champions Club and Suites cater to the discerning.
Photo credit: Tennis - whitegloveinternational.com
Share your thoughts with us
Sign up now
Get news and updates delivered to your inbox