Miami Real Estate Market Forecast 2020 & State of the Market in 2019
May 06, 2019 May 06, 2019
The Miami real estate market has been moving in interesting ways over the past few years. Some believe the market is bottoming out after a few years of softness, others think that we are set for another condo bust. Let's take a look at the Miami market landscape and see where things may go from here.
Let's start with a brief history... The market crashed in 2008 along with the rest of the nation, and then from 2010-2015 the Miami market had a huge run-up in prices to the point that pretty much everyone who invested around 2010 made very significant profits.



After the dollar strengthened in 2014, the very hot real estate market here in Miami started softening, as the Europeans and Latin American countries lost much of their purchasing power in the exchange rates (on the other hand, those who already had their money here made a killing).
Since 2015-2016, the condo prices have gone sideways and down as inventory has increased, creating some pain for sellers and a great opportunity for buyers. Home prices, however, have for the most part remained strong.


U.S. dollar strengthening is what caused the Miami real estate market to cool off around 2014-2015
Brazilian Real to USD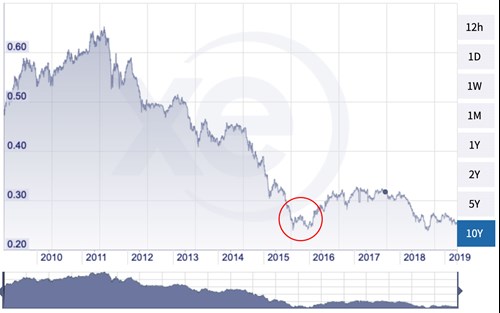 To see how the Euro compared to the USD, click here.
To see how the Colombian Peso to the USD, click here.
To see how the Argentinian Peso to the USD, click here.
The single family and condo market are entirely different animals, so we will be analyzing both here separately.


Condo Market Update and Forecast

Around 2015-2016 condo prices, specifically in the mid-to-luxury price ranges, started flattening out and in 2017 so far through the first quarter of 2019 prices have been in a downward trend. This trend was triggered primarily because of the strengthening dollar against most latin american and european currencies, and then continued because of additional inventory coming into the market in the form of new condos.
Now, in 2019, while there is still price pressure on condos (depending on the price point and location), so far in the second quarter of 2019 buyer demand is very strong. We think it has to do with a few factors:
U.S tax laws have tended to favor the wealthy, so second home purchases are up
The SALT tax state rules are driving many wealthy to change their residency to Florida, especially South Florida
Many Europeans and Latin Americans who have been waiting on the sidelines have gotten over the sticker shock of the strong U.S. dollar and have accepted the currency exchange rates favoring the U.S. dollar as the "new normal"
The U.S. economy remains strong, so there is continued strong demand domestic buyers from other big cities
Prices have come down, which makes Miami more attractive to both domestic and international buyers, especially since Miami is one of the most affordable major coastal cities in the world.


Miami Condo Market Trends
We put together an extremely detailed Miami luxury condo market trends report that you can access anytime, but here are some key trends and charts to help you understand the market as a whole.
If you look at the condo market trends as a whole, it looks like avg sales prices per sq ft have been flat-to-up since 2017 (see the green on the chart on the left), but if you strip out the newer construction property resales (post-2014) which skew the numbers higher, it becomes more clear how sales prices per sq ft have been on a downward trend from 2016 to date.


Greater Downtown Miami Condo Market Trends and Prediction



On the chart on the right, you can see how the demand dropped in 2016, due to a combination of the strengthening dollar, high prices, and possibly the election year. As it became clear that the Miami market had passed its peak in the cycle, buyers hesitated and demand dropped further. Buyers started coming back to the market in 2018 as prices became more attractive, and in 2019 we continue to see the acceleration of buyer demand.
Search for Condos for Sale in the Greater Downtown Miami area


Trends and Predictions for The Miami Beaches


The Miami Beaches (Miami Beach, Surfside and Bal Harbour) follow generally similar trends as the Downtown Miami market, although the ultra-luxury market skews the numbers a bit. While sales prices for condos appear to have increased from 2017-2019, when you exclude new construction (2014+) properties, you see the trend of sale $/sq ft dropping from 2016-2018. Surprisingly, it shows an uptick in the first quarter of 2019. That could be a seasonal strength in sales, or it can be a sign of things to come. It remains to be seen. We believe there will be continued price pressure on properties on the beach, even though we also believe the demand will accelerate as further following the trends of resurging demand between 2016-2018 (after a big drop from 2015-2016) in the chart on the right.
Search for Condos for Sale in the Miami Beaches
Below we also added condo market trend charts in the Coral Gables and Coconut Grove where the markets have been more stable.
Search for Condos for Sale in Coconut Grove and Coral Gables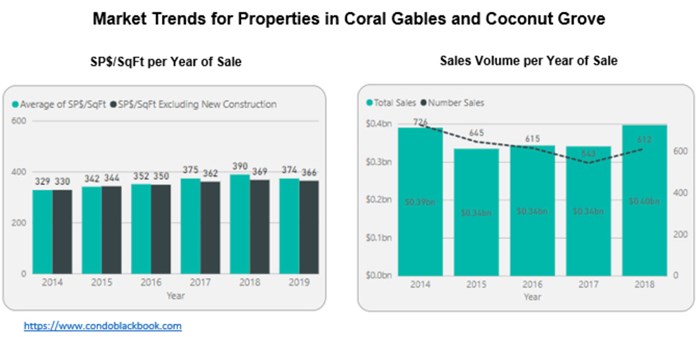 Miami Condo Real Estate Prices: What's Next in 2019 and 2020 Prediction?
From the looks of it, 2019 will have a generally flat to down market, but with that comes a huge opportunity to buyers for a few reasons. First, because of the large inventory available, buyers have a nice selection of properties to choose from. When markets get too hot, you have less to choose from, so you often end up with a less-than-perfect option. But this market gives you great choices. Second, sellers are more flexible with their prices in soft markets, so if you are a great negotiator or working with a great negotiator (like me for example) you can really get some beautiful condos at very attractive prices
If the current condo market trends continue, I believe the market will regain its balance close to the end of the year or by first or second quarter 2020. And then from there we will start seeing upticks in the market, especially for quality units in quality locations.


Is It a Good Time to Buy or Sell My Condo?
It's absolutely a great time to buy a condo in Miami. You get lots of options and you have all the buying/negotiating power on your side. And there is a lot more clarity with prices, since condos are selling at a good pace now. If you are a seller, it depends on a lot of factors. But generally our advice is to sell now or hold on for a few more years. If you are planning on a wait and see for next year, as per our predictions not much will change in your favor that quickly.


Single Family Homes Trends Update and Forecast

Single family home market trends in Miami and Miami Beach have a very different story than condos, mostly because buyers of single family homes tended to be more local and domestic buyers as compared to condos and also because there is not much new inventory being built in the most central areas of Miami (Most of the new inventory is in the distant Miami suburbs). Low interest rates have helped keep prices stable and in some areas the market is showing upward price trends. That said, months of inventory, which is a sign of supply vs demand is up in some Miami area neighborhoods which creates downward price pressure for the market in general.


Miami Beach Home Market Trends and Predictions
In the Miami Beaches (Miami Beach, Surfside and Bal Harbour), while sales volume has definitely dropped in a similar trend to condos, sale prices per sq ft have mostly been on an upward trend except for between 2016-2017. Inventory for homes in the area is at 26 months which is fairly high, but we also have seen strong buyer demand very recently from pending sales data. Our prediction for the Miami Beach real estate market is flat to slightly downward price pressure in general, but so far high inventory has not impacted single family prices….The charts show single family home prices mostly on the rise.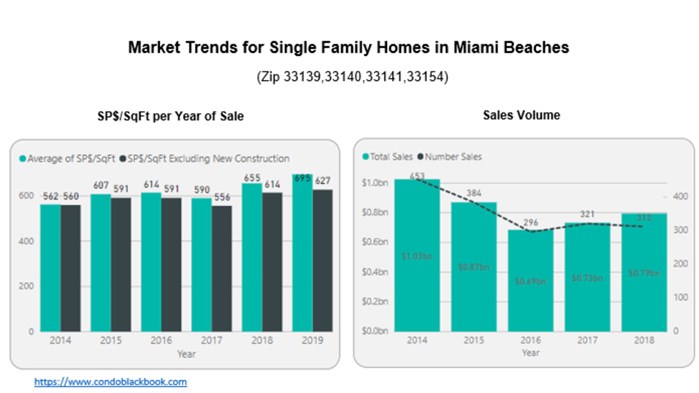 Market Predictions for Homes in Suburbs Near Downtown Miami
In the suburbs near Downtown Miami (The Roads, Belle Meade, Morningside, Design District, Upper East Side and other nearby neighborhoods in 33137,33129,33131), price increases were clear between 2014-2017 and then a little blip in 2018-2019 as prices stumbled. If we look at 18.75 months of inventory that should give us a clue why prices might have come down, however we have strong buyer demand in Q1 2019 (strong pending sales data) so we believe the inventory levels will go down quickly and that prices will be flat to up as the year goes on.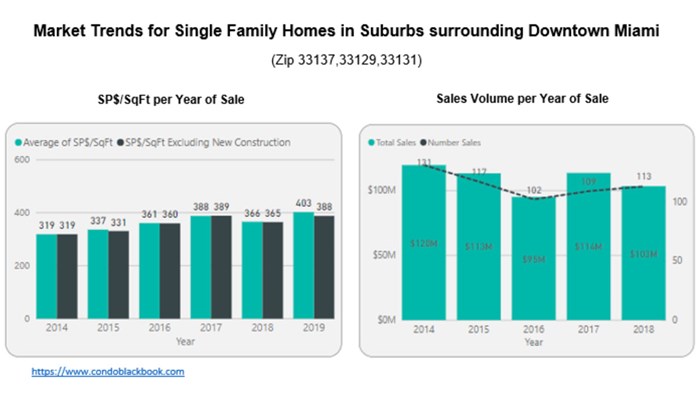 Market Trends and 2020 Predictions for Homes in Coconut Grove and Coral Gables
The Coconut Grove and Coral Gables single family homes markets prove to be pretty stable, with prices steadily rising as the charts show. Months of inventory is 17 months, which is a little on the high side. That may hold prices fairly steady until it clears out. As long as interest rates remain low, we should see prices stable-to-up as we head toward 2020 in these established Suburban neighborhoods.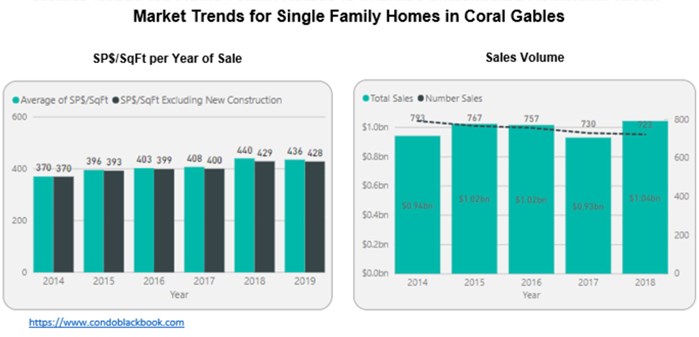 Miami Single Family Home Real Estate Prices: What's Next in 2019 and 2020 Prediction?
The 2019 and 2020 market price predictions for Miami real estate in regard to single family homes remains mixed but leaning towards strong. Coral Gables and Coconut Grove will likely have stable-to-up prices, while in Miami Beach we see some signs of weakness although prices are still on a slow and steady climb there. The suburbs near greater downtown Miami (like Belle Meade, Design District, Upper East Side and Morningside) are more balanced and are likely to remain fairly stable as well.
CLICK HERE TO SEARCH FOR MIAMI AREA SINGLE FAMILY HOMES


Is it a Good Time to Buy or Sell My Single Family Home?
The market for single family homes in the Miami area is fairly stable, with some areas like Miami Beach showing some signs of weakness. It is definitely a great time to buy for buyers in almost any price point. Recent buyer demand leads us to believe that while we are a little heavy on months of inventory right now in the Miami Beaches and the downtown Miami area suburbs, good quality properties are still in high demand. At the same time, it is an excellent opportunity for buyers as higher inventory levels means more options to choose from and more negotiating power. For sellers it depends on your price point, location and condition of your property. Feel free to reach out so we can give you an idea of where your particular property stands in the big picture of things. Cheers!
Share your thoughts with us
Sign up now
Get news and updates delivered to your inbox