Miami's Most Artsy Condo Buildings
Dec 03, 2019 December 03, 2019
Have you ever wondered which condos in Miami have amazing art inside? Well, as Art Basel kicks off this week, turning Miami into a playground for the who's who of the international art world, we're honoring the condos that honor the art. With over 4,000 artists expected to be showcased this year, the city is swarming with critics, collectors, curators, celebrities, and art and architecture lovers of every caliber. So in the spirit of this world-famous art festival, here's seven of the Most Artsy Condo Buildings that are part of the creative narrative in Miami.


900 NE 1st Avenue, Downtown Miami



The Centerpiece:
PAL-V, the flying car - a "Miami 2020 and Beyond" exhibit
Although this is a 2019-only exhibit, it deserves a special mention. Complementing the amenity-rich tower's 58th floor Skyport, PAL-V (Personal Air Landing Vehicle), a prototype of the world's first flying car, will be on display during Art Week. Paramount is channeling the master himself, Leonardo da Vinci, with this prototype of a combination of a car and gyroplane, and comes with a retractable overhead, tail wings plus rear propellers. The PAL-V Pioneer uses automobile gasoline and is capable of cruising at a maximum altitude of 12,500 feet. It's ground speed is 100 miles per hour, while it can reach up to 200 miles per hour in the air. The exhibit is available for purchase for anyone with $599,000 and a pilot's license!

The Artist:
Dutch firm PAL-V International B.V.
PAL-V is a Dutch aircraft manufacturer dedicated to developing the first commercial flying car. Their first prototype is the fruit of 12 years of labor. The company was founded in 2008 by Robert Dingemanse and John Bakker.
Other Works: Also making their debut this Art Week are Paramount's permanent art exhibits. The list includes a "Red World" painting by Steven Manolis, two canvases "Miami Vice" and "Moons Over Miami" by Miami's own museum-class street artist David Anasagasti (featuring his trademark eyes), floating sculptures by Tatiana Blanco, photographs by Rafael Balcazar, paintings by Janos, prints by Gonzalo Fuenmayor, and more.


1600 NE 1st Avenue, Arts & Entertainment District



The Centerpiece:
56 Wynwood-style murals
In a bold move by developer NR Investments, artists were given the complete freedom of expression when turning the building's hallways into their personal "canvas." Among the many themes visible across the 27 floors, artists have embraced landscape impressions, graphic work, freestyle pieces, and chalkboard art.


The Artist:
22 artists from around the world, handpicked by street artist Daniel "Krave" Fila
Miami's own Daniel Fila, aka Krave, helped organize and curate the art seen throughout Canvas. Fila is an urban artist best known for his street art, especially his 13-foot (almost controversial) nude female "Erin" painted along Biscayne Boulevard, followed by the semi-nude "Sunbather." A multifaceted visionary, his body of work includes animation, mural installations, urban sculptures, plus figurative and abstract paintings. His curated team of 22 at Canvas included a wide variety of artists, ranging from masters of street art to the fine arts. 
Other Works: Besides the hallway murals, Canvas is home to more than 200 pieces of art, which includes a mix of original prints, photographs and framed paintings displayed throughout the building's common spaces.


801 South Miami Avenue, Brickell 



The Centerpiece:
"Male Torso with Leaf" sculpture
A 10-foot tall, monumental bronze sculpture of a "Male Torso" stands guarding S Bar's door at the SLS Lux. The sculpture is Fernando Botero's interpretation of the male figure, in his signature robust style, and is his most widely exhibited work. The 1992 masterpiece has been shown at the world's top galleries including Avenue des Champs-Elysees in Paris, the Museum of Modern Art in New York, Chicago, London, Tokyo, Buenos Aires, and many other important cities.

The Artist:
Fernando Botero
The self-proclaimed "most Colombian of Colombian artists," Botero is a figurative artist and sculptor. The winner of the '2012 International Sculpture Center's Lifetime Achievement Award' in Contemporary Sculpture, he is known for his signature style, also called 'Boterism.' The style depicts people, animals, and figures in a larger-than-life, voluminous manner, evoking humor or political criticism, depending on the piece. 
Other Works: Developer Related Group's commitment to art is evidenced by an entire body of work at the SLS Lux. Greeting passersby is Fabian Burgos' 40,000 square-foot, color-block mural covering the condo-hotel's façade. The piece is described as 'giantography' by the contemporary artist from Argentina, and is another widely photographed piece on the property. 
Further bringing this colorful exterior to life is Venezuelan artist Ana Isabel Martinez's light art show, which is programmed to synchronize with a theme-inspired playlist. A large-scale mural depicting colonial-era scenes from the Caribbean by Chandler Noah and Diego Castano accentuates S Bar's interiors. Japanese Chef Katsuya's namesake is home to Daruma-inspired installations from Moss & Lam. And, Wayne Pate's illustrated motifs line the 9th-floor lounge's ceiling.


1300 South Miami Avenue, Brickell



The Centerpiece:
40,000-square-foot drip mural
One of the most prominent pieces of work commissioned by developer Related Group, this eye-catching drip painting neatly drapes the façade of the condo and hotel structures at the SLS. Adding a burst of color to the neighborhood, this flamboyant façade features large blocks of color accented by thinner strips, creating a most vibrant effect. Interestingly, the drip was achieved in a single run from top to bottom.

The Artist:
Markus Linnenbrink
Markus Linnenbrink is a German painter synonymous with drip paintings. His unorthodox approach to the painting technique has produced iconic art of epic proportions. The Brooklyn-based artist uses an inventive mix of materials, processes, and color to create inimitable pieces showcased at major art galleries around the world.
Other Works: Following in the footsteps of its stunning façade, the SLS Hotel & Residences feature a digital installation of six "video islands" by multimedia artist Katja Loher that hover, gracing the ceiling of its porte-cochere. The video installation series is titled "When will the seas swallow the land?" Further, both the residential and hotel lobbies come adorned by a mix of oil paintings and over-the-top statues, including "The Man of Light" by Spanish sculptor Bernardi Roig.


480 NE 31 Street, Edgewater 



The Centerpiece:
"Untitled" black marble sculpture
In alignment with developer Related Group's vision for the Paraiso district, Untitled is a grand, abstract sculpture commissioned to fit Jorge Perez's version of an urbanist paradise. Its curvy form and sinuous texture have been carved out of imported black marble. Taking center stage in the complex's art-filled public park, the colossal sculpture is crafted to inspire strength and sophistication, and will be accompanied by several other monumental works by the artist.

The Artist:
Pablo Atchugarry
Pablo Atchugarry is a world-renowned, contemporary master sculptor from Uruguay. His primary choice of material is marble, using a wide variety ranging from rose-colored Italian Carrara to Belgium-imported black marble. His abstract sculptures traverse the intervention of the spiritual in daily life, and are as delicately carved as they are massive. His works have been part of more than 100 solo and collective exhibitions, globally.
Other Works: The common spaces, both inside and outside of the four condo buildings in the Paraiso complex, feature a curated collection of art from the likes of Santiago Parra, post-modernist Frank Stella, David Hayes, Alex Katz, Vik Muniz, Omar Barquet, Inti Hernandez, and Florencio Gilbert.


10201-10203 Collins Avenue, Bal Harbour



The Centerpiece:
"Seated Ballerina" and "Pluto and Prosperina"
As the name suggests, the first sculpture is a larger-than-life ballerina, comfortably seated in the courtyard at Oceana Bal Harbour. It comes reimagined from a porcelain ballerina figurine found at a Russian factory, dating back to around the turn of the 20th century.
The multicolor, mirror-polished, stainless-steel sculpture has been positioned outdoors to feature a play on light as well as reflections coming from the adjacent pool, giving it a new dimension every minute of the day.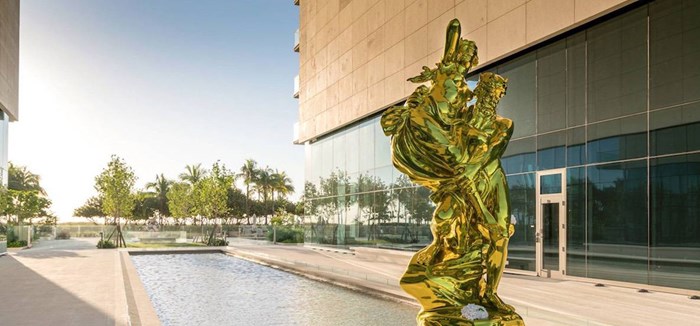 The second centerpiece – Pluto and Prosperina – is a mono-colored stainless-steel sculpture. The inspiration for this masterpiece was derived from its namesake, a French porcelain sculpture dating to the late 1700s. Giving the appearance of liquid gold, it sits right across the courtyard in a central breezeway, surrounded by a pool of water, and embellished with live flowering plants.
Both these sculptures are sourced from the "Antiquity" collection by Jeff Koons and have been curated by developer Eduardo Constantini himself in the hope of bringing the values of happiness and inspiration to the complex and all who visit.

The Artist:
Jeff Koons
One of the most celebrated and influential contemporary artists of today, Koons is an American artist best known for his bold paintings, illustrations, and monumental sculptures. The epitome of Neo-pop, his larger-than-life "balloon dog" is the most expensive work of art sold by a living artist, auctioned at $58.4 million.
Other Works: Handpicked by Constantini again, the north and south lobbies at Oceana Bal Harbour feature ten other museum-quality pieces from internationally acclaimed contemporary artists including An Te Liu, Callum Innes, Garth Wiser, Jorge Mendez Blake, Juan Usle, Taryn Simon, and of course, Jeff Koons.


10295 Collins Avenue, Bal Harbour



The Centerpiece:
33-foot bronze sculpture
Emulating a ship's anchor, this 33-foot, three-story high bronze sculpture dominates the outdoor deck at Mister Collins - the hotel's water-facing restaurant. A willing witness to several nuptials, the sculpture glistens and morphs as the sky changes color.

The Artist:
Guy Dill
Guy Dill is an American sculptor, celebrated for his monumental bronze and marble abstracts. His signature style is characterized by smooth forms embodying a sense of movement, as they are arranged together. Winner of the 2000 'Stars of Design Lifetime Achievement Award' from the Pacific Design Center in LA, the artist has also served as part of a board of trustees at the California Heritage Museum Advisory Board.
Other Works: Part of the multimillion-dollar collection of over 400 works at One Bal Harbour is an Ed Moses painting in the visitor's lobby, ceramic sculptures by Mineo Mizuno and gold-leaf sculptures by Otto Rigan in the elevator lobbies, along with an original Richard Deutsch.
While catching Art Basel and its satellite fairs is a priority each December, these permanent installations stand as reminders for residents and visitors alike of Miami's grand affair with art and culture. Want more Miami condos that have great pieces of art inside, read on here.
Share your thoughts with us
Sign up now
Get news and updates delivered to your inbox