Miami's New and Pre-Construction Condo News Update: August 2021
Sep 03, 2021 September 03, 2021
The luxury condo market is in overdrive and developers are on a shopping spree throughout Miami. Going into August, more developers were seen negotiating condo bulk buyout deals to help make up for the short supply of buildable land in the face of rising demand for luxury housing in Miami. Case in point, the joint buyout of Carlton Terrace condos in Bal Harbour by Related Group and Two Roads Development this August.
Stepping up construction efforts, developers started demolition work or filed for permits to clear land for luxury condo projects such as Edgewater's Aria Reserve, Downtown's Waldorf Astoria condo-hotel, and Downtown's 501 First Residences. After months of being fully sold out, shovels finally hit the ground at Miami Wolrdcenter's Legacy Hotel & Residences. And the under-construction, short-term rental condo Natiivo was also declared 100% sold out.
Read on for details on these plus more new projects and updates in our Miami condo pre-construction market roundup for August 2021:


---
August 2021 - Miami Condo Pre-construction Market at a Glance
---

Broke Ground
Legacy Hotel & Residences – Downtown Miami
Planned/Proposed
Ocean Terrace – North Beach

1,049-foot Tower at Brickell Avenue – Brickell

Three Residential Towers at 1420 S Miami Avenue – Brickell

Boutique Condo Tower – Edgewater

10-story Luxury Condo Project – Fisher Island
Construction Status
Natiivo – Downtown Miami

Waldorf Astoria Hotel and Residences – Downtown Miami

Aston Martin Residences – Downtown Miami

First in Miami River 5-Phase Complex – Miami River

Aria Reserve (previously Island Bay) – Edgewater

501 First Residences – Downtown Miami

Baccarat Residences (previously 444 Brickell / One Brickell) – Brickell
Other Updates
Una Residences – Brickell

Bentley Residences – Sunny Isles Beach
Watchlist
Carlton Terrace Condo Bulk Buyout – Bal Harbour


---
Broke Ground
---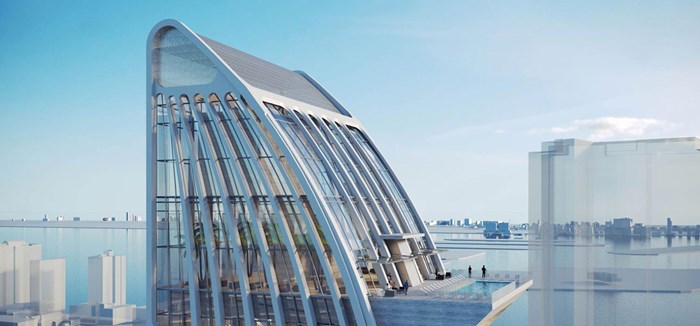 The condo-hotel with the most promising wellness facility broke ground this August. After filing its Notice of Commencement on August 6, developer Dan Kodsi celebrated the groundbreaking ceremony of 'America's first COVID-conscious mixed-use tower' a few weeks later.
Legacy Hotel & Residences stands out for being the second-tallest at the Miami Worldcenter as well as housing a 10-story medical center. The $100 million, 120,000 square feet health-and-wellness center has been pre-leased by the California-based Adventist Health. The nonprofit will bring the world's first Blue Zones Wellness Center to Miami. Blue Zones is a preventative health company centered around teaching people how to live healthier via fitness, meditation, and healthy eating. Legacy's medical center will also feature physician offices, labs, pharmacy, a fully AI-powered diagnostic center, and rooms outfitted with medical gas and ventilator capabilities, plus outpatient surgery.
With 100% of its 310 condo units sold out, the 50-story tower will also be the world's first to be operated by Accor under the Morgans Original hotel portfolio. Designed by Kobi Karp, the tower will come outfitted with wellness and pandemic protection features such as air-filtration systems and touchless sanitation features like voice-activated elevators and touchless room key access. The condo-hotel also introduces the trademarked concept of microLUXE living in Miami, which translates to luxury living packed into micro-living spaces.
Besides boasting of Downtown's largest (1-acre) hotel pool deck, America's largest (7-story) rooftop glass atrium, and "Singapore-inspired" cantilevered pool hanging 500 feet in the sky, the world-class tower will also offer residents access to ground-floor retail, signature international restaurants, an expansive lounge and bar, a members-only international business lounge, grand ballroom, shul with a kosher kitchen, multiple water features, and more. 
Prices ranged from $360,000 to $500,000 and up.


---
Planned/Proposed
---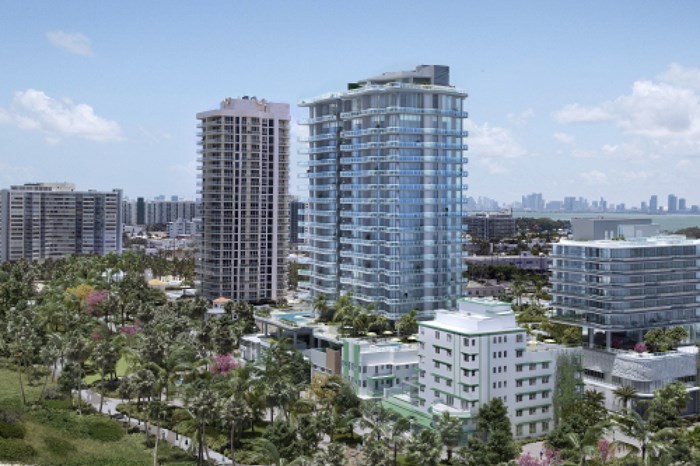 Developer Ocean Terrace Holdings has submitted plans to the city's Historic Preservation Board to expand and revive a project approved for construction in 2019. The latest plan for 7409-49 Collins Ave. and 7400-50 Ocean Terrace entails a 20-story luxury condo tower with 75 units, an improvement from the previously approved 16-story, 58-unit condo building.
In 2019, the historic Broadmoor and Ocean Surf hotels were approved for renovation with 78 hotel rooms. The newly filed documents call for an increase to 127 hotels room, with 55 in the renovated building and 72 in a new 11-story building with a rooftop pool. Also, the hotel is now scheduled to feature 2,020 square feet of meeting rooms, a 480-seat restaurant, and a 1,640-square-foot bar. 
The retail space in the building may have been decreased from 18,060 square feet to 17,474 square feet, but the project will gain three pools. Sales for the condo tower are expected to launch in 2022 along with construction on a new, oceanfront public green space. While Revuelta Architecture International will be handling overall design, Coral Gables-based RJ Heisenbottle Architects will be handling the historic preservation elements.

1,049-Foot Tower at Brickell Avenue – Brickell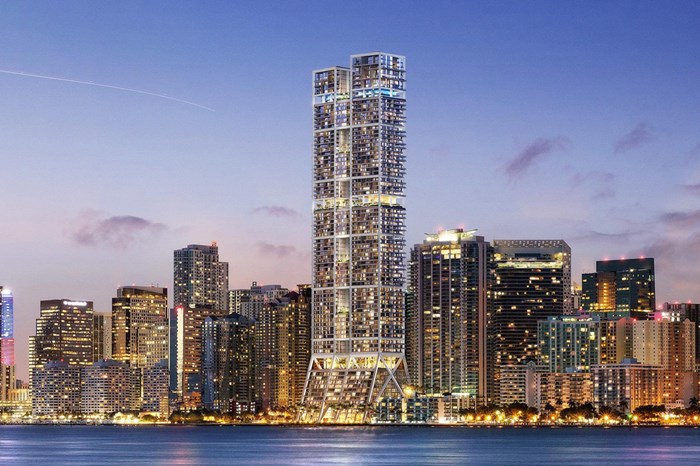 If this approval comes through, Waldorf Astoria could no longer be Miami's tallest tower. Developer YTech has applied for FAA approval for its brand-new 1,049-foot tower at 1428 Brickell Avenue. This is the maximum height allowed in Miami by the FAA, meaning that if approved it would share the title of Miami Tallest Tower. The luxury residential project is expected to feature hotel-like services and will replace an existing 100,762-square-foot office building built in 1971. YTech also owns another lot nearby that would allow for an 80-story tower.  

Three Residential Towers at 1420 S Miami Avenue - Brickell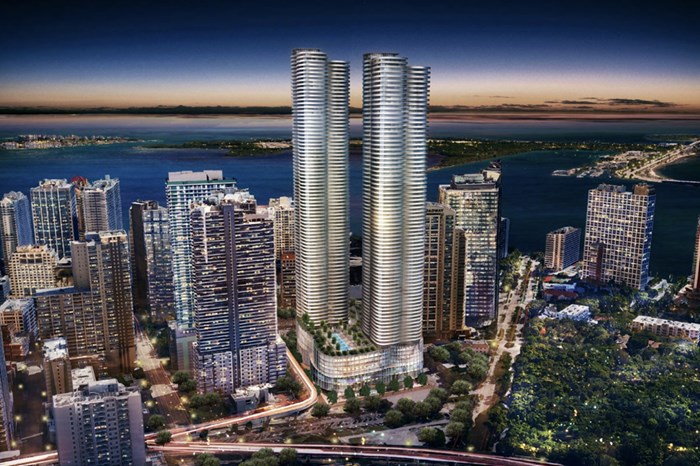 Developer Mast Capital is planning to bring three new residential towers to the site of the former 'Capital at Brickell' project proposed in the mid-2000s. The previous proposal (by its former owner) included building two 75- and 73-story towers. According to fresh documents submitted by Mast Capital, the project will include a 74-story tower, two 56-story towers, retail, and 1,648 parking spaces.

Boutique Condo Tower – Edgewater
A pair of New York City development firms have acquired a 0.6-acre assemblage in Edgewater for their planned condo project. The SB Development Group and Hazelton Capital Group teamed up to purchase a house at 480 NE 29th Street plus two vacant lots at 456 NE 29th Street and 496 NE 29th Street for a total of $12.2 million.
Adjacent to the Icon Bay condo tower, the three bayfront properties will be redeveloped as a boutique condo tower with a ground-floor restaurant on the bay. Owing to their zoning, the new condo tower can rise up to 38 stories. Kobi Karp is collaborating with Dieguez Fridman to design the waterfront project.

10-Story Luxury Condo Project – Fisher Island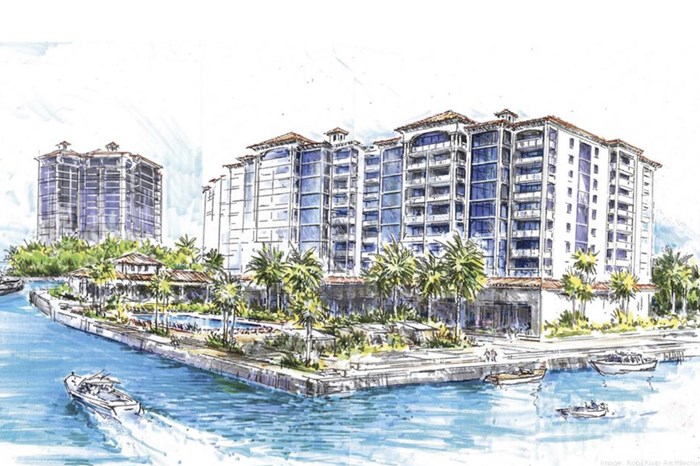 Fisher Island is set to get its final set of world-class residences, thanks to a ruling by Miami-Dade Circuit Court Judge Michael Hanzman. Dismissing the case filed by a few neighbors, Hanzman has given the green to plans for a 10-story, 57-unit luxury condo development on the exclusive island. Fisher Island Holdings is looking to build a luxury condominium at 6 Fisher Island Drive and 12 single-family homes at 68 Fisher Island Drive. Once complete, no other developments will be allowed on the island.
To see available luxury residences for sale on Fisher Island, go here. 


---
Construction Status
---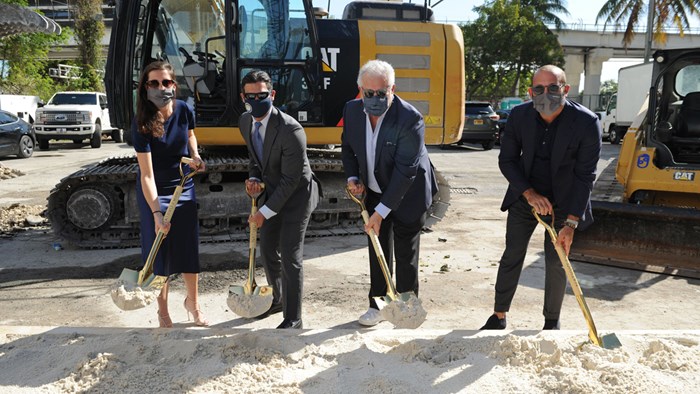 The foundation was poured this August for the first ready-to-rent condo residences in Miami. The first condo building to be fully designed and built for short-term rentals in South Florida, Natiivo is now 100% sold out. Rising 51 stories, the Urban Robot Associates-designed tower will be home to 440 turnkey condo residences, 140 Gale hotel-condo units, and about 100 hotel rooms.
Developed by Newgard Development Group and Crescent Heights as a wellness-focused project, future residents will gain access to green building tech plus an 18,000 square foot health and fitness center inclusive of a yoga studio, boxing ring, outdoor training terrace, CrossFit, Peloton equipment, and The Fit boutique. 
In addition to office, co-working and retail space, Natiivo will also be home to a 16,000 square-foot pool retreat with fully-serviced pool and cabanas, quiet rooms, a specialty restaurant and bar, multiple lounge areas, a dining terrace, an amphitheater, speakeasy, events, and much more.
Prices started at $300,000. To see available residences, go here.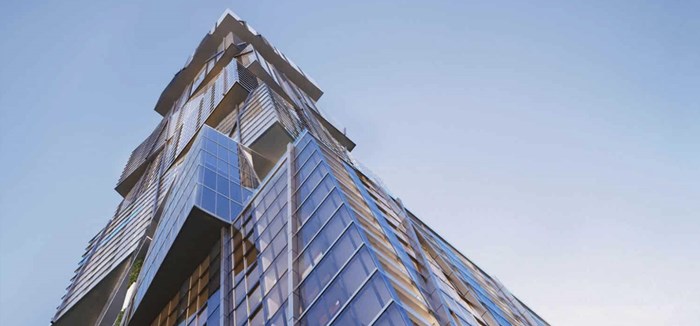 After being the first to open an experiential sales gallery, developers PMG and Greybrook Realty Partners have filed for a demolition permit to clear the Downtown site earmarked for Miami's tallest building. Looking to break ground in early 2022, developer PMG also announced its plans to build a lush, green space, just steps from the Waldorf Astoria condo-hotel, in a 5-year collaboration with the Miami Parking Authority.
Running along 3rd and 5th Streets on Biscayne Boulevard, the lush oasis will come landscaped by the award-winning Enzo Enea. The green community will be designed to exude warmth and beauty among nature – hoping to echo the hospitality residents will find within the neighboring Waldorf Astoria. The green initiative is set to integrate parking with native trees and shrubs, decorative lighting, inviting benches, and an elegant teahouse. 
Conceptualized by Burj Khalifa-architect Carlos Ott, this 100-story skyscraper will be the first Waldorf Astoria in South Florida. Designed in association with Sieger Suarez, the supertall will be built to look like a staggering stack of nine glass cubes, home to about 306 condos and 205 hotel rooms. San Francisco's award-winning design firm BAMO will be handling interiors. 
In addition to high-end touches and suave design elements, future residents can expect to enjoy a range of luxury amenities including preferred rates and access to the hotel services, a resort-style pool deck with cabanas, the hotel brand's famous Peacock Alley lounge, a signature restaurant, signature spa, kids' club, indoor-outdoor event spaces, smart-home tech with custom mobile app access, and more.
For more information on Waldorf Astoria's storied hospitality and what it hopes to deliver in Miami, read here.
Prices start at $650,000 for Junior Suite Residences, $1 million for a 1-bedroom, $1.7 million for a 2-bedroom, $3,100,000 for a 3-bedroom, and $4,900,000 for a 4-bedroom residence.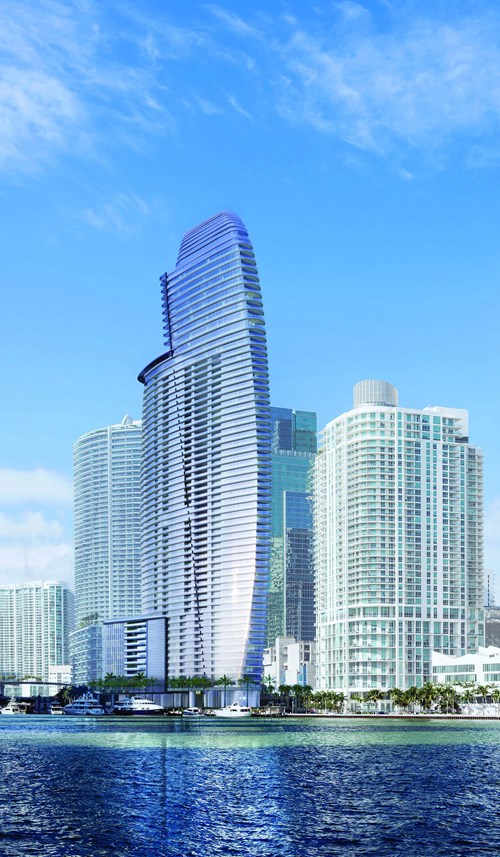 Close to topping off at 66 stories, the Aston Martin-branded residences are on track for a 2022 completion. Developer G&G Business Developments has kept this first-of-its-kind condo building in the news throughout construction, with perks such as a virtually accessible permanent art gallery on the 52nd floor and a specially-commissioned Aston Martin DB11 Coupe or DBX Riverwalk Edition for owners of their Signature Collection penthouses and residences.
Aiming to welcome first occupants in 2022-23, the sail-shaped luxury tower will feature signature touches privy to Aston Martin's finest rides, along with butler service and priority access to the Downtown's only deep water, superyacht marina. Designed by Revuelta Architecture, the 391-unit statement tower will also be home to a sky lounge, infinity pool, world-class spa, two cinemas, a kids' room, barber station, and more.
Prices start at around $1 million for remaining condo units, while penthouses are available for upwards of $50 million.

First in Miami River 5-Phase Complex – Miami River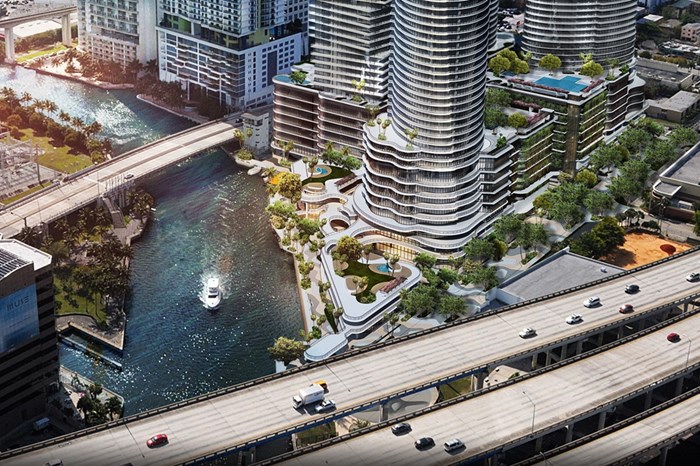 After filing a Notice of Commencement this August, the developer of the unnamed Miami River project at 275 SW 6th Street is moving ahead with ground clearing and demolition work. The first in a 5-phase project, groundwork is now underway for the 640-foot-tall, 54-story, 632-unit residential tower. Ultimately, the five-phase project will bring 1,678 residential units (in total), 330 hotel rooms, 196,882-square-feet of retail space (in total), 98,040-square-feet of office space, and a 30-slip marina to West Brickell.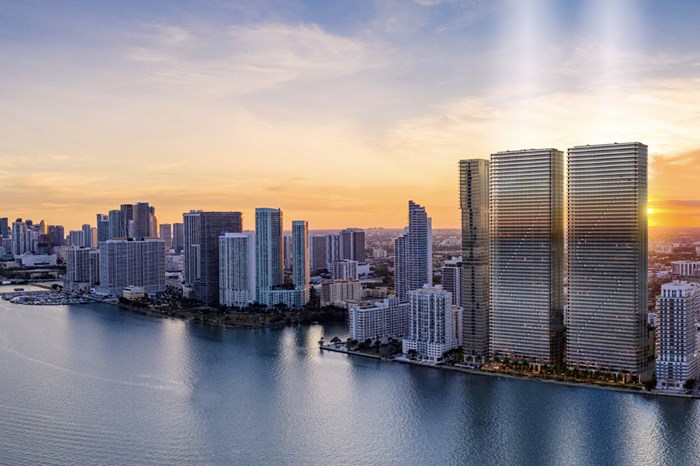 Beginning demolition work on-site, developer Melo Group is preparing for an early 2022 groundbreaking. Upon completion, this pair of 60-story towers will become the tallest residential waterfront twin towers in the U.S.
Perched on the last-of-its-kind waterfront reserve, the 3-acre project will include nearly 50,000 square feet of open space along with developing 548 feet of waterfront Baywalk for public use. Designed by Arquitectonica, the 782-unit twin towers are set to rise against 547 linear feet of water frontage and offer owners the flexibility to rent up to 4 times a year. The first (south tower) of the twin towers is expected to break ground in early 2022, with a 2024 completion.
Each luxury residence at Aria Reserve will feature interiors curated by the MORADA Haute Furniture Boutique. All residences will further feature direct water views, East to West flow-through floorplans, 10-foot-high ceilings, 11-foot-deep terraces, a dedicated office/bonus room, and two flooring options. Amenities at this high-end development will include a 2-acre recreation deck inclusive of a semi-Olympic sized lap pool, a whirlpool spa, children's splash pad, teen lounge and gaming center, tennis courts, basketball courts, paddle courts, a miniature golf course, playground, theater, plus an indoor/outdoor wellness center with spa facilities, yoga lounge and meditation garden. 
Other amenities will include about 8,956 square feet of ground-floor commercial retail, a signature waterfront restaurant and café, two additional pools and lounge areas, a fire pit, dog park, telescope observatory area, and custom-designed water sports dock with equipment rental, parking for up to 1,608 vehicles, and more. 
Read about how Aria Reserve is set to deliver the best waterfront value in Miami here.
Prices range from $750,000 to over $2 million, with a choice of one- to four-bedroom condo residences. Penthouses start at $12 million.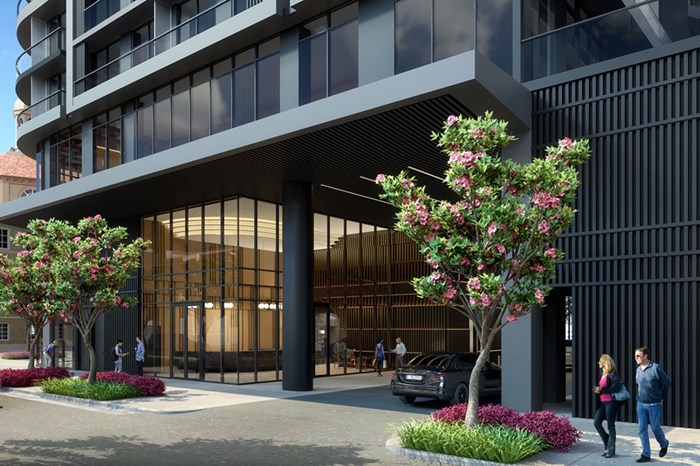 Besides applying for its demolition permit this August, developer Aria Group signed a deal with Miami-Dade County Public Schools to build a new, 22-seat classroom to meet the demand generated by the condo building. The 40-story tower comes designed by Revuelta Architecture and will be built without a parking garage.
Boasting of absolutely no rental restrictions, owners at 501 First will have complete control over how long and with who they would like to rent. This means buyers will have the flexibility to rent with the likes of Airbnb to HomeAway or even just enroll with the building's rental program.
To be delivered fully finished and furnished, the tower is set to feature amenity spaces on levels 1-3 and 37-rooftop, while all 448 luxury residences will be stacked on levels 4-36. With interiors by Shim Projects, each luxury condo will sport a balcony and high-end touches such as innovative appliances by Smeg, Hansgrohe bathroom fixtures, custom Italian cabinetry, and more.
Amenities planned for 501 First residents include a fully integrated ButterflyMX digital property access system, a rooftop deck with 75-foot resort-style lap pool, an oversized swim-spa, grill and chill sunrise-sunset decks, outdoor game lawn, indoor gym designed by HOMAGE Fitness, a rooftop movie theatre experience, media room and library, club suite with game tables, rooftop Greenhouse with year-round greenery, bistro and bar concept by New York's GPG Hospitality, co-working spaces, pet lounge, plus an on-site 60-bike parking garage.
Looking at an early 2023 completion, you can find more highlights about the 501 First Residences here.
Prices start from the $300,000s, with a choice of studio, one- and two-bedroom residences.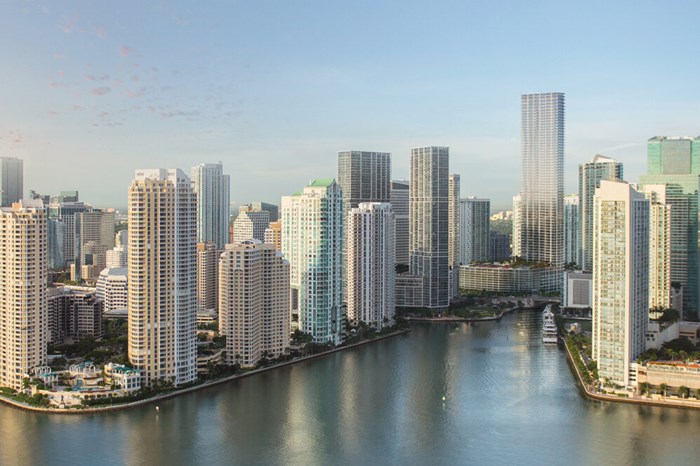 More human remains have been found during the ongoing archaeological excavation at 444 Brickell - the parcel of land where Related Group's most luxurious project to date is slated to rise. The future home of a three-tower project (inclusive of the Baccarat Residences), 444 Brickell has been in the news since May, when archeologists first found prehistoric remains at the site following demolition work. The three-tower complex is scheduled to be home to a total of 1,400 residences, a 250-room five-star hotel, class-A office space, and retail. 
The 75-story Baccarat Residences will be the first of the three towers planned to rise at 444 Brickell. Scheduled for an early 2022 groundbreaking and fall 2025 completion, the riverfront tower will feature a distinctive, undulating, reflective façade reminiscent of crystals designed by Arquitectonica. The 360-unit luxury tower will come managed by the storied French crystal brand of Baccarat in association with SH Hotels & Resorts. Interior design will be handled by Miami's Meyer Davis Studio.
Matching the luxurious legacy of Baccarat, this riverfront tower will be home to a range of amenities inclusive of a marina with luxury yacht dockage and "house yacht," riverfront restaurant, swimming pool, spa, beauty salon and barber, clubroom, game room, children's playroom, wine cellar, grand salon event room, private workspaces, business center, and more.
Prices range from around $1.1 million to $3.5 million per unit, with a choice of one- to four-bedroom residences. The penthouses will be upwards of $14 million.


---
Other Updates
---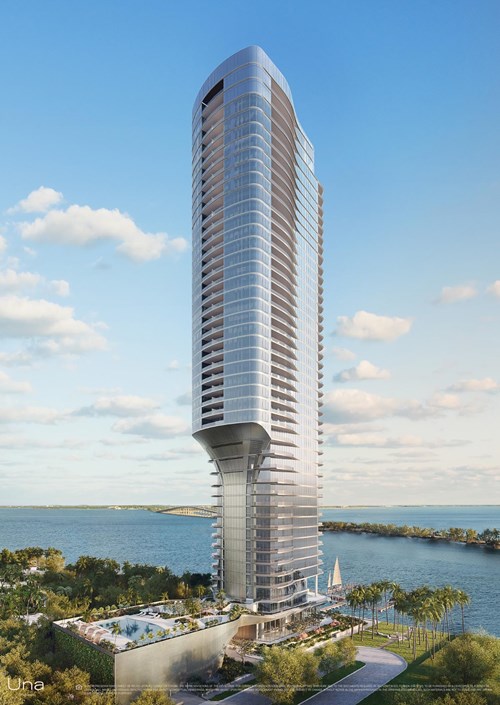 With construction in full swing, OKO and Cain International's Una residences are now 85% sold. Quickly nearing sellout, the 47-story tower sits on one of the most premium waterfront parcels in South Brickell. As contractors continue building out the three-story underground parking, the luxury development is on track for a late 2022 top-off and 2023 completion.
Designed by Adrian Smith + Gordon Gill, the dramatic yacht-inspired building is set to rise 47 stories with 135 impeccably styled residences. Upon completion, residents of this waterfront condo tower will gain access to three swimming pools, a separate kids' splash and play area, a kids' indoor playroom, owner's lounge, outdoor lounge, private dining room/party room, movie theater, spa, beauty salon, private marina, dog-walk area, direct access to the Baywalk, and much more.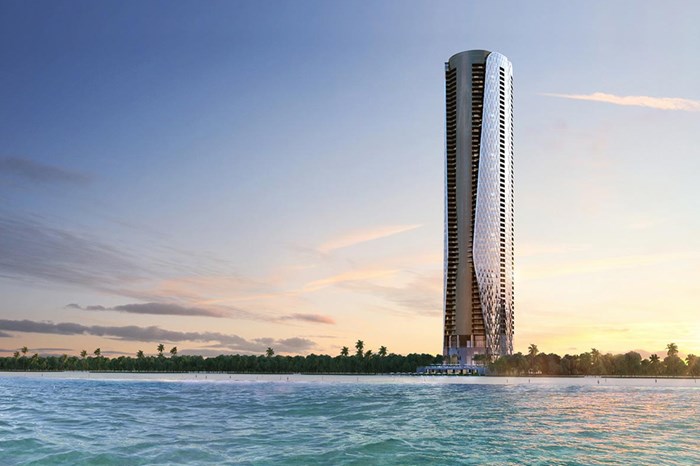 Developer Gil Dezer is pulling out all the stops to turn the Bentley Residences into one of its hardest condo projects to match. Teaming up with architecture firm Sieger Suarez, the cylindrical tower is set to feature "silver, diamond-like triangulated glass windows that can be seen all the way from Cuba." While 50% of the building façade will be reflective silver, the other half will be triangulated glass pushed in three inches for a diamond-like effect. 
Dubbed Porsche Design Tower 2.0, the Bentley Residences will feature other marked improvements. For instance, four car elevators, or 'Dezervators,' will be serving four units, compared to one elevator serving two units at the Porsche tower. Further, each Bentley tower residence will have a four-car garage, an improvement from the two-car garage at the Porsche tower.
Approved for a height of 749 feet above sea level, the 60-story tower will be the tallest to be built on a U.S. beachfront. Housing over 200 luxury condos, each residence will come with apartment-sized balconies (ranging from 1,100 feet to 1,800 feet), sunken balcony pools (for unobstructed views of the ocean), outdoor kitchens, outdoor showers, indoor saunas, and interiors outfitted with sustainable materials. Aiming for a 2023 groundbreaking and 2026 completion, amenities will include a pool, spa, gym, whisky bar, restaurant and lounge, cinema, landscaped communal gardens, and more.


---
Watchlist
---

Carlton Terrace Condo Bulk Buyout – Bal Harbour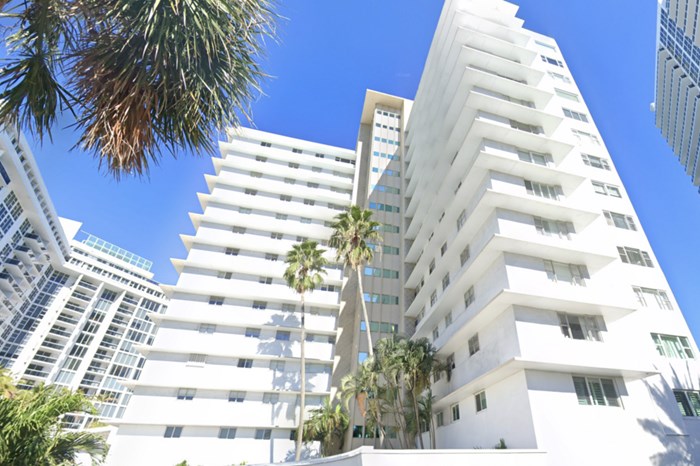 The Related Group and Two Roads Development are in the process of completing a bulk buyout deal for the waterfront Carlton Terrace. Spending roughly $130 million for all 88 condo residences, the developers have hopped on the trend of buying out older properties in need of repairs. As land runs scarce and most luxury condo inventory has been absorbed by out-of-town buyers, an increasing number of developers in the Tri-county area are opting for such deals, buying current condo owners.
Built in 1956, Carlton Terrace sits on almost 3 acres of waterfront land. The 15-story condo building is currently in need of repairs. Owing to its zoning, developers will be able to build a 28-story (275-foot-tall) residential building in its place. According to market reports, the buyout partners are already planning a luxury condo tower for the waterfront site.


---

Interested buying or investing in a Miami pre-construction condo? Call, chat, or email for details on floorplans, early bird pricing, and exclusive developer promotions.
Looking to move out of an older condo building in Miami? Let a local expert negotiator handle the deal for you – just get in touch!
Share your thoughts with us
Sign up now
Get news and updates delivered to your inbox