Miami's New and Pre-Construction Condo Update: April 2019
May 27, 2019 May 27, 2019
This April, the condo pre-construction market in Miami showed a lot of hustle. The Auberge residences at Fort Lauderdale held a grand opening, there were two ground breakings, Zaha Hadid's final masterpiece finally topped off, and Arte developers officially announced its price range. Find out details on these and more below:


Grand Opening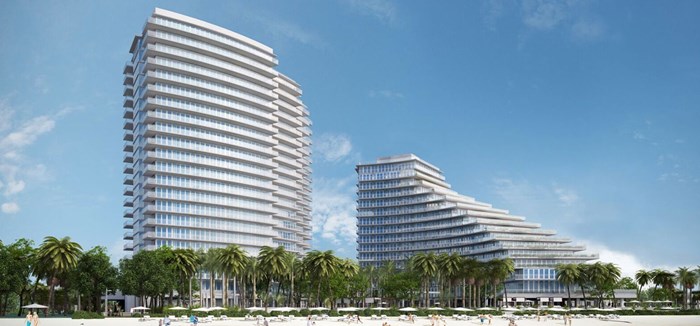 The first half of April saw the grand opening of the Auberge Beach Residences and Spa. The event featured an extensive collection of Napa Valley's finest wines along with chef sampling from Auberge's very own Michelin Star portfolio beachfront restaurant DUNE.
This two-tower, waterfront property rises 22 and 17 stories along 450 linear feet of pristine beachfront, housing 171 luxury condos. Residents get access to an array of indoor-outdoor amenities including a curated art collection, Auberge-branded dining and spa, multiple pools with cabanas, a Napa Valley wine room, signature cigar lounge, signature golf simulator, club room and more.
Prices for remaining units range between $1.5 million and $9 million

Completed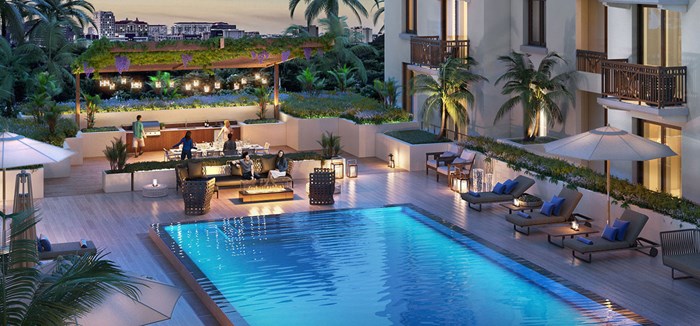 This is the largest condo development in almost a decade for City Beautiful. Merrick Manor received its Temporary Certificate of Occupancy this April, marking its completion. More than 65% of the residences are already under contract, with developers moving fast to finalize closings.
The stately project is home to 227 luxury condos spread across 10 floors. Amenities at this Mediterranean-style property include Steven G. designed lobby and common areas, 20,000 sq. ft. of ground floor retail and restaurant, a 4th floor retreat with terrace pool, fitness center and outdoor entertainment area featuring a BBQ, bar and seating area.
Prices for remaining units range between $374,990 to $2.6 million, with a choice of one- to four-bedroom residences

Broke Ground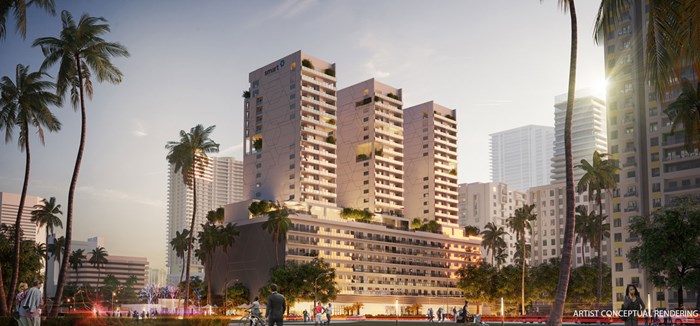 Developers held a ground-breaking ceremony in April, giving this three-tower project a green on construction. Both mixed-use towers feature 50 luxury condos and 50 hotel rooms, with the third housing rental apartments. Best part, residents have access to a flexible short-term rental program, giving them the option to rent out up to 50 times a year, even to AirBnB. Amenities here include two resort-style pools, a spa, Sky bar and restaurant, rooftop lounge and party room.
Prices range between $300,000 and $600,000, with a choice of one- to two-bedroom residences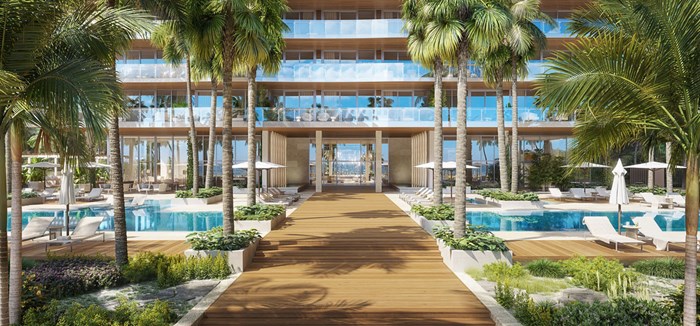 With sales launched last October, developers held the ground-breaking ceremony for this ultra-luxury project in April, complete with elegant brunch and champagne toasts. Construction is now in full swing at this oceanfront property. The boutique development will rise 18 stories with a total of 81 condo units. Amenities include an oceanfront wellness garden, yoga deck, spa with thermal suite, two oceanfront pools, third floor sundeck, pool bar and lounge, club room, library, vertical gardens and much more.
Prices range between $1.5 million and $31 million, with a choice of two- to four-bedroom residences

Topped-off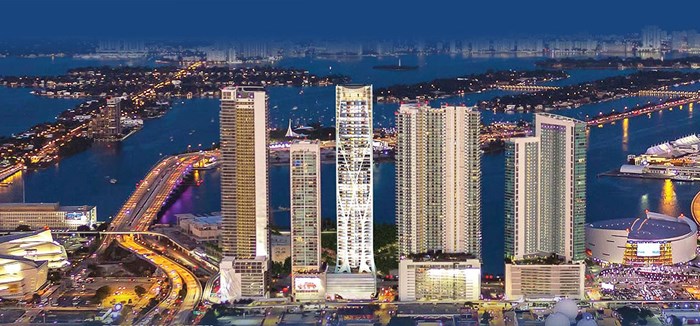 Officially topped off in April, this unique scorpion tower by the late Zaha Hadid stands at 704 feet above ground. Steadily moving towards completion, this ultra-luxury tower comes with amenities like an 8th floor pool deck and fitness center, a 9th floor spa and relaxation sky lounge, a 5,600 sq. ft. ground-level restaurant, rooftop helipad, event space and access to the Museum Beach club, among other five-star facilities.
Prices range from $5.5 million to over $20 million, with a choice of half-floor units, two-story duplexes and full-floor penthouses

New Sales Gallery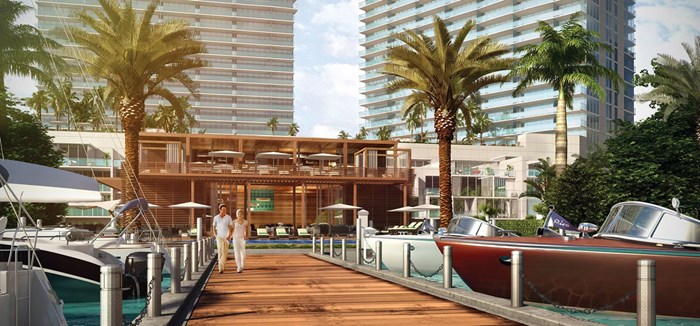 With all four towers in the ultra-luxury complex delivered, the Paraiso sales gallery has now shifted to 480 NE 31st Street #PH5004. This is a four-bedroom penthouse in the Gran Paraiso tower with unmatched views. Shared amenities at this Bayfront complex include a Michael Schwartz restaurant, three bowling alleys, two tennis courts, a two-story gym and spa with juice bar, multiple pools, virtual golf, an event lounge, cigar and wine tasting room, marina, beach club and much more.
Prices for remaining units start in the $900s per sq. ft.

Other Updates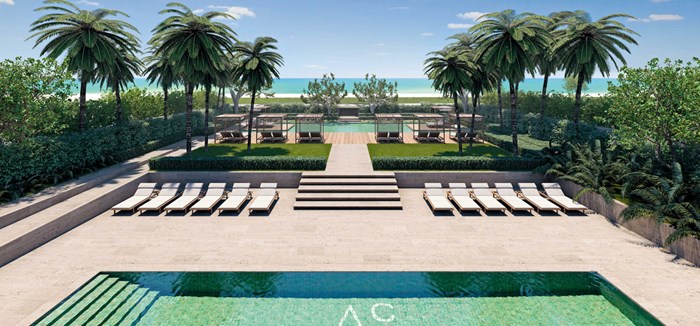 The prices are finally out and sales have been launched for this boutique luxury condo by Antonio Citterio. Residences at this oceanfront property will cost between $10.2 million and go up to $40 million. This boutique development will rise 12 stories and house a handful of 16 condos. Residents will also have access to amenities like an outdoor pool, indoor lap pool, spa, fitness center, tennis courts, exclusive lounge and original artwork from Robert Indiana.
Prices range from $10.2 million to $40 million, with a choice of three- to five-bedroom residences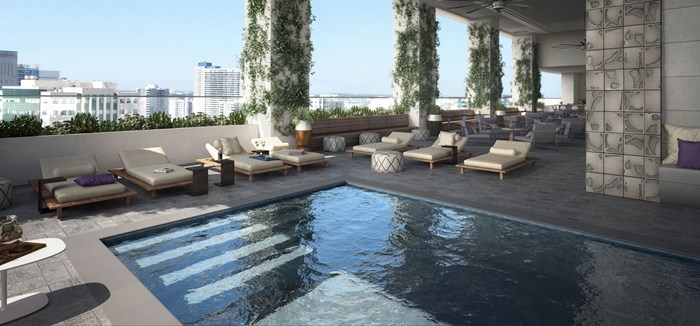 After breaking ground in January, this first Yotel-branded project on the east coast managed to secure a $76.25 million loan from the Bank OZK. The carless (garage-less) condo-hotel will feature 222 hotel cabins on its lower levels and 231 condo pads on level 15 and upwards. The condotel will also come equipped with three Techi robot butlers that will deliver gifts, documents, food, beverages and more. Other amenities include a fully-loaded sky lounge with game zone, coffee bar, full-service restaurant and bar, co-working space, pool deck, lounge, pet salon, bike storage and more. Unit owners can also participate in the condo-hotel's short-term rental program, or rent to the likes of Airbnb without restrictions.
Prices average at $650/ sq. ft. and begin in the $300,000s, with a choice of 417 sq. ft. studios to 708 sq. ft. two-bedroom residences

500-700 Alton Road Project by Galbut – South Beach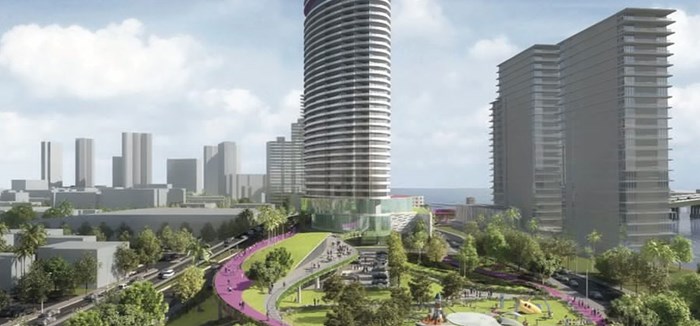 After sitting vacant for almost a decade, the abandoned South Shore Hospital building was imploded this April to make way for a new mixed-use project. Expected to rise 44 stories and become the second tallest tower in Miami Beach, the building will house 220 apartments in its first 20 floors and 130 condos in the remaining. The complex is also said to include a 3-acre park, retail space and 49,000 sq. ft. of amenities.

Special Offers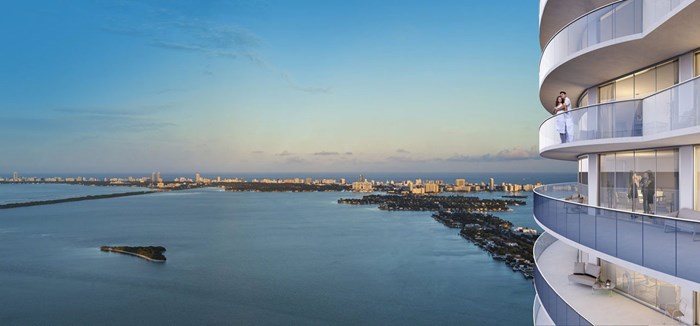 With only 29 move-in ready residences remaining out of 648, developers have released a full list of pricing for unsold units. You could nab a single bedroom condo at this waterfront development for $444,900 to $571,900. Two-bedroom residences start at $653,900, while the plus den options start at $865,900. Three-bedroom residences with private elevator range from $719,900 to $950,900. And, the three-bedroom plus den or four-bedroom residences with direct water views are priced between $1,320,900 and $1,698,900.
Amenities here include two curved sunrise/sunset pools, indoor-outdoor social room, sun deck and lounge area, Private spa and treatment areas, game room, library, teen lounge, street-level retail and office space and much more.


---

Which one of these pre-constructions do you think is a real value add for its neighborhood? Share your thoughts below!
Share your thoughts with us
Sign up now
Get news and updates delivered to your inbox