Miami's New and Pre-Construction Condo Update: August 2020
Sep 02, 2020 September 02, 2020
The world of pre-construction condos was abuzz in Miami this August, almost in spite of any fears that the new construction condo markets may be suffering. On the contrary, One Park Grove continued with closings, while the much-awaited Markers Grove Isle started taking reservations. Two South Beach new developments won approval, while one long-standing Mid-Beach project was rejected. 57 Ocean topped off ahead of schedule and hosted a socially-distant celebration.
Read on for details on these new buildings in Miami and more updates in our condo pre-construction roundup for the month. View and search our list of available Miami pre-construction condo units and penthouses, which is updated daily.
---
Closings - Miami Pre-Construction Condos 
---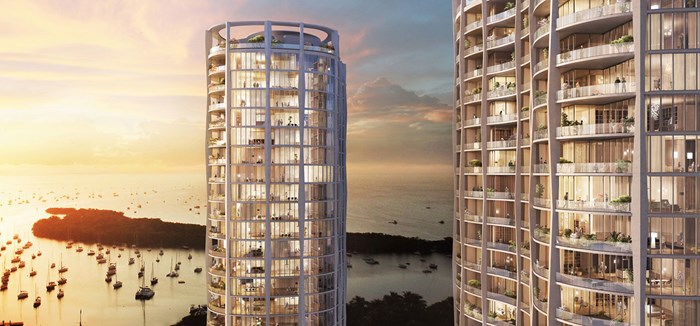 With closings underway for the past two months, this is Park Grove's third and final tower to be completed – Club Residences and Two Park Grove being the first two. As residents quickly took possession, developers Terra and Related Group paid off their $112 million construction loan. About 80% of contracts of this 23-story, waterfront, LEED-certified condo building have already been closed. 
Designed by the Pritzker Prize-winning OMA and Rem Koolhaas, the stunning building's interiors are styled by William Sofield, and it features landscaping by Enzo Enea. With only three luxury residences per floor, residents can relax in privacy and sun-filled homes exuding minimalist elegance. Some of One Park Grove's standout amenities include two luxurious pools, a 2-acre park with museum-quality sculptures, a signature spa, wine cellar and tasting room, indoor-outdoor children's play areas, adult gaming room, a Michael Schwartz restaurant, amphitheater, and nautical concierge.
Limited number of condos remaining. Prices start at $2.7 million. Contact us for more details.

---
Sales Launched - 
Miami Pre-Construction Condos
---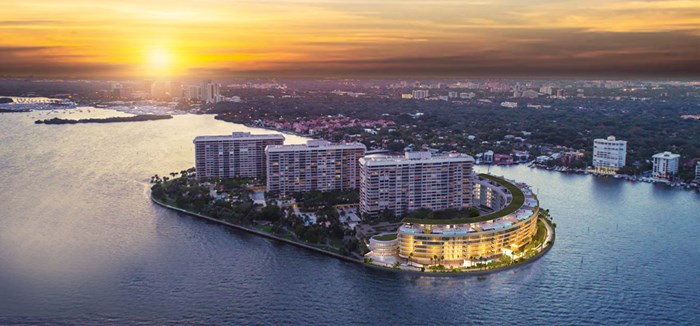 One of the most highly awaited projects to come to Coconut Grove, The Markers on Grove Isle has started taking reservations. Set to offer the best of island living, the 5-story, waterfront building will be home to 65 luxury residences with abundant views, and what is already an exclusive, gated island on the bay in Coconut Grove.
With Grove Isle already boasting a top-rated tennis club and marina, residents of The Markers also can look forward to a curated art lobby, fully-attended waterfront pool, watersports pavilion, outdoor kids' playground, Bayfront event room, waterfront residents' lounge, and pet grooming services, besides being able to enjoy amenities at the island's Grove Isle Club.
Prices start at $2,200,000, with a choice of 2,200 to 5,000 sq. ft. residences. Contact us for more details.
---
Topped Off - 
Miami Pre-Construction Condos
---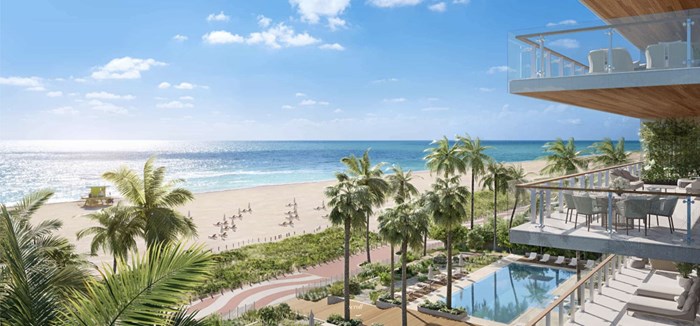 Topping off at 18 stories this August, developer Multiplan REAM celebrated the milestone in a socially-distanced fashion by building a six-foot-by-20-foot sandcastle featuring the building's iconic undulating façade. The massive sand sculpture also represents the project's support of the Oceana organization helping protect oceans across the globe. Plans for a beach clean-up event have been postponed until after the pandemic subsides. At 60% sold, the project is ahead of schedule and on track for its Fall 2021 completion.
This ultra-luxury, oceanfront mid-rise will be home to 71 modern residences with interiors by Brazil's Patricia Anastassiadis. Designed by Miami's award-winning architecture firm, Arquitectonica, 57 Ocean is set to feature Blue Wellness-inspired amenities. Besides a holistic spa, residents will have access to two beachfront infinity-edge swimming pools, an outdoor bar and lounge, an indoor Technogym, outdoor MyEquilibria gym, club room with chef's kitchen and summer kitchen, meditation plus hanging gardens, a children's activity room and much more.
Prices range from $6.95 million to $8.5 million, with a choice of two- to four-bedroom residences. Penthouses range between $15 million and $35 million. Contact us for more details.

---
Approved - 
Miami Pre-Construction Condos
---

Boich Companies' Mixed-use Headquarters – South Beach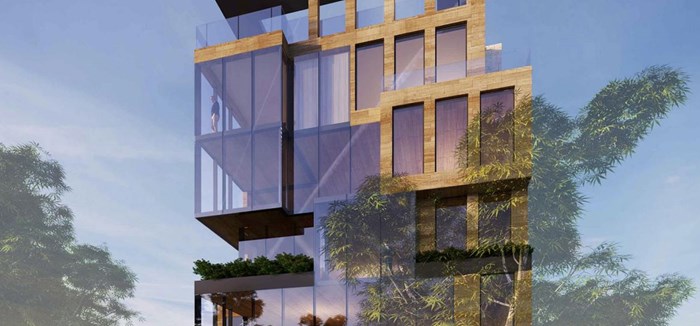 Tucked in the boutique enclave of Sunset Harbour, the City of Miami Beach approved for construction a 5-story, 16,000 sq. ft. mixed-use project perched at 1910 Alton Road. Designed by Kobi Karp with interiors by Antrobus Design Collective, it will house real estate investment firm Boich Companies new headquarters. The. Chasing a late 2021 completion, it will feature a ground-floor art gallery, two floors of office space, one penthouse unit on the top floor including an expansive rooftop deck along with 15 parking spaces.


4-Story Condo and Townhomes – South Beach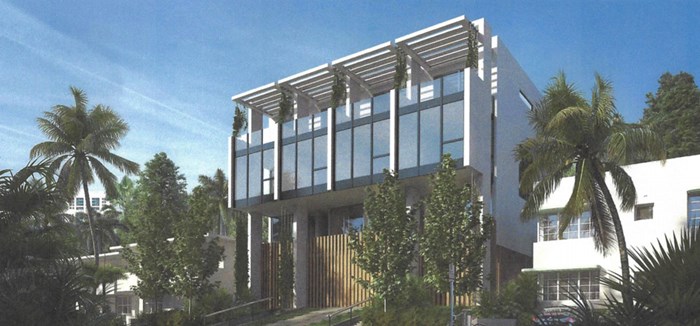 With its design approval from the City of Miami Beach in place, hospitality guru Mio Danilovic will be moving forward with his first residential venture. Replacing the two-story building at 1311 15th Terrace will be four sleek condos with a cantilevered canopy, wood slat fencing, vertical gardens, and more. The elevated building comes designed by Francois Frossard Design – TAI Hospitality, an architecture firm specializing in restaurant and hotel projects and will bring a modernist contrast to its neighboring Art Deco buildings.
---
Other Updates - 
Miami Pre-Construction Condos
---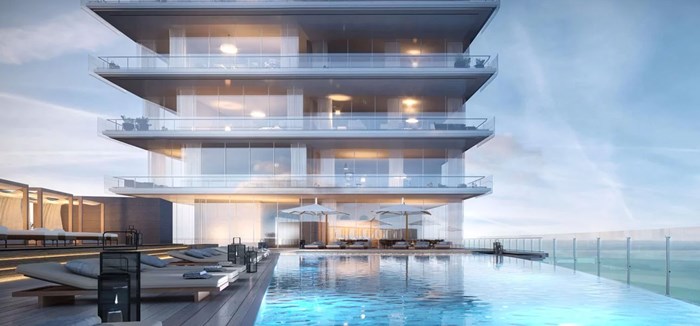 Unveiling a special payment plan developed in association with mortgage broker Regal Group International to smooth the approval process, developer G&G Business Developments announced a unique, smart way of financing an Aston Martin Residence. The program allows clients to finance their luxury condo from day one, offering greater freedom to manage their portfolios.
The plan allows the buyer to make equal, fixed monthly installments for the term of the loan, post the initial payment. Additionally, there is no prepayment penalty for the loan term, and clients can cancel or change their lender without any penalties as well. However, additional financing costs and commitment fees are not part of the plan and still remain the buyer's responsibility.
This 66-story ultra-luxury condo tower rises along Downtown's waterfront, featuring a unique wind-sail design. Home to 391 luxury residences, its common areas are set to feature signature Aston Martin touches. Additionally, residents will have access to the only deep-water superyacht marina in Downtown, an infinity pool, spa, a sky lounge, two cinemas, an art gallery, barber station, kids' room, optional butler service, and more. The project is scheduled for a 2022 completion.
Prices start at $970,000 for remaining condo units, while penthouses are available for upwards of $50 million. Contact us for more details.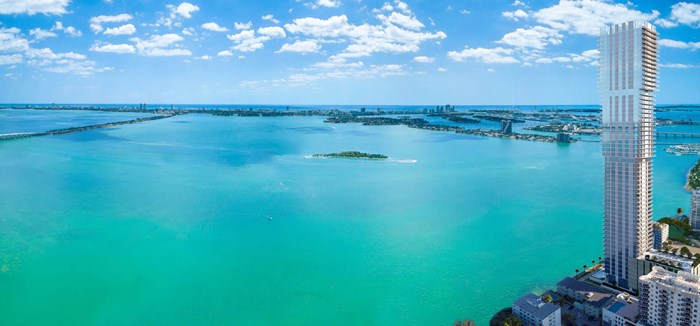 Two Roads Development will be shifting its sales center from Biscayne Beach (another condo building developed by them in Edgewater) to Elysee, once it is complete. The 5,481 sq. ft. unit sits on the first floor of Biscayne Beach and was initially meant to be leased or sold out to a restaurant. However, with the pandemic, the unit, with 2360 sq. ft. of outdoor space and 15 parking spots has hit the market for $6 million and can be used as an office, restaurant or retail space.
Elysee is expected to get its TCO by the end of September. The 100-condo, 57-story, waterfront tower comes designed by Aquitectonica and features interiors by Jean-Louise Denoit. Once complete, residents can enjoy a bayfront pool and lounge, resort-sized lap pool, waterfront fitness center, yoga studio, children's room, 30th-floor sky lounge, teen lounge, personalized Elysee Attaché concierge services, and much more.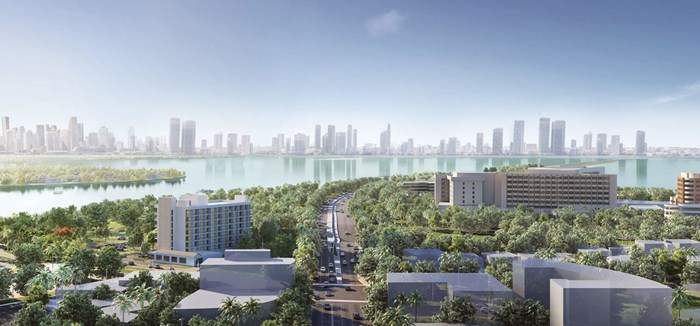 Planned to be built next to the Julia Tuttle Causeway, this proposed 12-story condo tower ran into troubled waters this August. Voted down by the Miami Beach board and a majority of the neighbors, the development's rezoning application will be presented to the Miami Beach City Commission this September. Stay tuned.
Downsized from its initial plan of a 250-feet tall, 160-unit tower to the newly presented 140-feet tall, 128-unit tower, the development is looking for rezoning in an area that allows a maximum 85-feet tall, 75-unit condo tower. In exchange for the approval, developer Mast Capital has proposed to create a 1-acre public park, improve water and sewer infrastructure as well as enhance drainage on site. Designed by Arquitectonica, the property will include a 3,000 sq. ft. restaurant, fitness equipment, a dog park, and playground as part of its publicly accessible grounds.


---

If one of these Miami preconstruction condo projects interests you, email or call us and we'll preview the options available. Or if you're interested in the process of buying a Miami preconstruction condo, get started with our comprehensive guide here.
Share your thoughts with us
Sign up now
Get news and updates delivered to your inbox