Miami's New and Pre-Construction Condo Update: December 2019
Jan 07, 2020 January 07, 2020
Miami's condo preconstruction market closed 2019 amidst plenty of buzz. Mid-Beach is planned to get a shiny new condo-hotel by 2023. Dezer Development got approved to build another supertall in Sunny Isles Beach. Buyers are soon to be able to step into their Armani/Casa-branded homes as closings got underway. Okan Tower filed for approval to grow taller. And, South Beach could (or not) get its tallest tower yet. Read on for details on all of these updates below:


Closings Underway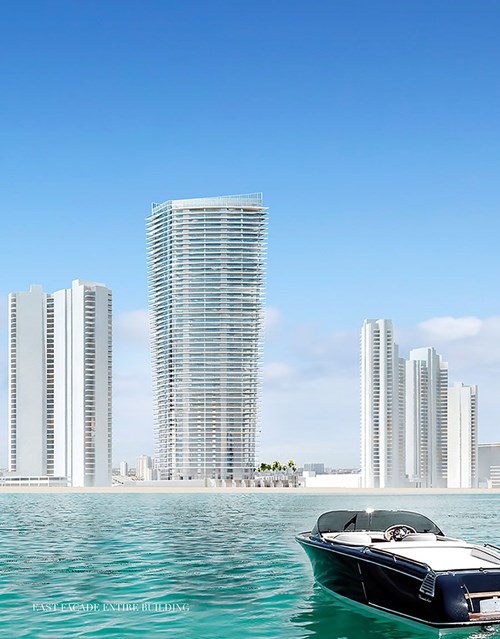 After breaking ground in 2016, the signature Residences by Armani/Casa are all geared up to welcome residents with their temporary certificate of occupancy (TCO) in place. Closings are currently underway for the ultra-luxury skyscraper, which is a first by the house of Armani/Casa in the U.S.
Last month, 270 of its 308 units were already sold, as closings began on the joint venture between the Armani Group, Related Group and Dezer Development. Once open, residents will enjoy all of the design elements and touches handpicked by Giorgio Armani. Outstanding amenities at this 56-story designer tower include an oceanfront restaurant and bar, two-story Armani Spa and fitness center, temperature- and humidity-controlled wine cellar, private movie theater, professionally curated art collection, Armani Privé concierge, and much more.
Prices range from $1.6 million to over $17 million for a Giorgio Armani-furnished penthouse with complimentary trip to meet Armani in Italy

Approved
Future Supertall by Dezer Development – Sunny Isles Beach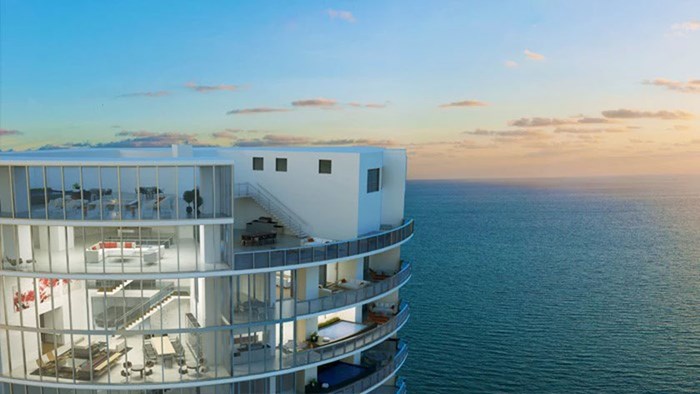 Porsche Design Tower

Dezer Development won initial approval from the FAA (Federal Aviation Administration) to build a supertall highrise of up to 743 feet above ground in Sunny Isles Beach. Planned to be the tallest in the neighborhood -- leaving behind the likes of Porsche Design Tower, Mansions at Acqualina, Turnberry Ocean Club, and Muse -- the luxury condo tower will be about 100 feet taller than any other in Sunny Isles. The approval is for the Days Hotel site at 18401 Collins Avenue, which is also owned by Dezer Development. No date has yet been announced for the demolition of the hotel (and consequent construction of the condo tower).


Planned
First Aman-branded Development in Miami – Mid-Beach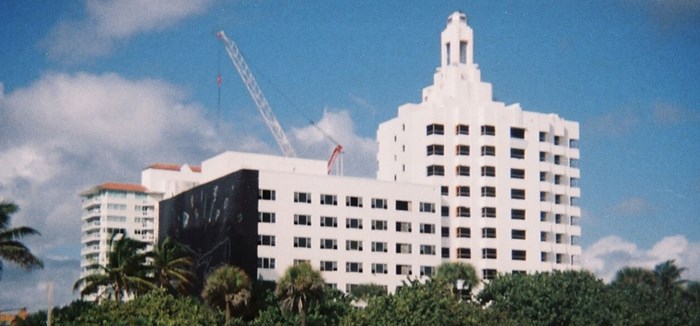 Versailles Hotel - site for the first Aman-branded development in Miami

Billionaires Len Blavatnik and Vlad Doronin plan on bringing an Aman-branded condo-hotel to Miami Beach's oceanfront by 2023. A joint venture between Blavatnik's Access Industries and Doronin's OKO Group, the project is set to feature two condo-hotel towers on the site of the former Versailles Hotel (plus a vacant lot next door). Perched on 3425 Collins Avenue, the hotel and condos will become the fourth Aman project in the U.S. after New York, Jackson Hole, Wyoming and Canyon Point, Utah. 
Aman is a Singapore-based resort company, boasting of 39 locations worldwide. The brand is known for its attention to detail, elegant properties, and a high level of service. OKO Group's Doronin, who is also the Chairman and CEO of Aman, noted the synergy between the Miami lifestyle and the luxury resort – both marked by high energy, an easy-going vibe, and embracing the outdoors. The two oceanfront buildings will be part of the Faena District, but not actually developed by Alan Faena.


Other Updates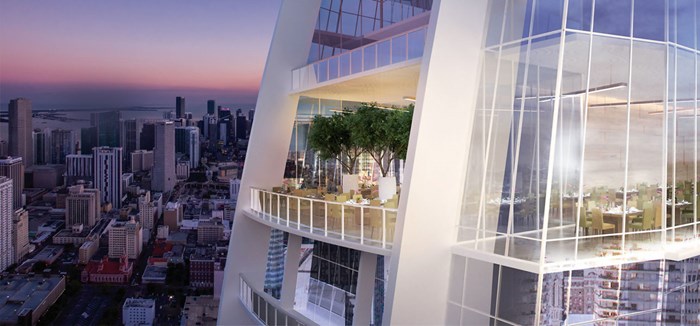 Competing for the tag of the "tallest in Miami," developers at Okan have filed a proposal with FAA to increase its current height of 890 feet above ground to 902 feet above ground. Panorama Tower, currently the tallest highrise in Miami, stands at 863 feet above ground.
Planning to self-finance construction of the $300 million development, Bekir Okan wants to make a statement with the tower. The skyscraper will be home to 236 condo-hotel units, of which only 163 will be exclusively residential. The hotel rooms and condo-hotel will be managed by Hilton and be known as the Hilton Miami Bayfront.
Developer Okan Group has also filed to modify various commercial plans including reducing certain retail and restaurant spaces, increase office space square footage, and eliminating meeting room space. 
Amenities at this supertall are expected to include three swimming pools, a pool bar and lounge, a full-service spa with Turkish Hammam, screening room, wine cellar, cigar room, kids' club, and more.
Prices start at $359,000, with a choice of studios to three-bedroom residences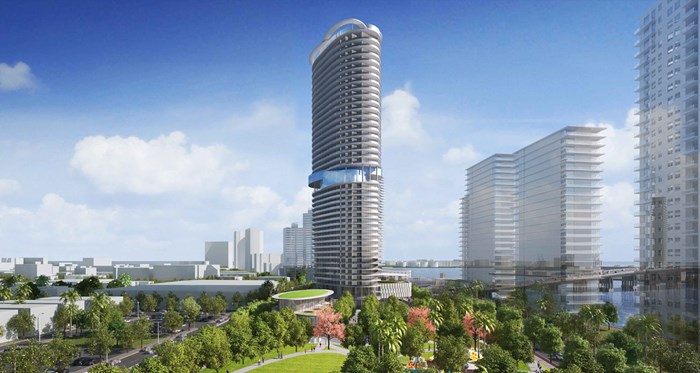 This Alton Road development could or could not end up being South Beach's tallest. City planning officials are trying to block developers Terra Group and Crescent Heights from getting two additional floors on the condo building. This comes following the board's decision to exclude elevator shafts, stairwells, and mechanical areas when calculating the building's floor-to-area ratio. Miami Beach Planning Director Thomas Mooney has petitioned a Miami-Dade appeals panel to overturn the board's decision. If the decision is overturned, the condo tower would end up with 38 floors, if not, it would get to keep its initially approved 40 floors. Developers have already secured a $90 million loan for its construction.
Nonetheless, amenities at this condo-apartment tower will include a three-acre public park, a 15,000 sq. ft. retail pavilion, 7,880 sq. ft. restaurant, and 578-space parking garage.


---

Interested in a pad of your own in one of these Miami pre-construction buildings? Call an expert today at (786) 930 4220.
Share your thoughts with us
Sign up now
Get news and updates delivered to your inbox