Miami's New and Pre-Construction Condo Update: February 2020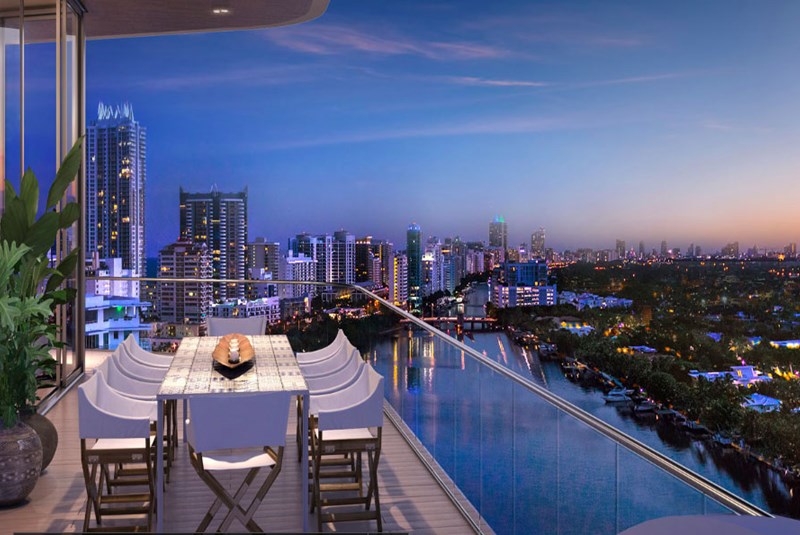 Mar 02, 2020 March 02, 2020
February reported quite a buzz in Miami's pre-construction condo world. Coconut Grove's Mr. C Residences and Downtown's Natiivo each gained a shiny new sales gallery for buyers to get a closer look at what they can expect the developers will deliver once construction is complete. The second tower at Sunny Isles' Estates at Acqualina launched sales, and is tempting buyers with a Fendi and Baccarat La Maison furniture package worth $800,000 towards purchases. And, Terra Group + Crescent Heights can move ahead with their Alton Road development, Park on Fifth. Read on for details on these and more condo pre-construction updates in Miami:


Sales Gallery Open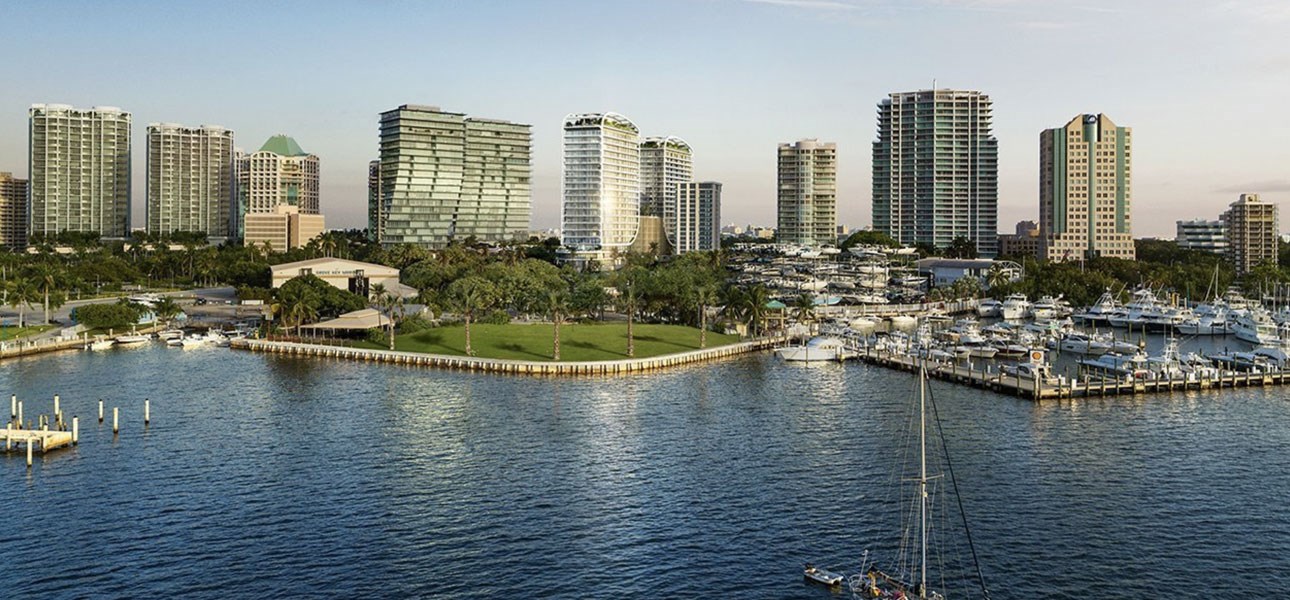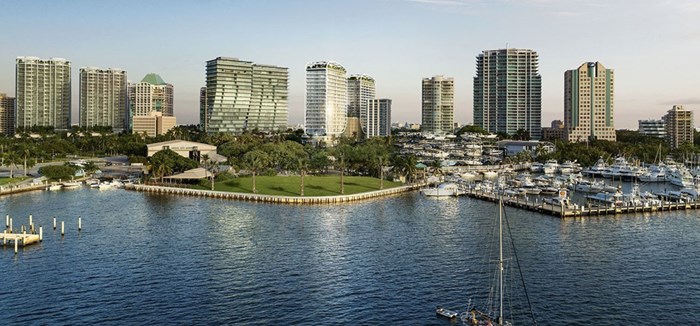 This February, developer Terra Group celebrated the grand opening of its sales gallery for the 121-condo project. The sail-like tower is set to feature contemporary residences with a classic European twist, much like its hospitality brand's signature style. Located adjacent to the popular Fresh Market at 2640 South Bayshore Drive, the event was marked by live music from Patrick and the Swayzees, cocktails, and bites from Bellini by Mr. C. 
With sales now in process, the 20-story tower is designed by Raymond Fort of Arquitectonica with interiors by Meyer Davis Studio. The luxury Mr. C brand will also handle food and beverage operations at the gourmet market and café part of the condo project. Residents can further expect ground-level retail, garden-level lap pool, and more to be part of this luxury development.
Prices start in the low $600,000s and go up to more than $5 million, with a choice of one- to five-bedroom residences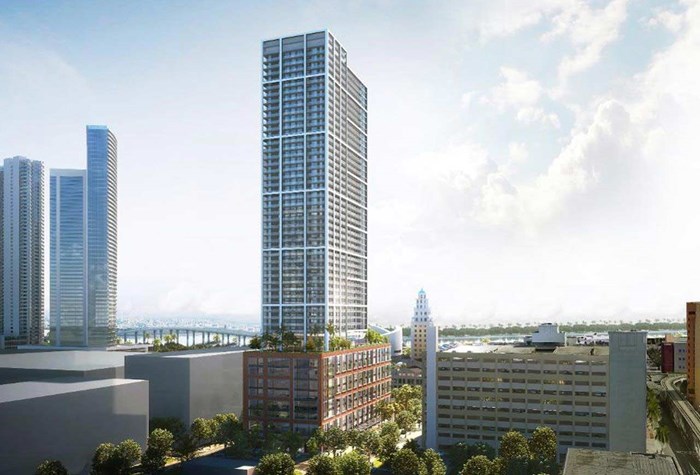 After launching sales in July last year, this condo-hotel's highly anticipated sales gallery opened in February with a cocktail reception. The unique project known for its flexible daily rental program is 50% presold with 70% of its reservations converted to contract in less than a month. Although no longer backed by Airbnb, owners will still be able to list on more than 50 home-sharing platforms (including Airbnb).
The 51-story tower is designed by Urban Robot Associates and features 400 condo residences from a total of 604 units. The mixed-use development will also include 137,000 sq. ft. of office and retail space, co-working spaces, a restaurant, nine-level parking podium with two lobbies, an exotic resort pool with cabanas, Peloton studio, yoga lounge, private meeting rooms and more.
Prices start at $300,000, with a choice of studios to three-bedroom residences 


Sales Launched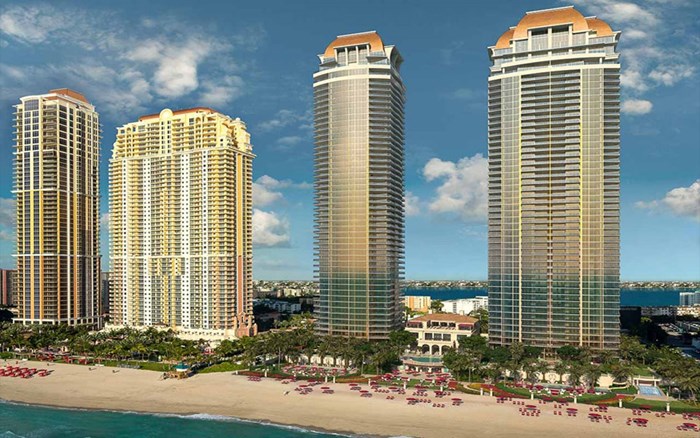 After having its foundation poured last August, the Trump Group has launched sales for its second "boutique" tower for the ultra-luxury Estates at Acqualina. Construction at this north tower has reached the 6th floor, which is scheduled to rise 52 stories with 94 units, housing no more than two condos per floor. Developers are offering a limited time incentive to include a Fendi and Baccarat La Maison furniture package worth $800,000 for buyers purchasing units at the preconstruction rates.
Meanwhile, construction for the south tower, which is 80% presold, has reached the 48th floor. This 49-story tower will be home to 154 luxury condos. Once complete, residents of both towers will be privy to common areas designed by the late Karl Lagerfeld and 45,000 sq. ft. of uniquely fun amenities – highlights include a spa, boxing ring, ice-skating rink, four-lane bowling alley, golf simulator, Wall Street traders' club room, Formula One racing simulator, surfing simulator, soccer field, speakeasy and cigar lounge.
Prices of remaining units range between $4.6 million and $11 million, while penthouses go upwards of $31 million 


TCO Received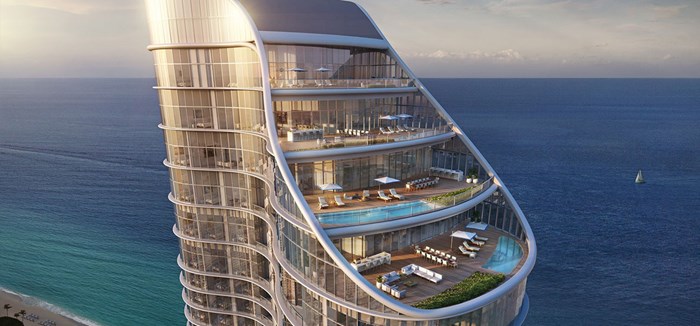 With closings expected to begin soon at the latest Ritz-Carlton Residences brand, the 52-story oceanfront development received its temporary certificate of occupancy (TCO) this February. Co-developed by the Fortune International Group and Chateau Group, the 212-unit tower designed by Arquitectonica features interiors by Florentine Michele Bönan. All of its penthouse units are already sold out.
Managed by The Ritz-Carlton, this ultra-luxury tower comes perched on 250 feet of pristine Sunny Isles beachfront. Amenities include a 33rd-floor private club level with guest suites, beachfront restaurant, full-service spa, pool deck, fitness and wellness center, kids' club, plus hotel-level butler, turndown and concierge services.
Prices start at $2.6 million, with full-floor penthouses priced at $32 million 


Broke Ground - Construction Started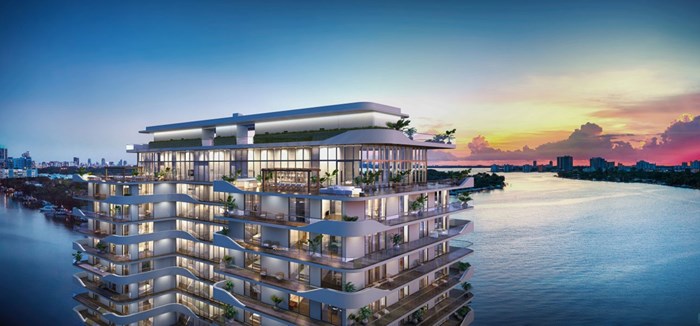 Slated for an early 2021 completion, this European-inspired boutique project broke ground in February. Designed to bring a taste of the Côte d'Azur to Miami Beach, the 12-story boutique development sits on a 1.1-acre site said to be one of the last vacant bayfront sites in North Beach.
Home to only 39 luxury residences, Arquitectonica designed the nautical-themed building and interiors are by famed Piero Lissoni. Each of its units are positioned to capture direct water views. Highlight amenities include a rooftop terrace with pool and Jacuzzi, yoga space, and a 12-slip private marina, among others. 
Prices range from $1.1 million to over $8 million, with a choice of 918 sq. ft. condos to more than 5,000 sq. ft. residences 


Construction Updates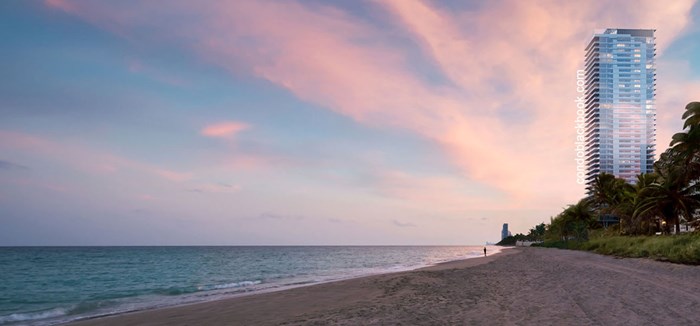 After starting its vertical ascent last June, developer KAR Properties has announced that the Hallandale Beach beachfront condo is 50% complete with hurricane glass installed up to the eighth floor. Aiming for a mid-2021 completion, the waterfront tower is slated to rise 40 stories with 64 luxury residences.
Designed by Kobi Karp and Enrique Norten of Ten Arquitectos, with furnishings by Italian design brand Minotti, the tower will be the closest to the ocean than any of its neighboring buildings upon completion. Standout amenities include rotating exhibitions of modern and contemporary art curated by New York's art historian Megan Kincaid, two swimming pools, a spa with Hammam room, yoga room, and oceanfront library.
Prices range from $2.6 million to $12 million, with a choice of 58 half-floor condo residences and five full-floor penthouses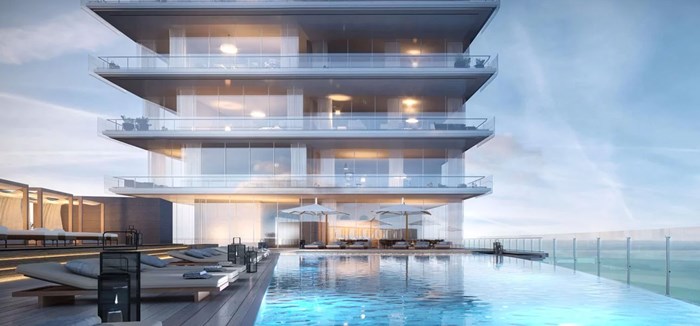 With its foundation poured last June, construction is moving full steam ahead as the first glass was installed on the branded tower this February. With lots more glass coming, the ultra-luxury tower is set to rise 66 stories or 816 feet above ground, aiming to be one of the tallest residential developments in South Florida and sitting right on the Miami River and Biscayne Bay.
The ultra-luxury tower stands out for its wind-sail design, signature Aston Martin touches throughout its common areas, and for housing the only deep-water superyacht marina in Downtown. With completion scheduled for 2022, other amenities at this riverfront tower include a sky lounge, infinity pool, art gallery, spa, two cinemas, a barber station, kids' room, optional butler service, and more.
Prices start at $750,000 for condo units, while penthouses are available for $50 million 


Other Updates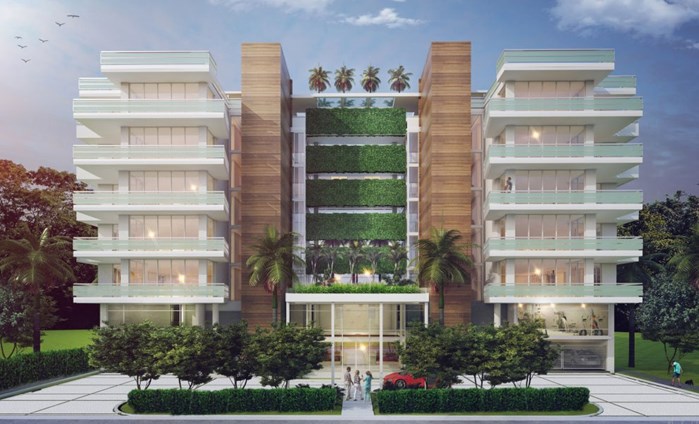 After filing for a Chapter 11 bankruptcy just before completion last July, developer Verzasca Group was able to avoid foreclosure by getting its bankruptcy plan approved by the court. By reorganizing, developers will now be able to move forward with selling the remaining 12 units in this boutique condo project. The bankruptcy was filed in connection to a still-pending lawsuit alleging that the group owed money on an EB-5 loan.
The seven-story, 30-unit development has already received its temporary certificate of occupancy (TCO). Amenities include a rooftop pool with panoramic views, Jacuzzis, tropically landscaped garden, community rooftop terrace with barbecue area, electric vehicle charging station, and more.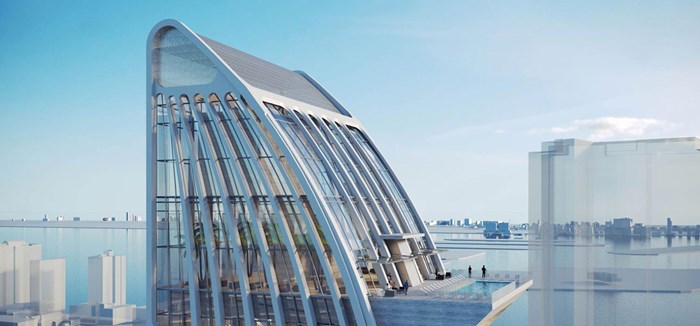 Developer Royal Palm Companies announced more details on its concrete timeline for its Miami Worldcenter condo-hotel. The 278-unit, 255-key project is expected to break ground by late summer, with completion scheduled for Fall of 2023.
Designed by Kobi Karp, the 50-story tower is set to introduce the concept of microLUXE living to Miami's urban core. Residents can look forward to small living with a more luxurious twist. Boasting of minimal rental restrictions, owners will be able to rent out their units to home-sharing websites such as Airbnb, Booking.com, and TripAdvisor as daily rentals, or participate in the hotel's rental program. Amenities at this one-of-a-kind project include a 45th floor "Singapore style" sky pool hanging off its edge, a 1-acre, ninth-floor pool deck, and America's largest rooftop glass atrium with seven stories housing indoor palm trees, a restaurant, lounge, and bar. The mixed-use development will also feature space for hosting special events along with a members-only international business lounge, and a 50,000 sq. ft. wellness facility with "herbal baristas."
Prices expected to range between $300,000 and $500,000, with a choice of studio to two-bedroom residences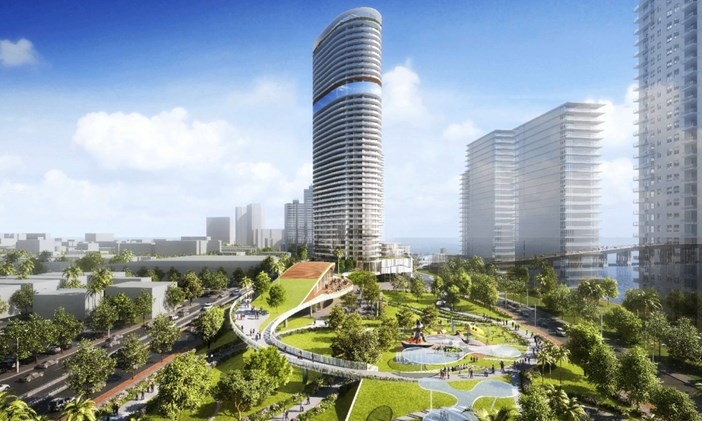 Following up on our December report stating that developers Terra Group and Crescent Heights and city officials were having a tough time seeing eye-to-eye on what to include when calculating the floor-to-area ratio for the development, a truce has been reached. Miami Beach Commissioners have approved a settlement agreement on the exclusions, while also making sure no other buildings can seek the same interpretation. Read more on what it cost the developers to have the ruling in their favor here.
The 44-story luxury condo-apartment tower can now move ahead with constructing its 337 residential units, in addition to a 15,000 sq. ft. retail pavilion, a 7,880 sq. ft. restaurant, 578-space parking garage, and a long-awaited three-acre public park with elevated pathways.
If there's a Miami condo in development or pre-construction that you like, give us a call at (786) 930 4220 or contact us through the site. You can also subscribe to our monthly or weekly blog to get the latest Miami condo updates.


---

Not ready to buy yet? Read our comprehensive guide to buying pre-construction condos in Miami.
Share your thoughts with us
Sign up now
Get news and updates delivered to your inbox