Miami's New and Pre-Construction Condo Update: July 2021
Aug 04, 2021 August 04, 2021
With Miami's luxury condo market in overdrive for the past two quarters, developers are lining up around the block to build new projects. As more out-of-towners (domestic and foreign) continue to land in South Florida, luxury condo inventory is shrinking by the minute, leaving a huge gap between supply and demand. 
This is why developers such as 501 First's Aria Development Group is planning 3 new condo projects for Downtown Miami, Chile-based Ambienta group has proposed a 79-condo project in Coral Way, and MG Developer Miami is moving ahead with its $50M, Seville-inspired Gables Village.
Additionally, we're seeing a new trend in Miami with more activity last month. With empty parcels in short supply, more developers are eyeing bulk buyouts of older condo buildings that need expensive repairs or have pending re-certifications. Case in point, Mast Capital is replacing the 57-year-old La Costa Condo on Miami Beach, Gil Dezer is rumored to be buying out Sahara Beach Club condos in Sunny Isles Beach, and another 649-foot tower has been proposed to replace The Harbor 29 in Edgewater.
Read on for details on these and other updates in our Miami condo pre-construction market roundup for July 2021:
 
---
July 2021 - Miami Condo Pre-construction Market at a Glance
---

New Sales Center
Topped Off
Approved
Planned/Proposed
Other Updates
Watchlist
---
New Miami Sales Centers
---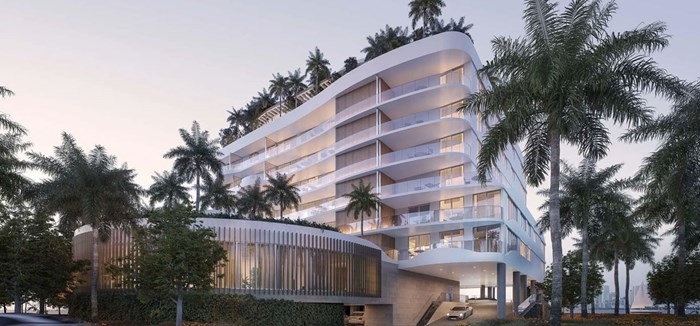 Less than 4 months after launching sales in March, developer CMC Group and Morabito Properties unveiled their waterfront sales gallery. Located at 10301 East Bay Harbor Drive, adjacent to the boutique condo's future site, this state-of-the-art sales center offers a great visual preview of the lifestyle to be expected. The gallery showcases a scale model of the building, sample views and renderings, modern interior elements curated by Italian designers A++ Sustainable Architecture, as well as a model kitchen, living room, and master bathroom.
Expected to break ground later this year, the waterfront mid-rise is scheduled for a 2023 completion. With a name translating to wave in Italian, Onda Residences is expected to be sought after in the highly desirable, walkable, family-friendly neighborhood of Bay Harbor Islands that hasn't had any new buildings in recent years.
The 8-story Onda is designed by the world-renowned Bernardo Fort-Brescia of Arquitectonica, with a total of 41 impeccably finished residences. Styled by A++ Human Sustainable Architecture, each luxury residence (with den) will feature mid-century style furnishings, light wooden floors, natural materials and textures, plus stone and marble accents. Rising along 300 feet of bay frontage, the boutique condo will also feature lush landscaping by Enzo Enea.
Designed as a tech-forward building, future residents will be able to enjoy Wi-Fi throughout the building's common spaces, high speed internet at home, an integrated digital concierge, and access to electric vehicle charging stations. Other amenities at this boutique building will include a private marina with 16 boat slips, a water sports launch dock with rentable gear, a rooftop pool deck and lounge area, fitness center with Technogym equipment, spa, steam bath and sauna rooms, a yoga studio, plus bicycle storage.
Prices range from $1.8 million to over $9.5 million, with a choice of two- to four-bedroom residences.


---
New Miami Buildings Topped Off
---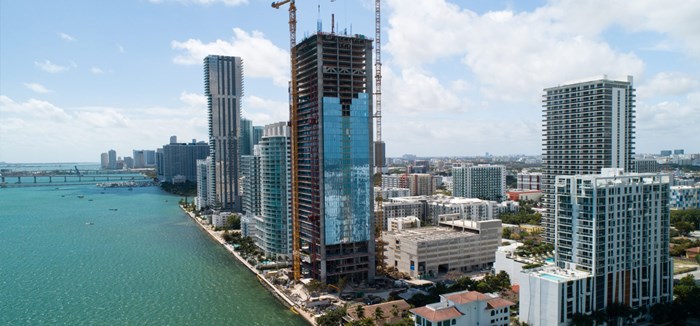 Successfully topped off at 649 feet, Missoni Baia is now one of the tallest towers in Edgewater (along with the recently completed Elysee). Rising 57 stories alongside tranquil bay waters, this first-ever residential venture by the Italian luxury fashion house of Missoni is one of the most highly anticipated preconstruction projects in Miami.
Developed by the OKO Group and Cain International, Missoni Baia features 249 luxury condo residences, with interiors designed by Paris Forino. Crafted as a landmark by Asymptote Architecture, the waterfront tower will feature Missoni's signature colorful touches throughout its common spaces. Upon completion, residents will have access to high-end amenities such as five swimming pools, a flow-through pool deck with cabanas, children's water features, one of Miami's largest resident-only spas, a beauty salon, pet spa, an elevated tennis court, a seven-story parking garage, and a bayfront boardwalk.
On track for a year-end completion, Missoni Baia's premises will also be gaining three new waterfront townhomes. These soon-to-be-constructed waterfront villas will feature more square footage, double-height floor-to-ceiling windows, exceptional water views, ample outdoor space overlooking Biscayne Bay, as well as access to the tower's amenities.
Prices range from the $600,000s to over $9 million, with a choice of one- to five-bedroom residences plus new townhome collection starting at $3.6 million.


---
New Miami Developments Approved
---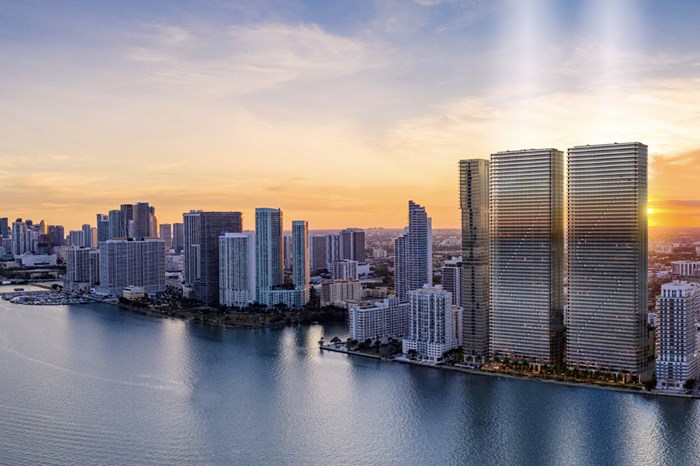 A month after launching sales in June, Aria Reserve has won key approval from Miami's Urban Development Review Board (UDRB). This keeps the tallest residential waterfront twin towers in the U.S. on track for an early 2022 ground-breaking.
Developed by the Melo Group, the supertalls come perched on the last waterfront reserve of its kind. Rising 60 stories against 547 linear feet of soothing waterfront in Edgewater, Aria Reserve is poised to offer the best waterfront value in Miami. Additionally, owners will be able to rent their units up to 4 times a year, making the luxury project an attractive investment.
Designed by Arquitectonica, the 782-unit twin towers will feature tastefully designed interiors by the MORADA Haute Furniture Boutique. Each luxury residence will feature direct water views, East to West flow-through floorplans complemented by 10-foot-high ceilings, 11-foot-deep terraces, a dedicated office/bonus room, and two flooring options. Amenities at this ambitious project will include a two-acre recreation deck, inclusive of a semi-Olympic sized lap pool, a whirlpool spa, children's splash pad, teen lounge and gaming center, and playground.
Other amenities at Aria Reserve will include an indoor-outdoor wellness center, gym, meditation gardens, a signature waterfront restaurant and café, tennis courts, basketball courts, paddle courts, miniature golf, a theater room, dog park, telescope observatory area, and custom-designed water sports dock with equipment rental options. Melo Group will also be developing a public park along 23rd street with direct access to the 5-mile-long waterfront Miami Baywalk.
For more details on how Aria Reserve is set to deliver the best waterfront value in Miami, go here.
Prices range from $750,000 to over $2 million, with a choice of one- to four-bedroom condo residences. Penthouses start at $12 million.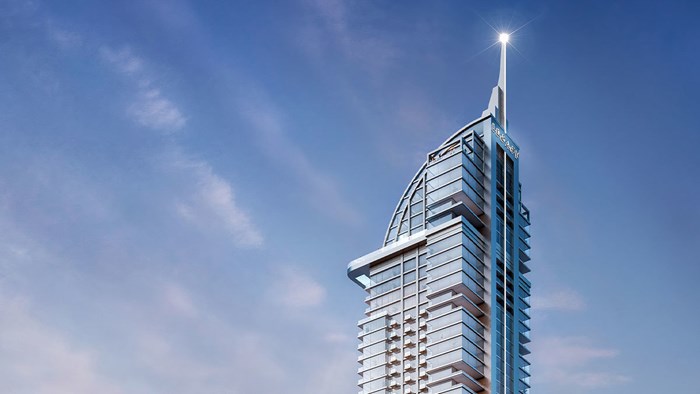 Approved by the Federal Aviation Administration (FAA) for a revised height of 681 feet above the ground, Dan Kodsi's Legacy tower will now be the second tallest tower at the Miami Worldcenter mega-development. (It was previously approved for a height of 661 feet above ground). The 310-unit luxury tower, which is 100% sold out, will also be the world's first to feature a Morgans Original hotel.
Designed by Kobi Karp, the 50-story condo-hotel introduces its trademarked concept of microLUXE living in Miami, which directly implies luxury living packed into micro-living spaces. Other amenities that have kept the luxury tower in the headlines include Miami's first 8-floor medical Center for Health + Performance in a condo, America's largest rooftop glass atrium with 7 stories of indoor palm trees, Downtown's largest (1-acre) hotel pool deck, and a "Singapore-inspired" cantilevered pool hanging 500 feet in the sky.
Other key amenities at the ultra-luxury Legacy will include an expansive lounge and bar, a members-only international business lounge, signature international restaurant, grand ballroom, shul with kosher kitchen, multiple water features, plus a wide range of wellness facilities ranging from cryotherapy chambers to a vitality spa, IV nutrition therapy, sports medicine, and supporting physical therapy.
 
---
Miami Planned & Proposed Developments 
---

Mast Capital's Rem Koolhaas-designed Condo Tower – Mid-Beach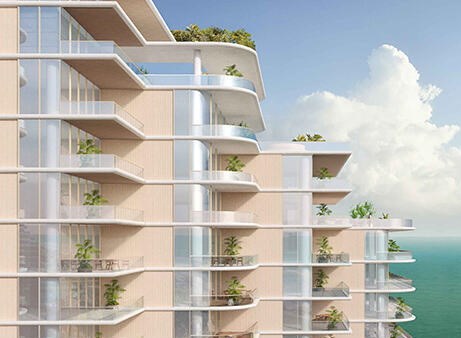 Replacing the 57-year-old La Costa Condo tower at 5333 Collins Avenue, developer Mast Capital is planning on constructing a brand-new, 100-condo luxury tower in Mid-Beach. The developer has already purchased 90% of La Costa condos (108 units) for a total of $100.8 million in a bulk buyout deal.
La Costa was recently deemed an unsafe structure and its residents have been ordered to evacuate by the city of Miami Beach. The 15-story condo tower was built in 1964 with a total of 120 residences and a rooftop pool. The oceanfront tower is pending its 50-year recertification.
Once Mast Capital completes its bulk buyout, the developer will move forward with plans for a 19-story luxury condo building featuring 100 residences, a pool deck, and 183 parking spaces. The project will be designed by starchitect Rem Koolhaas in association with O'Donnell Dannwolf & Partners Architects. The unnamed luxury project is already planned to look like a series of slender towers angled towards the ocean. Landscaping architecture and green spaces are designed by Gustafson Porter + Bowman and Architectural Alliance Landscape.

Another 649-foot Residential Tower - Edgewater
Plans have been filed with the Federal Aviation Administration (FAA) to approve a brand-new, bayfront residential tower in Edgewater. Proposed at a maximum height of 649 feet above the ground, the tower will share the title of the 'tallest in the neighborhood' along with Elysee and Missoni Baia (built to the same height). 
Although exact details on the developer and other facts are yet to be revealed, the tower will be replacing two existing Edgewater buildings – The Harbor 29 at 710 NE 29th Street, with 15 condo units built in 1972, and an adjacent 10-unit apartment building constructed in 1954.

Gables Village with Condos and Townhouses – Coral Gables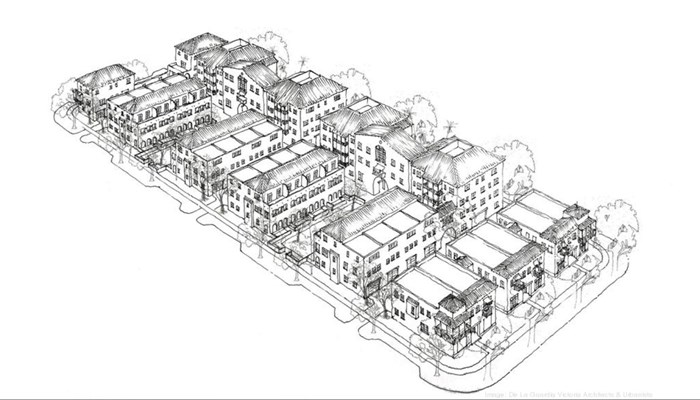 In Coral Gables, a massive assemblage and bulk buyout project is slated to replace older buildings -- a $50 million village is planned for a parcel made up of 17 lots. MG Developer Miami is in the process of acquiring these 17 lots, which are currently home to one- and two-story apartment buildings. The parcel sits steps from the Coral Gables Branch Library and Coral Gables War Memorial Youth Center.
The Seville-inspired Gables Village is planned to be home to about 50 units, inclusive of a handful of duplexes, 3-story townhouses, and 3-story condominiums. Scheduled for a 2024 completion, each project will come surrounded by lush gardens, with some building exteriors housing bookshelves. Beginning construction next year, all residences will be built in a Mediterranean Revival-style characteristic of the neighborhood. The village's community center will feature a pool, gym, and yoga room.
Prices expected to start at $845,000 for the two-bedroom/two-bathroom + den condo residences, at $1.3 million for the three-bedroom/four-bathroom duplexes and at $2 million for the three-bedroom/four-bathroom + den townhouses.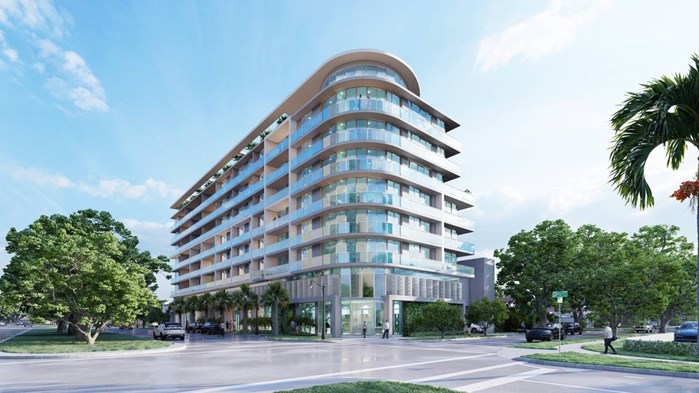 Looking to replace two old apartment buildings, the Chile-based Ambienta Inmobiliaria has proposed a condo project for the 0.53-acre site at 3025 and 3051 S.W. 3rd Ave. The 8-story Ambienta Coral Way (also called Ambienta Brickell) has plans to feature 79 condos, 912 square feet of commercial space, 1,195 square feet in ground-floor offices, and 120 parking spaces.
Designed by Revuelta Architecture, the mid-rise will be home to 553-square-foot studios to 1,046 square feet residences with three bedrooms, with one-bedroom units dominating the layout. Amenities are planned to include a pool deck with cabanas, a glass-enclosed observation deck on the roof, a 1,435-square-foot gym, an 855-square-foot outdoor kitchen, a 709-square-foot game room, a 615-square-foot business center, and two retail spaces.
Prices start at $390,000, with a choice of studios to three-bedroom residences.

First in Miami River Five-Phase Complex – Miami River
With a construction permit submitted to the city authorities and a height approval submitted to the Federal Aviation Administration (FAA), the developer of this unnamed Miami River project at 275 SW 6th Street is looking to move full steam ahead on the first in its five-phase development.
The first phase of this Miami River development is planned to include 632 residential units, spread over 1,164,143 square feet of space. Proposed to rise 640 feet above ground along the riverfront in West Brickell, the 54-story tower will be the westward expansion of the complex featuring 12,305 square feet of retail on its ground floor. 
According to a completed utilities deal, the five-phase project will include:
1,678 residential units (in total)

330 hotel rooms

196,882-square-feet of retail space (in total)

98,040-square-feet of office space

and a 30-slip marina


---
Other Miami Pre-Construction & New Construction Updates
---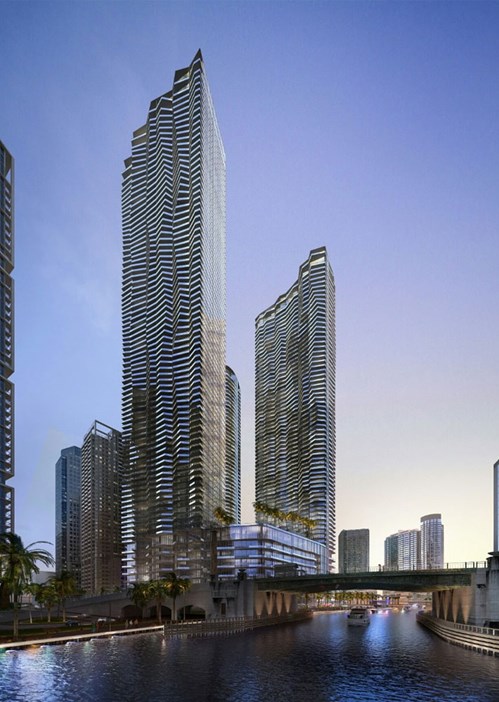 The Related Group's most luxurious project to date is back in the news for two reasons:
Prospective buyers can now get their first look at the resplendent Baccarat Residences

And more human remains have been discovered at the site of the three-tower Related project inclusive of the Baccarat Residences.
Bringing the luxuries of the storied French crystal brand to Miami, developer Related Group has teamed up with Barry Sternlicht's SH Hotels & Resorts for the Baccarat Residences in Brickell. The 75-story tower will feature a bespoke, undulating, reflective façade reminiscent of crystals designed by Miami's Arquitectonica. The 360-unit luxury tower's interiors come designed by Meyer Davis Studio as a fusion of 18th-century Paris and 21st-century Miami, with a touch of 1930s Art Deco influence.
Scheduled for an early 2022 groundbreaking and fall 2025 completion, the riverfront residences will be home to amenities including a marina with luxury yacht dockage and "house yacht," riverfront restaurant, swimming pool, clubroom, game room, children's playroom, spa, beauty salon and barber, grand salon event room, wine cellar, private workspaces, business center, and more.
The three-tower complex at 444 Brickell is planned to house a total of 1,400 residences, a 250-room five-star hotel, class-A office space, and retail. 
Prices range from around $1.1 million to $3.5 million per unit, with a choice of one- to four-bedroom residences. The penthouses will be upwards of $14 million.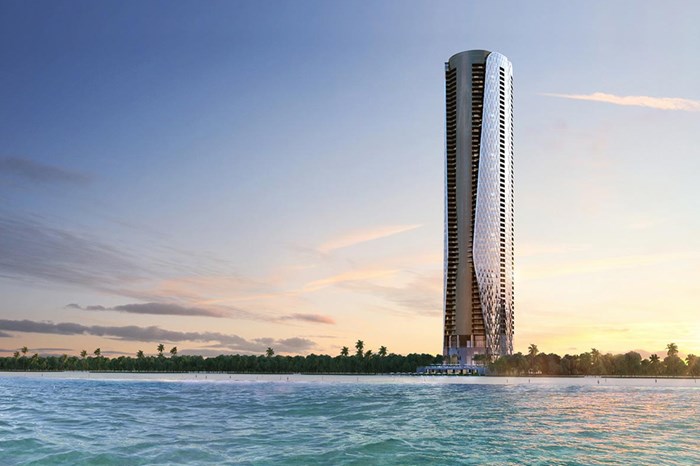 Bentley fans can have a closer look as more design details around the cylindrical Bentley Residences have been released, with developer Gil Dezer offering a teaser video and new renderings on the view of the project from Collins Avenue this July.
After the runaway success of the Porsche Design Tower, Dezer Development is bringing the world's first Bentley Motors-branded residences to Sunny Isles Beach. Approved for a height of 749 feet above sea level, this will be the tallest tower to be built on a U.S. beachfront. The Sieger Suarez-designed tower is set to rise 60 stories along a pristine oceanfront, featuring more than 200 luxury condos.
Just like the Porsche Design Tower, this luxury car-branded tower will feature the famous patented "Dezervator." The Dezervator is a car elevator that allows owners to drive and park directly into their units. Each ultra-luxury condo will include a multi-car garage, exceptional ocean views, and interiors outfitted with sustainable materials.
With construction expected to begin early 2023 and a 2026 completion, future residents will further gain access to a pool, spa, gym, whisky bar, restaurant and lounge, cinema, beautifully landscaped communal gardens, and more at this Bentley-branded building.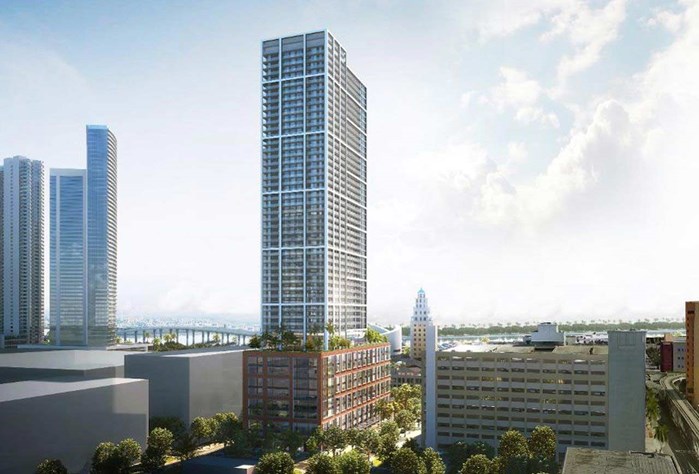 Foundation work is nearing completion at the ready-to-rent Natiivo, developed by the co-founders of Newgard Development Group and Crescent Heights. Known as the first condo building to be approved for short-term rentals in South Florida, Natiivo will rise 51 stories with 440 turnkey condo residences and 140 Gale hotel-condo units.
Designed by Urban Robot Associates, the wellness-focused development will feature green building tech along with an 18,000 square foot health and fitness center, inclusive of a yoga studio, boxing ring, CrossFit, outdoor training terrace, peloton equipment, and The Fit boutique.
Besides office and retail space, the ready-to-rent building will also be home to co-working spaces, quiet rooms, a 16,000 square-foot pool retreat complete with fully serviced pool and cabanas, an amphitheater, a specialty restaurant and bar, multiple lounge areas, dining terrace, a speakeasy, programmed events, and much more.
Prices start at $300,000, with a choice of studios to three-bedroom residences


---
Miami New & Pre-Construction Project Watchlist
---

Three New Residential Projects by Aria Development (501 First Developer) – Downtown Miami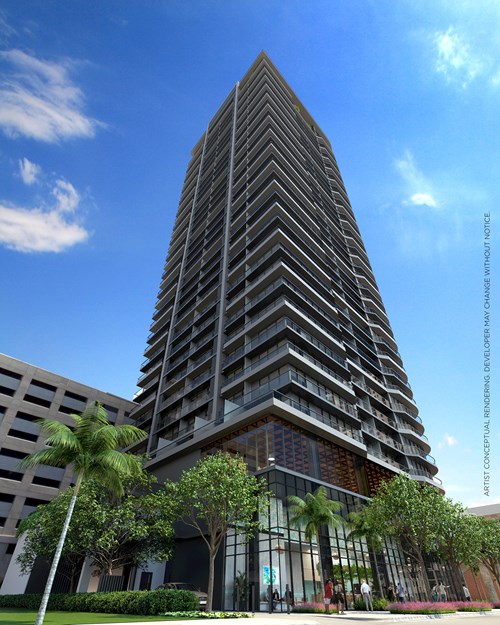 501 First Residences

Aria Development Group, the developer behind the recently launched 501 First Residences, is planning to develop three new residential projects in Downtown Miami. Citing Brightline (the high-speed commuter rail service connecting Miami to Orlando) as a game-changer in the evolution of Downtown Miami, Aria's David Arditi will be releasing details on the group's three additional projects soon. 
For now, Aria Development is expecting to break ground on 501 First Residences in the first quarter of 2022. With no rental restrictions whatsoever, the 40-story tower designed by Revuelta Architecture will be built without parking. Amenities planned for the luxury tower include an on-site 60-bike parking garage, a rooftop deck with 75-foot resort-style lap pool, bistro and bar concept by New York's GPG Hospitality, co-working spaces, grill and chill sunrise-sunset decks, a rooftop Greenhouse with year-round greenery, pet lounge, and much more.
For more details on the suave 501 First Residences, click here.
Prices start from the $300,000s, with a choice of studio, one- and two-bedroom residences.

Dezer on Buying Sahara Beach Club Units, Building Unnamed Sales Gallery – Sunny Isles Beach
Fueling all sorts of rumors, Gil Dezer is building an oceanfront sales gallery at 18325 Collins Avenue. The developer also seems to be negotiating a bulk buyout for the Sahara Beach Club Condo next door at 18335 Collins Avenue. The developer has already bought 18 condos under the name Dezer Sahara Hills LLC. Another Dezer affiliate is said to own dozens of units in the building as well. The Sahara Beach Club Condo building sits next door to Dezer's pre-construction Bentley Residences.

Owner Applies for FAA Approval - Downtown Miami
Owner of a Downtown Miami surface parking lot has filed for an approval to the Federal Aviation Administration to be able to build an 831-foot tower. This is the third application for the parcel located at 130 SE 1st Street. The previous two approvals expired in 2015 and 2019.
San Francisco's FTP Investment Corporation is said to be the owner of the property spanning 23,800 square feet. Given the strong market for luxury condos, easy access to the Brightline, and the area zoned for residential development, chances are the new construction could end up being a condo building.
Are you considering buying a Miami pre-construction condo? Do you want more information? Call, chat, or email for details on floorplans, early bird pricing, and developer-exclusive offers.


---

Looking to move out of an older condo building in Miami? Let a local expert negotiator handle the deal for you – just get in touch!
Share your thoughts with us
Sign up now
Get news and updates delivered to your inbox