Miami's New and Pre-Construction Condo Update: June 2022
Jul 01, 2022 July 01, 2022
As reported in our May update, we continue seeing developers fanning out into low-density neighborhoods, trying to catch up with heightened buyer demand for luxury housing in Miami. This June, the Related Group announced Icon Residences for North Miami, MG Developers announced plans for Alhambra Parc in Coral Gables, and Matthew Rosenblatt proposed building a 25-story condo in Aventura. 
Trying to cash in on a red-hot luxury condo market, developer Allen Morris Co. proposed converting its apartment rental project in Coral Gables into a luxury condominium. This June, the highly anticipated Estates at Acqualina started with closings – days from welcoming its first residents. The Okan Tower broke ground. Onda Residences made "waves" by securing construction financing. And, Aston Martin Residences started showing signs of an on-schedule completion.
Read on for more details on these and other updates in our Miami condo pre-construction market roundup for June 2022:


---
June 2022 - Miami Condo Pre-Construction Market at a Glance
---

Closings Underway
Converting to Contracts
Broke Ground
Planned/Proposed
Construction Updates
Other Updates
---
June 2022 - Miami Pre-Construction Condo Market Closings Underway
---
Groundbreaking – May 2018 | Completion – June 2022 (North Tower - near completion)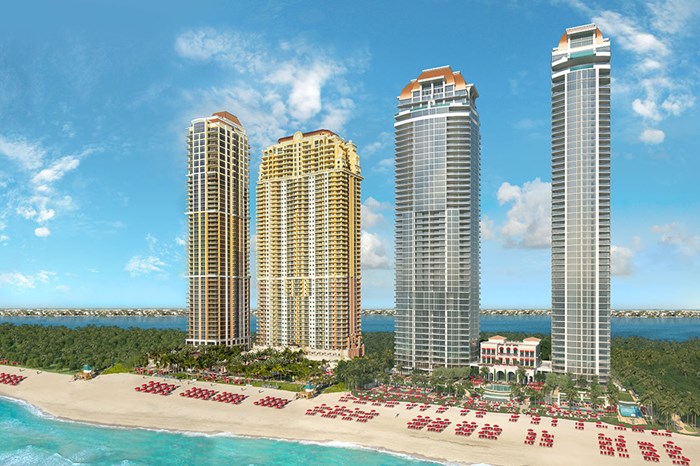 Standing 50 stories tall and with its TCO firmly in place, the south tower at the Estates at Acqualina is ready to welcome its first residents. Closings are now underway at the fully sold-out 888 south tower. The boutique north tower is also nearing completion and will soon be ready to receive residents.
Developed by the Trump Group (no relation to Donald Trump), the two 50-story towers at the Estates at Acqualina are called 888 Via Acqualina and 777 Via Acqualina, respectively. The 888 south tower features 154 ultra-luxury residences, and the 777 north tower features only 91 half- and full-floor residences.
The two ultra-luxury towers share a 5-story, 45,000-square-foot, residents-only amenity complex between them called Villa Acqualina. Residents of both oceanfront towers will now be able to enjoy access to an STA Architectural Group-designed AcquaFit wellness and fitness sanctuary overlooking the ocean, a 4-lane bowling alley, an ice-skating rink, a golf simulator, a Formula
One racing simulator, a surfing simulator, soccer field, boxing ring, multiple sports courts, Wall Street traders' clubroom, movie theater, speakeasy, cigar lounge, and New York's famous Avra Miami (Greek restaurant).
Prices for remaining units start at $9.2 million, with a choice of four- and five-bedroom residences.
 
---
June 2022 - Miami Pre-Construction Condo Market Converting to Contracts
---
Groundbreaking – Late 2022 | Completion – Late 2025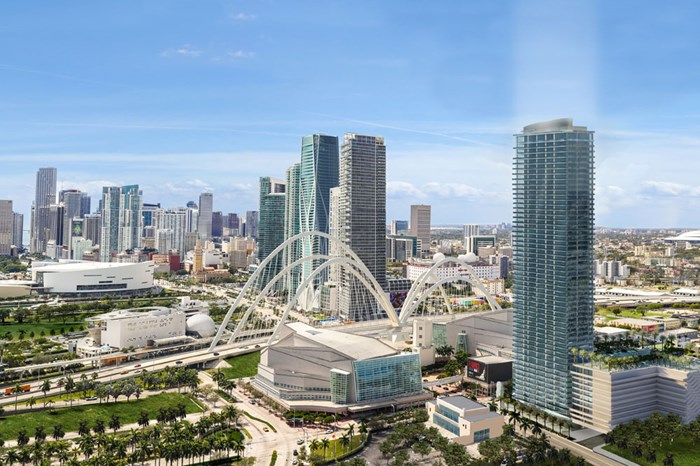 After launching this January, the residences at Casa Bella are already converting to contracts. This gives new buyers another window to lock in their preferred units at exceptional pre-construction pricing in case any of the reservations fail to convert.
Developed by the Related Group and Alta Developers, a demolition permit has also been submitted for building currently sitting where the 57-story boutique tower will rise. Designed by Arquitectonica, the tower will have only 6 to 7 residences per floor for utmost privacy. More than 60% sold, the luxury tower will feature a unique, wave-like façade with angled balconies meant to enhance its rippling effect and maximize views at every turn.
With is branded partnership with B&B Italia, the luxury tower will feature signature furnishing in common areas as well as give buyers the option to get a custom furnishings package for their residences. Owners will also be allowed to rent their units up to 6 times a year, with a minimum stay restriction of 30 days. 
Affording a highly curated Italian aesthetic, all 306 luxury residences at the Casa Bella will flaunt interiors by the internationally-acclaimed Piero Lissoni. Residents will be treated to high-end touches such as imported porcelain flooring, sleek Italian cabinets by ITALKRAFT, a top-of-the-line black glass appliance package, lavish master baths custom-designed by Piero Lissoni, designer fixtures, and more.
Highlight amenities will include a sky pool terrace and private observatory with a high-tech telescope, a Bay-view 78-foot lap pool, a poolside Mediterranean café, a 12th-floor pool deck with Italian-style gardens, an open-air yoga lawn, luxury spa, contemporary art by Italian masters, a pickleball court, game room, children's playroom, beauty salon, comfortable work-from-home (WFH) lounge, and more.
Casa Bella will be part of a 3-tower complex planned for 1400 Biscayne, which will ultimately include 1,430 residential units and 1,629 parking spaces - all connected by a podium. For more on the B&B Italia-curated luxury, Italian features, and location of Casa Bella by B&B Italia condo residences, go here. Or watch an in-depth video, here.
Prices start in the high $600,000s, with a choice of one- to four-bedroom residences and an exclusive penthouse collection.
 
---
June 2022 - Miami Pre-Construction Condo Market Broke Ground
---
Groundbreaking – June 2022 | Completion – 2026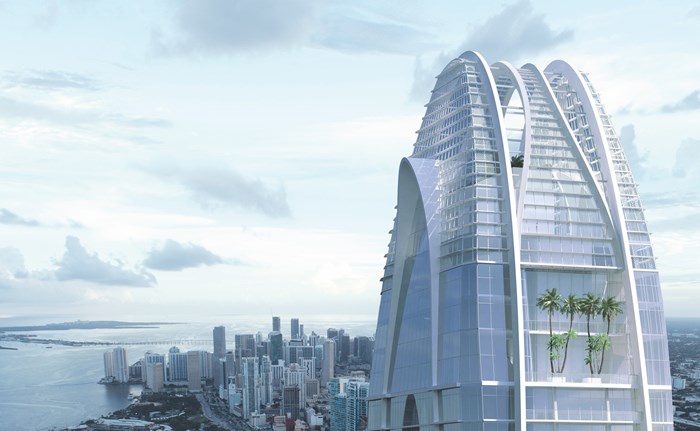 As scheduled, Turkish developer Okan Group broke ground on its Hilton Hotel-anchored condo tower in Downtown Miami this June. Already 40% pre-sold, the tulip-inspired tower will be home to 163 sky residences (condos), 14 two-story lofts, 236 short-term rental condos managed by Hilton, a 316-room Hilton Miami Bayfront Hotel, and 64,000 square feet of office space.
Designed by Behar Font Architects, the 70-story condo-hotel will carry hotel rooms on its lower levels, condo-hotel units starting from the 36th floor, and sky condos above the 51st floor – all with a separate elevator for each type of residence. It would also have the highest pool in Miami, located on the 70th floor. Owners will also be allowed to rent their units using Hilton Hotels & Resorts' rental program.
Affording its hotel guests and residents utmost privacy, the Okan Tower will feature a separate set of amenities for both. Residents of its "sky" condos will get exclusive access to the 70th-floor rooftop pool and deck, a 12th-floor lap pool with indoor-outdoor lounges and clubroom, a dedicated wellness spa, a fitness center with yoga studio, an owner's lounge, wine cellar, a theater room, and a fully-equipped children's sensory playroom.
Condo-hotel owners will have access to amenities on floors 27, 28 & 30 – including an outdoor pool with indoor-outdoor lounges and private cabanas, a signature wellness spa with Turkish treatments and a marble Hamman, a high-tech fitness center, over 4,500 square feet of ballroom space, multiple bars, a grab-and-go-café, conference and meeting rooms. 
Owners of both the condo-hotel and condo residences will have access to premier services managed by Hilton Hotel & Residences such as in-room private dining, in-room spa treatments, professional housekeeping services, on-site laundry and dry-cleaning services, a lifestyle concierge, and more.
Watch this video for more in-depth info on Downtown's Okan Tower and its stellar amenities. 
Prices start at $600,000, with a choice of condo-hotel, condo, and penthouse units.
 
---
June 2022 - Miami Pre-Construction Condo Market Planned/Proposed
---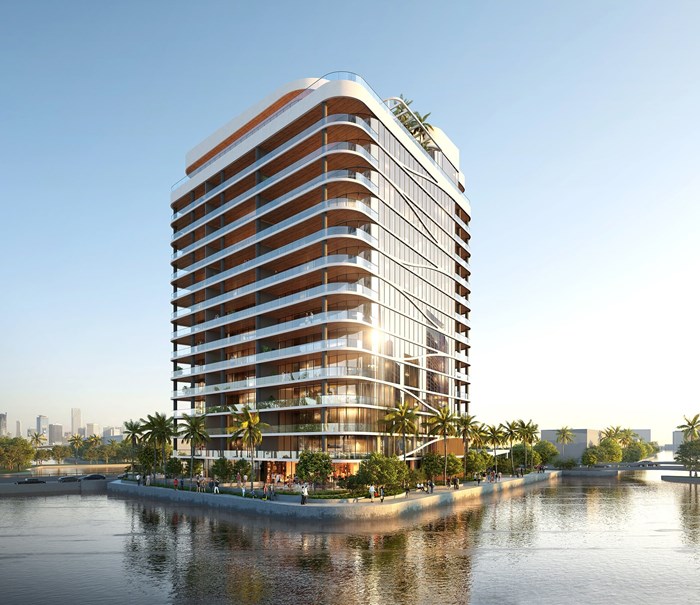 The Related Group (in partnership with billionaire Teddy Sagi and BH Group) has proposed a 15-story luxury condo to replace the two-story White House Inn at 2305 NE 123 Street on the causeway to Bay Harbor Islands in Keystone Point. Built in 1969, the inn has been shut and vacant since 2014.
Designed by Arquitectonica, the proposed luxury tower would feature 54 condo units with an average price of $4.6 million. Amenities would include two pools and access to a public baywalk. Looking to top off the proposed waterfront tower at a height of 184 feet, the group is also lobbying for a height increase. 
Partners Miami-based MG Developer and Peru-based VYV plan to build a 33-unit luxury condo building at their recently acquired 33 Alhambra parcel. The 1.12-acre parcel was sold by a company controlled by the Tibor Hollo family for $19.25 million. It is currently home to several one- and two-story multifamily buildings. The co-developers plan on building a mixed-use condo community on their latest acquisition with retail on its ground floor.
A company managed by Matthew Rosenblatt of Aventura-based 2151 Development Group has proposed to build a 25-story condo at 2785 N.E. 183rd St. The vacant parcel sits northwest of a lake. Pushing for a zoning change from "business and office" to "high-density residential," the developer plans to build the 25-story tower with 84 condos.
Designed by Miami-based Idea Architects, units would range from 2,500 to 3,500 square feet, with a few on the outside of the parking garage totaling 1,400 square feet. Planning to offer a family-oriented experience, the tower will feature 12,000 square feet of amenities, including a coffee/juice bar, a toddler playroom, a yoga studio, a gym, a basketball/pickleball court, a splash pad, and a pool. If approved, sales for the luxury project could launch in November.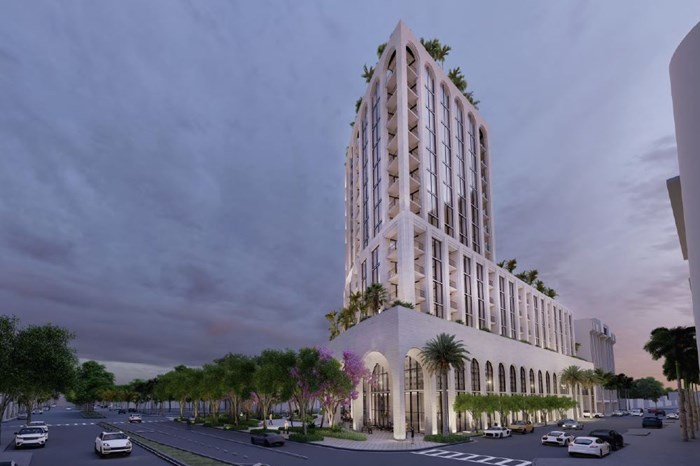 Previously proposed as an apartment project, developer Allen Morris Co. has significantly downsized its plans to turn Ponce Park Residences into a condo development. Originally, the developer had called for a 16-story building with 171 apartments, 18,107 square feet of retail/restaurant space, and 265 parking spaces. 
Under the revised proposal, Ponce Park Residences would rise 12 stories with only 80 condos, 15,671 square feet of retail/restaurant space, and 173 parking spaces. Designed by Oppenheim Architecture, the condo building will feature arches and a coral rock façade. The 1.2-acre site would also be home to amenities like a rooftop pool deck, a pedestrian paseo, and a park on its corner. The average unit sizes are planned for 2,025 square feet (larger than in its previous plans).
 
---
June 2022 - Miami Pre-Construction Condo Market Construction Updates
---
Groundbreaking – October 2017 | Completion – Q4 2022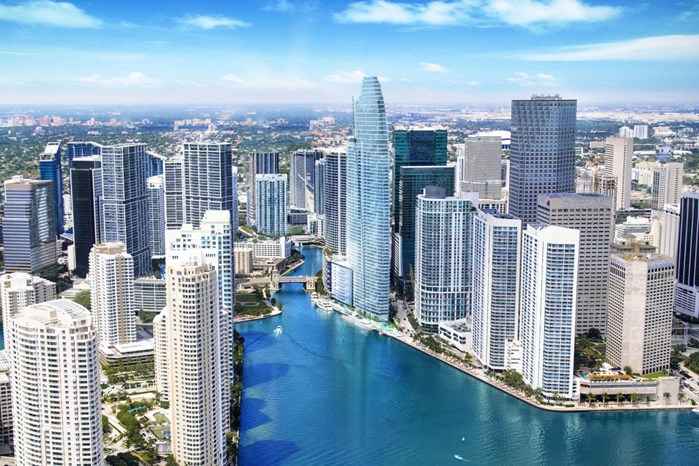 As this topped-out supertall moves full steam towards completion, it is now in the process of demolishing its on-site sales center and replacing it with a water feature. Developed by G&G Business Developments, the waterfront Aston Martin is currently the tallest building in Miami, topping off at 66 floors or 816 feet above ground.
Designed by Miami-based Revuelta Architecture, the 391-unit ultra-luxury tower stands as a sleek, sail-shaped structure at the confluence of the river and Bay. The supertall boasts many Aston Martin touches such as signature number plinths, stitching, and color palettes. Amenities at this statement condo tower include Downtown's first private deep-water superyacht marina, a helipad, a virtually accessible permanent art gallery on its 52nd floor, a sky lounge, a rooftop infinity pool, a world-class spa, two cinemas, virtual golf, a kids' playroom, teen center, beauty salon, butler service, and much more.
Prices start at around $1 million for remaining condo units, penthouses are available for upwards of $50 million.
Groundbreaking – August 2021 | Completion – 2024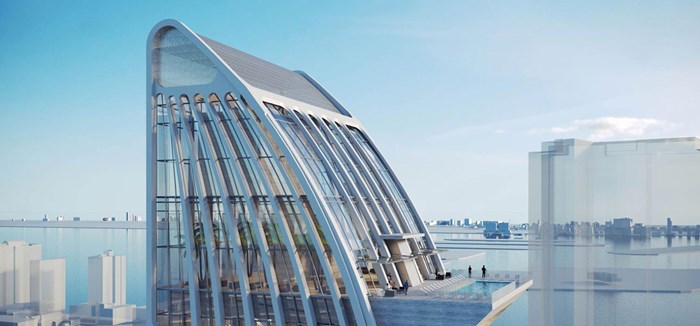 With its foundation pour taking place in June, this sold-out condo-hotel by Royal Palm Companies is on track for a 2024 completion. Adding 7,500 square feet of land next door for $4.45 million, the developer further announced that its 10-story Blue Zones Medical and Wellbeing Center will increase from 100,000 square feet in size to 160,000 square feet.
Offering a truly one-of-a-kind experience, Legacy will rise 55 stories with 310 luxury residences built for (trademarked) microLUXE living, 210 Accor hotel rooms, a pandemic-ready 10-story wellness retreat, and Downtown's largest (1-acre) hotel pool deck. Designed by Kobi Karp, the neo-futuristic tower will be part of the mega, city-within-a-city development called the Miami Worldcenter. Office spaces at Legacy will come decked above the pool deck, followed by its hotel and condos. 
Each fully furnished residence at the condo-hotel will feature interiors by ID & Design International. Highlight amenities at this luxury high-rise will include a Singapore-inspired pool hanging 500 feet in the sky, America's largest rooftop glass atrium with 7 stories of palm trees, a members-only international business lounge, signature international restaurant, grand ballroom, shul with kosher kitchen, multiple water features, plus a wide range of wellness facilities ranging from cryotherapy chambers to IV nutrition therapy, sports medicine, and supporting physical therapy.
Additionally, the Legacy tower will also feature a business lounge, ballroom space, restaurant, retail, and a 9th-floor pool deck inclusive of an indoor lounge/breakfast area outlined by villas.
Groundbreaking – Q4 2022 | Completion – 2024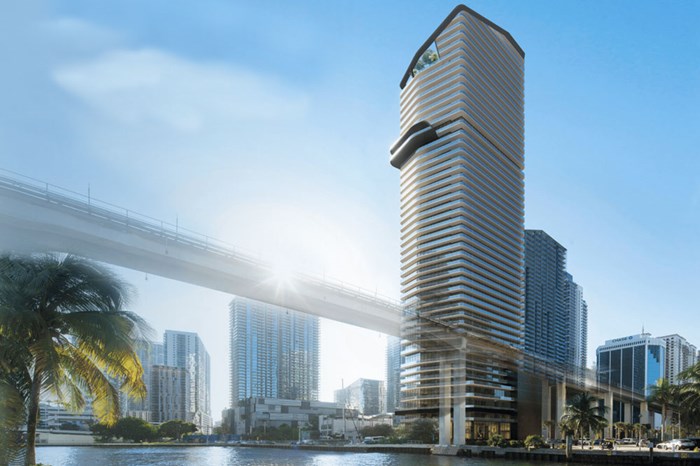 With demolition underway, developer Newgard Development Group also secured a $170 million construction loan to cement plans for its riverfront Lofty condos. Designed by Arquitectonica, the minimalist, postmodern tower will rise 42 stories along Brickell's stunning riverfront. Built using green building tech, the tower's 364 fully furnished condos will feature high-end interior touches curated by INC.NY. 
Lofty Brickell will be the first of three towers planned for the waterfront site. Owners at this luxury tower will be allowed short-term rentals. More than 50% sold, amenities at Lofty Brickell will include a "jewel box" double-height glass lobby with access to the Underline, 12,000 square feet of commercial space, and a private marina. 
Other key amenities will include a resort-style pool with cabanas, a poolside bar and grill, a LOFTY rooftop experience, a fitness center with private Peloton studios, a yoga lounge and terrace, a ground-level 5-star restaurant, an indoor/outdoor cigar lounge, a co-working lounge with private meeting rooms, event room, access to the LOFTY concierge app, and more.
For more information on Lofty Brickell and its short-term rental investment opportunities, read this. 
Prices start at about $500,000 for studios, $554,000 for one-bedrooms, and $903,000 for two-bedroom residences.
Groundbreaking – November 2021| Completion – 2023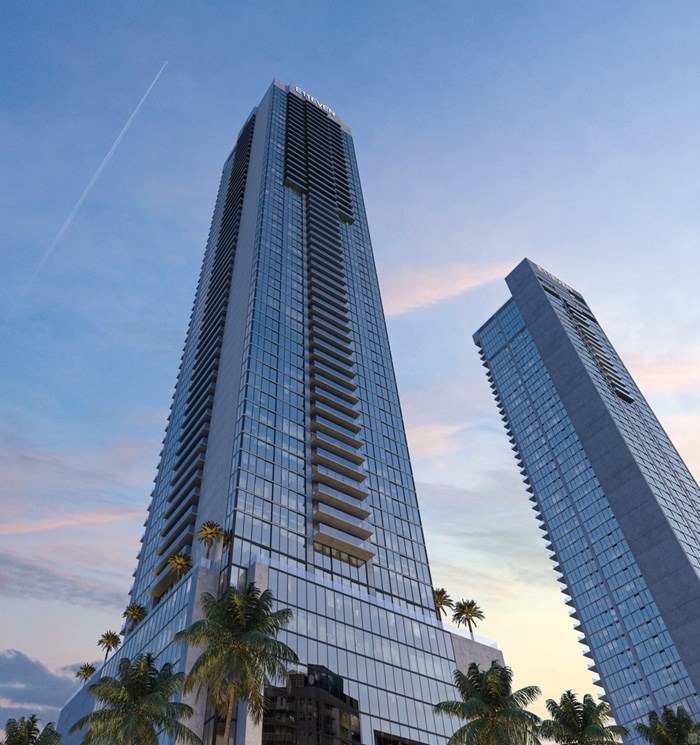 With its construction permit in place, construction activity has started at the fully sold-out E11even Hotel and Residences. Co-developed by PMG and E11even Partners, the sleek tower will be a short walk from the E11even nightclub in Downtown and its sister development (or phase 2) called E11even Residences Beyond and will be joined by a sky bridge. Both the E11even-branded condo towers were one of the first few in Miami to accept all-crypto payments. 
Designed by Miami's award-winning Sieger Suarez, E11even Hotel and Residences will rise 65 stories with 416 luxury condos. With interiors by the New York-based AvroKo Hospitality Group, residents will enjoy coming home to a contemporary custom cabinetry by Italkraft, Subzero and Wolf kitchen appliances, frameless glass-enclosed showers, smart home tech, and much more.
Owners at this iconic tower will have the option to enroll in E11even's short-term rental program. Highlight amenities will include a unique 24/11 (essentially 24/7) rooftop poolside entertainment concept, a 20,000-square-foot multi-level E11even Beach Day Club, a Deepak Chopra-designed spa & studio, casino-style sports lounge, a signature bar and lounge, a 5-star gourmet food hall, art installations, a custom concierge app, and more. The condo-hotel will also feature 36,852 square feet of commercial plus 2,049 square feet of office space.
Read more about the residential features and building amenities at the fully sold-out E11even Hotel & Residences here.


---
June 2022 - Miami Pre-Construction Condo Market Other Updates
---
Groundbreaking – Q1 2022 | Completion – Summer 2025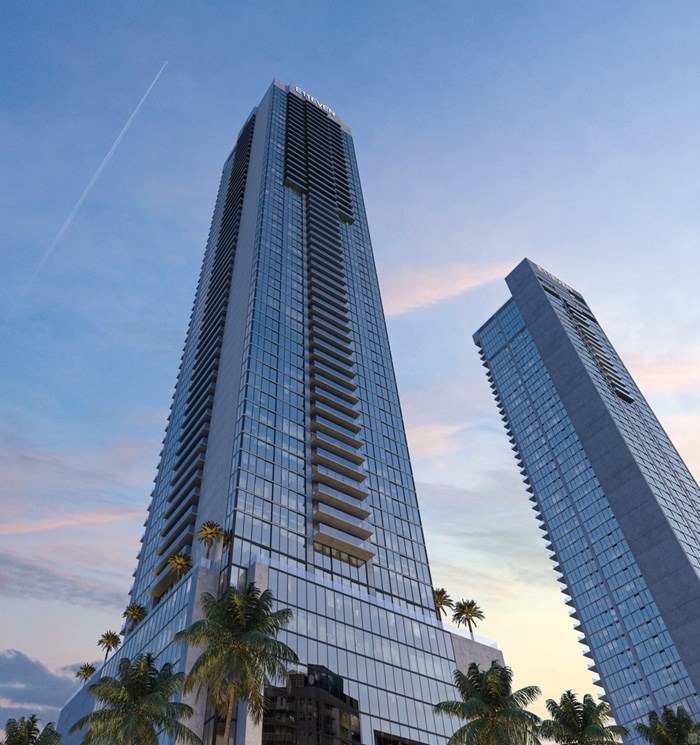 You can now tour the highly anticipated E11EVEN Residences Beyond in meta-reality. Thanks to YUPIX's immersive virtual reality experience, buyers can make more informed decisions by getting a first-hand look at all the details of the ultra-exclusive tower. 
Boasting the same team as its sister tower, E11even Residences Beyond will be designed by Sieger Suarez Architects, sharing the same all-glass structure. This highly exclusive twin to E11even Hotel & Residences will feature 461 ultra-luxury fully furnished residences. New York's award-winning AvroKo Hospitality Group will be handling interiors. Each turnkey residence will feature flooring selections curated by AvroKo, custom imported ITALKRAFT millwork and cabinetry, custom countertops & backsplashes, PMG's smart home technology system, and more.
Offering a highly exclusive, "members-only" experience, Beyond residents will gain access to the E11even Hotel and Residences' amenities via a one-way-only access-controlled sky bridge. Exclusive amenities will include a rooftop helipad, resort-like sun lounge deck with a 93-foot pool, fully-staffed executive office suites, access to the E11EVEN Residences Beyond Members Social Club, and more.
Owners at this second tower will also be allowed short-term rentals with a minimum restriction of 30 days. Read more about the location, building amenities, and features of the crypto-friendly E11even Residences Beyond, here.
Prices start in the mid $300,000s or equivalent cryptocurrency rate, with a choice of studios to two-bedroom residences, penthouses, and a presidential collection. 
Groundbreaking – 2022 | Completion – Mid-2023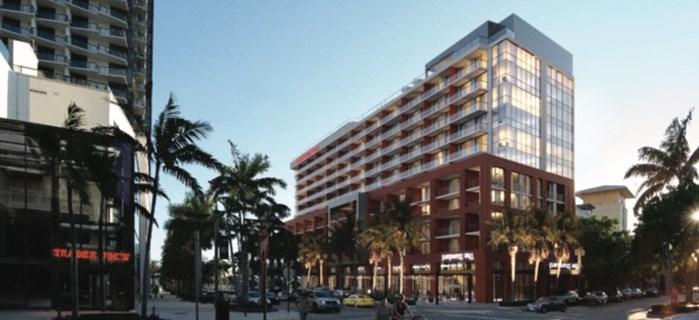 Already converting reservations into contracts, Midtown's Standard Residences are now 70% reserved. Co-developed by Carlos Rosso (ex-Related Group), Standard International, and Midtown Development, these luxury residences will embody everything expected of the hospitality brand that has made its mark from LA to New York and London.
Rising 12 stories with 228 pied-à-terre-style residences, the mid-rise will mark the experiential hospitality brand's debut in residential development. Designed by Arquitectonica, the luxury building will be looking to create a new benchmark for condo living in Midtown Miami. Each Standard residence will feature custom finishes and interiors by Urban Robot Associates in the brand's signature "anything but standard" fashion. 
With no hotel on-site, future residents can look forward to utmost privacy. Owners will further be allowed short-term rentals subject to a minimum of 30 days. They will also receive access to a "Friends with Benefits" program, affording them preferred pricing at The Standard properties worldwide.
Besides affording 34,000 square feet of amenity space, The Standard will also house 10,000 square feet of retail (but no onsite parking). Highlight amenities will include light wood plank tile flooring in all units, a landscaped rooftop with 60-foot resort-style sunset pool, a signature rooftop restaurant and bar, a lobby-level outdoor café, an infrared sauna, an indoor pickleball court with disco lights, a karaoke bar with screening room, co-working spaces, a pet spa, and much more.
Find more details on The Standard's first-ever residences, here.
Prices range from $329,900 for studios to $659,900 for two-bedroom residences. 
Groundbreaking – Q4 2022 | Completion – Q4 2025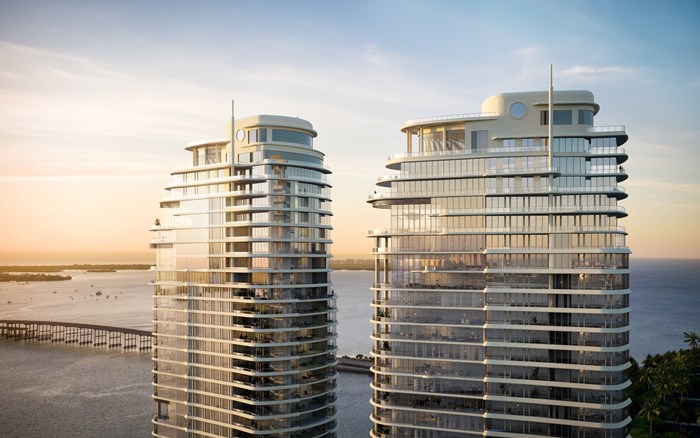 Shortly after launching sales, developers Related Group and Integra Investments have released new renderings for the two towers that will make up the St. Regis Residences in Brickell. Sales for the eastern tower were launched in March, while those for the western tower were launched this May.
Designed by New York's award-winning Robert A. M. Stern Architects, the eastern tower called Astor will rise 48 stories, while the western tower called William will rise 47 stories. The nautically-inspired towers will be positioned to afford the most expansive water and city views possible. New York's award-winning Rockwell Group will be handling interiors for both the waterfront towers, of which the eastern tower will house 183 bespoke residences. 
Boasting of a combined 60,000 square feet of amenities, both towers will be purely residential, offering utmost privacy with no hotel on site. Residents of both the towers will have access to St. Regis' storied 5-star services, including an iconic St. Regis Tea Room, Cognac Room, and signature butler service. Other notable amenities include a private marina, exclusive beach club access, indoor lap pool, spa, beauty salon, curated wellness programming, park-like grounds by Enzo Enea, children's entertainment room, teen video game lounge, golf simulator, a pet spa, electric vehicle charging stations, a luxury house car, and much more.
Read more about the ultra-luxury residences at St. Regis Brickell and their New York connection, here.
Prices start at $1.5 million, with a choice of one- to seven-bedroom residences.

Groundbreaking – November 2021 | Completion – Fall 2023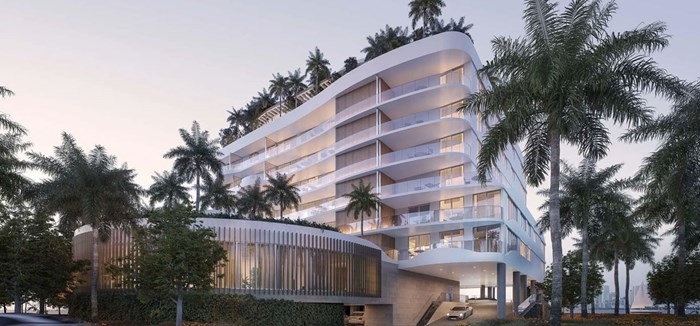 Securing a $64.5 million loan, construction at CMC Group and Morabito Properties' Onda Residences has now gone vertical. More than 85% pre-sold, Onda marks the first new construction to grace the highly desirable, family-friendly neighborhood of Bay Harbor Islands.
Designed by Arquitectonica, the 8-story boutique building draws inspiration from its name, which stands for "wave" in Italian. Designed as a tech-forward building, residents at Onda will be able to enjoy Wi-Fi throughout their common spaces, high-speed (FTTH) internet at home, an integrated digital concierge, and access to electric vehicle charging stations.
With interiors by A++ Human Sustainable Architecture, each of its 41 luxury residences will feature mid-century style furnishings, light wooden floors, natural materials and textures, plus stone and marble accents. All residences will further benefit from having a dedicated den/office. 
Rising directly against 300 feet of bay frontage, a 15-slip private marina will stand as Onda's centerpiece. Other notable amenities at this boutique building will include a water sports launch dock with rentable kayaks and gear, a rooftop pool deck and lounge area, a yoga studio, spa, steam bath and sauna rooms, a fitness center with Technogym equipment, landscaping by the award-winning Enzo Enea, and more.
Prices for remaining units range from $5 million to $8.5 million.
---

Like a pre-construction project you see? Call, chat, or e-mail us to purchase your next home in any of your favorite pre-construction condos - from Miami through to Fort Lauderdale.





Love staying up-to-date on all the preconstruction projects in Miami and Fort Lauderdale? Subscribe to this blog & our YouTube channel for all the latest news!
Share your thoughts with us
Sign up now
Get news and updates delivered to your inbox