Miami's New and Pre-Construction Condo Update: March 2021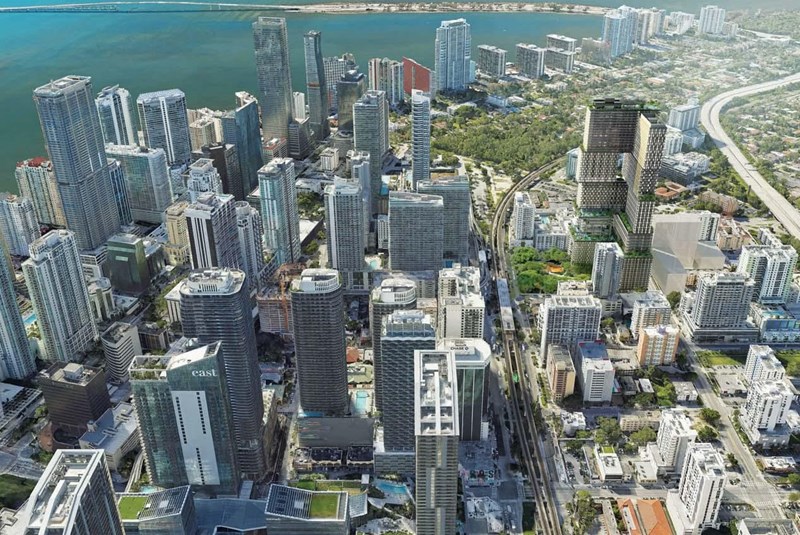 Apr 05, 2021 April 05, 2021
Miami's luxury condo market has seen a huge demand from wealthy buyers over the last year. Especially those from the Northeast have shown heightened interest due to the lucrative tax savings offered by the State of Florida and the pandemic policies to keep state businesses open. This seems to be giving luxury condo developers a boost of confidence, as we saw an unusually high number of sales launches and contracts being reported for March 2021 compared to the last two years. 
Downtown's Waldorf Astoria plus Bay Harbor Island's Ambienta and Onda launched sales this March. South Beach's 57 Ocean, TEN30, and Downtown's E11even Hotel and Residences reported blazing sales. Additionally, a whole slew of pre-constructions sped their way through planning and approvals such as Edgewater's Island Bay. Even the long-quiet One River Point project witnessed a revival as its developer started renewing their push for permits.
Read on for details on these and other updates in our Miami condo pre-construction market roundup for March 2021:


---
March 2021 - Miami Condo Pre-construction Market at a Glance
---

Closings Underway
Monad Terrace – South Beach
Sales Launched
Waldorf Astoria Hotel and Residences – Downtown

Onda Residences – Bay Harbor Islands

Ambienta - Bay Harbor Islands
Broke Ground
Hot Sellers /Top Sellers/Fastest Sellers
E11even Hotel and Residences – Downtown

57 Ocean – Mid-Beach

TEN30 – South Beach
Approved
Island Bay – Edgewater

Grupo T&C's 36-story Tower – Edgewater

Matis Cohen and Russell Galbut's 36-unit Residential Project – North Beach
Planned
Brickell Gateway – Brickell

7-Story Residential, 29 Indian Creek – Mid-Beach
Other Updates
Five Park (Previously The Park on Fifth) – South Beach

One River Point – Miami River

Baccarat Residences (previously 444 Brickell / One Brickell) – Brickell

1,049-foot Supertall by Norman Foster – Brickell

Chetrit Group's Mixed-use Mega-development – Miami River

1 Southside Park – Brickell


---
Closings Underway
---


Artist Rendering

With closings in full swing, residents can soon move into their brand-new luxury waterfront residence in the surreal Monad Terrace. Designed by the Pritzker Prize-winning, French starchitect Jean Nouvel, this 14-story, all-glass building features 59 waterfront residences centered around a man-made lagoon and perched on Biscayne Bay. Each of its luxury residences comes sheltered behind a "living wall" of climbing gardens for added privacy. 
Developed by Michael Stern of the JDS Development Group, the boutique building's interiors are designed by Kobi Karp. Nestled along the quieter waterfront in the West Avenue corridor of South Beach, residents will now be able to enjoy a wide array of high-end amenities including its Bayfront sundeck with a pool and hot tub, glimmering lagoon with aquatic plants, a café and juice bar, resident's lounge, boat dock, bicycle and water sports storage, and much more.
Remaining units range from $2 million to $12.5 million


---
Sales Launched
---


Artist Rendering

The highly anticipated sales launch for the tallest residential building south of Manhattan took place this March. The first Waldorf Astoria in South Florida, this 100-story skyscraper is set to feature 306 condos plus 205 hotel rooms and suites, along with a host of luxury amenities representative of the global hospitality brand.
Developers PMG and Greybrook Realty Partners roped in Burj Khalifa-architect Carlos Ott to conceptualize the condo-hotel as an architectural wonder dominating Miami's skyline. Designed in association with Sieger Suarez Architects, the luxury skyscraper will grow skyward as a staggering stack of nine glass cubes. While the first 3 cubes will house the hotel, the condos and amenities will be stacked in the 6 cubes above.
Featuring interiors by San Francisco's award-winning BAMO design firm, amenities at this sculptural supertall will include a resort-style pool deck with cabanas, a signature spa, signature restaurant, the Peacock Alley lounge, a kids' club, indoor-outdoor event spaces, smart-home tech with custom mobile app access, preferred rates and access to the hotel services, plus much more.
Prices start at $650,000 for Junior Suite Residences, $1 million for a 1-bedroom, $1.7 million for a 2-bedroom, $3,100,000 for a 3-bedroom, and $4,900,000 for a 4-bedroom residence

Artist Rendering

Developers CMC Group and Morabito Properties made a splash this March, launching sales for Onda (the Italian word for wave), a new waterfront condo planned to rise 8 stories on the coveted Bay Harbor Islands. This boutique luxury condominium comes designed by the world-renowned Bernardo Fort-Brescia of Arquitectonica and will feature 41 impeccably finished residences. 
Rising along 300 feet of bay frontage, construction on the boutique condo is expected to begin Fall 2021, with completion expected in 2023. Boasting of interiors by creative design masterminds Carlo and Paolo Colombo of A++ Human Sustainable Architecture, the award-winning Enzo Enea is the landscape architect on board.
Envisioned with the highest level of luxury in a tech-forward boutique building, amenities will include a private marina with 16 slips, water sports launch dock with for-rent gear, rooftop pool deck and lounge area, a yoga studio, fitness center with Technogym equipment, spa, steam bath and sauna rooms, plus a garage with electric car charging stations and bicycle storage.
Prices range from $1.8 million to over $8 million, with a choice of two- to four-bedroom residences


Artist Rendering

Motivated by the boost in sales for high-end properties, Ambienta Developers, led by Claudio Cordero and Carlos Balart, launched sales on their non-waterfront, boutique Bay Harbor Islands condo this March. With plans to break ground as early as June, they aim to deliver the luxury building by 2023.
Designed by Revuelta Architecture, the 7-story boutique building will feature 30 residences with interiors by BEA Interiors Design. Replacing an older condo building on the lot, the luxurious Ambienta is set to feature a double-height lobby, glass facade, landscaping by David J. Odishoo including a rooftop garden oasis and Zen outdoor yoga/meditation space. Future residents can also look forward to an infinity-edge swimming pool, sky lounge, children's play area, resident's social room with bar, and more. 
Prices range from $761,900 to about $1.2 million, with a choice of two- and three-bedroom residences


---
Miami Pre-construction Condos that Broke Ground
---


Artist Rendering

Multiplan REAM broke ground on their boutique condo offering, located in the upscale South of Fifth enclave, at the tail-end of February. Featuring only a handful of luxury condos, this limited collection building will rise only 4 stories on an Ocean Drive thoroughfare. Scheduled for a second quarter 2022 delivery, the modern low-rise comes designed by Revuelta Architecture International.
Each of the 10 luxury condos at Ocean Park will feature interiors by Marcela Lombana, boasting of high-end touches such as light solid oak wood, natural stone flooring, and kitchens by Poliform with Matte Touch cabinets. Besides lush landscaping by Gardner Semler Landscape Architecture, residents will also have access to amenities like a 36-foot pool with Italian-designed chaise lounges and umbrellas, an outdoor relaxation spa with Jacuzzi, a poolside summer kitchen plus outdoor dining area, a relaxation lounge on a sunset pool deck, beach service, and more.
Only four units remaining, with prices starting at $1.5 million


---
Top Selling Pre-Construction Condos in Miami
---

Artist Rendering

Over 70% sold since launching sales in January this year, this just might be the fastest-selling condo project in Miami. A contemporary condo-hotel from the hottest (read most notorious) club-makers in town, E11even Miami is coming to Downtown in association with PMG.
Rising 65 stories with 375 condos and short-term rental options, the hotel-condo's luxury residences are set to feature high-end finishes curated by the New York-based AvroKO Hospitality Group. Miami's award-winning Sieger Suarez is the architect on-board for the sleek skyscraper. Pulling out all the stops, the modern tower will be home to a 20,000-square-foot, multi-level E11even Day Club and pool. Other amenities include a signature bar and lounge, a unique 24/11 rooftop experience, a 5-star gourmet food hall, casino-style sports lounge, a Deepak Chopra-designed spa & studio, beach club, art installations, and more.
Prices start at $385,000 and go up to $12 million

Artist Rendering

Registering over $90 million in sales in just 3 months, 57 Ocean now stands 80% sold. Getting closer to its Fall 2021 completion, the oceanfront ultra-luxury topped off at 18 stories last August.
Designed by Miami's-own award-winning Arquitectonica, the wellness-oriented building is home to 81 modern residences with Brazilian-inspired interiors by Patricia Anastassiadis. The boutique building features amenities such as a holistic spa, a wellness pavilion, meditation and hanging gardens, two beachfront infinity-edge swimming pools, an outdoor bar and lounge, an indoor Technogym, outdoor MyEquilibria gym, club room with chef's kitchen and summer kitchen, a children's activity room, and more.
Prices start at $1.5 million, with a choice of two- to four-bedroom residences. Penthouses range between $15 million and $35 million 

Artist Rendering

Selling 10 units in just 15 days, this moderately-priced (compared to others in South Beach) boutique building is quickly selling out its inventory. Developed by the Shoma Group, construction on this Mid-Century Modern design-inspired condo project is on track and close to completion.
Set to rise 4 stories with a total of 43 luxury condos, its interiors come designed by the Saladino Design Studios. Featuring sophisticated tech, the luxury boutique building will be outfitted with Latch doors, Bluetooth enabled keyless entry systems with cameras controlled via smartphones, Ecobee thermostat systems, and the Samsung Family Hub smart refrigerator that allows residents to order Uber rides, play music, send messages, or even see inside the fridge and browse the internet for recipes using available ingredients.
Other amenities include a 6,000 square-foot rooftop deck with a rosé-colored pool, two fitness centers, a yoga space, an outdoor lounge with barbecue space, and covered parking for each residence. 
Prices start at $498,900, with a choice of studios, one- and two-bedroom residences


---
Approved
---

Artist Rendering

Approved by the Federal Aviation Administration, both the north and south towers at Island Bay can now rise to a height of 637 feet above ground. This 60-story Melo development is moving full steam ahead, with construction expected to begin in May 2021 and completion by 2023. Designed by Arquitectonica to feature a unique zig-zag pattern, the twin towers will house a combined 792 residential units plus 12,600 square feet of retail. 
A construction permit to build a showroom at the site was also filed in March.

Grupo T&C's 36-story Tower – Edgewater

Artist Rendering

Approved by the Miami Urban Development Review Board (UDRB) this March, Grupo T&C's 36-story tower can now feature 322 residential units, 6,183 square feet of retail, and 372 parking spaces. With Kobi Karp as the architect, the project is being developed under the affiliate name of Meridian TC Real Estate Group LLC. The project will be built behind Quantum on the Bay and is currently designed to feature a rooftop pool and garden and a 9th floor amenity deck.

Matis Cohen and Russell Galbut's 36-unit Residential Project – North Beach

Matis Cohen and Russell Galbut with the original building and a rendering of the Normandy Isles project


After the successful completion of Eighty Seven Park, North Beach is gearing up to welcome a brand-new mixed-use development by Matis Cohen and Russell Galbut. To be built at 880 71st Street, Normandy Isles, the 19,414-square-foot waterfront lot will house a 36-unit residential development featuring 3,650 square feet of ground-level retail space. Designed by Built Form Architecture, the 4-story building has already won approval from the Miami Beach Historic Preservation Board on various counts including lot coverage, balcony projections, and unit sizes.


Want to know more?

If you're interested in learning more about or buying into one of the pre-construction projects, call or email us anytime and we will provide you with all of your options. You can also read our article on 9 Tips on Buying a Pre-construction Condo in Miami, here.



---
Planned
---

Brickell Gateway – Brickell

Artist Rendering

Current owner and developer Gazit Horizons (a subsidiary of Gazit Globe) has filed for a demolition permit to clear the 3-story building situated at 90 SW 8th Street in Brickell. The half-acre, hard-corner lot is the future site for a 48-story tower that will feature retail, office, hotel, and residential components. Once approved, 45,564 square feet of space will be demolished to make way for the 650,000-square-foot proposed mixed-use.

7-Story Residential, 29 Indian Creek – Mid-Beach
New York-based developer Madison Estates & Properties has submitted plans for a 7-story residential building to come up at 2901 Indian Creek Drive. Just steps from the Broken Shaker, the slice of land already houses 3 old residential buildings.
The developer has proposed to completely replace the two 2-story apartment buildings built in 1938 and 1962. However, Madison Estates has proposed to preserve the third, 4-unit building commissioned by Robert H. Morton, which was designed by a renowned architect of the time, Carlos Schoeppl.
Under review by The City of Miami Beach Planning Board, the two older buildings are expected to be replaced by a 22-unit development including a rooftop pool and a 22-car mechanical parking garage. Urban Robot Associates has been hired to oversee the elevation and gutting of the Morton building and other design requirements.


---
Other Updates
---

Five Park (Previously The Park on Fifth/Canopy Park) – South Beach

Artist Rendering

Developers Russell Galbut of Crescent Heights and David Martin of Terra have scored a $345 construction loan for their planned residential tower previously called The Park on Fifth. Rising at the entrance to South Beach, the 519-foot tower will feature 48 stories with 278 residential units, of which 98 will be condos and 180 could be rentals or condos. The tower comes designed by Arquitectonica with interiors by Gabellini Sheppard.
The 48-story tower will feature 40,000 square feet of amenities, including a pool deck on the 5th floor, clubhouse on the 26th floor, a restaurant, lounge areas, grand lobby with a gourmet cafe, a library, two fitness centers, conference space, and a screening room for films.
Slated for a 2023 completion, the mega project will be rolled out in three phases:
Phase 1:

3-acre public park expected to be completed in 2021, featuring native shade trees, pedestrian and bike paths, an outdoor gym, a dog run, a children's playground, and public art displays.

Phase 2:

48-story residential tower, expected to break ground this year

Phase 3:

Pedestrian bridge crossing over 5th Street, expected to break ground 2022. The bridge will connect the park to the Baywalk, South Pointe Park, and beachfront.

Artist Rendering

Revived after a long hiatus, developer Kar Properties is finally pushing through the permit process to break ground soon on its 60-story, twin-tower project. Designed by Uruguayan architect Rafael Viñoly, the luxury towers will come connected by an iconic floating sky bridge. Amenities proposed for the 300-unit building include an 8,000-square-foot waterfront restaurant and lounge, an infinity-edge oasis pool and regulation-size lap pool, poolside cafe and restaurant, children's indoor and activity area, a 6,000-square-foot fitness center, a Medspa, rotating art exhibits, and much more.

Artist Rendering

Demolition work is in full swing at 77 Southeast 5 Street, as developer Related Group gets closer to getting a construction permit. Designed by Arquitectonica to resemble undulating waves, three towers are expected to rise 57, 77 and 82 stories each. While construction on the 77-story Baccarat Residences will begin by early 2022, a permit has been applied for the 57-story tower.
French crystal maker and jeweler, Baccarat will be managing the hotel and residences. The three-tower complex will be home to 1,400 residences, a five-star hotel, class-A office space, retail, and luxury yacht dockage. Amenities proposed for the site include access to the riverfront promenade, a rotating art collection, curated collection of furnishings, a swimming pool, fitness center, business center, and more.
Prices range from around $800,000 to $10 million per unit, with a choice of one- to four-bedroom residences

1,049-foot Supertall by Norman Foster – Brickell

Artist Rendering

Pending FAA approval, developers Tibor Hollo's Florida East Coast Realty and McCourt Global were seen preparing the ground for its future supertall. Planned to rise 1,049 feet above sea level, possibly giving stiff competition to the already approved Waldorf Astoria, this could be the tallest building in Florida.
Designed by architect Norman Foster, the waterfront towers are proposed to rise 81 and 79 stories. They could be built to feature 660 residential units or a combination of 550 residential units and 220 hotel rooms. The proposed mixed-use would also house 34,731 square feet of commercial space, and 1,162 parking spaces, including an underground garage. 

Chetrit Group's Mixed-use Mega-development – Miami River

Artist Rendering

Scoring a $15 million construction loan this March, in addition to its 2019 loan of $55 million, developer Chetrit Group will be moving ahead with its mixed-use, 6.2-acre development along the Miami River. The billion-dollar project will be a 5-phase development. It is expected to deliver 1,700 residential units, a 330-key hotel, 266,000 square feet of retail and office, plus more than 2,000 parking spaces.

1 Southside Park – Brickell

Artist Rendering

New York-based JDS Development Group continues unveiling its plans for 1 Southside Park as it moves ahead with demolition and site work, aiming for a 2023 delivery. Barry Sternlicht's Treehouse Hotels will be the first tenant at this mega-development. Housing the first Treehouse Hotel in the U.S., the 62-story tower will feature 191 suites and rooms designed by Rockwell, furnished extensively using repurposed materials. The hotel will also be serviced by two rooftop pools, an outdoor bar, plus an indoor-outdoor dining area.
Additionally, the mixed-use development is planned to feature a brand-new, 32,000 square foot fire station, along with 1,175 multifamily units in about 1 million square feet, 6,000 square feet of meeting space, 100,000 square feet of health and wellness facilities, 11,000 square feet of restaurants, 200,000 square feet of offices, and around 1,000 parking spaces.
The multi-million-dollar project also includes the redevelopment of the fire station at 1105 to 1133 SW Second Avenue. The City of Miami fire station will be demolished and re-developed as part of the 2.48-million-square-foot project with SHoP Architects, ODP Architecture and Design, and James Corner Field Operations for architects.
A further breakdown reveals that the 64-story buildings will have restaurants on the ground floor, micro-sized residential units on floors 3-14, offices on floors 17-23, the hotel on floors 24- 36, multifamily on floors 28-63, and an amenity deck with open-air spaces in the middle of the buildings. The Southside Park too will be re-developed with a basketball court, water features, seating areas, a dog run, fitness pavilions, and its historic high school building re-programmed for events as part of the project. The development will also be connected to the Underline's linear park constructed below the Metrorail.


---

Have another pre-construction project in mind? Just call, chat, or e-mail us and let a Miami-based condo expert handle the pre-construction buying process for you!
Share your thoughts with us
Sign up now
Get news and updates delivered to your inbox