Miami's New and Pre-Construction Condo Update: May 2017
Jun 19, 2017 June 19, 2017
There was a lot going on in Miami's condo pre-construction market this May. Foundations have been laid, two top-offs have been accomplished, Merrick Manor had a change of sales team and Naranza Edgewater is currently open for sales. Read all about these and more, below:
 
Ground-breaking
The glassy and luxurious Bijou Bay Harbor broke ground this May, starting its journey to bring understated elegance to its island community. The 41-unit, waterfront development from Ability by Acierto and Conexo Immobiliario is just down the street from the Bal Harbour Shops. The project is already 70% sold. Amenities include a rooftop lounge and pool, Bayside lounge and fire pit, outdoor bar plus dining and private boat slips.
 
Prices start at $600,000, with a choice of one to three bedrooms, each with den

Photograph: Bijou Bay Harbor - Exterior rendering

Photograph: Bijou Bay Harbor - Exterior rendering
 

Foundation Pour
A 22,000 sq. ft. foundation has been laid for the 212-unit Ritz-Carlton Residences to go vertical upon. Co-developed by Fortune International Group and the Chateau Group, this waterfront development is aiming for a mid-2019 completion. Amenities include a 33rd floor private club with a media room, library, bar, lounge and guest suites as well as private beach amenities. The ultra-luxury building will also feature a 4th floor lap pool, two spas, an oceanfront wellness center, first-rate restaurant and kids club.
 
Prices range from $2.5 million to $30 million for penthouses, with a choice of two to four bedrooms

Photograph: Ritz-Carlton Residences - Exterior rendering
 

Top-Offs
The Paraiso complex in Edgewater is finally shaping up as a second of its four towers tops off this May. The first to complete vertical construction was Paraiso Bay. The 43-story tower is 90% sold. It boasts of contemporary appeal, sheer glass balconies and interiors designed by Karim Rashid. The amenity list here includes a beach club, marina, tennis courts, boardwalk, club room, Michael Shwartz restaurant and more.


Photograph: Paraiso Bayviews - Exterior rendering


 
Aria on the Bay - Edgewater

Moving closer to completion, the 648-unit Aria on the Bay has topped off at 53 stories. This Melo Group development is aiming for a 2018 completion and is 80% sold. The mixed-use development sits opposite the Margaret Pace Park and will feature 20,000 sq. ft. of office, retail and restaurant space in its lower floors. Residents will be treated to two sunrise/sunset pools, indoor/outdoor social room, a sun deck and lounge area, BBQ area and outdoor fire pit, game room, teen lounge and more.
 
Prices range from the $400,000s up to $6 million, with a choice of one to four bedrooms. Deposits slashed to 20% for residences $1million and upward.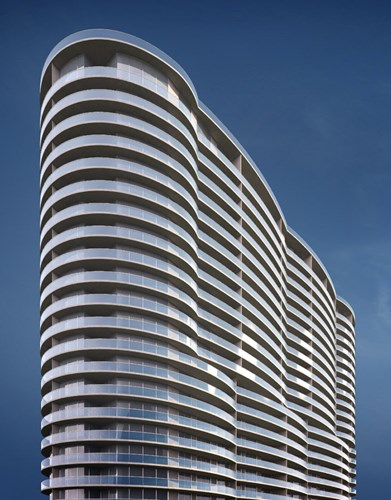 Photograph: Aria on the Bay - Exterior rendering
 

Crane Down
The cranes are down and construction is now officially complete on the riverfront Riva condos. After topping off last month, all doors and windows are in place. The 100-unit, 15-story building is developed by Deckelbaum's Premier Developers. 70% presold, amenities at this mid-rise include street-level commercial space, a 400 ft. long river walk, a water sports center, private boat slips, and a 40,000 sq. ft. club deck occupying the fourth and fifth floor with party kitchen/lounge, private wine lockers, a dog park and lap pool. The riverside boutique condo hopes to welcome residents later this summer.
 
Prices range from the $700,000s to over $3 million, with a choice of two to three bedrooms and penthouses.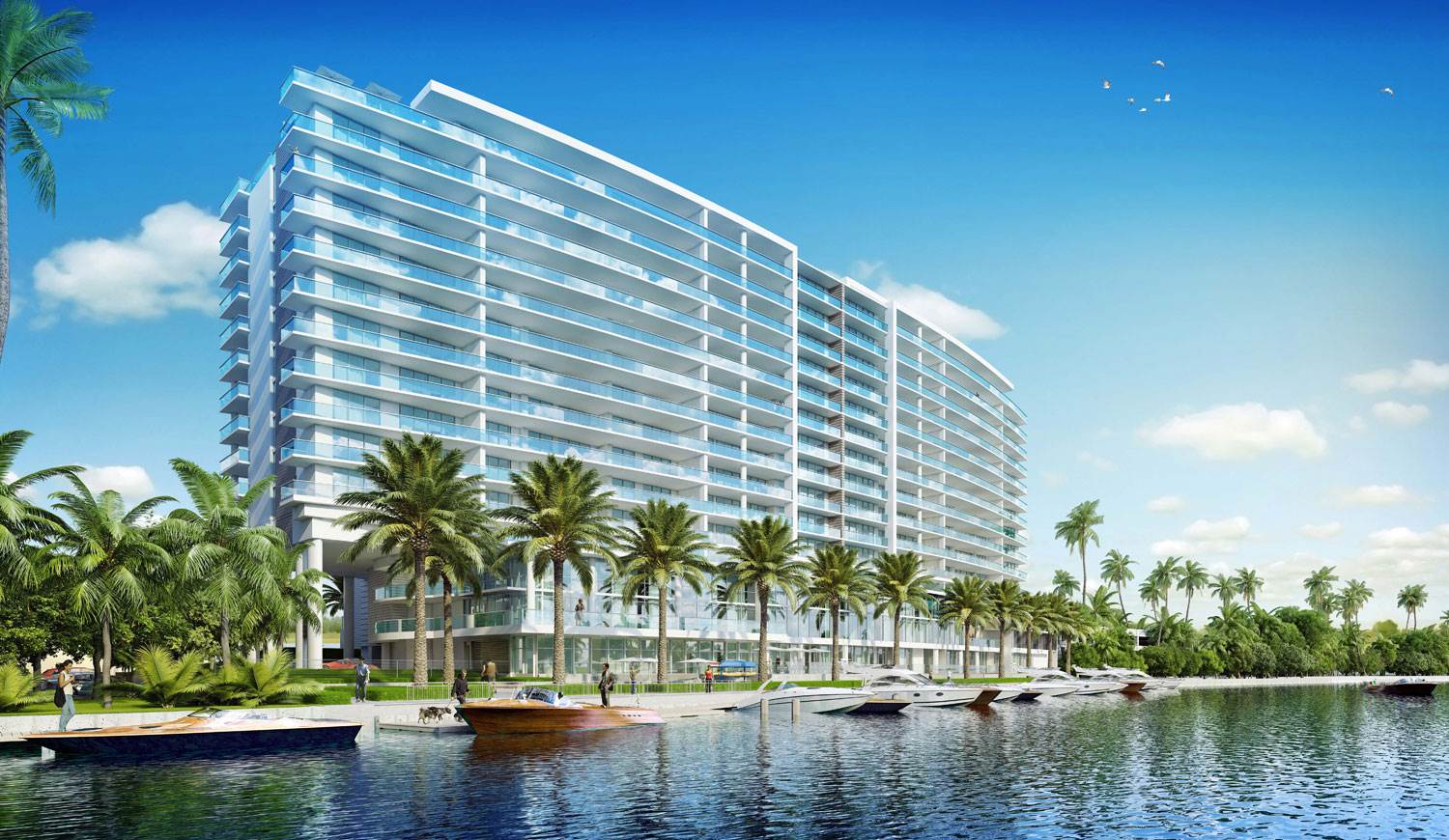 Photograph: Riva Condo - Exterior rendering
 

Proposed
New 16-story Condo Tower – 5775 Collins Avenue, Mid-Beach
Mid-Beach's Marlborough House will be replaced with a brand-new 16-story condo tower housing 86 units and 185 parking spots. The company behind the development is owned by Brazilian billionaire Jose Isaac Peres. Arquitectonica has been roped in for design. The project is pending review by the Miami Beach Design Review Board this June. With a two-story underground garage, the proposed condo can run into trouble with the city's planning and zoning department that has approved underground parking restriction in the wake of sea levels rising.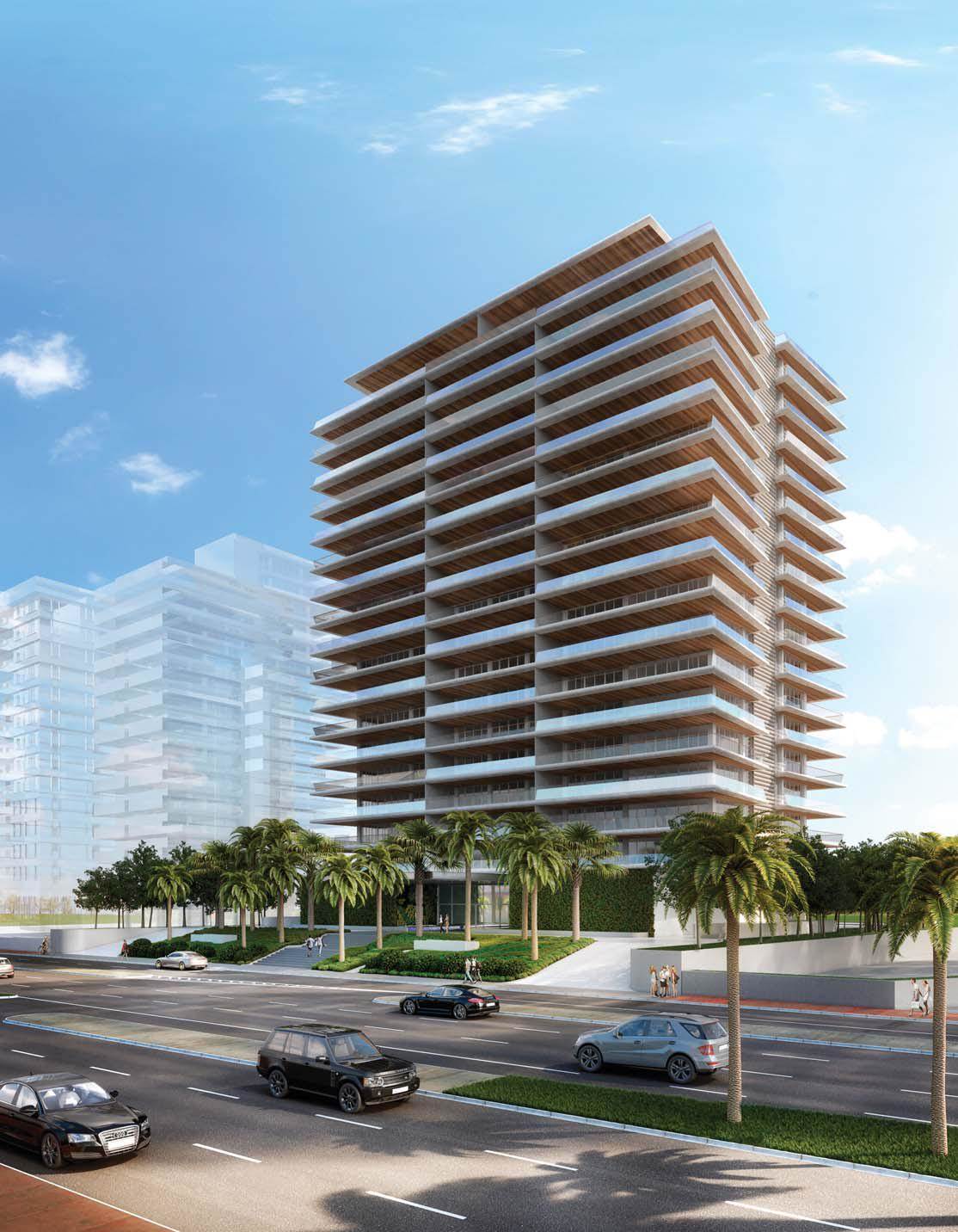 Rendering of a planned condo at 5775 Collins Avenue, Mid-Beach
 

Other Updates
Merrick Manor has found its new sales team in One Sotheby International Realty. Previously, the Astor Real Estate Group was handling sales for the 227-unit luxury development. The 10-story building is 50% presold, will feature 19,000 sq. ft. of retail, and is aiming for an early 2019 completion.
With Astor moving towards the commercial side, One Sotheby was brought in to handle its residential component. Construction has currently reached the second floor. With interiors by Steven G., residents can also expect a fourth-floor club lounge, business center and resort-style pool and deck to be part of this boutique building.
 
Prices range from the $500,000s to $3 million, with a choice of one to five bedrooms
A block from the Bay, this boutique condo is under contract (from reservation phase) and already 20% sold. Boasting of a central location, the 19-story and 137-unit condo building offers a flexible rental policy. Residents will have access to a 75-foot resort-style pool, relaxation and yoga deck, multipurpose club room, lounge terrace and rooftop water feature among others.
 
Prices start in the low $300s per sq. ft., with a choice of one to three bedrooms, each with den

Photograph: Naranza at Edgewater - Exterior rendering
 

Issues & Lawsuits
Sued for debris-related physical damage
It's just been a month since Biscayne Beach received its temporary certificate of occupancy, but developers are already being taken to court. The condo association of neighboring Bayside Terrace along with the Plaza Construction Group and Baker Concrete Construction have alleged that the building exterior, landscaping and residents' cars have suffered direct physical damage due to construction debris. A lawsuit is filed in the Miami-Dade Circuit Court. Read more here.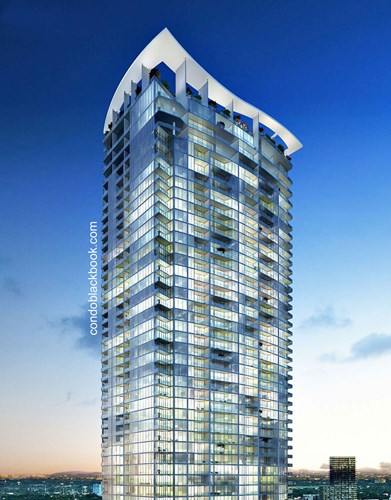 Photograph: Biscayne Beach - Exterior rendering

Off-site private beach club on hold
What could have been one of the most unique amenities could now turn into a distant memory. Developers G & G Business Developments failed to secure approval for an off-site beach club at the Virginia Key Beach Park. Residents would have been ferried to the $4 million pavilion that would feature a public events space and members-only enclave. The Virginia Key Beach Park Trust wants the venue open to and owned by the public.

Photograph: Aston Martin Residences - Exterior rendering
Share your thoughts with us
Sign up now
Get news and updates delivered to your inbox