Miami's New and Pre-Construction Condo Update: May 2020
Jun 02, 2020 June 02, 2020
In this month's Miami Pre-Construction condo update, the Aston Martin Residences almost made a sales record for themselves as four units sold for a total of $8.75 million. The highly anticipated Una Residences in Brickell broke ground. And, David Martin as well as Mast Capital, proposed new towers for Miami Beach.
Read on for details on these new buildings in Miami and more updates in our condo pre-construction roundup for the month. View and search our list of available Miami pre-construction condo units and penthouses, which is updated daily.

Broke Ground - Miami Pre-Construction Condos
---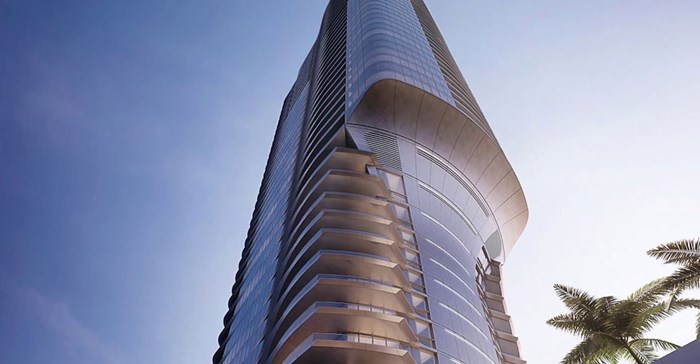 One of the newest, most exciting waterfront projects to come up in Miami, Una Residences, broke ground this May, embarking on its journey towards completion. The luxurious, nautically-inspired condo building comes designed by internationally acclaimed architects Adrian Smith + Gordon Gill, and sits on a rare slice of Bayfront land at the end of old Brickell Avenue in Miami's Financial District. 
Developer OKO Group aims to deliver the 47-story, 135-condo luxury development by 2023. Built to offer unobstructed city and Bay views, residents will be treated to amenities such as soothing wood-tone interiors, multiple swimming pools, an expansive spa, private marina,  exclusive membership access to the Grand Bay Club on Key Biscayne, and much more. 
Prices start at $2 million, with a choice of two- to five-bedroom residences

Proposed - 
Miami Pre-Construction Condos
---
Mast Capital's 290-foot Condo Tower – Mid-Beach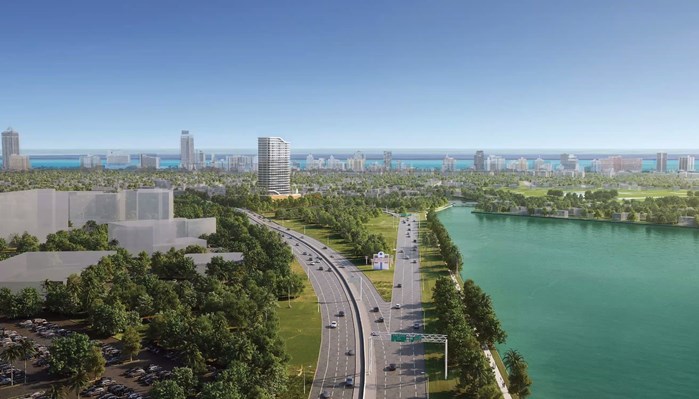 Rendering: Arquitectonica

With an additional height and zoning variance proposal submitted to the city's planning board, Mast Capital is looking to build a 290-foot-tall, 160-unit condo tower next to the Julia Tuttle Causeway in Mid-Beach. The current height cap for the site, which is across the street from the old St. Patrick Catholic Church, is 85 feet. 
The proposed tower at 4000 Alton Road is designed by Miami's Arquitectonica, and is set to feature a 3,000 sq. ft. restaurant that will be open to the public. Developers are also seeking permission to build units as small as 450 sq. ft., whereas zoning only allows the smallest to be 550 sq. ft. If the variances are accepted, Mast Capital has offered to turn 1-acre of its 2.3-acre property into a public park with fitness equipment, a dog park, and a playground. We'll see how the residents of Miami Beach react to the design proposals.


David Martin's 300 Alton Road "Marina Park" – South Beach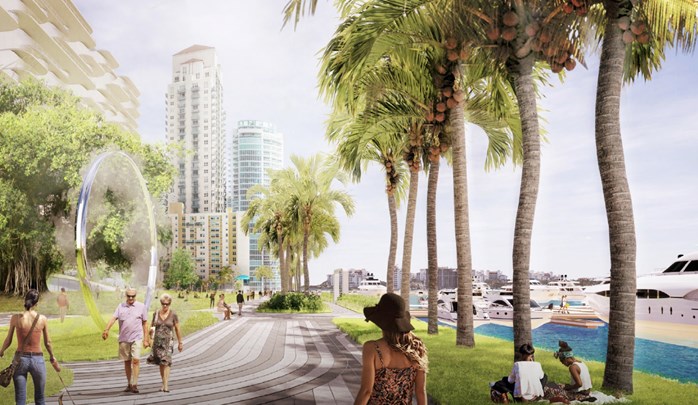 Rendering courtesy David Martin, Marina Park

After neighbors of the Marina Park proposed tower requested to preserve view corridors, developer David Martin got back to the Land Use Committee with a proposal for a taller, more slender tower at 300 Alton Road. The developer's previous proposal featured two designs with a height of 224 feet and 285 feet each, while this new version is 385 feet tall.
The new building design has more publicly accessible green space and a better view corridor, since its 60 luxury condos will sit atop a narrow pedestal with parking and commercial space. If voters approve of Martin's plan to purchase air rights to the property, the developer also seeks to make significant upgrades to the Miami Beach Marina in the long term, rebranding it as a "premier yachting destination in this country."
A first in Miami Beach for Danish architect Bjarke Ingels, who designed the twisting twin Grove at Grand Bay condo towers in Coconut Grove, the mixed-use development could also feature a one-acre public park, a City-owned facility, eco-dock habitat, baywalk, 45,000 sq. ft. of retail, a restaurant, and a blue roof with cistern to absorb leftover stormwater. 

Sales Updates - 
Miami Pre-Construction Condos
---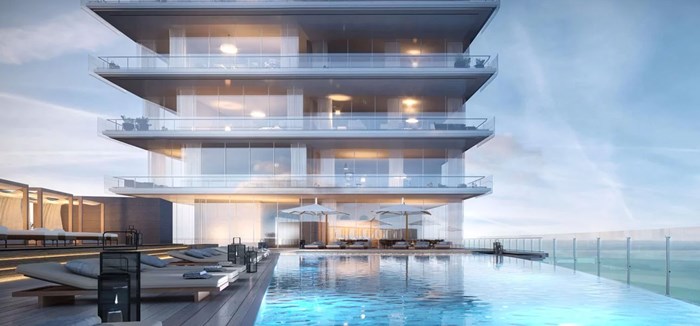 Aiming for a 2022 completion, Aston Martin Residences are already 60% sold out with four high-profile sales coming through in the first half of May – totaling $8.75 million. The feat came through even as most buyers depended on video conferences and virtual dealings to close on their designer homes.
Developed by G&G Developments, the 66-story, 391-unit high-rise features a unique wind-sail design and sits overlooking Downtown, Miami River and Biscayne Bay. The branded residences are the first to feature signature Aston Martin touches throughout their common areas and the only deep-water superyacht marina in Downtown. Other amenities include a sky lounge, infinity pool, spa, double-level fitness center, an art gallery, two cinemas, beauty salon, barber station, and more.
Prices start at $750,000 for condo units, while penthouses are available starting $14 million

Construction Financing - 
Miami Pre-Construction Condos
---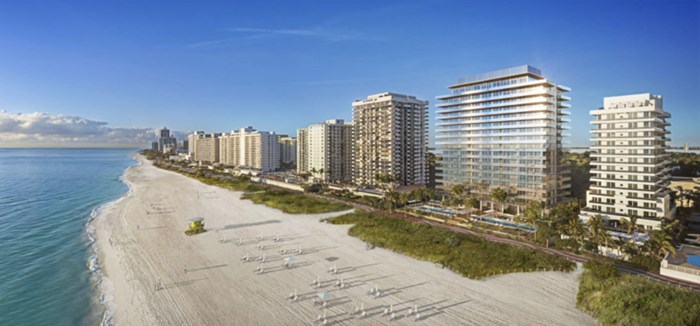 Even as construction was temporarily stalled last month, developers Multiplan Real Estate Management kept the ball rolling on this oceanfront condo development in the meanwhile. Securing a $58.5 million loan from Bank OZK in May, developers are in good shape to have this 18-story luxury condo in North Beach delivered by September 2021.
Also, as construction activities have resumed for the 71-unit project, top-off is expected as early as August. The project is 50% complete and 55% sold out. The ultra-luxury building is designed by Arquitectonica, while the interiors are styled by Brazilian designer Patricia Anastassiadis. Its residences boast of 12-foot deep terraces along with contemporary Italian kitchens and baths by Poliform.
Once complete, residents will have access to a holistic spa with treatments powered by One Ocean Beauty, two beachfront infinity-edge swimming pools, an outdoor bar and lounge, indoor Technogym, outdoor MyEquilibria gym, club room with chef's kitchen and summer kitchen, library, a children's activity room plus poolside and beachfront concessions service.
Prices range from $6.95 million to $8.5 million, with a choice of two- to four-bedroom residences. Penthouses range between $15 million and $35 million


First Aman-branded Development in Florida – Mid-Beach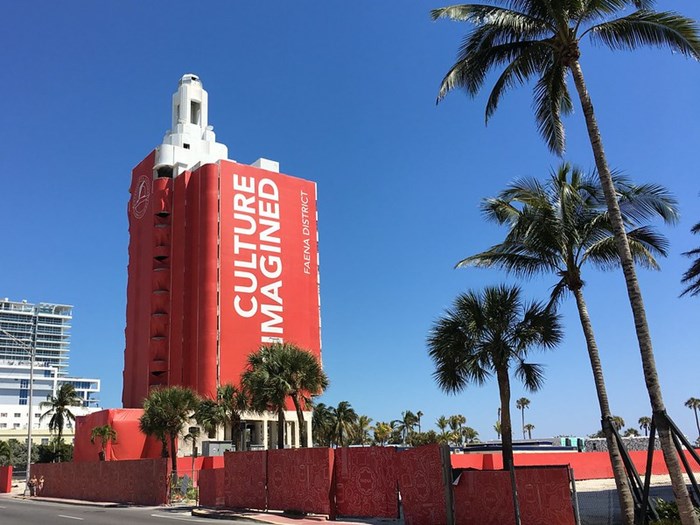 Site of the former Versailles Hotel and a vacant lot close by. Photo courtesy of Phillip Pessar

Just recently announced in December 2019, developers Len Blavatnik and Vlad Doronin have already secured a $35 million loan for their condo-hotel venture. The two condo towers will occupy the site of the former Versailles Hotel and a vacant lot close by. Part of the Faena District, but not an Alan Faena development, the oceanfront project is looking at a 2023 completion. It comes backed by the Singapore-based resort brand, Aman.


Two-tower Condo Replacement of La Playa de Varadero – Sunny Isles Beach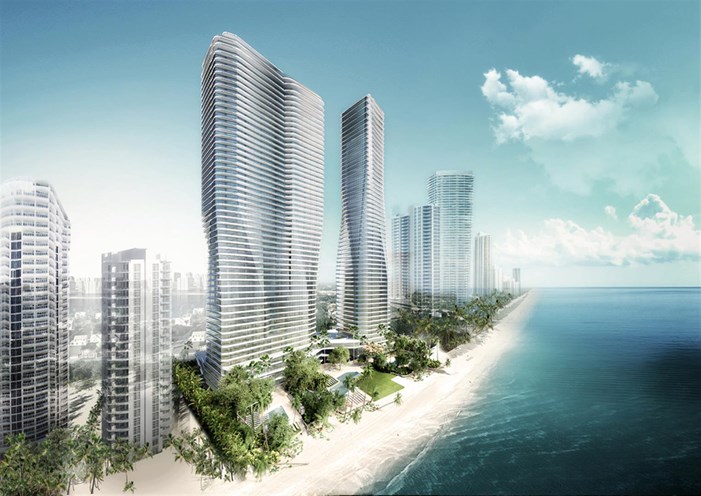 Replacing the La Playa de Varadero condo-hotel, developers Fortune International Group and the Château Group picked up the pace for this project that has planned since 2014. Obtaining a $119 million loan from Bank OZK, pre-development work has already begun on this 1.2 million sq. ft. property. The twin tower, oceanfront development is set to feature 490 luxury condo residences with resort-style amenities and 435 feet of direct beach frontage.
Interested in one of these Miami pre-construction condos? Call an expert today at (786) 930 4220 for details. Or, read our comprehensive guide to buying pre-construction condos in Miami for more information.
Share your thoughts with us
Sign up now
Get news and updates delivered to your inbox