Miami's New and Pre-Construction Condo Update: May 2021
Jun 02, 2021 June 02, 2021
It's no secret Miami's real estate market is super hot and seeing a boom precipitated by the growing number of tech, finance, retail, and hospitality businesses that continue to choose to make South Florida home. As a nod to this surge in demand, we have condo developers either reviving old projects, announcing new ones, or revving up progress on current developments.
This May, Miami's pre-construction condo market saw three development projects make a comeback – Genting's Resorts World Miami, Kar Properties' One River Point, and Mast Capital's 4000 Alton Road. Even the once-scrapped Auberge Residences by Related are rumored to be coming back. 
The list of new construction developments now includes Aria Group's 501 First in Downtown and Eichner's Bay Harbour Islands luxury condos. Additionally, the Estates at Acqualina's second tower topped off and Missoni Baia is just weeks from its top-off milestone.
Read on for details on these and other updates in our May 2021 condo pre-construction market roundup for Miami:


---
May 2021 - Miami Condo Pre-construction and New Development Market at a Glance
---
The Estates at Acqualina – Sunny Isles Beach
501 First Residences – Downtown Miami

Ian Bruce Eichner's 2 condo projects – Bay Harbor Islands

Two 83-story Supertowers at MiamiCentral – Downtown Miami

Mast Capital's 4000 Alton Road Condos – Mid-Beach

Brickell City Centre – Brickell
Missoni Baia – Edgewater

YotelPad – Downtown Miami
Aston Martin Residences – Downtown Miami 

Baccarat Residences (previously 444 Brickell / One Brickell) – Brickell

Legacy Hotel & Residences – Downtown Miami 

One River Point – Miami River

Resorts World Miami – Downtown Miami 

E11even Hotel and Residences – Downtown Miami 

Waldorf Astoria Hotel and Residences – Downtown Miami 

Assemblage for 80-story towers – Downtown Miami 

Auberge Residences – Arts & Entertainment District


---
Topped Off
---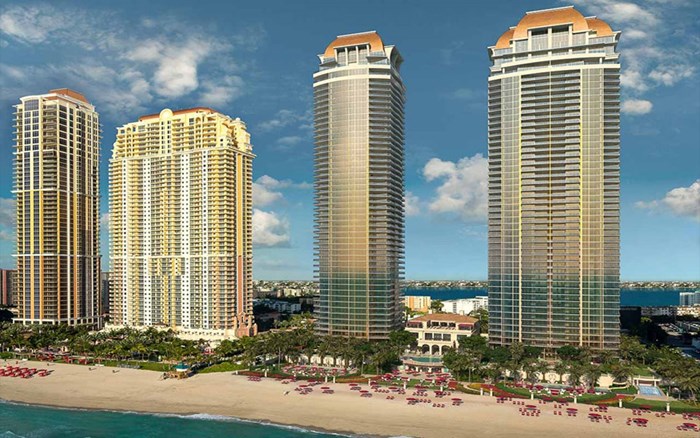 The second and final tower in this luxury condo complex topped off in May. The second tower, also known as the North Tower or Boutique Tower, is on track for an early 2022 delivery. The first tower that topped off last year, also known as the South Tower, is on track for a Q4 2021 delivery. Topping off at 52 stories each, these are the tallest towers built to-date in Sunny Isles Beach.
Both luxury high-rises offer a combined 248 residences. Home to the 45,000 square foot amenity deck called Villa Acqualina, residents will soon get access to Avra Miami (New York's famous Greek restaurant), a spa, ice-skating rink, four-lane bowling alley, golf simulator, Formula One racing simulator, surfing simulator, boxing ring, Wall Street traders' club room, soccer field, movie theater, speakeasy, and cigar lounge along with their brand-new homes.
Prices for remaining units range between $ 4.6 million and $11 million, while penthouses go upwards of $31 million. View available units here.
 

You can view all available pre-construction condos here.
---
Planned
---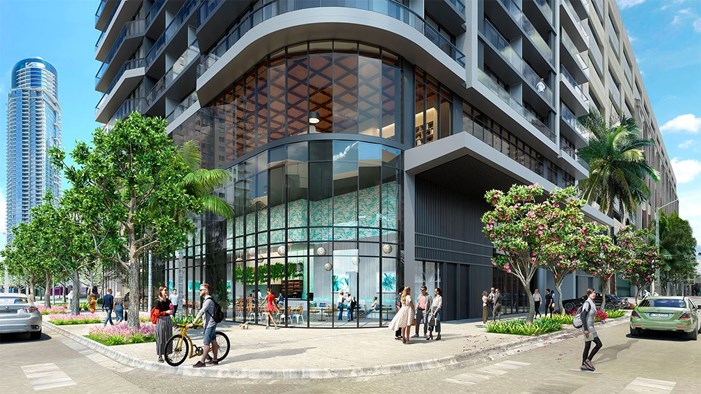 Developer Aria Group announced a brand-new, 40-story tower for Downtown Miami with no rental restrictions. Much like their nearly sold-out Natiivo, 501 First will allow residents to rent their units short-term to the likes of Airbnb, HomeAway, and VRBO or simply enroll in the building's management program.
With architecture by Revuelta and interiors by Miami-based interior design firm Shim Projects, the tower is expected to be delivered in the first quarter of 2023. Featuring 448 condo units, each residence will be delivered fully finished and furnished, complete with built-out closets, an in-unit washer and dryer, floor-to-ceiling glass windows, and balconies. Amenities will include a double-height, indoor-outdoor amenity space featuring a rooftop pool, rooftop movie theater, residents' lounge, game room, media room, and "Greenhouse" with plenty of shade. While the building will not have any parking spaces, it will house co-working spaces on its lower floors plus a ground-level restaurant managed by GPG Hospitality.
Prices start from the $300,000s, with a choice of studio, one- and two-bedroom residences

Ian Bruce Eichner's 2 condo projects – Bay Harbor Islands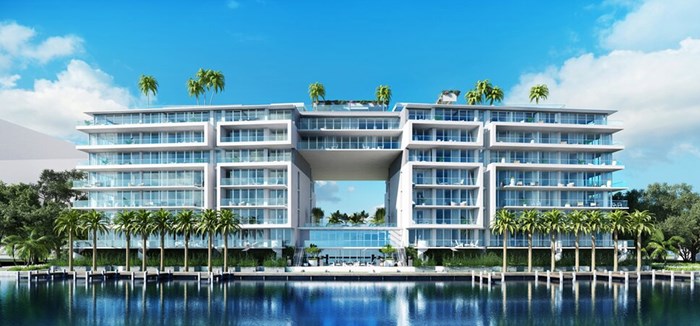 The developer behind the iconic Continuum condo towers in South Beach, Ian Bruce Eichner, has finally secured the final parcel to build his two luxury condos in Bay Harbor Islands. Closing on land at 9201 and 9461 East Bay Harbor Drive, Eichner's Continuum Company paid $29.5 million for the parcel.
Submitting plans to the city, Eichner has proposed two 7-story luxury condo towers with a total of 142 units and 34 boat slips. Designed by Luis Revuelta, the first project is expected to feature 70 units. Sales are expected to launch this September, with completion scheduled for late 2023. The developer expects a lag of 6 months to a year before the second project begins.

Two 83-story Supertowers at MiamiCentral – Downtown Miami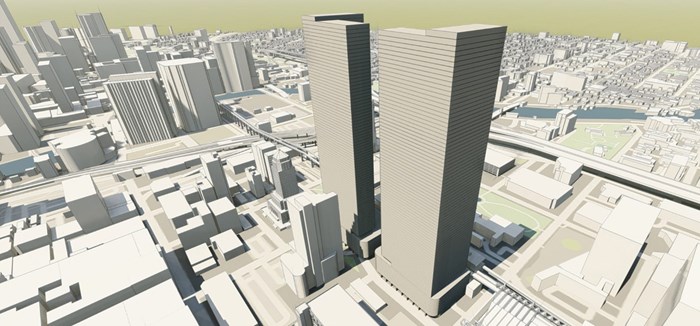 With plans submitted to Miami-Dade, Brightline's parent company is looking to build two new supertowers at MiamiCentral. After successfully completing its two Park Line rental towers, the company has proposed two 83-story residential buildings. Designed by architect Zyscovich, the two towers are expected to include 2,007 residential units (1,004 in the north and 1,003 in the south tower), 49,634 square feet of retail, and 2,136 parking spaces.

Mast Capital's 4000 Alton Road Condos – Mid-Beach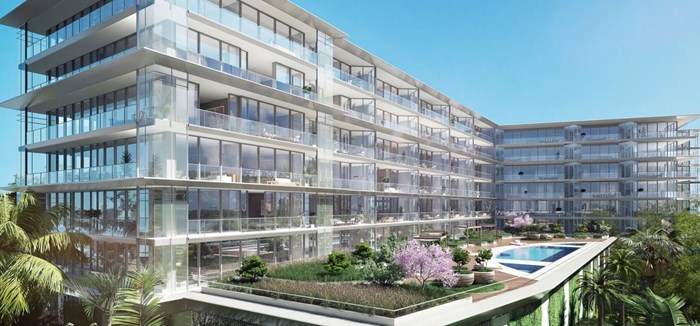 Developer Mast Capital joined hands with Boston-based private equity firm Rockpoint to materialize its long-planned 4000 Alton Road condo project as a joint venture. Approved with a height reduction, the project is planned with 175 condos and a building height up to 85 feet.

Brickell City Centre – Brickell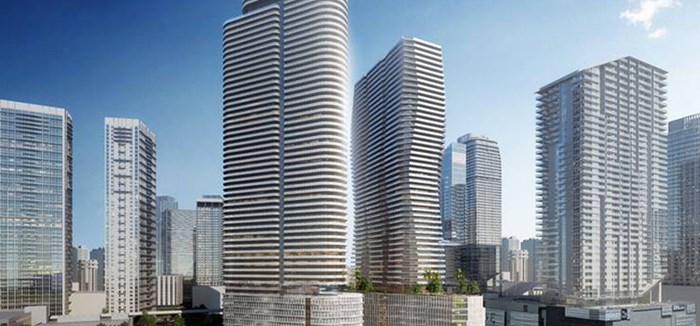 After successfully selling off the final 81 condos at Reach and Rise, more new developments are planned around Brickell City Centre. Developer Swire Properties will now focus on the next phase of development with an 80-story, 1,049-foot supertall tower called One Brickell City Centre. If built, this will be the tallest residential tower in Miami.
A second, 62-story tower is planned for the Associated Photo site, a 52-story tower planned for the former Tobacco Road property, and also something in the works for the lot known as North Squared across the street from La Centrale at BCC. Swire has not revealed which towers will be condos or apartments.


---
Construction Status
---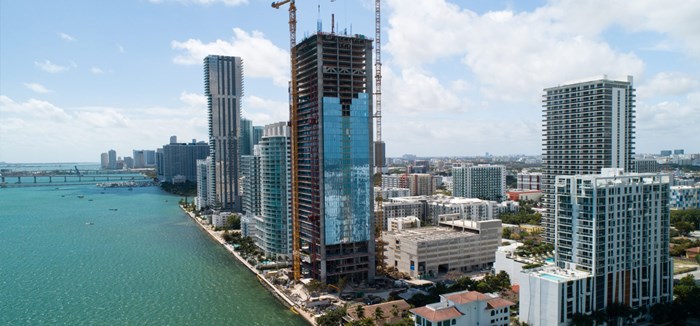 The tallest building in Edgewater is only a few weeks from top off! The 57-story condo tower is rising to a height of 649 feet above sea level and will become one of the tallest in Miami. Developed by the OKO Group and Cain International, the branded luxury tower is set to feature 249 luxury units.
With architecture by Asymptote and interiors by Paris Forino, residents will be treated to a new standard of luxury living as their brand-new homes feature a refined yet relaxing vibe from one of Italy's most famous fashion houses. Amenities include 5 swimming pools, a flow-through pool deck with cabanas, one of Miami's largest resident-only spas, a beauty salon, an elevated tennis court, children's water features, a pet spa, a 7-story parking garage, and a bayfront boardwalk.
The waterfront tower will also be offering three, waterfront townhomes. These to-be-constructed residences will feature more square footage, double-height floor-to-ceiling windows with exceptional bay views, and ample outdoor space overlooking Biscayne Bay.
Prices range from the $600,000s to over $9 million, with a choice of one- to five-bedroom residences plus new townhome collection starting at $3.6 million. View available units here.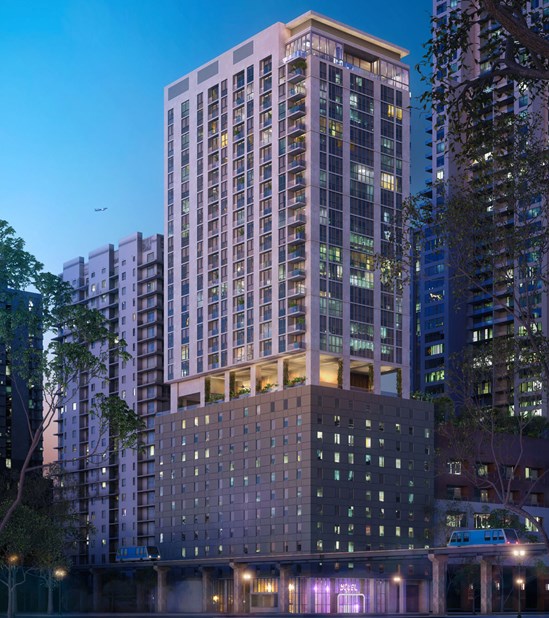 Another Downtown condo building with no rental restrictions - construction is in full swing at this condo-hotel after topping off in 2020. Developed by the Aria Group, the project broke ground in 2019, with delivery expected for later this year. With Yotel's first location on the east coast, the mixed-use development features the hospitality brand's famous micro-living concept, with units designed to maximize the use of every inch of space.
The 31-story tower (with no parking) will feature 222 Yotel rooms on floors 2-12 and 231 residential Pads on floors 15-31. Shared amenities at the sold-out tower will include an elevated pool deck, full-service restaurant and bar, organic matcha bar, a fitness center, and private meeting rooms with co-working space. The list of resident-only amenities will feature a Skytop Lounge featuring a game area and chef's kitchen, secure storage, enclosed bicycle storage, and a digital package concierge.


---
Other Updates
---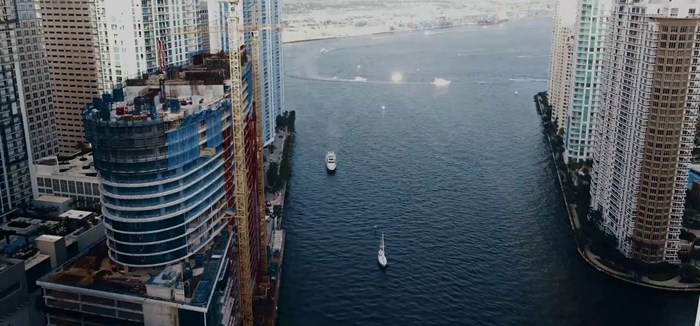 As construction reaches level 53, developer G&G Business Developments has announced the virtual launch of its permanent art gallery that will occupy the luxury tower's 52nd floor. While the 66-story, sail-shaped tower is under construction, developer German Coto has announced that his virtual gallery will feature a renowned artist every two months. Kicking off its series of 3D immersive art experiences, British artist and photographer Julian Lennon (son of the late John Lennon) is the first to be hand-picked to present images from his personal collection. The "Vision" exhibit is now live at the luxury condo tower's official website and can be experienced here.
On track for a 2022 completion, the 391-unit condo tower is poised to be the second tallest building in Miami. Designed by Revuelta Architecture, the statement tower will feature outstanding amenities such as signature Aston Martin touches in common areas, the only deep-water superyacht marina in Downtown Miami, an infinity pool, the 52nd-floor art gallery, spa, a sky lounge, two cinemas, kids' room, barber station, optional butler service, and much more.
Prices start at around $1 million for remaining condo units, while penthouses are available for upwards of $50 million. View available units here.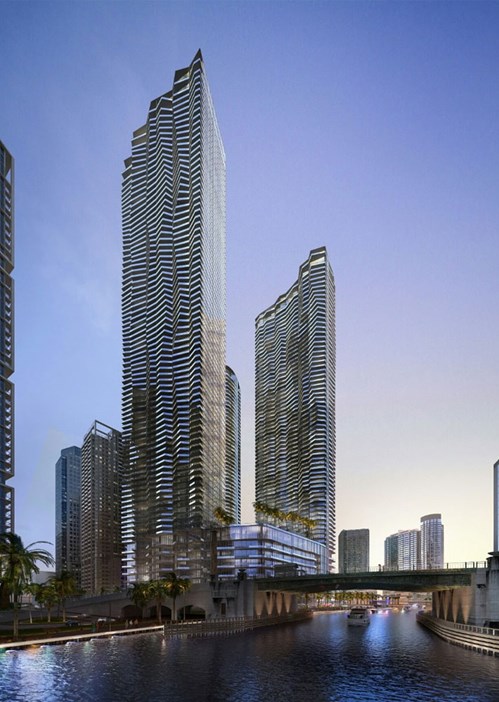 Archeologists monitoring site work at the future Baccarat Residences, unearthed prehistoric findings at the site, including bone artifacts (points, pins, drilled shark teeth) and pottery shards dating back 500 to 1500 years. There were also some historic findings at the site dating to the 1800s. However, even as these make for significant discoveries about the Tequesta people who occupied the riverfront, what remains to be seen is whether they will impact the three-tower project in any way at all. One of Miami's most important archaeological sites, the Miami Circle National Historic Landmark, is just across Brickell Avenue on the property of Icon.
Developed by the Related Group, the three Baccarat-managed towers are expected to rise 57, 77 and 82 stories each along with a riverwalk. Designed by Arquitectonica to resemble undulating waves, the towers will be home to 1,400 residences, in addition to a 250-room five-star hotel, class-A office space, and retail. Amenities will include a rotating art collection, curated collection of furnishings, a swimming pool, fitness center, business center, luxury yacht dockage, and access to the riverfront promenade.
Prices range from around $800,000 to $10 million per unit, with a choice of one- to four-bedroom residences


Just a month after announcing that Legacy will feature the first Morgans Original hotel in the world, the 310-unit luxury tower is 100% sold out. That's a record-breaking 300+ sales in just 12 months, way before shovels could even hit the ground. As of May, site prep work was in full swing and a groundbreaking ceremony is most likely planned for June.
Developed by Dan Kodsi's Royal Palm Companies, the 50-story condo-hotel is designed by Kobi Karp. Featuring a "Singapore-inspired" cantilevered pool suspended 500 feet in the sky, the luxury tower also offers an 8-floor medical Center for Health + Performance, America's largest rooftop glass atrium with 7 stories of indoor palm trees, a lounge and a bar, Downtown's largest (1-acre) hotel pool deck, and a members-only international business lounge as part of its amenities package. 
Managed by Europe's largest hospitality company Accor (owner of the Morgans Original Hotel), unit owners will be able to rent their residences through the company's property management program. Scheduled for a Fall 2023 completion, Legacy also brings the trademarked concept of microLUXE living to Miami. 
Prices ranged between $350,000 and $500,000, with a choice of studio to two-bedroom residences. View available units here.

Shortly after developer Kar Properties relaunched their 60-story, twin-tower project, they've further announced the addition of two new phases. The new phases are likely to come up north of the Ivy and Wind condo buildings on two parcels of land owned by Kar. Previous proposals for the two parcels include one office and one residential tower. 
Designed by Uruguayan architect Rafael Viñoly, the twin luxury towers of One River Point will be connected by a floating sky bridge and feature a total of 300 condo units. Proposed amenities include an 8,000 square-foot waterfront restaurant and lounge, an infinity-edge oasis pool and regulation-size lap pool, poolside cafe and restaurant, a 6,000-square-foot fitness center, Medspa, children's activity area, rotating art exhibits, and more.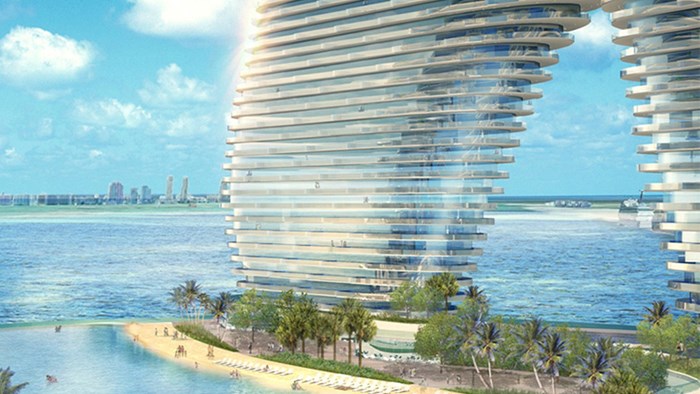 Approved for the second time in 5 years by the FAA, Genting Group again has the green light to build three 649-foot towers planned for One Herald Plaza. The group was last approved in 2017 for the same towers, but permits expired in August 2020. Finally moving forward after years of silence, Genting plans to bring 60-story towers to its waterfront site along with a baywalk and marina. 
For more on Genting's original site plans from 2011, progress on bringing a casino to Miami, and other Resorts World updates, go here.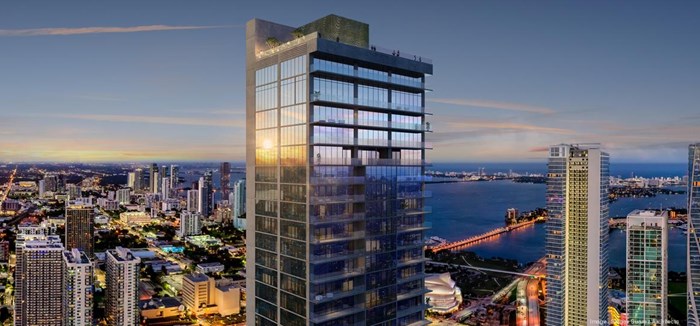 Grabbing headlines for being one of the fastest-selling condo projects in Miami, ground prep and soil testing are under way at the condo-hotel's Park West site. Expected to break ground in Q3 2021, the 65-story will take around 30 months to complete. Over 90% sold, the contemporary tower is backed by the hottest brand of (read most notorious) club-makers in town – Elleven.
The 375-unit condo-hotel is designed by Miami's award-winning architect Sieger Suarez. Each of its ultra-modern residences will feature high-end finishes curated by the New York-based AvroKO Hospitality Group. Amenities at this suave condo-hotel will include an exclusive 20,000-square-foot, multi-level E11even Beach Day Club and pool, a unique 24/11 rooftop experience, a 5-star gourmet food hall, signature bar and lounge, casino-style sports lounge, a Deepak Chopra-designed spa & studio, beach club, art installations, and more.
With the first tower being such a hit with buyers, there are talks of a second tower to follow as well. Owners of this first tower have the benefit of opting into the hotel's revenue generation program, allowing them to rent out their ultra-luxury residences.
Prices start at $385,000 and go up to $12 million, with a choice of studios to two-bedroom residences. View available units here.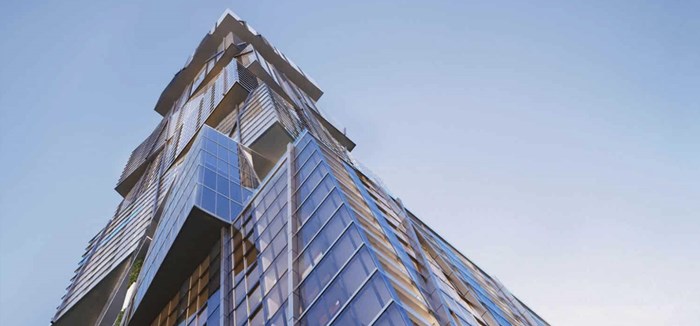 With a sellout value of almost $1 billion, the Waldorf Astoria-branded hotel and residences are off to a very strong start just a few months into launch, according to developers PMG and Greybrook Realty Partners. The first Waldorf Astoria in South Florida, the 100-story skyscraper will be the tallest residential building south of Manhattan at a height of 1,049 feet above sea level.
Conceptualized by Burj Khalifa-architect Carlos Ott, the luxury tower will feature 306 condos and 205 hotel rooms, along with a host of luxury amenities that are signature of the global hospitality brand. Designed in association with Sieger Suarez Architects, the luxury skyscraper will be constructed as a staggering stack of nine glass cubes. While the first 3 cubes will house the hotel suites, the condos and amenities will come stacked in the 6 cubes above.
Along with sleek interiors by San Francisco's award-winning design firm BAMO, residents of Downtown's Waldorf Astoria will also gain access to a resort-style pool deck with cabanas, a signature spa, signature restaurant, the brand's famous Peacock Alley lounge, a kids' club, indoor-outdoor event spaces, smart-home tech with custom mobile app access, preferred rates and access to the hotel services, and much more.
For more information on Waldorf Astoria's storied past and brand values, read here. 
Prices start at $650,000 for Junior Suite Residences, $1 million for a 1-bedroom, $1.7 million for a 2-bedroom, $3,100,000 for a 3-bedroom, and $4,900,000 for a 4-bedroom residence.

Assemblage for 80-story towers – Downtown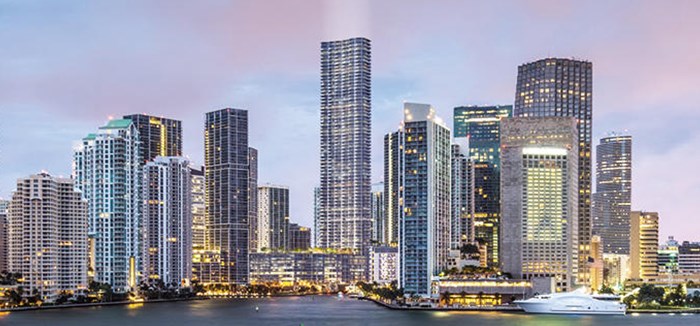 More residential, retail, hotel, and office space could make its way into Downtown Miami. Two parcels of land, one across from the MiamiCentral Station and another near the Miami Dade College's Wolfson Campus, are up for sale. The 1-acre assemblage at 222 Northeast First Avenue and the nearly 1-acre site at 49 Northwest Fifth Street are both zoned to allow the development of 80-story towers.
While the site next to the MiamiCentral Station can feature more than 1 million square feet of residential, hotel and office space, the parcel next to the campus can be developed into up to 400,000 square feet, 435 residential units, or a mix of hotel, office, retail and residential. Given the seller-friendly market conditions, we will be waiting to see which developer will move on these 1-acre parcels.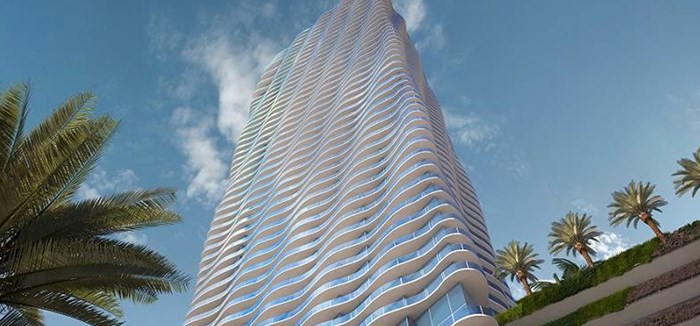 Lights may have been switched on at Auberge's old sales gallery just to dust off the space, but instead it sparked rumors of the project making a comeback considering the favorable market conditions. In 2015, developer Related Group had announced plans for a three-tower project designed by Arquitectonica for its 1400 Biscayne site. However, the project was shelved as the group shifted its focus to building apartment towers. We will be following this space for more news. Original plans for the project included:
59-story Tower 1 with 310 units

59-story Tower 2 with 498 units

49-story Tower 3 with 568 units

11-story podium with retail and restaurant space

Amenities

1,629 parking spaces
If you are interested in one of these or other preconstruction or new Miami condo developments, please reach out to us. Call, chat, or e-mail us so we can help you understand all of your options, anywhere from Miami up to Fort Lauderdale.



Love to stay updated on the latest projects in Miami or Fort Lauderdale? Subscribe to our blog to receive all the monthly updates in your inbox.
Share your thoughts with us
Sign up now
Get news and updates delivered to your inbox