Miami's New and Pre-Construction Condo Update: November 2021
Dec 10, 2021 December 10, 2021
Throughout the year, developers in Miami have been on the fast track to bring condo developments closer to reality. From shovels hitting the ground early, reviving once-shelved projects to zooming through approvals, developers are doing everything they can to meet heightened buyer demand midway. 
This November, sales were launched for 4 astounding residences – the edgy Diesel Wynwood, the highly exclusive E11even Residences Beyond, the sophisticated Casa Bella by B&B Italia, and the tulip-shaped Okan Tower (relaunched). Mid-Beach's 57 Ocean started closings. Bay Harbor Island's Onda Residences and Downtown's E11even Hotel & Residences broke ground as scheduled. More condos are planned to hit Midtown, Miami Beach, North Miami, and Bay Harbor Islands. Also, Downtown's Mishorim Towers site is sold and looking at a probable revival.
Read on for details on these and more updates in our Miami condo pre-construction market roundup for November 2021:
November 2021 - Miami Condo Pre-construction Market at a Glance
Sales Launched

Diesel Wynwood – Wynwood

E11even Residences Beyond – Downtown Miami

Casa Bella (previously Auberge Residences and 1400 Biscayne) – Arts & Entertainment District

Okan Tower – Downtown Miami
Closings Underway
Broke Ground
Onda Residences – Bay Harbor Islands

E11even Hotel and Residences – Downtown Miami
Approved
710 Edge/729 Edge – Edgewater

The Standard Residences - Midtown Miami
Planned/Proposed
Restoration and New Condo Tower at the Shore Club Hotel – South Beach

Related Group X Teddy Sagi X BH Group Condo Project - North Miami

BH Group Plans 2 Boutique Luxury Condos – Bay Harbor Islands
Other Updates
Aria Reserve (previously Island Bay) – Edgewater

Boutique 38-story Condo Tower – Edgewater

The District / District 225 – Downtown Miami

Lofty Brickell – Brickell

Five Park's Canopy Club (previously The Park on Fifth/Canopy Park) – South Beach
Watchlist
Mishorim Towers – Downtown

Una Residences – Brickell

13th Floor Investments' Supertall Condo - Brickell

Looking for Developer/Buyers – Little River

---
Miami Pre-Construction Condos - Sales Launched
---

Developer Bel Invest launched sales on the world's first Diesel-branded condos this November. Although original pre-sales were planned for early 2020, the launch was delayed due to the pandemic. Resuming launch plans in 2021, developers also made some upgrades to the branded project in Miami's Wynwood neighborhood – 16 new residences were added to the mix, floorplans were improved, and amenities were enhanced to meet new buyer demand.
Designed by Zyscovich Architects, the 8-story Diesel Wynwood will rise with 159 residences. The LEED-certified building will honor eco-friendly living along with offering residents a range of WELL-certified amenities. These wellness facilities will ensure "pure air" and customizable, smart-sensing climate control solutions for every home in the mid-rise.
In line with the denim brand's eclectic image, the condo building will feature playful design elements such as steel pillars and neon structural beams. Each loft-style unit at Diesel Wynwood will be crafted to feature extra-high concrete ceilings, optional modular walls, luxe European brand finishes, rugged materials, and edgy textural treatments. Select turnkey units will come complete with furnishings by Diesel Living – the denim brand's home décor line.
Diesel Wynwood will also feature a fantastic mix of statement amenities including a two-story lobby with steel mesh walls and unusual geometries, a rooftop pool deck doubling up as an energetic social gathering space, a residents' lounge featuring custom Diesel Living furnishings, a European-inspired spa, a TechnoGym hooked up to a wellness app, a space-inspired Sensory Room, a wine cellar with a selection of spirits, and a dedicated Art Studio for artists and sculptors of every caliber.
Read more about Diesel Wynwood's lifestyle, location, and more features here.
Prices range from $320,000 to $4.8 million, with a choice of micro-studio to 3-bedroom residences, ranging from 395 to 4,411 square feet in size.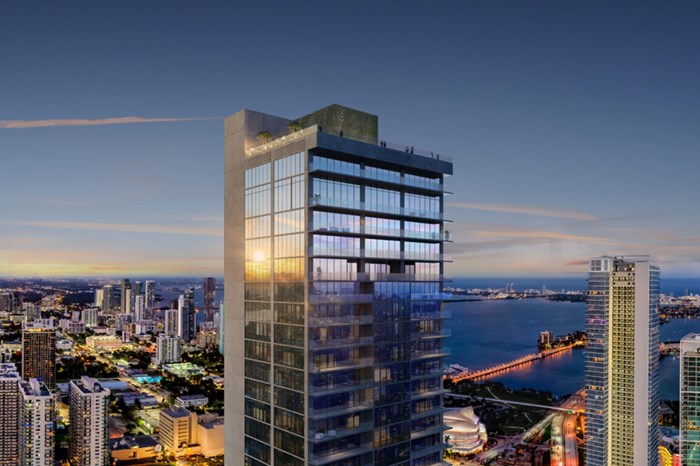 Developers E11EVEN Partners and PMG launched sales on their second E11even Residences offering this November, called E11even Residences Beyond, after outstanding buyer response and one of the fastest sell-outs of phase one – E11even Hotel & Residences. The more phase two tower will have a more exclusive design. 
E11even Residences Beyond will rise 65 stories east of the first tower in Downtown. With 461 ultra-luxury residences, this new launch will offer a highly exclusive, "members-only" experience. Owners at this second tower will be allowed to rent for a minimum of 30 days.
Designed by Sieger Suarez Architects, E11even Residences Beyond will stand as a twin of the first tower, sharing the same signature crystal cube design as the latter. The award-winning, New York-based AvroKo Hospitality Group will be handling interiors. Residents of the second tower will come home to fully furnished residences featuring custom imported ITALKRAFT millwork and cabinetry, custom countertops and backsplashes, flooring selections curated by AvroKo, PMG's smart home technology system, and more.
Residents also will have access to the first tower's amenities via a security-controlled sky bridge. However, residents of E11even Hotel & Residences will not be able to access the new tower's amenities. Highlight amenities exclusive to 'Beyond' residents will include a rooftop helipad, resort-like sun lounge deck with a 93-foot pool, fully-staffed executive office suites, access to the E11EVEN Residences Beyond Members Social Club, and more.
Cryptocurrency holders will be pleased to know that developers PMG have continued their partnership with FTX US to facilitate deals in Bitcoin, Ethereum, and other digital currencies.
Read more about the location, building amenities, and features of the newly launched E11even Residences Beyond here.
Read more about residence features and building amenities at the fully sold-out first tower, E11even Hotel & Residences here.
Prices start in the mid $300,000s or equivalent cryptocurrency rate, with a choice of studios to two-bedroom residences, penthouses, and a presidential collection.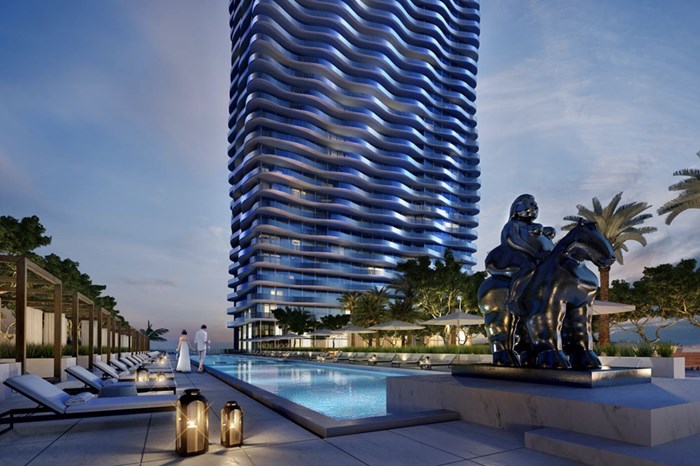 Developer Related Group and Alta Developers launched sales for Casa Bella by B&B Italia condos this November. Originally planned as Auberge Residences, developers have revamped the condo offering to better suit the current wave of domestic and international buyers. Casa Bella will be part of a 3-tower complex at 1400 Biscayne, comprising of 1,430 residential units and 1,629 parking spaces - all connected by a podium.
Styled around the concept of "the art of Italian living," Casa Bella will be a 57-story high-rise with only 6 to 7 residences per floor. Each of the 306 luxury condos will feature interiors by B&B Italia under the creative direction of the internationally-acclaimed Italian designer, Piero Lissoni. Residents can expect high-end touches such as imported porcelain flooring, sleek Italian cabinets by ITALKRAFT, a top-of-the-line black glass appliance package, lavish master baths designed by Piero Lissoni, and more curations by the master of interior design. B&B Italia's plush furnishings in common areas plus contemporary artwork and sculptures by Italian masters will further enhance the rich Italian aesthetic of this luxury condo offering.
Designed by Arquitectonica, this statement tower will feature a rippling façade with angled balconies, affording residents maximum views of Biscayne Bay and Downtown Miami from every level. Highlight amenities include a sky pool terrace and private observatory with sophisticated telescope, a 12th-floor pool deck featuring Italian-style gardens, a 78-foot lap pool featuring Bay views, a poolside Mediterranean café, luxury spa, open-air yoga lawn, pickleball court, comfortable work-from-home (WFH) lounge, game room, children's playroom, beauty salon, and more.
Owners at Casa Bella will be allowed to rent their units up to 6 times per year, with a minimum rental restriction of 30 days. The luxury high-rise is expected to break ground year-end 2022, with completion scheduled for late 2025.
For more information on the design, location, and features of Casa Bella by B&B Italia condo residences, go here.
Prices start in the high $600,000s, with a choice of one- to four-bedroom residences and an exclusive penthouse collection.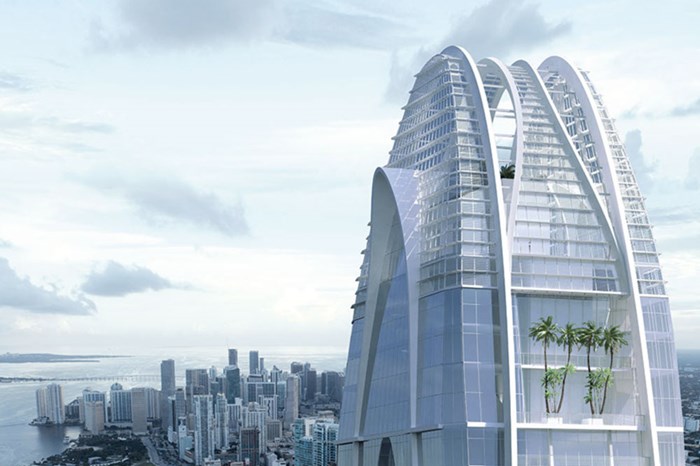 Shortly after Turkish developer Okan Group announced plans of resuming construction, the group relaunched sales for Okan Tower. On the fast track for a June 2022 groundbreaking, the 70-story mixed-use tower is set to feature a 5-star Hilton Hotel & Resorts along with new floor plans, ten new lofts, and an all-weather, glass-enclosed rooftop deck plus observatory.
Designed by Behar Font Architects, the 70-story tower will take the silhouette of a tulip – the national flower of Turkey. The skyscraper will feature 316 Hilton-branded hotel rooms on its lower levels, 236 condo-hotel residences starting at the 36th floor, and 163 (sky) condo residences above the 51st floor – all with a separate elevator for each type of residence.
Sky residence buyers will get exclusive access to a 70th-floor rooftop pool and sky deck with private cabanas, a 12th-floor lap pool with clubroom and indoor-outdoor lounges, a fitness center with yoga studio, Peloton bikes and interactive fitness MIRROR, a dedicated wellness spa, a fully-equipped children's sensory and playroom, a theater room, wine cellar, and owner's lounge.
Condo-hotel owners will get access to three amenity levels – floors 27, 28 & 30 – inclusive of an outdoor pool with indoor-outdoor lounges and private cabanas, a signature wellness spa featuring restorative Turkish treatments plus a marble Hamman, a state-of-the-art fitness center, over 4,500 square feet of ballroom space, a chef-grade gastro-kitchen plus grab-and-go-café, multiple bars, conference and meeting rooms.
Both condo-hotel and sky residence owners will gain access to a range of Hilton Hotel & Residences' premier services such as in-room spa treatments, in-room private dining, professional housekeeping services, on-site laundry and dry-cleaning services, personal trainers and fitness specialists, plus lifestyle concierges.
Prices start at $387,000 for the condo-hotel residences and at $587,000 for the sky (condo) residences.


---
Miami Pre-Construction Condos Closings Underway
---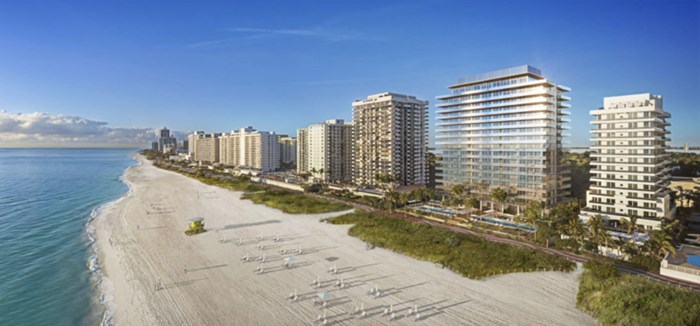 Moving full steam ahead with closings, 20 sales have already been recorded at the 81-unit 57 Ocean. Designed by Arquitectonica, this 18-story boutique building features Brazil-inspired interiors curated by Patricia Anastassiadis. Residents will soon be able to enjoy their stellar condos, complete with 10-foot-high ceilings, 12-foot-deep terraces, luxury Italian kitchens, marble countertops with waterfall islands, Poliform bathrooms, breathtaking views, and more.
Known for its hearty assemblage of "Blue Wellness" amenities and services, 57 Ocean offers amenities such as a wellness pavilion with thermal suite and meditation area, a One Ocean Beauty spa featuring products from the brand's marine-based skincare line, two beachfront infinity-edge swimming pools, a poolside bar and lounge, an indoor Technogym, an outdoor gym with top-of-the-line MyIsle training equipment by MyEquilibria, a children's activity room, an oceanfront wellness garden, and much more.
Prices ranged from $1.5 million to $36 million.


---
Miami Pre-Construction Condos - Broke Ground
---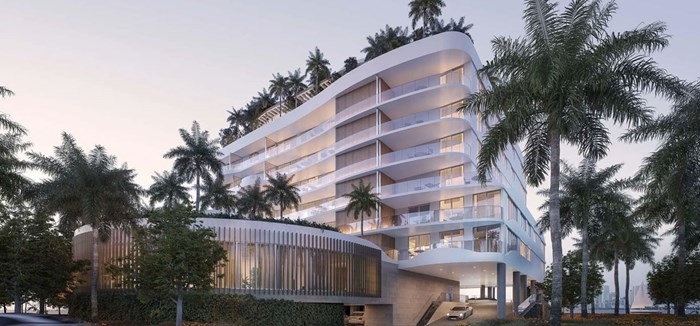 Developers CMC Group and Morabito Properties broke ground on the Onda Residences this November. As shovels hit the ground, the boutique luxury condo was already 60% sold out. Staying true to its name, Italian for "wave," Onda will be making a splash in the highly desirable, family-friendly neighborhood of Bay Harbor Islands that hasn't had any new developments in recent years.
Designed by Arquitectonica, the 8-story boutique building will feature 41 finished residences with interiors by A++ Human Sustainable Architecture. Each luxury residence will feature an office/den, mid-century style furnishings, light wooden floors, natural materials and textures, plus stone and marble accents. Designed as a tech-forward building, residents will be able to enjoy Wi-Fi throughout the common spaces, high-speed (FTTH) internet at home, an integrated digital concierge, and access to electric vehicle charging stations.
Rising directly against 300 feet of bay frontage, the 15-slip private marina stands as Onda's centerpiece. Other amenities at this boutique building will include a water sports launch dock with rentable gear, a rooftop pool deck and lounge area, a fitness center with Technogym equipment, a yoga studio, spa, steam bath and sauna rooms, landscaping by the award-winning Enzo Enea, and more. Completion is scheduled for 2023.
Prices range from $1.8 million to over $9.5 million, with a choice of two- to four-bedroom residences.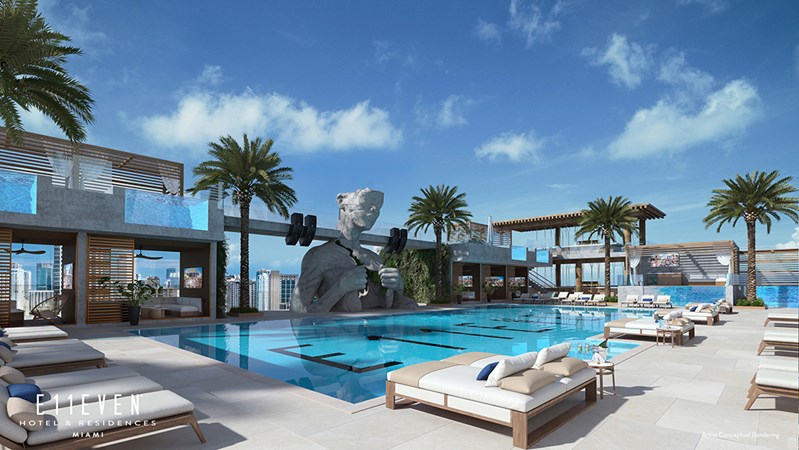 As scheduled, developers E11even Partners and PMG broke ground on the fully sold-out E11even Hotel and Residences on November 11, 2021 (a symbolic date of 11/11). The milestone was celebrated with a groundbreaking ceremony that included a performance by CeeLo Green and a fire dancer.
Designed by Sieger Suarez, the suave E11even Hotel and Residences will rise 65 stories with 400 luxury condos. Buyers will have the option to subscribe to the hotel's short-term rental program, allowing them to rent out and turn their units into income-generating assets. All units will feature interiors and finishes curated by New York's AvroKo Hospitality Group.
A Deepak Chopra-designed spa and studio plus a 20,000-square-foot multi-level E11even Beach Day Club and pool entertainment concept dominate the list of amenities at the condo-hotel. Other amenities include a 5-star gourmet food hall, casino-style sports lounge, signature Peacock Alley bar and lounge, art installations, custom concierge app, and much more.


---
Miami Pre-Construction Condos Approved
---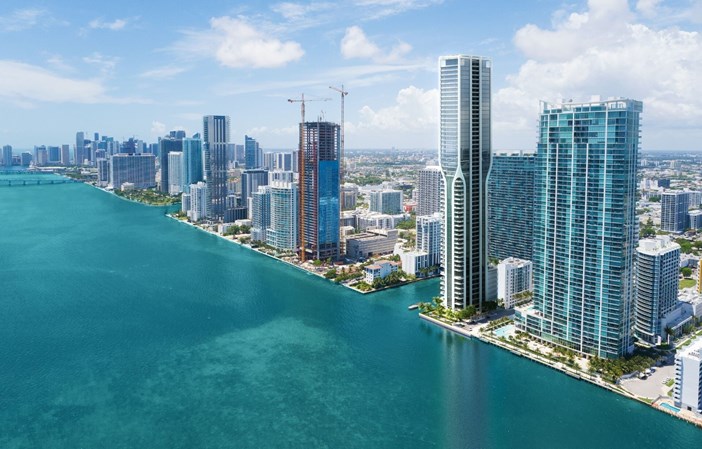 After receiving its FAA & UDRB approvals last month, 710 Edge is on the fast track to completion as developers secured its demolition permit this November. Developers 710 Edge LLC are moving full steam ahead with the One Thousand Museum look-alike, which is scheduled to replace the 15-unit Harbor 29 condo building.
Designed by ODP Architecture & Design with an exoskeleton – also the architect of record at One Thousand Museum – 710 Edge will rise 55 stories with 70 luxury residences. The 649-foot tower will feature no more than two residences per floor, offering residents a boutique experience. Developers are also pushing for approvals on a rooftop helipad, making it the first of its kind in Edgewater.
Highlight amenities at the waterfront tower will include a separate nine-story garage with 193 parking spaces, commercial uses, and a rooftop helipad. Other amenities will include 16,489 square feet of commercial/restaurant/retail space above ground level, a dock, residents' lounge/bar, top-floor sky lounge, juice bar, indoor pool, spa, fitness center, theater, private dining room, business center, and salon.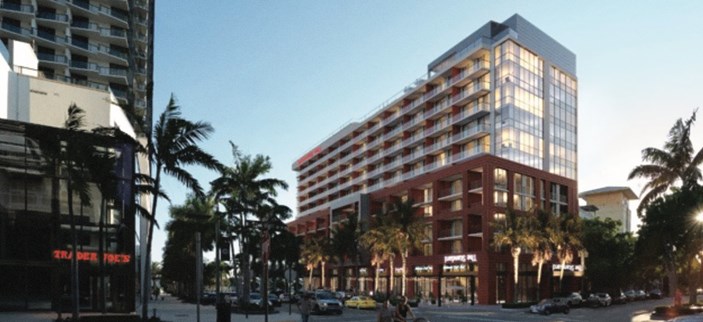 Developer Carlos Rosso (ex-President of The Related Group), New York-based hospitality firm Standard International, and Midtown Development have partnered to propose The Standard Residences in Midtown Miami. Rosso Development and Standard International already have 3100 N.E. First Avenue in Midtown under contract for the condo project.
The Standard Residences are proposed to rise 12 stories with 228 condo residences and 10,000 square feet of retail, but no parking. Units are expected to range from 432-square-foot studios to 965-square-foot two-bedroom residences. Owners will be allowed short-term rentals.
Designed by Arquitectonica, its 228 pied-à-terre-style residences will feature interiors by Urban Robot Associates. Crafted to balance style and function, residences will feature high-end finishes such as light wood plank tile flooring, gourmet kitchens with custom Italian cabinetry and Bosch appliances, and oversized bathrooms with stone vanities and double-suite rain showers. Residents will further gain access to 34,000 square feet of amenity/social space inclusive of a lushly landscaped rooftop with 60-foot resort-style sunset pool, a signature rooftop restaurant and bar, a state-of-the-art sweat room and fitness center, an infrared sauna, indoor pickleball court, yoga and stretch studios, a karaoke bar and screening room, co-working, pet spa, and more.
Prices are expected to range from $329,900 for studios to $659,900 for two-bedroom residences.


---
Miami Pre-Construction Condos - Planned Projects
---

Restoration and New Condo Tower at the Shore Club Hotel – South Beach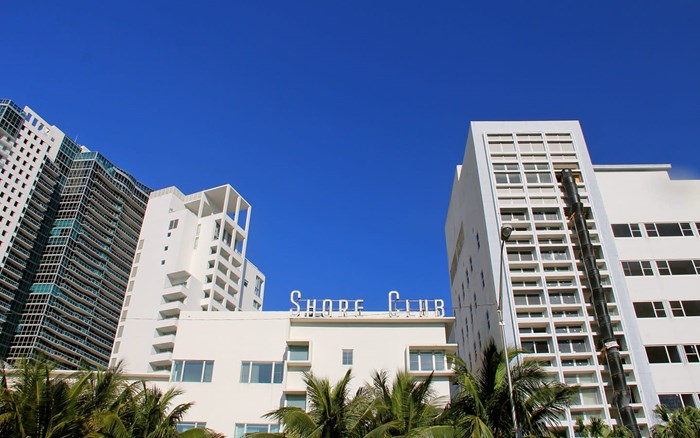 Developers Witkoff (New York) and Monroe Capital (Chicago) have submitted plans to the Miami Beach Historic Preservation Board for the restoration and redevelopment of the iconic Shore Club Hotel and adjacent Cromwell Hotel. Plans include:
historic preservation of the MiMo-style hotels,

development of a 17-story condo tower with 80 custom-designed residences,

addition of a 6,258-square-foot private villa,

construction of 3 pool decks for residential and hotel use, and

remodeling of the exterior dining area and café.
The world-renowned, New York-based architect Robert A.M. Stern will be overseeing all historic preservation efforts to design duties at this iconic project. The highly acclaimed, Miami-based Kobi Karp Architecture team is the local design partner of choice. Island Planning Corporation will be handling landscape design.

Related Group X Teddy Sagi X BH Group Condo Project - North Miami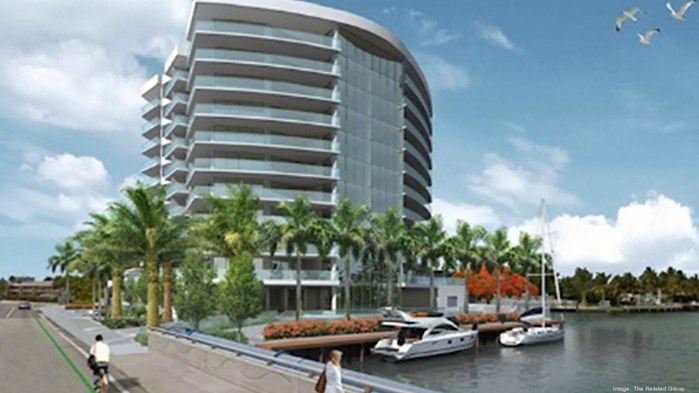 With a 1.07-acre site at 2305 N.E. 123rd St. under contract, billionaire Sagi, the Related Group, and BH Group (Onda Residences) are coming together to propose a brand-new condo project for North Miami. Replacing the shut-down White House Inn, the waterfront condos will sit across the causeway from Surfside and Bal Harbour. Previous owners had proposed building an 11-story, 52-unit condo building on the site, but those plans never materialized.

BH Group Plans 2 Boutique Luxury Condos – Bay Harbor Islands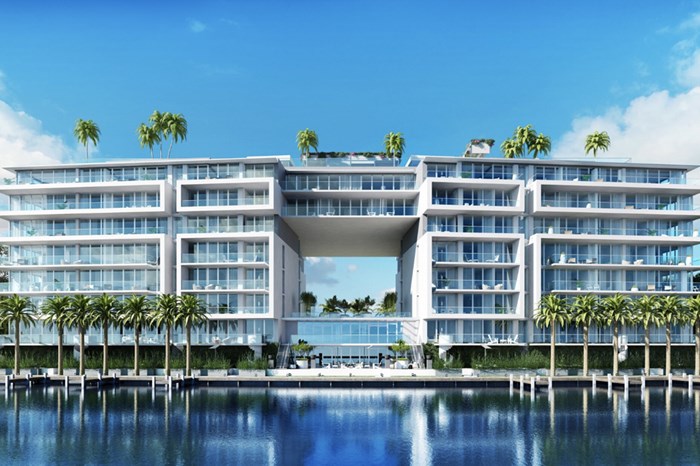 After the successful groundbreaking of Onda Residences, developer BH Group has announced plans for two more luxury boutique condo buildings in Bay Harbor Islands. Looking to make the most of the booming luxury housing market in Miami, the developer has proposed:
A 7-story, 31-condo building with a pool, rooftop fitness center and 64 parking spaces for the 22,500-square-foot site at 1165-1175 97th St. Buyers would have a choice of two one-bedroom units, 10 two-bedroom units, and 19 three-bedroom units. Residences would range from 1,275 square feet for a one-bedroom plus den to 2,361 square feet for a three-bedroom. Miami-based Studio Baigorria will be handling architecture.

A 6-story, 28-condo building with a pool, rooftop fitness center and 56 parking spaces for the 22,366-square-foot site at 10281 West Bay Harbor Drive. Designed by S & E Architects, units would range from 1,235 square feet for a two-bedroom to 2,240 square feet for a four-bedroom.


---
Miami Pre-Construction Condos - Other Updates
---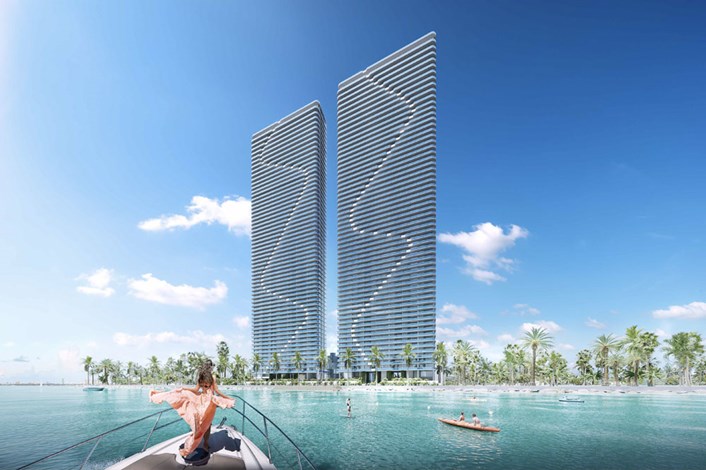 Close to breaking ground in early 2022, developer Melo Group announced that Aria Reserve's south tower is more than 60% sold in less than 6 months. The tallest residential waterfront twin towers in the U.S. are set to rise 60 stories against 547 linear feet of bayfront. Owners at both towers will have the option to rent their units up to 4 times a year, making it an affordable investment on the water.
Designed by Arquitectonica, the 782-unit twin towers will feature interiors curated by MORADA Haute Furniture Boutique. Each unit at Aria Reserve is designed to feature direct water views, East to West flow-through floorplans, a dedicated office/bonus room, 11-foot-deep terraces, 10-foot-high ceilings, and two flooring options. Amenity highlights include a 2-acre recreation deck featuring a semi-Olympic sized lap pool, whirlpool spa, children's splash pad, teen lounge, gaming center, and playground.
Other amenities will include an indoor-outdoor wellness center, meditation gardens, tennis courts, basketball courts, paddle courts, miniature golf, a signature waterfront restaurant and café, theater room, telescope observatory area, dog park, and custom-designed water sports dock with rentable equipment. Residents will also gain access to the public park developed by Melo Group along 23rd Street as part of the project. The park will further offer direct access to the soon-to-be completed 5-mile-long waterfront Miami Baywalk.
For more details on Aria Reserve, its location, features, and how it plans to deliver the best waterfront investment value in Miami, go here.
Prices range from $750,000 to over $2 million, with a choice of one- to four-bedroom condo residences. Penthouses start at $12 million.


Boutique 38-story Condo Tower – Edgewater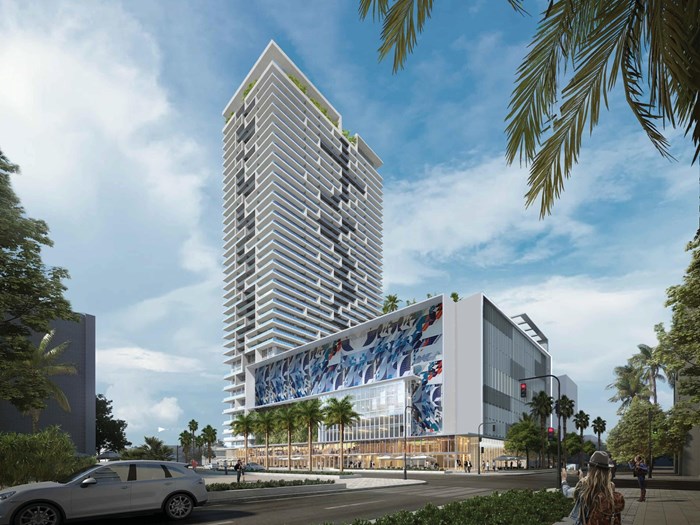 Developers SB Development Group and Hazelton Capital Group have already started demolition work on their 0.6-acre assemblage in Edgewater. The New York-based developer duo plans on building a boutique, 38-story condo tower on the waterfront site at 480 NE 29th St. Designed by Kobi Karp and Argentina's Dieguez Fridman, the unnamed tower will house a ground-floor restaurant along the bay.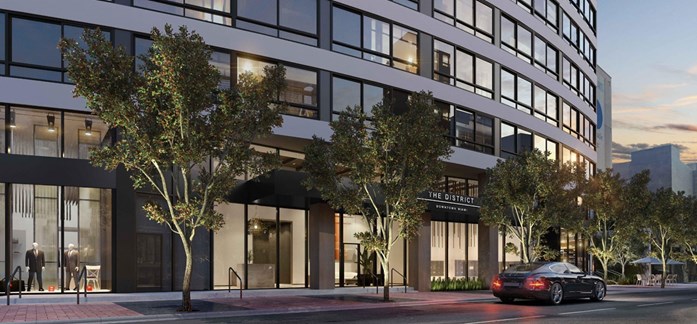 Developer Related Group applied for a construction permit and FAA approval to build its 39-story luxury condo tower in Downtown Miami. Already 87% sold out after launching sales this June – a record 5 months - District 225 is on the fast track to development with its demolition permit activated last month.
Designed by Sieger Suarez, the 347-unit luxury tower will be delivered fully finished and furnished. Built without a parking garage, the condo tower will allow short-term rentals to the likes of Airbnb or VRBO - making it a great investment product.
All 347 turnkey residences at The District will feature interiors by Meshberg Design and smart home tech. Residents will also gain access to amenities such as an expansive resort-style rooftop pool deck with plunge swim-spa and fire pit, an on-site café, multi-purpose lounges, museum-quality art, basketball and racquetball courts, co-working spaces, electric bike parking with charging stations, and the custom 'District' app for smart-home management on the go.
Prices start at $352,900 for studios, $385,900 for 1-bedroom residences and $574,000 for 2-bedroom residences.

Announcing a 2024 completion date, developer Newgard Development Group has confirmed that the riverfront tower will rise to a height of 42 stories. The developer behind Natiivo (Miami's first short-term rental-approved condos), also allows short-term rentals at Lofty Brickell.
The first in a three-tower development, Lofty Brickell will flaunt a minimalist, postmodern aesthetic designed by Arquitectonica. The ready-to-rent condo tower will feature green building tech to reduce its carbon footprint. All 364 condos will be delivered fully finished and furnished with high-end interior touches curated by INC.NY.
Rising 400 feet along the river, Lofty Brickell will feature a "jewel box" double-height glass lobby with access to the Underline, 12,000 square feet of commercial space, a 5-star restaurant at the ground level, and a private marina. Other amenities will include a resort-style pool with cabanas, bar and grill on the pool deck, a LOFTY rooftop experience, private Peloton studios, a yoga lounge and terrace, event room, co-working lounge with private meeting rooms, access to the LOFTY concierge app, and more.
Besides Loft condos, the 1.6-acre site will also feature branded luxury apartments and branded hospitality. For more information on Lofty Brickell and its investment opportunities, read here.
Prices start at about $500,000 for studios, $554,000 for one-bedrooms, and $903,000 for two-bedroom residences.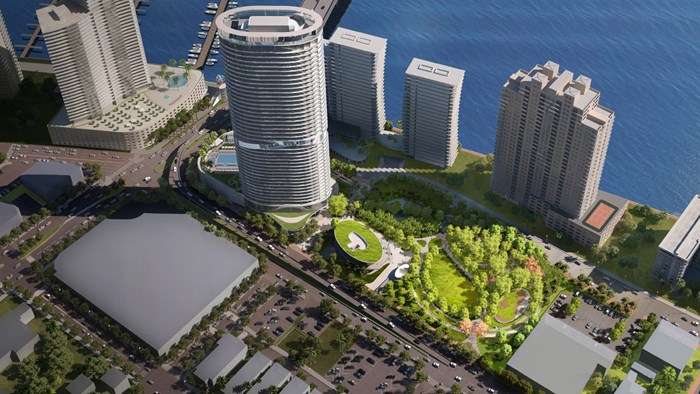 Developers Crescent Heights and Terra Group are almost done with phase one of their Five Park development. Designed by ArquitectonicaGEO, the 3-acre Canopy Park is nearing completion. The public access park will feature native shade trees, pedestrian and bike paths, an outdoor gym, public art displays, a children's playground, and a dog run.
Phase two will be the development of the 44-story Canopy Club condo tower. Rising 546 feet high at 500 Alton Road, dominating the entrance to South Beach, the Arquitectonica-designed tower will be the tallest ever in Miami Beach. The high-rise is set to feature 98 condos (floors 30-48) and 180 "park residences" (which could be rentals or condos). All condo residences will feature interiors by Gabellini Sheppard.
With 40,000 square feet of amenities, residents will get access to a 5th-floor pool deck, 26th-floor clubhouse, two fitness centers, spa and treatment rooms, lounge areas, grand lobby with gourmet cafe, a restaurant, library, screening room, co-working spaces, short-term rental suites, electric car charging stations, and more. Phase three of the project will include the construction of a pedestrian bridge over 5th Street, connecting the park to the Baywalk, which leads to South Pointe Park and the beachfront.
Prices start at $2.5 million, with a choice of two- to five-bedroom residences. 


---
Miami Pre-Construction Condos - Watchlist
---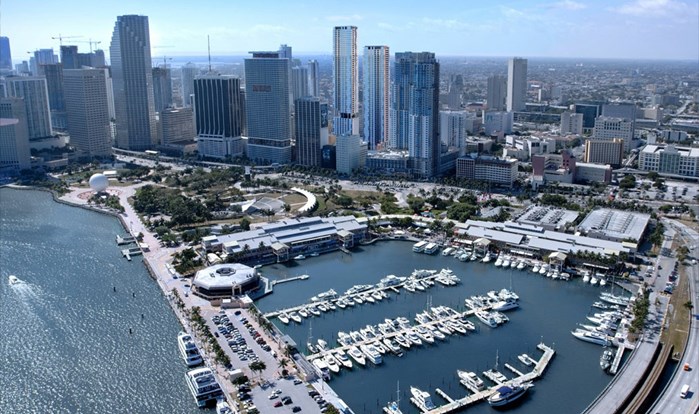 Montreal's privately-owned Sageblan Investments has bought the site where the Mishorim Towers were once planned for a total of $18.25 million. The buyer looks forward to reviving the site with a "project that will be beneficial to the community we are in," said Gaurav Gupta, Managing Partner and President of Sageblan.
The Israel-based developer Mishorim had originally planned a twin-tower condo project designed by Kobi Karp. Back in 2019, the developer had announced plans for 800 units, 120 hotel rooms, 7,110 square feet of commercial space, and 264 parking spaces to come up at the Downtown site.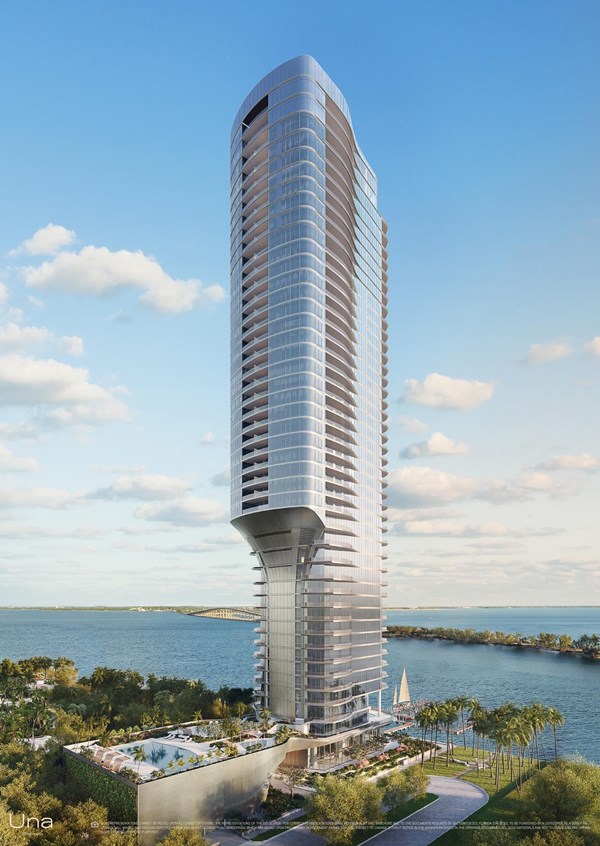 Construction at Una Residences has been temporarily stopped by the City of Miami after groundwater flooded the site several times where construction has been progressing to dig and prepare the parking garage. The condo tower is set to feature Miami's deepest-ever parking garage. 
Developer OKO and Cain International plus the contractor have contested that the flooding was not a breach of the aquifer. They have also stated that the situation was not an environmental concern and mainly just a disruption to construction.
Designed by Adrian Smith + Gordon Gill, the yacht-inspired building will rise 47 stories with 135 impeccably-styled residences. Amenities will include high-efficiency, noise-reducing floor-to-ceiling exterior glass, three swimming pools, a separate kids' splash and play area, a kids' indoor playroom, an owner's lounge, outdoor lounge, private dining room/party room, movie theater, spa, beauty salon, private marina, dog-walk area, direct access to the Baywalk, and more.
Read here to find more details on the elegant Una Residences gracing South Brickell's waterfront. 
Prices start at $2,700,000, with a choice of three- to five-bedroom residences

13th Floor Investments' Supertall Condo - Brickell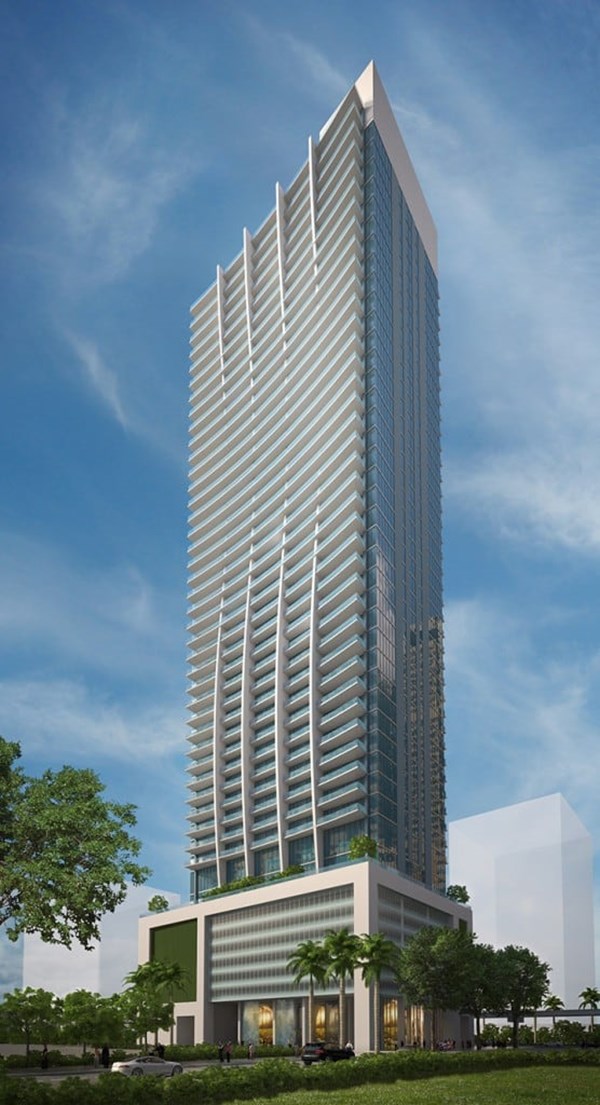 Winning approval last month, it seems 13th Floor Investments' condo supertall planned for 609 Brickell Avenue has run into trouble. Negotiations to build the 80-story tower have come to a halt after a member of the First Miami Presbyterian Church filed a complaint. Although the Church voted in favor of the development, the complaint states not enough notice was given to members to vote. Now, the Church has 45 days to challenge the decision.
If 13th Floor Investments wins, the waterfront site could gain a structure of up to 1,049 feet or 80 stories with green spaces and a lavish pool deck by the bay.

Looking for Developer/Buyers – Little River
Beacon Hill Property Group is marketing three parcels of land at 353 N.E. 80th St., 370 N.E. 80th St., and 8020 N.E. 4th Ave. The 41,650 square-foot assemblage is zoned T6-8-0, allowing the construction of buildings up to 8 stories tall, featuring up to 144 residential units and 9,800 square feet of retail. 
What makes the site valuable is that it sits by the railroad tracks and between 79th & 80th streets. This is also the location where a Brightline Station is planned. If the station is constructed, residents of the future residential building will have instant access to Downtown Miami, Aventura, Fort Lauderdale, and further up to West Palm Beach.


---

Like a pre-construction project you see? Call, chat, or e-mail us to help purchase your next home in any of your favorite pre-construction condos - anywhere from Miami up to Fort Lauderdale.
Love to stay updated on the latest projects in Miami or Fort Lauderdale? Subscribe to our blog to receive all the monthly updates in your inbox. And follow us on Instagram @blackbookproperties. 
Share your thoughts with us
Sign up now
Get news and updates delivered to your inbox