Miami's New and Pre-Construction Condo Update: October 2020
Nov 05, 2020 November 05, 2020
October was a busy month for Miami condo construction and new development. The pandemic has not slowed down luxury condo development or sales in the last quarter (see our report here), supporting that Miami is still a top destination for many seeking an unbeatable lifestyle. So what's under development and which condos are almost finished?
Some of Miami's most-awaited luxury condo buildings, such as Edgewater's Elysee and Missoni Baia marched towards completion by finishing important construction milestones. Coconut Grove's One Park Grove residences stand complete, a TCO-away from welcoming residents in their final tower. And, the Related Group's 444 Brickell is closer to becoming a reality under the helm of Related's new president, Jon Paul Perez, son of Jorge.
Read on for details on these and other updates part of our monthly October edition of Miami's condo pre-construction news. And view or search our list of available Miami pre-construction condo units and penthouses, which is updated daily.


---
Approved New Developments
---

10-story Condo + 12 Single-family Home Community - Fisher Island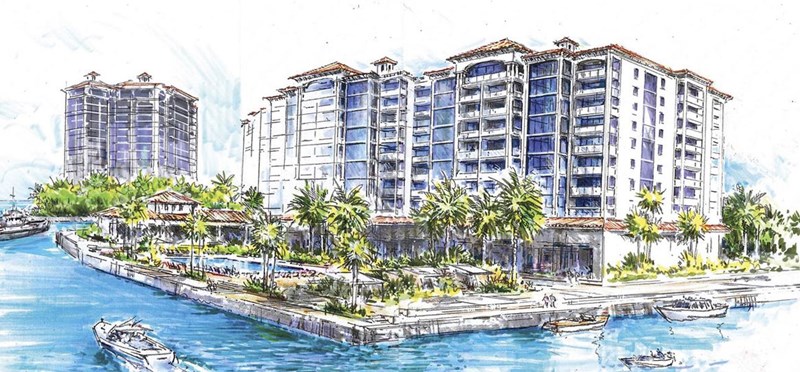 From the developer-architect duo behind Palazzo Del Sol and Palazzo Della Luna - Heinrich von Hanau and Kobi Karp - comes a new luxury community on this exclusive island. Approved by the Miami-Dade County Commission for a 10-story, 57-unit condo building plus 12 single-family homes, the project will span 6.5 acres at 6 Fisher Island Drive.
Developers have agreed to pay $2.5 million to the Fisher Island Club since some of the homes will take up a position on the golf course. Amenities here would include a swimming pool, a spa, a fitness center, a restaurant, and 169 parking spaces.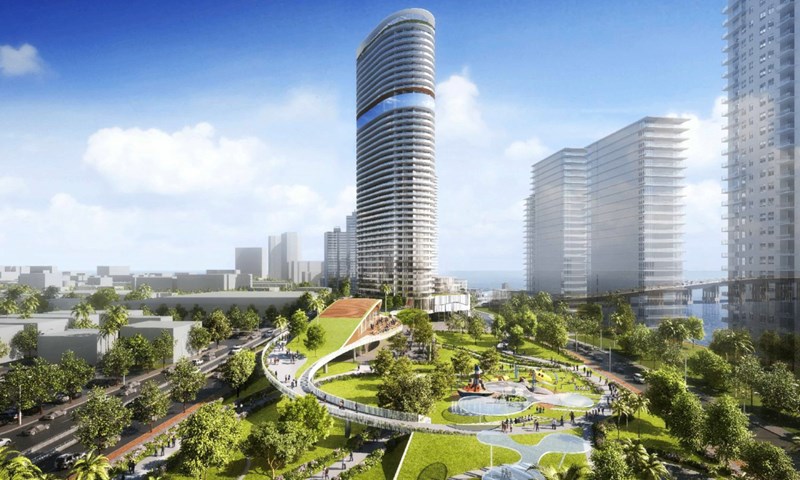 With the process taking 11 months, the Canopy Club was finally approved for a height of 546 feet above ground, or 549 feet above sea level by the Federal Aviation Administration. This will make it the tallest tower in Miami Beach upon completion, knocking out the 44-story Green and Blue Diamond condo buildings currently topped out at 502 feet.
In its first phase of development since July this year, construction has already started on the 3-acre, $8 million park dubbed Canopy Park at 600 and 700 Alton Road next-door. With a summer 2021 completion, the park will include a botanical garden, public art, outdoor gym, events lawn, MONSTRUM-designed kids' playground, dog run, plus pedestrian and bike paths.
Construction on the $150 million condo or hybrid apartment tower is expected to begin early 2021. This Terra + Crescent Heights development designed by Arquitectonica will include 337 residential units and a parking garage with 577 spaces. The 44-story residential tower will also be next-door to a two-story, 15,000-square-foot retail pavilion, restaurant, and surface parking spaces.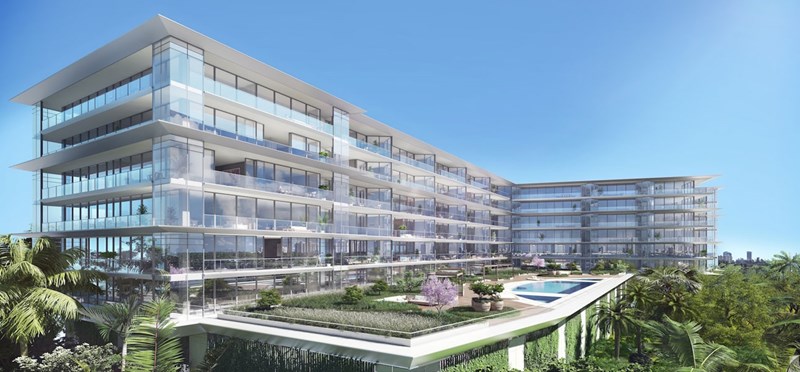 Developer Mast Capital has won initial approval for a shorter, 85-foot tall (versus the first proposed 140-foot tall) condo building in Mid-Beach. With a second reading scheduled for November, the tower has been approved with 216 residences for now. The developer is still asking for a revision in setback requirements to allow more breathing space to the adjacent Talmudic University.


---
Proposed New Developments
---

1 Southside Park – Brickell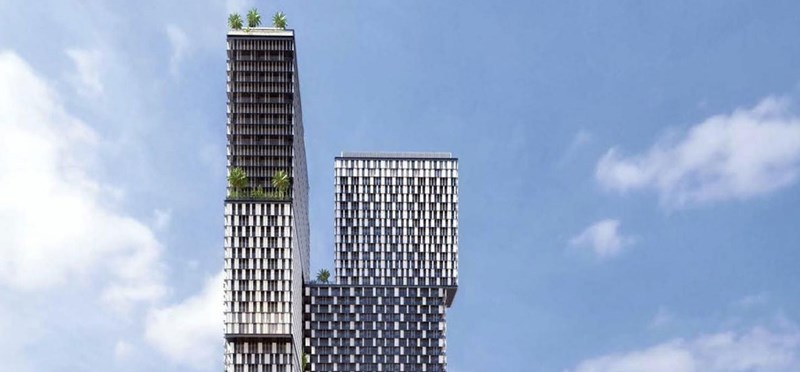 The New York-based JDS Development Group has revealed plans for a major redevelopment of a Brickell fire station at 1105 to 1133 SW Second Avenue into a mixed-use project. The City of Miami fire station will be demolished and re-developed as part of the 2.48 million square foot project with SHoP Architects, ODP Architecture and Design, and James Corner Field Operations for architects.
The development is set to feature a brand-new, 32,000 square foot fire station, along with 1,175 multifamily units in about 1 million square feet, a 110,000 square-foot hotel with 200 rooms and 6,000 square feet of meeting space, 100,000 square feet of health and wellness, 11,000 square feet of restaurants, 200,000 square feet of offices, and around 1,000 parking spaces.
A further breakdown reveals that the 64-story buildings will have restaurants on the ground floor, micro-sized residential units on floors 3-14, offices on floors 17-23, the hotel on floors 24- 36, multifamily on floors 28-63, and an amenity deck with open-air spaces in the middle of the buildings. The Southside Park also will be re-developed with a basketball court, water features, seating areas, a dog run, fitness pavilions, and its historic high school building re-programmed for events as part of the project. The development will connect come connected to the Underline park constructed below the Metrorail.

The District Condo-Hotel - Downtown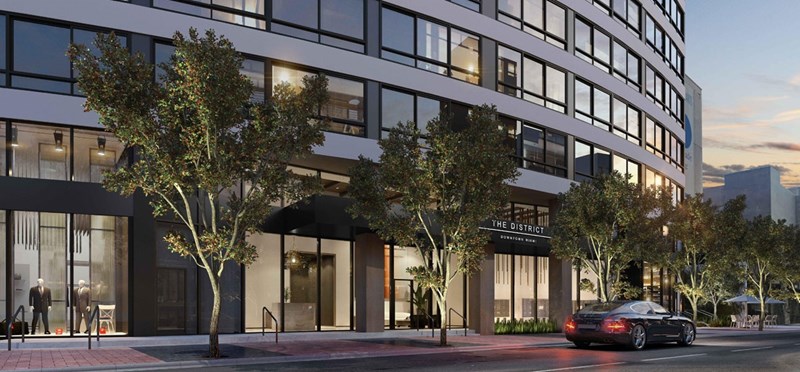 The Related Group is planning to develop a 37-story condo-hotel with 343 micro-units and no parking spaces in Downtown Miami. The project called The District is designed by Sieger Suarez, and will feature units ranging from 446 square feet to 874 square feet, which may run small as residences but feel large as hotel rooms.
The mixed-use tower, to be built at 225 and 233 N. Miami Avenue, will also feature retail, lobby, and a mailroom on its ground floor. The 394-foot tower is expected to include amenities such as a gym, spa, pool, BBQ area, lounge with café, basketball court, and racquetball court.


---
Rejected
---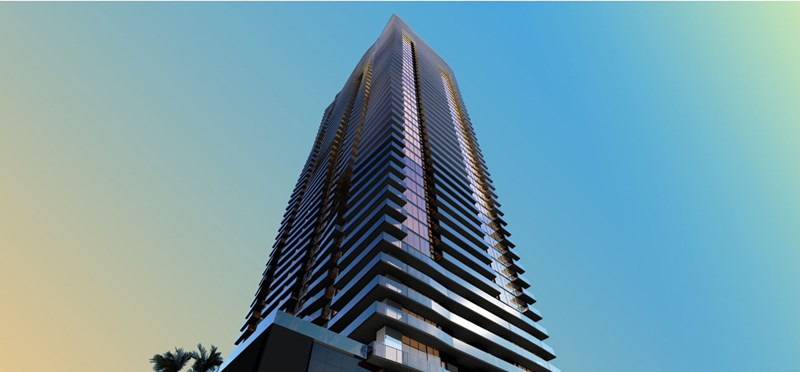 Melo Groups proposed 58-story, 537-foot residential tower at 30 SW 1st Street in Downtown Miami was rejected by the Miami Urban Development Review Board. The board unanimously recommended denial of plans for a skyscraper based on the building's size and orientation on the very small site, as well as the numerous waivers requested, including reduced setbacks. 
Under the latest Melo proposal, the mixed-used Downtown 1st building would have 560 units, 12,930 square feet for offices, 2,925 square feet for commercial-retail, and a parking pedestal for 453 vehicles.


---
Construction Status Update
---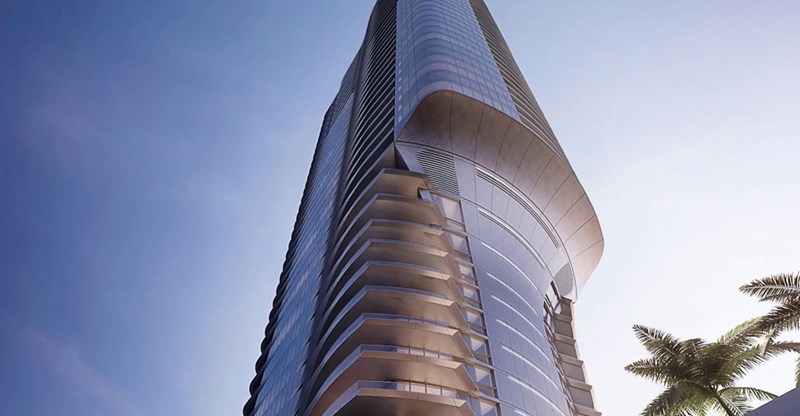 After breaking ground in May, this much-awaited luxury condo building has started construction this October. Rising on one of the rarest slices of Bayfront land in Miami's Brickell financial district, this nautically-inspired building is designed by internationally acclaimed architects Adrian Smith + Gordon Gill.
Developed by the OKO Group, Una is set to bring 135 luxury condos in a 47-story tower by 2023. Residents will be privy to unobstructed city and Bay views, the Rickenbacker Causeway, along with soothing wood-tone interiors, multiple swimming pools, an expansive spa, private marina, exclusive membership access to the Grand Bay Club on Key Biscayne, and much more as part of its amenity package.
Prices start at $2 million, with a choice of two- to five-bedroom residences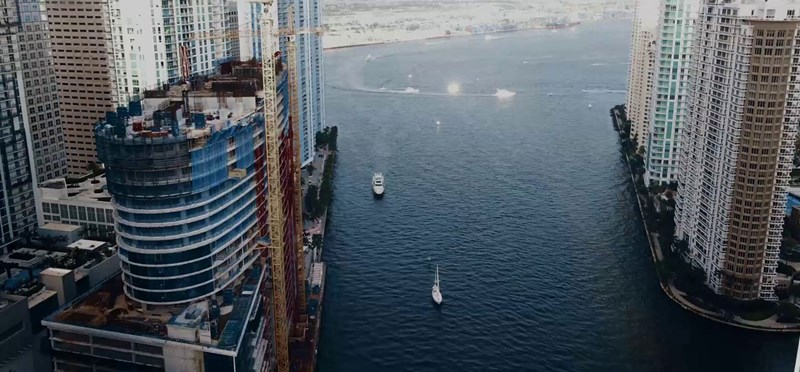 On its way to becoming the second tallest building in Miami, this statement sail-shaped glass tower completed level 31 of construction, almost reaching its half-way point. In addition, the celebrated Aston Martin Residences tower will be the first in the Americas to receive the first-ever-produced, handmade, luxury DBX SUV from its Wales manufacturing plant. 
Designed by Revuelta Architecture, the 66-story ultra-luxury building is rising along Downtown's waterfront with 391 condos. Amenities at this brand-backed tower include signature Aston Martin touches in common areas, the only deep-water superyacht marina in Downtown, an infinity pool, a spa, a sky lounge, two cinemas, an art gallery, barber station, kids' room, optional butler service, and more. On track for a 2022 completion, the high-rise is already 60% sold.
Prices start at $970,000 for remaining condo units, while penthouses are available for upwards of $50 million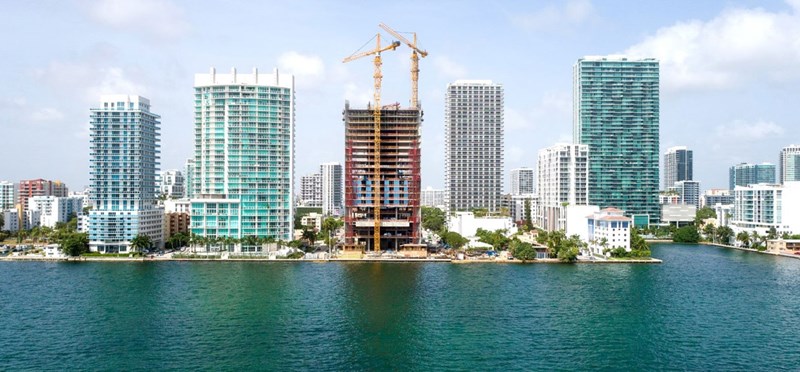 With its foundation poured in January, this 57-story waterfront tower is already past the halfway mark and had its first glass installed in October. The first-ever residential project by the Italian fashion house of Missoni, this 249-unit ultra-luxury skyscraper features interiors by Paris Forino, under the direction of Angela and Rosita Missoni.
Developed by OKO Group and Cain International, the tower is expected to be completed in 2021. Designed to be one of the tallest in Edgewater, amenities here include five swimming pools, a flow-through pool deck with cabanas, an elevated tennis court, one of Miami's largest spas, a beauty salon, children's water features, a seven-story parking garage, and a bayfront boardwalk.
Prices range from $600,000 to over $9 million, with a choice of one- to five-bedroom residences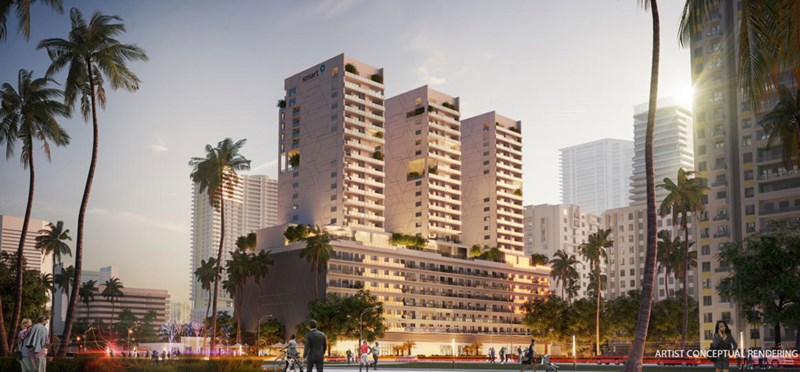 After having its foundation poured in March, this 25-story tower by Habitat Group has reached the 8th floor of construction. The first tower in a series of three, this LEED-certified building will include 50 condos and 50 hotel rooms, allowing short-term rentals. The project is set to feature 12,000 square feet of commercial space set aside for retail, cafe or restaurant on its ground floor.
Designed by Gensler, Miami's-own HAC Architects and Urbanists, plus Arquitectonica Interiors, each fully-finished and furnished residence will come equipped with smart, Wi-Fi enabled tech such as smart fixtures, Amazon's Alexa, and a SmartCondo concierge app. Owners will also be able to join one of the most flexible short rental programs in Miami, allowing rentals for up to 50 times a year to the likes of Airbnb. Amenities will include two resort-style pools, a spa, party room, Sky bar and restaurant, rooftop lounge, gym, and electric parking stations.
Prices start in the low $300Ks for the remaining one- to two-bedroom residences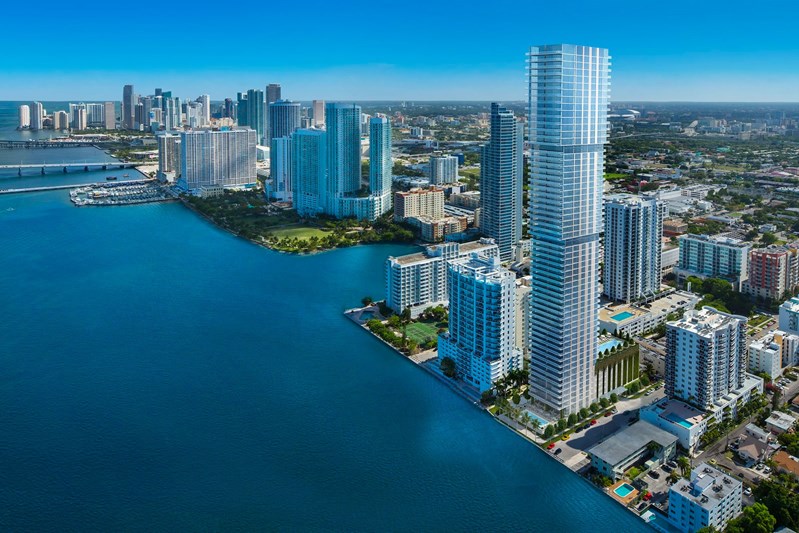 Very close to its winter completion, this 57-story, 100-condo, ultra luxury, boutique waterfront tower has already garnered $30 million in sales. The Arquitectonica-designed Two Road Development features interiors by Jean-Louis Deniot. The tower features only two units per floor, with expansive sunrise and sunset views. 
Once complete, residents will have access to a bayfront pool and lounge, resort-sized lap pool, waterfront fitness center, yoga studio, children's room, 30th floor sky lounge, teen lounge, personalized Elysee Attaché concierge services, and much more.
Prices of remaining residences range from about $1.9 million to around $10 million
Curious about one of these Miami Preconstruction Condos?


Email or call us anytime at (305) 697-7667 and we will be happy to provide you with more details and expert advice.
---
New Pre-Construction Sales Gallery
---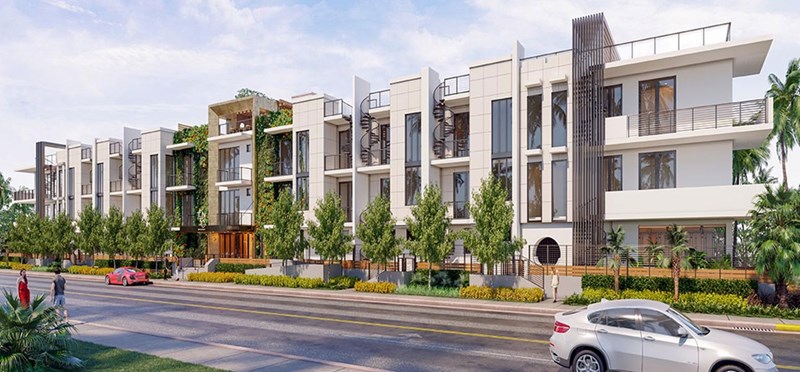 With its sales gallery making its debut at 1116 15th Street this October, potential buyers for TEN30 will now be able to experience in person the kind of finishes and luxuries this tech-driven condo pre-construction is to bring to South Beach. The unveiling ceremony took place over two days to adhere to social distancing rules.
Developed by the Shoma Group, this 4-story, 43-unit building's residences come designed by the Saladino Design Studios. The sales gallery lets visitors experience the sophisticated tech that will be part of the luxury boutique building, such as Latch doors, Bluetooth enabled keyless entry with cameras that can be controlled via smartphone, Ecobee thermostat systems, and the Samsung Family Hub smart refrigerator, which will allow residents to order Uber rides, play music, send messages, or even see inside the fridge plus browse the internet for recipes using available ingredients.
Other amenities include a 6,000 square-foot rooftop deck with a rosé-colored pool, an outdoor lounge with barbecue space, two fitness centers, a yoga space, and covered parking for each residence.
In their endeavor to keep the project moderately priced, not only have the developers kept the entry price low (compared to other luxury high-rises in South Beach) at $498,900, the association fee is also reasonably-priced at $400 per month. With its ground-breaking held in October 2019, the pre-construction is on track for an early 2021 completion.
Prices start at $498,900, with a choice of studios, one- and two-bedroom residences


---
Other Miami Pre-Construction Condo Updates
---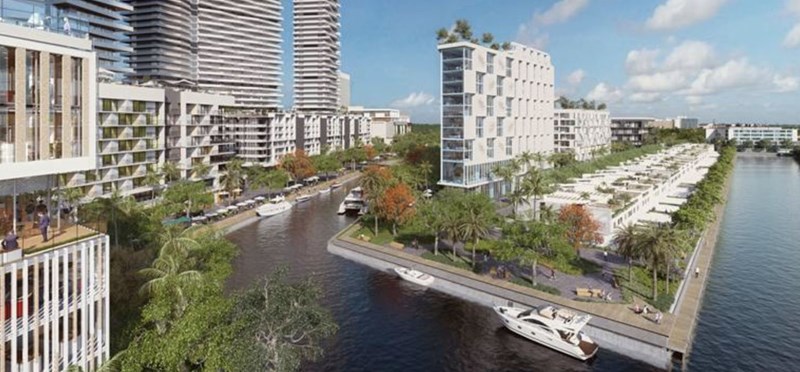 The 30-acre mega project, which includes the re-development of the Intracoastal Mall and dubbed a project for "millennials," is up for final approval. Developed by Miami Gil Dezer, Uptown Harbor is designed by Zyscovich Architects.
Pending approval from the Florida Department of Transportation, the mixed-use development will include 5 towers, up to 40 stories tall with a total of 1,750 luxury condos, a mid-rise rental building with 200 apartments, 50 townhouses, 375,000 square feet of retail, 200,000 square feet of office, a boutique hotel, 9.4 acres of open space (including canal and park) plus a fire and police substation.

The One - 444 Brickell - Brickell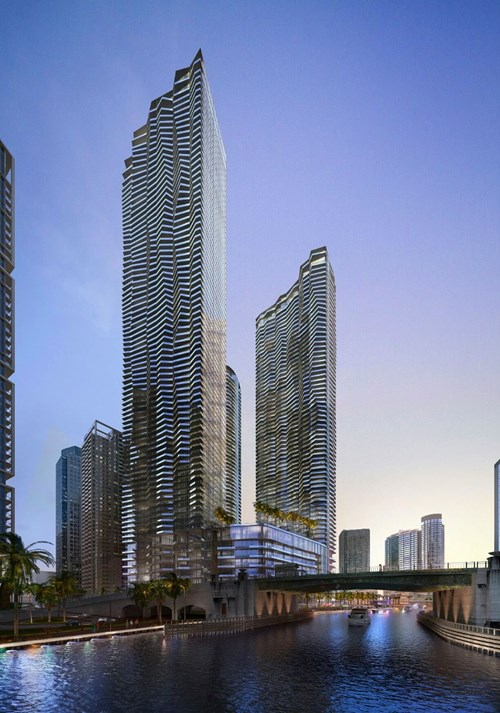 Related Group's new president, Jon Paul Perez (son of Jorge M. Perez), will oversee this massive 444 Brickell project as one of his first duties. The already approved development is set to feature 3 towers rising 82, 77, and 57 stories each right on Brickell Avenue, overlooking the Brickell Bridge.
Designed by Arquitectonica, phase one of construction will involve the building of a 500-unit tower with luxury residences at 77 SE 5th Street. The project will also include a 5-star hotel, office space, retail space, and a boat dock.

Miami World Tower - Downtown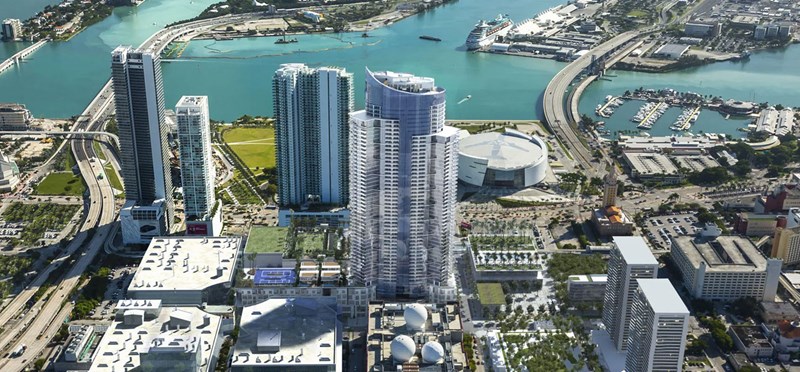 Approved in February, the Miami Worldcenter's Block E is set to gain a brand-new residential building in the form of the Miami World Tower. Developers Lalezarian Properties will soon be filing for a construction permit on the NBWW Architects-designed project that was labeled "sexy" by the city's Urban Development Review Board at a recent reading. The rectangular building with fluid curves has been designed to maximize daylight and views in each unit.
To be built at 700 NE First Street, the 52-story skyscraper will include 560 units, 3,136 square feet of commercial space, plus amenities including a rooftop pool and indoor lounge, a fitness center, a theater, and a sports deck atop the level-14 garage with 421 parking spaces (of which 22 will be for bicycles).


---

Interested in one of these Miami preconstruction condos? Or know of another building you've seen and want more details? Email or call us to have an expert guide you with the process of buying preconstruction in Miami or read our comprehensive guide here. Be sure to follow us on social media as well!
Share your thoughts with us
Sign up now
Get news and updates delivered to your inbox