Miami's New and Pre-Construction Condo Update: October 2021
Nov 11, 2021 November 11, 2021
Just like Miami's luxury housing market, the pre-construction condo market is a hotbed of activity. This October, Urbin Miami Beach and La Baia launched sales. Two new condos were proposed, with one being a non-profit development in Little Havana. Aria Reserve, Lofty Brickell, and a 38-story Edgewater condo cruised through approvals to meet the heightened demand brought on by lifting of travel bans and continued migration of businesses to South Florida. Related Group revealed Casa Bella Residences as a rebrand. And, another bulk buyout took place close in Coral Gables as developers look for developable land.
Read on for details on these and other updates in our Miami condo pre-construction market roundup for October 2021:


---
October 2021 - Miami Condo Pre-construction Market at a Glance
---

Sales Launched
Approved
Applied for Permits
Planned/Proposed
Construction Status
Other Updates
Watchlist
---
Sales Launched
---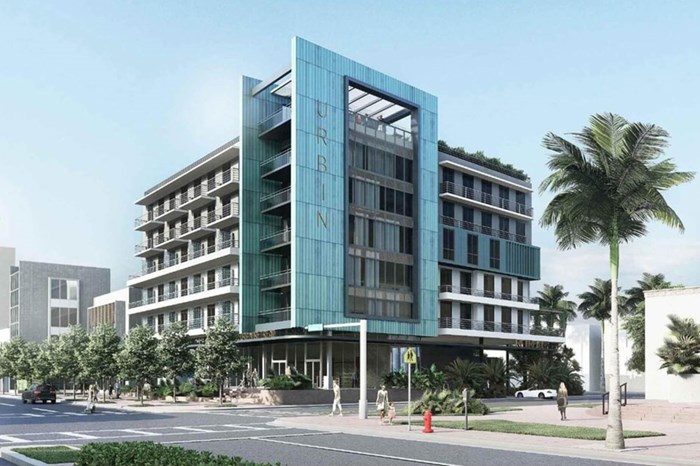 Location Ventures launched sales on one of its mixed-use, co-living condo projects planned for Miami Beach. Located at 1260 Washington Avenue, Urbin Miami Beach was 60% pre-sold in just the first 30 days of marketing. Designed by Touzet Studio, with interiors and common spaces by New York's Meyer Davis Studio, the condo project is expected to feature fewer than 100 units.
The development will include a renovated 33,488-square-foot building plus a brand-new 44,000-square-foot building. Units will range from studios to two- and four-bedroom condos.
Following the success of this initial launch, developer Location Ventures plans on launching sales for Urbin Coconut Grove soon. Designed by Arquitectonica and Paredes Architects, the co-living/co-working complex will sit next to CocoWalk at 3162 Commodore Plaza. The development will include the conversion of a nearly 33,000-square-foot commercial building, a 5,000-square-foot restaurant, and 23,490-square-foot property, along with ground-up development. Units at Urbin Coconut Grove will range from 331-square-foot studios to 2,352-square-foot six-bedroom condos.
With its first two locations planned for Miami, Urbin is a first-of-its-kind, mixed-use brand dedicated to creating spaces where one can live, work, and seek wellness. Each property will offer a membership-based platform and unite condos with all-inclusive, co-working spaces, wellness amenities, social activations, plus lifestyle-oriented retail.
All Urbin properties are planned to feature design-forward, turnkey rental residences with a select number available for purchase. Owners of the private residences will be able to use their homes for up to 90 nights per year. During their time away, the residence will be professionally managed by Urbin and made available for rent through the property's exclusive lease-back program.
Amenities planned for Urbin Miami Beach include a rooftop pool deck with green spaces and lounge areas; a wellness center with programming for mindfulness, movement, nourishment, and healing; plus, service-driven amenities such as housekeeping, room service, and valet.
Construction of both Urbin projects in Miami Beach and Coconut Grove could begin this November and be completed within 24 months of groundbreaking.
Prices start at $400,000 with a choice of studios, two- and four-bedroom residences.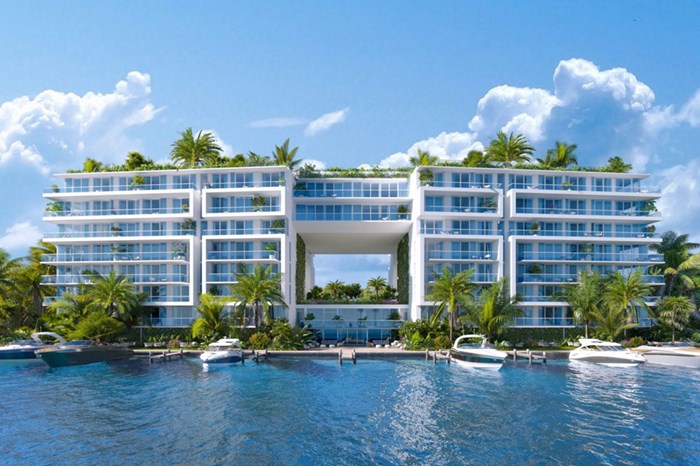 Ian Bruce Eichner, the developer behind the famous Continuum condos in South Beach, launched sales for the one-acre, waterfront La Baia residences. The boutique development will feature 68 luxury residences in an 8-story building with a private, 20-boat marina.
Designed by Revuelta Architecture, with high-end interiors curated by New York's Durukan Design, each La Baia residence will be delivered completely finished. Each condo unit in this boutique building will feature 10-foot-high ceilings, custom Italian cabinetry by Snaidero, branded appliances, designer fixtures, wide-plank European wood flooring, large walk-in closets, and private balconies with glass railings.
Boasting over 30,000 square feet of resort-style amenities, residents will gain access to a rooftop pool with a dedicated kids' splash pad and sundeck, outdoor bar, residents' club room, ground-floor wood deck terrace with hammock coves, meditation lawn, pet grooming center, and much more.
Prices start at $810,000, with a choice of one- to four-bedroom residences.


---
Miami Preconstruction Projects - Approved
---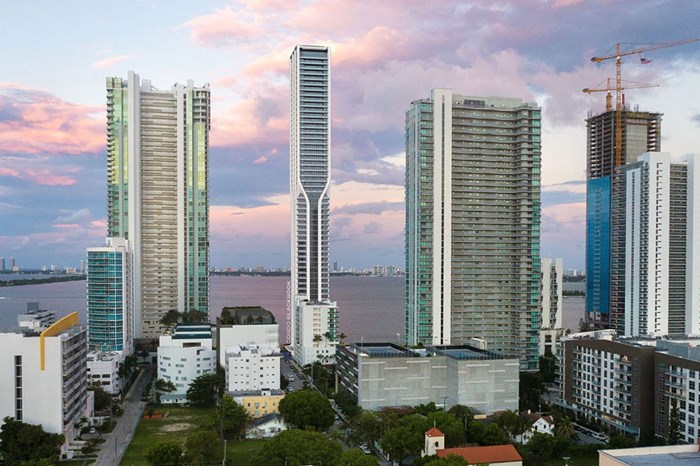 It's got the looks and team behind Downtown's ultra-luxury One Thousand Museum – and it's been approved by Miami's Urban Development Review Board (UDRB). Developers 710 Edge LLC will now be replacing the 15-unit Harbor 29 condo building at 710 NE 29th Street to make way for this 55-story, 70-unit condo tower.
Designed by ODP Architecture & Design - an architect of record at One Thousand Museum – the Edgewater condo tower seems to bear a stark resemblance to Zaha Hadid's final masterpiece, given its exoskeleton. Two of the developers behind the Downtown masterpiece - Kevin Venger and Louis Birdman - are also part of 170 Edge LLC.
710 Edge will feature no more than two residences per floor – like One Thousand Museum. Residents of the 649-foot-tall waterfront condo tower will gain access to 13,037 square feet of retail, 193 parking spaces, a separate nine-story garage with rooftop activity space, a dock, residents' lounge/bar, top-floor sky lounge, juice bar, indoor pool, spa, fitness center, theater, private dining room, business center, and salon. Among its other amenities, this luxury tower will also feature a rooftop helipad, just like Zaha Hadid's tower.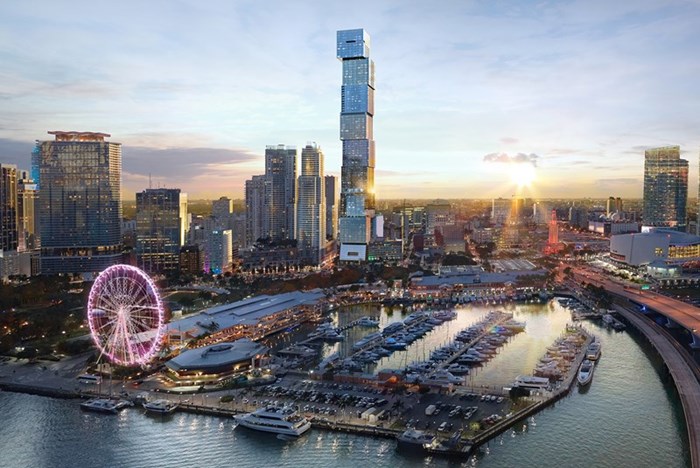 Already approved for a height of 1,040 feet above ground, Waldorf Astoria's design approval came through this October from Miami's Urban Development Review Board (UDRB). Designed by Burj Khalifa-architect Carlos Ott in partnership with Miami's Sieger Suarez, the supertall will be built to look like a stack of nine offset glass cubes.
Rising 100 stories, the skyscraper will be home to 361 condos and 205 hotel rooms. While the hotel will occupy the bottom three cubes, the condos and amenities will come stacked above. Miami's tallest-ever, the condo-hotel will feature plush interiors by San Francisco's award-winning design firm BAMO. Future residents will gain access to a wide range of amenities inclusive of a resort-style pool deck with outdoor café, the hotel brand's famous Peacock Alley lounge, a signature restaurant, signature spa, wine tasting room, luxurious owners' lounge, indoor-outdoor event spaces, a kids' club, smart-home tech with custom mobile app access, and much more. Owners will also get preferred rates and access to Waldorf's hotel services.
Expecting to break ground in the first quarter of 2022, developer PMG has applied for a construction permit to begin site work. Read here for more information on Waldorf Astoria's brand legacy and what it seeks to deliver in Miami.
Prices start at $650,000 for Junior Suite Residences, $1 million for a 1-bedroom, $1.7 million for a 2-bedroom, $3,100,000 for a 3-bedroom, and $4,900,000 for a 4-bedroom residence.

13th Floor Investments' Supertall Condo - Brickell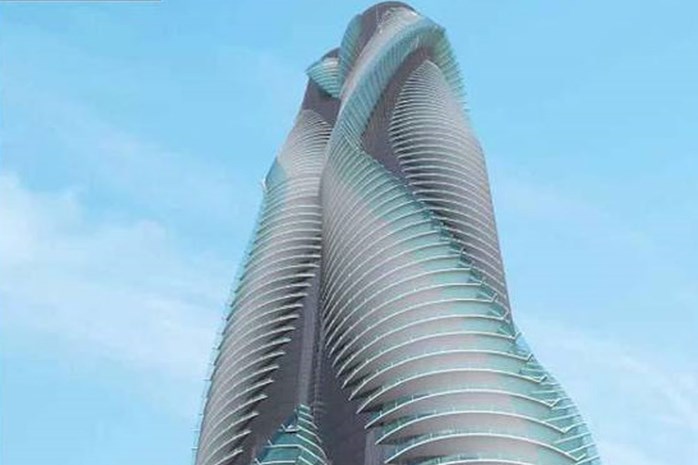 Developer 13th Floor Investments won approval to build a supertall on the site of the First Miami Presbyterian Church at 609 Brickell Avenue. Only a surface parking lot and school will be redeveloped, while the church's historic building will be preserved. The waterfront site is eligible to gain a structure of up to 1,049 feet. If built to that height, the massive condo tower will become one of the tallest buildings in Miami, sharing the spot with the already approved Waldorf Astoria Hotel and Residences. 
Expected to rise 80 stories, initial renderings of this waterfront supertall reveal an exoskeleton design, plenty of green spaces and a lavish pool deck by the bay.

Chetrit Group's 5 Phase Project – Miami River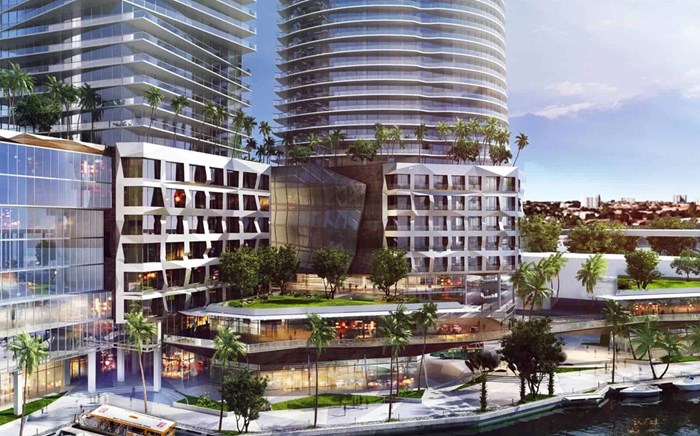 The New York City-based Chetrit Group (acting through a subsidiary called GC Miami River, LLC), won FAA approval for the first development in its 5-phase project planned on the river. The 4.2 million-square-foot Miami River project will include four glass skyscrapers featuring up to 1,678 residences, 330 hotels rooms, 196,882 square feet of commercial/retail space, 98,040 square feet of office space and a 30-slip marina.
The 54-story condo tower approved in October will rise 640 feet above ground, or 645 feet above sea level, becoming the westernmost 600-foot tower to be built in Miami. According to initial renderings, the approved 632-condo tower could feature a curved façade, an outdoor pool and deck above the podium, which looks like an oval cylinder clad in glass and wrapped with private terraces.
Located at 275 Southwest 6th Street, the massive project comes designed by Kobi Karp in harmony with other structures in the vicinity. Construction work is already underway since the plot has been lying vacant.
 
---
Miami Preconstruction Projects - Applied for Permits
---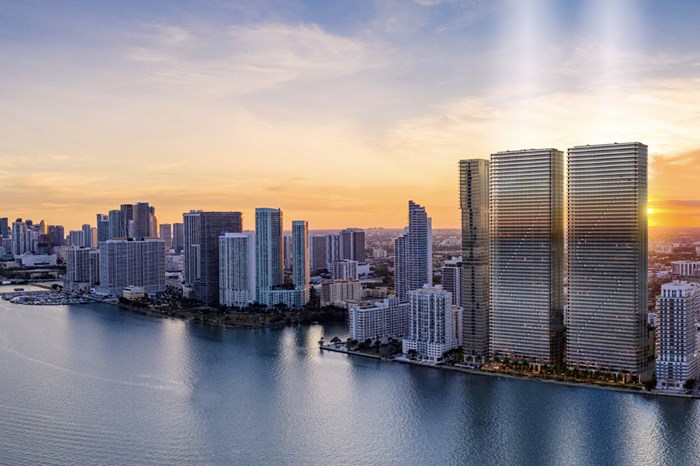 Applying for their construction permit this October, the tallest residential waterfront twin towers in the U.S. is on track for an early 2022 ground-breaking and 2024 completion. Developer Melo Group further added that 40% of the units at Aria Reserve are already sold out after launching sales just this June.
Rising 60 stories against 547 linear feet of dazzling waterfront in Edgewater, the supertalls will be perched on the last waterfront reserve of its kind. Positioned to offer the best waterfront value in Miami, developers are keeping prices comparatively low at this luxury development. Owners will also have the option to rent their units up to 4 times a year, making it an affordable investment.
Designed by Arquitectonica, the 782-unit twin towers will feature tasteful interiors by the MORADA Haute Furniture Boutique. One of its most distinctive features – each unit at Aria Reserve will feature direct water views, East to West flow-through floorplans complemented by 10-foot-high ceilings, 11-foot-deep terraces, a dedicated office/bonus room, and two flooring options. Highlight amenities include a 2-acre recreation deck, inclusive of a semi-Olympic sized lap pool, a whirlpool spa, children's splash pad, teen lounge and gaming center, and playground.
Residents at Aria Reserve will also enjoy an indoor-outdoor wellness center, meditation gardens, tennis courts, basketball courts, paddle courts, miniature golf, a signature waterfront restaurant and café, a theater room, telescope observatory area, dog park, and custom-designed water sports dock with rentable equipment. Developer Melo Group will also be developing a public park along 23rd street with direct access to the 5-mile-long waterfront Miami Baywalk as part of the project.
For more details on Aria Reserve and how it seeks to deliver the best waterfront value in Miami, go here. 
Prices range from $750,000 to over $2 million, with a choice of one- to four-bedroom condo residences. Penthouses start at $12 million.

Keeping pace with a hot luxury housing market, Newgard Development Group has filed for a demolition permit to begin site prep at 99 SW 7th Street. With a soft sales launch in September, developers are moving fast to get Lofty Brickell on the ground. From the same developers behind Natiivo (Miami's first short-term rental-approved condos), this ready-to-rent condo tower will be one of the three new towers planned along Miami River. The 1.6-acre site will feature branded luxury apartments and branded hospitality, besides Lofty condos.
Designed by Arquitectonica, this riverfront condo tower will flaunt a minimalist, postmodern aesthetic. Rising 40 stories, it will come equipped with green building tech. All residences will be delivered fully finished and furnished with high-end interior touches curated by INC.NY.
Owners at Lofty Brickell will have the opportunity to rent their condos to a multitude of home-sharing sites such as Airbnb, VRBO, and HomeAway. Planned amenities include a resort-style pool with cabanas, bar and grill on the pool deck, private Peloton studios, yoga lounge and terrace, a LOFTY rooftop experience, event room, co-working lounge with private meeting rooms, access to the LOFTY concierge app, and more. 
For more information on Lofty Brickell and its investment opportunities, read here.
Prices start at about $500,000 for studios, $554,000 for one-bedrooms, and $903,000 for two-bedroom residences

Boutique Condo Tower – Edgewater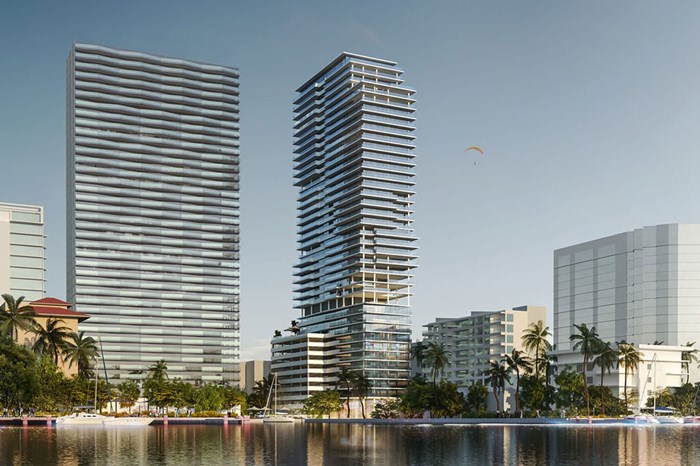 Previous renderings of a potential 38-story, 92-unit tower on the site from architect Ayenk

After revealing plans for their waterfront, 0.6-acre assemblage in Edgewater this August, the New York-based SB Development Group and Hazelton Capital Group are moving ahead with building a boutique condo tower at 480 NE 29th Street. Filing for a demolition permit this October, developers are looking at an early start for the waterfront project.
Designed by Kobi Karp and Argentina's Dieguez Fridman, the 38-story tower will sit adjacent to Icon Bay. The unnamed boutique tower will also house a ground-floor restaurant along the bay. More details to follow soon.


---
Miami Preconstruction Projects - Planned/Proposed
---
 
New Ritz Carlton Condo Tower – South Beach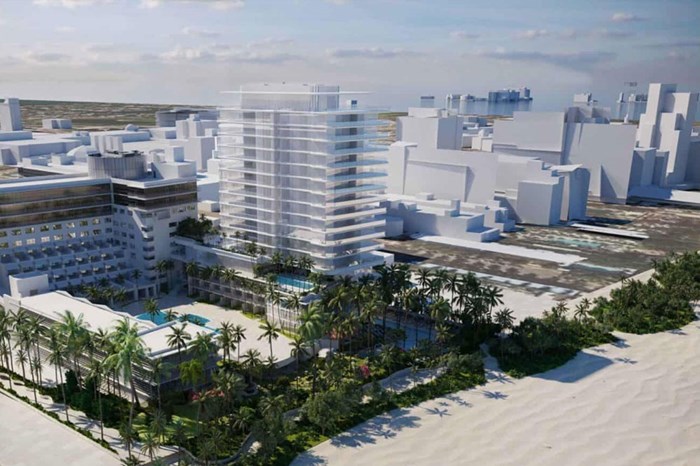 Owners of the Ritz Carlton and Sagamore have proposed the addition of a 200-foot condo tower to the properties. The new tower will sit partially on the Sagamore property and be built cantilevered over an existing 4-story cabana at the Ritz Carlton hotel. A 1990s building will be demolished at the Sagamore to make space for the new condo tower.
Designed by eminent Miami architecture firm Kobi Karp, the new tower will feature 50 luxury condos under Ritz Carlton's branding and management. A third-floor pedestrian bridge between the Sagamore and Ritz Carlton has also been proposed. Additionally, the Sagamore will be gutted for renovations and brought under Ritz Carlton's branding and operations.


---
Miami New Construction Projects - Construction Status
---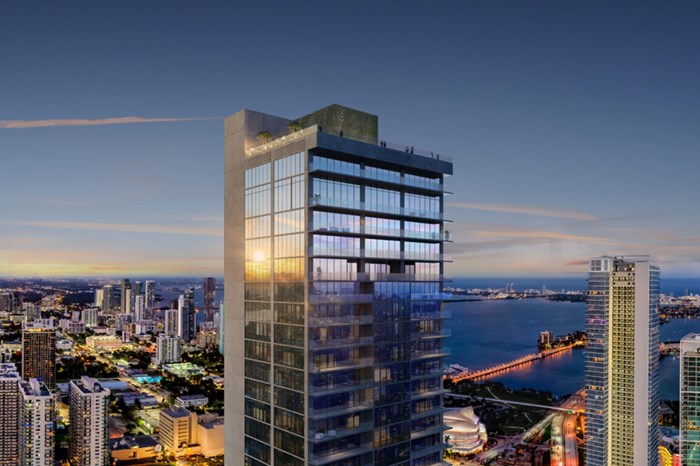 Developer PMG announced that the fully sold-out E11even condo-hotel is breaking ground on November 11, 2021. Approved for a height of 698 feet above ground or 709 feet above sea level, the Sieger Suarez-designed tower will rise 65 stories with 375 condo units. Other Miami condos built to the same height include One Thousand Museum and Paramount Miami Worldcenter in Downtown.
Developed in association with Downtown's infamous club-makers by the same name, amenities at this suave condo-hotel will include an exclusive 24/11 rooftop experience, access to the 20,000-square-foot multi-level E11even Beach Day Club and pool, a Deepak Chopra-designed spa & studio, a 5-star gourmet food hall, casino-style sports lounge, signature bar and lounge, art installations, and much more.
Owners at E11even Hotel and Residences will have the option to subscribe to the hotel's rental program, allowing them to rent out their units for additional income. Following the instant success of this condo-hotel, developers announced a second tower, E11even Beyond, this month.
Prices started at $385,000 and go up to $12 million, with a choice of studios to two-bedroom residences.

Seville-inspired Gables Village – Coral Gables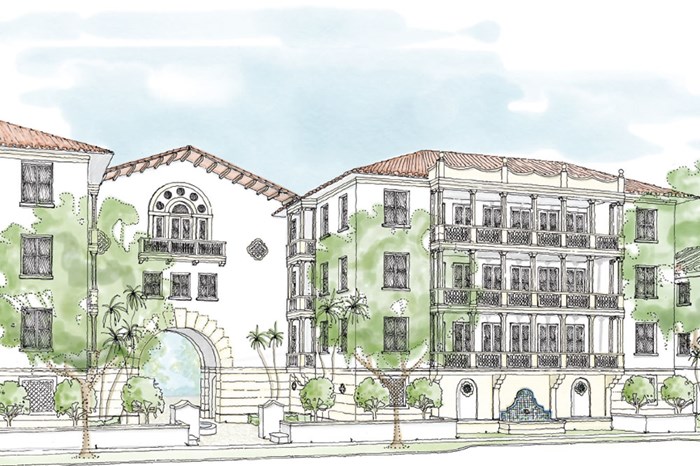 City Beautiful is set to gain an entire "village" comprised of duplexes, townhouses, and condos set through 17 lots at 535 Santander Avenue. Planning to break ground soon, MG Developer is building the community as a tribute to George Merrick's legacy and history in the form of tree-lined streets, plazas, fountains, and parks.
Designed by De La Guardia Victoria Architects & Urbanists, Gables Village will be built in the Mediterranean Revival style of architecture. The $50 million village will come bordered by gardens inspired by the alcoves in the Plaza de España and will be integrated through an entire block.
With residences built for modern-day comfort, each unit will come beautifully appointed with luxurious touches. Amenities at this lavish project are expected to include a pool, a wellness center, and a multipurpose room. Construction is likely to begin in 2022, with completion scheduled for 2024.


---
Miami New and Pre-Construction Projects - Other Updates
---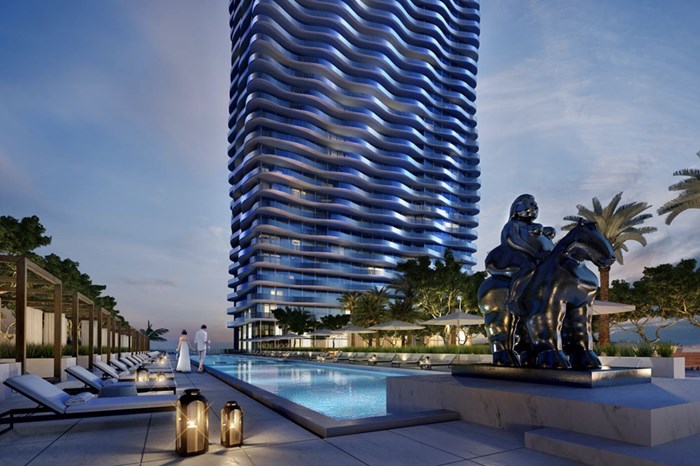 With demand surging and a feverish market pitch, the Related Group will be launching sales soon for its once-shelved project, Auberge Residences, under the new name of Casa Bella. With plans similar to those submitted for Auberge, Casa Bella will carry a 3-tower complex, comprised of 1,430 residential units and 1,629 parking spots, all connected by a podium.
Casa Bella is likely to rise 60 stories with a total of 300 condos, featuring only 6 units per floor. Each luxury condo will feature designs by Pierro Lissoni and private elevator access. While more details will follow soon, some construction activity has already been noticed at the former sales center for 1400 Biscayne.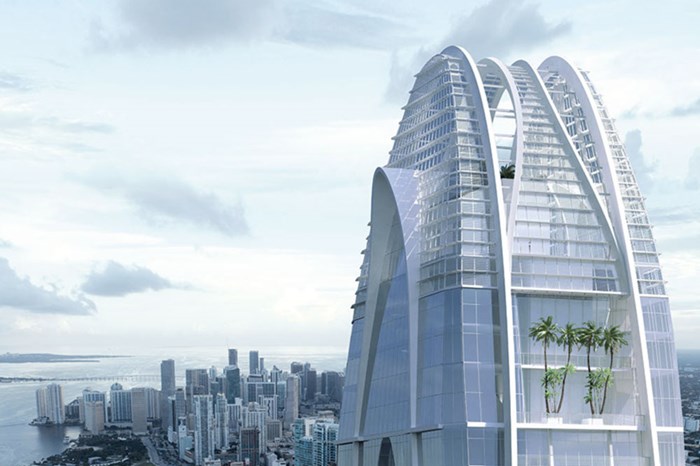 After months of suspended activity due to the pandemic, Turkish developer Okan announced its plans for resuming construction soon. Designed by Behar Font to look like Turkey's national flower - a tulip, the tower will rise 70 stories in Downtown Miami.
According to a utility deal, the skyscraper is expected to house 399 condo residences, 316 hotel rooms (operated by Hilton), 67,588 square feet of office space, 305 square feet of retail, and 2,690 square feet of coffee shop. Amenities will include three swimming pools (including a rooftop pool), a pool bar with outdoor lounges, a residents' screening room, a full-service spa with Turkish Hammam, a fully-staffed kids club area, multiple on-site restaurants, a sunset roof deck with breathtaking views of the water and city skyline, on-site laundry and dry cleaning, and much more.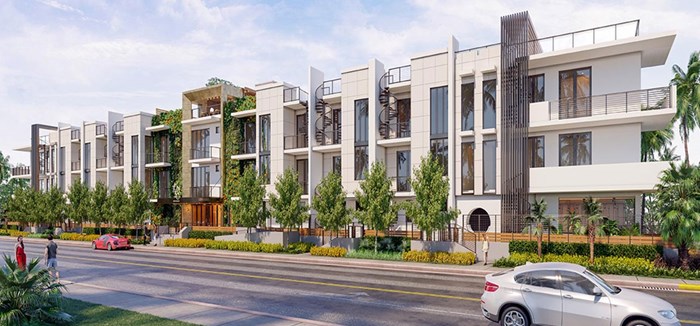 One of the fastest-selling projects this year, TEN30 is already sold out as it nears completion. The boutique condo building rises 4 stories with only 43 luxury residences. Developed by the Shoma Group, residences in the building were moderately-priced as compared to others in South Beach.
Designed by Adriana Hoyos and Saladino Design Studio, the boutique building is set to feature a Mid-Century Modern design. Each tech-savvy unit will come outfitted with Italian-designed chef-caliber kitchens, Samsung's Family Hub refrigerator capable of booking Uber rides to sending messages, Latch doors, Bluetooth-enabled keyless entry systems, and camera surveillance controlled via smartphones. Other amenities will include a 6,000 square-foot rooftop deck with rosé-colored pool, two fitness centers, a yoga space, an outdoor lounge, an outdoor kitchen with barbecue space, and covered parking for each residence.
Prices started at $498,900, with a choice of studios, one- and two-bedroom residences.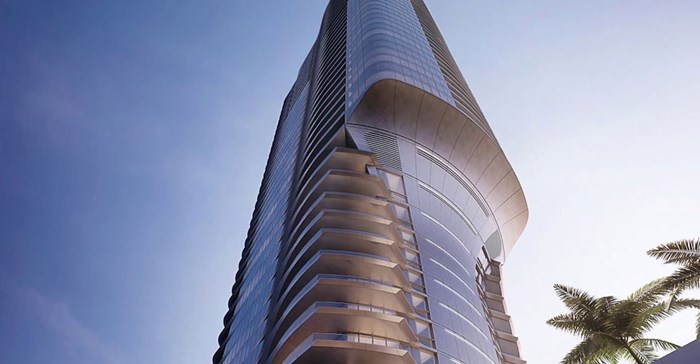 Quickly selling out, South Brickell's waterfront Una Residences are 88% sold. Developed by OKO and Cain International, construction is in full swing at the 47-story tower, which is aiming for a late 2022 top-off and 2023 completion.
Designed by Adrian Smith + Gordon Gill, the yacht-inspired building will feature 135 impeccably-styled residences clad with high-efficiency, noise-reducing floor-to-ceiling exterior glass. Upon completion, residents will be able to enjoy a range of amenities at this waterfront condo tower inclusive of three swimming pools, a separate kids' splash and play area, a kids' indoor playroom, an owner's lounge, outdoor lounge, private dining room/party room, movie theater, spa, beauty salon, private marina, dog-walk area, direct access to the Baywalk, and more.
Read here to find more details on the elegant Una Residences gracing South Brickell's waterfront.
Prices start at $2,700,000, with a choice of three- to five-bedroom residences.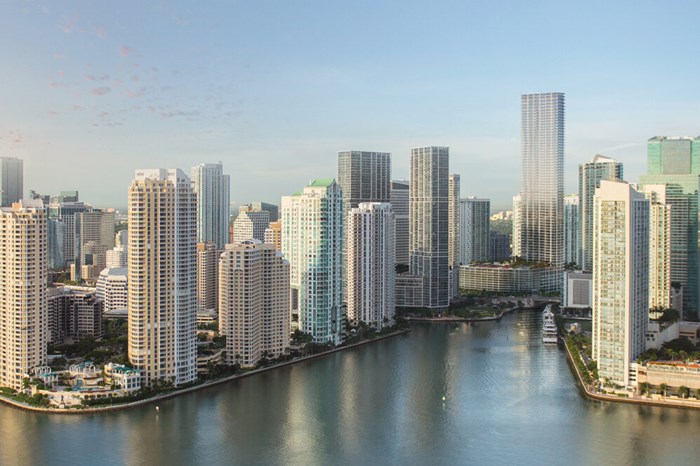 Related Group's most luxurious project-to-date could face some hiccups and delays in construction. With more human remains and historical artifacts found at the site, reports say 444 Brickell is eligible for being listed in the National Register of Historic Places. The report also recommends avoiding areas with important finds, or proceeding with a more extensive third phase of excavations.
Regardless, the Related Group will bring the 75-story tower to life as they already began working with the city on the third phase.
The luxury tower represents the first partnership between Barry Sternlicht's SH Hotels & Resorts and the Related Group. Designed by Arquitectonica, the distinctive tower is set to feature an undulating, reflective façade emulating French crystals. All 324 condos at the high-rise will feature designs by Meyer Davis Studio, styled as a fusion between 18th-century Paris and 21st-century Miami, with a hint of 1930s Art Deco influence.
Scheduled for an early 2022 groundbreaking and fall 2025 completion, the riverfront Baccarat residences will be the first in a three-tower complex. Highlight amenities will include a marina with yacht dockage and "luxury house yacht," a riverfront restaurant, swimming pool, clubroom, grand salon event room, wine cellar, game room, children's playroom, spa, beauty salon and barber, private workspaces, business center, and more.
Once complete, 444 Brickell will carry a total of 1,400 residences, a 250-room five-star hotel, class-A office space, and retail.
Prices range from around $1.1 million to $3.5 million per unit, with a choice of one- to four-bedroom residences. The penthouses will be upwards of $14 million.


---
Miami New and Pre-Construction Projects - Watchlist
---

Walmart's former property – Midtown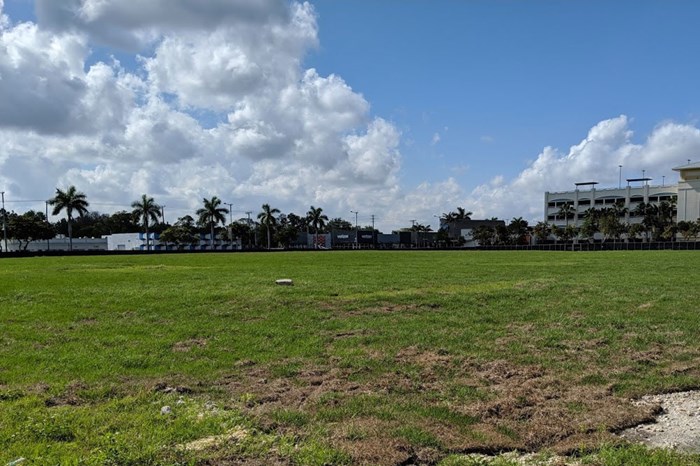 Listed for sale in July, Walmart's former property at 3055 N Miami Ave is looking for buyers. Within walking distance to a proposed Brightline station, we'll be keeping watch on this deal as zoning for this 5.5-acre site allows the development of 972 residential units.

Bulk Buyout of Coral Gables Court Condominiums – Coral Gables
A Boca Raton-based real estate investment firm, Opterra Capital, bought 39 condos at Gables Court Condominiums for a bulk price of $9.1 million. This marks the highest price per condo (bulk) sale in the southwest Miami-Dade submarket, equating to roughly $233,333 per unit. 
Are interested in buying pre-construction in Miami or the Miami Beaches? Is there a specific Miami new construction project you want more information on? Call, chat, or e-mail us to help purchase your next home in any of your favorite pre-construction condos - anywhere from Miami up to the Fort Lauderdale Beaches.


---

Love to stay updated on the latest projects in Miami or Fort Lauderdale? Subscribe to our blog to receive all the monthly updates in your inbox.
Share your thoughts with us
Sign up now
Get news and updates delivered to your inbox