Miami's New and Pre-Construction Condo Update: September 2021
Oct 06, 2021 October 06, 2021
Developers have turned bullish on new condo projects in Miami, and rightly so. Riding the wave of increasing demand for luxury housing in South Florida, developers are reviving shelved projects, assembling land, buying out older buildings and expanding from the city core to get their projects into development. Melo Group and Related Group are already busy assembling parcels in Miami's Arts & Entertainment District and Wynwood, respectively. Downtown's Legacy condo-hotel, 501 First Residences, and Natiivo are already 100% sold out. Lofty Brickell made a soft debut this month with a mix of studio, one-bedroom, and two-bedroom ready-to-rent residences.
Read on for details on these and other updates in our September 2021 condo pre-construction market roundup for Miami:


---
September 2021 - Miami Condo Pre-Construction Market at a Glance
---

Closings Underway
Sales Launched
Lofty Brickell – Brickell
Approved
Ocean Terrace – North Beach

E11even Hotel and Residences – Downtown Miami

Waldorf Astoria Hotel and Residences – Downtown Miami
Planned/Proposed
Luxury Townhouses – Miami River

Three-tower Project – North Miami Beach
Other Updates
The Estates at Acqualina – Sunny Isles Beach

Aston Martin Residences – Downtown Miami

Bentley Residences – Sunny Isles Beach

Resorts World Miami – Downtown

Baccarat Residences (previously 444 Brickell / One Brickell) – Brickell

Legacy Hotel & Residences – Downtown Miami

501 First Residences – Downtown Miami

Natiivo – Downtown Miami
Watchlist
Melo Group Assemblage - Arts & Entertainment District

Bay Park Condo Bulk Buyout – Edgewater

Residential Project for former RedSky property – Wynwood


---
Miami Approved Pre-Construction Closings Underway
---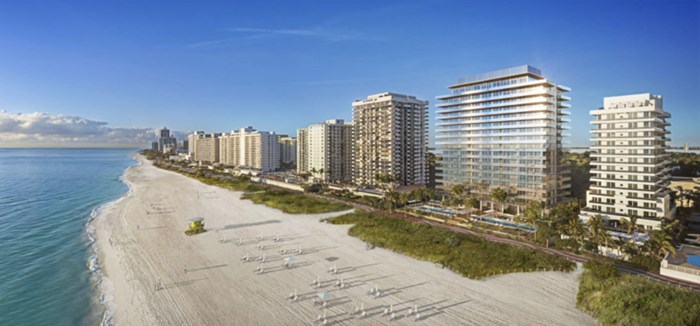 Sold out, with TCO in hand, and ready for closings. 57 Ocean is moving full steam ahead to welcome all 81 of its residents as planned. With its Temporary Certificate of Occupancy (TCO) in place this September, developer Multiplan REAM is on track for a Fall 2021 opening.
Riding the wave of strong luxury housing demand, the oceanfront building had registered $90 million in sales between January and March. And now, with closings taking place, the wellness-oriented building has already achieved a $330 million sellout.
Designed by the award-winning Arquitectonica, this 18-story building is home to 81 modern residences with Brazil-inspired interiors by Patricia Anastassiadis. The boutique building is known for its robust assemblage of "Blue Wellness" amenities and services. Some standout amenities offered at 57 Ocean include a One Ocean Beauty spa featuring products from the brand's marine-based skincare line, a wellness pavilion with thermal suite and meditation area, two beachfront infinity-edge swimming pools, an outdoor gym with top-of-the-line MyIsle training equipment by MyEquilibria, an indoor Technogym, a children's activity room, and more.
Prices ranged from $1.5 million to $36 million.


---
Miami Approved Pre-Construction Sales Launched
---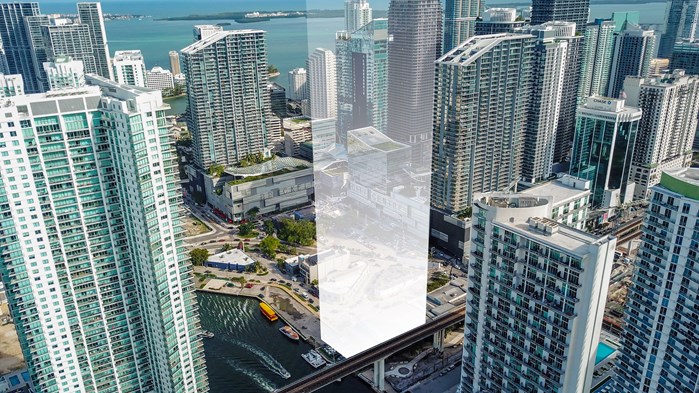 Starting off with a soft launch for close friends and family, Lofty Brickell is one of the three new towers planned along the Miami River. Developed by Newgard Development Group, the 1.6-acre site is set to feature Tower 1 with branded luxury apartments, Tower 2 with branded condos, and Tower 3 with branded hospitality.
Newgard - the developer behind Natiivo (Miami's first short-term rental-approved condos) – has proposed Lofty Brickell as a ready-to-rent project. Owners will have the opportunity to rent their condos through Airbnb or HomeAway.
Designed by Arquitectonica, the riverfront condo tower will rise about 40 stories with a minimalist, postmodern aesthetic. Equipped with green building tech, the residences will be delivered fully finished and furnished with high-end interior touches curated by INC.NY. The ready-to-rent building will also offer amenities such as a resort-style pool with cabanas, bar and grill on the pool deck, event room, private Peloton studios, yoga lounge and terrace, a LOFTY rooftop experience, co-working lounge with private meeting rooms, access to the exclusive LOFTY concierge app, and more.
For more information on Lofty Brickell, its investment opportunities, and location read here.
Prices start at about $500,000 for studios, $554,000 for one-bedrooms, and $903,000 for two-bedroom residences.


---
Miami Approved Pre-Construction and New Construction Projects
---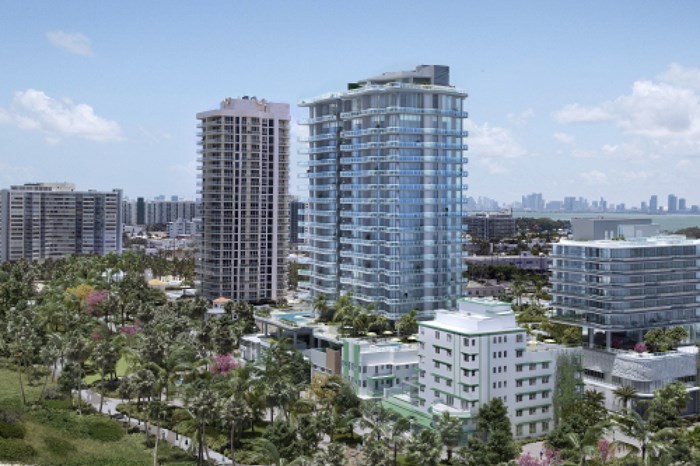 Ocean Terrace now stands approved with the City of Miami Beach Historic Preservation Board signing off Ocean Terrace Holdings' plans for a condo, hotel, and $15 million park in North Beach this September.
The project calls for the redevelopment of the historic Broadmoor and Ocean Surf hotels along with the development of a 20-story luxury condo tower. Coral Gables-based RJ Heisenbottle Architects will be handling the historic preservation of the hotels. The renovated hotel side will feature 55 rooms, while a new 11-story building with rooftop pool will be home to 72 hotel suites. The hotel will also feature 2,020 square feet of meeting room space, a 480-seat restaurant, and a 1,640-square-foot bar.
The 20-story condo building will rise with 75 luxury residences, an outdoor pool and deck, spa, and access to a 5-acre oceanfront public green space. Designed by Revuelta Architecture International to feature curvilinear designs reflective of MiMo style, sales for the condo tower are expected to launch in 2022. There will also be 17,474 square feet of retail space.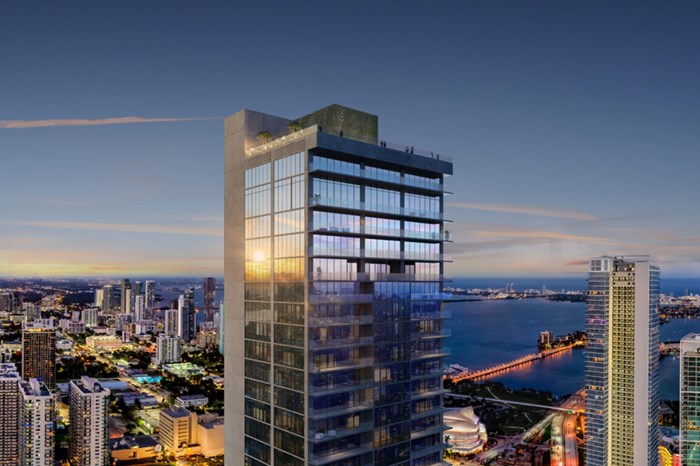 Approved by the Federal Aviation Administration, the already sold-out E11even condo-hotel is set to rise 698 feet above ground or 709 feet above sea level. The tower will rub shoulders with One Thousand Museum and Paramount Miami Worldcenter in Downtown, both built to the same height. Developers are already contemplating the construction of a second tower due to high demand.
Developed by PMG and Downtown's (in)famous club-makers, this Sieger Suarez-designed tower will rise 65 stories with 375 condo units. The New York-based AvroKO Hospitality Group will be handling interiors. Looking to break ground in the third quarter of 2021, owners at E11even Hotel and Residences will have the option to subscribe to the hotel's revenue generation program, allowing them to rent their units when not in use. 
Right across the street from the E11EVEN 24-hour nightclub, this suave condo-hotel will offer residents an exclusive 24/11 rooftop experience, access to the 20,000-square-foot multi-level E11even Beach Day Club and pool, a Deepak Chopra-designed spa & studio, art installations, a 5-star gourmet food hall, casino-style sports lounge, signature bar and lounge, and much more.
Prices start at $385,000 and go up to $12 million, with a choice of studios to two-bedroom residences.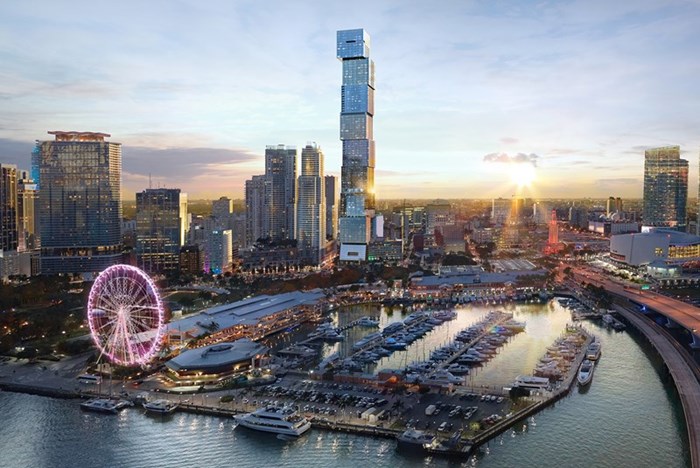 Winning approval from FAA to rise 1,040 above ground, this Waldorf Astoria has secured its status as the tallest building in Florida and Miami's tallest-ever. With buyers putting in reserves quickly, it has become one of the fastest-selling condo projects in Miami, sharing the title with the sold-out E11even Hotel and Residences. 
The first to open an experiential sales gallery, this Waldorf Astoria condo-hotel is set to rise 100 floors with 306 condos and 205 hotel rooms. Designed by Burj Khalifa-architect Carlos Ott in association with Miami's Sieger Suarez, the supertall will look like a staggering stack of 9 glass cubes upon completion. While the bottom 3 cubes will house the hotel suites, the upper cubes will house its condos and amenities.
The first Waldorf Astoria in South Florida, the skyscraper will feature interiors by San Francisco's award-winning design firm BAMO. Along with preferred rates and access to hotel services, residents will gain access to a resort-style pool deck with an outdoor café, the hotel brand's famous Peacock Alley lounge, signature restaurant, signature spa, wine tasting room, kids' club, luxurious owners' lounge, indoor-outdoor event spaces, smart-home tech with custom mobile app access, and much more.
The project is expected to break ground in the first quarter of 2022. For more information on Waldorf Astoria's storied brand and what it seeks to deliver in Miami, go here.
Prices start at $650,000 for Junior Suite Residences, $1 million for a 1-bedroom, $1.7 million for a 2-bedroom, $3,100,000 for a 3-bedroom, and $4,900,000 for a 4-bedroom residence.


---
Miami Planned/Proposed Pre-Construction Projects
---
After assembling a 1.24-acre parcel along the Miami River, local developer Babba Joshua Yesharim is planning to put a luxury townhouse project on the site. The plot located at 678-720 N.W. North River Drive was acquired for a total of $5.6 million in three separate deals.
According to Yesharim, "the Miami River District is the only waterfront property left with boat slips in Miami's true urban core, and it is the last area that has yet to be completely redeveloped." The waterfront townhouse project will span 80,000 square feet with a targeted price of $950 per square foot.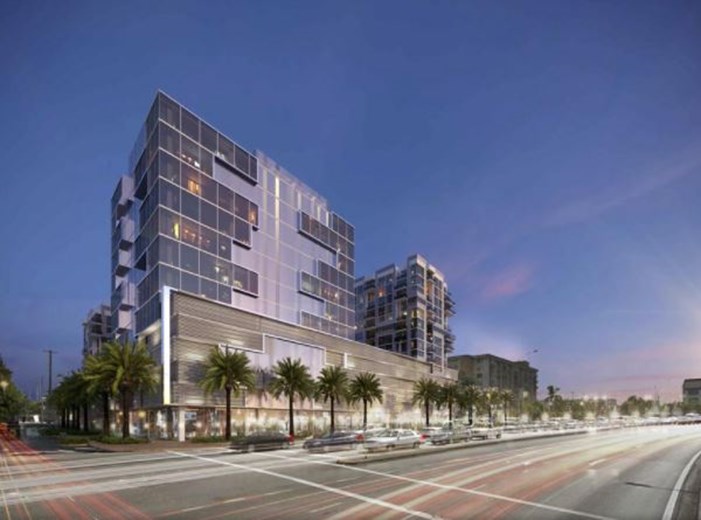 Developer Echad Holdings LLC has proposed to tear down the 1973 office building at 851 N.E. 167th St./Golden Glades Drive to make way for a three-tower project. Designed by Kobi Karp Architecture, the site plan proposes the construction of two 15-story towers and a 10-story tower on the 2.1-acre property. The project is expected to feature 223 condo-hotel units, 12,258 square feet of retail, 3,866 square feet of restaurants, 77,856 square feet of office space, and a 526-space parking garage. There could also be a pool and amenity deck on the 10th floor.
 
---
Miami Pre-Construction Projects - Sold Out
---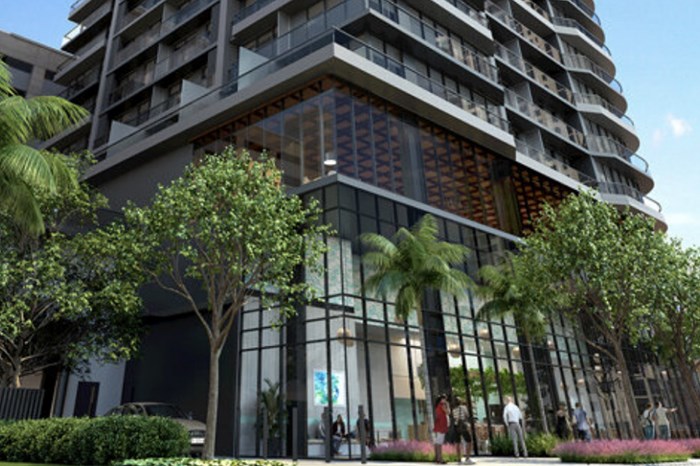 Another condo project sold out before groundbreaking, developer Aria Group announced that 501 First Residences was 100% reserved as of September. The 40-story tower marketed with no rental restrictions will feature 448 luxury residences. To be delivered fully finished and furnished, the tower will feature amenity spaces on levels 1-3 and 37-rooftop, while all condo units will be stacked on levels 4-36.
Designed by Revuelta Architecture, the luxury tower will feature interiors by Shim Projects. Each luxury residence will sport a balcony and high-end touches such as innovative appliances by Smeg, Hansgrohe bathroom fixtures, custom Italian cabinetry, and more. Residents will also gain access to a fully integrated ButterflyMX digital property access system, a rooftop deck with 75-foot resort-style lap pool, an oversized swim-spa, grill and chill sunrise-sunset decks, indoor gym designed by HOMAGE Fitness, a rooftop movie theatre experience, media room & library, outdoor game lawn, club suite with game tables, rooftop with year-round Greenhouse, bistro and bar concept by New York's GPG Hospitality, co-working spaces, pet lounge, and on-site 60-bike parking garage.
Developer Aria Group has also signed a deal with Miami-Dade County Public Schools to build a 22-seat classroom to meet the demand generated in the area by additional housing. Looking at an early 2023 completion, find more highlights about the 501 First Residences here.
Prices start from the $300,000s, with a choice of studio, one- and two-bedroom residences.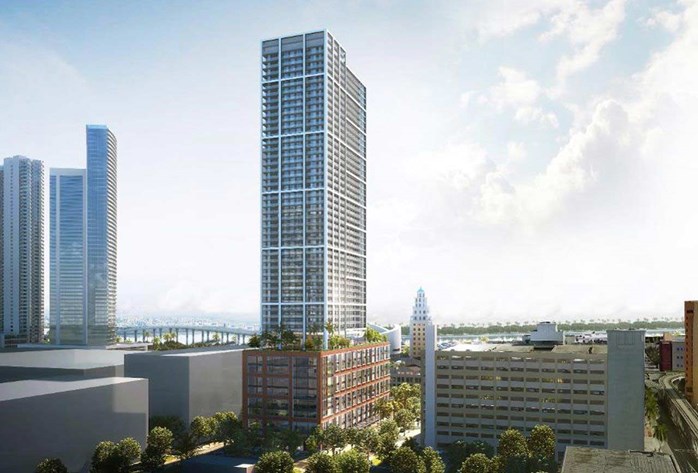 As Natiivo begins rising vertically, the ready-to-rent tower reports a 100% sell-out. Developers also managed to secure a $213.4 million construction loan this September. Known as the first condo building to be approved for short-term rentals in South Florida, Natiivo will rise 51 stories with 448 turnkey condo residences, 100 Gale hotel rooms, and 140 condo-hotel units.
Designed by Arquitectonica with interiors by Urban Robot Associates, the wellness-focused development is expected to be completed by mid-2023. The ready-to-rent building will feature green building tech along with an 18,000 square foot health and fitness center, inclusive of a yoga studio, boxing ring, CrossFit, outdoor training terrace, peloton equipment, and The Fit boutique.
Besides office and retail space, Natiivo will also be home to co-working spaces, quiet rooms, a 16,000 square-foot pool retreat complete with fully serviced pool and cabanas, an amphitheater, specialty restaurants (Bodega Taqueria and Dolce Mercato), multiple lounge areas, dining terrace, a speakeasy, programmed events, and much more.
Prices start at $300,000, with a choice of studios to three-bedroom residences


---
Miami Pre-Construction Projects - Other Updates
---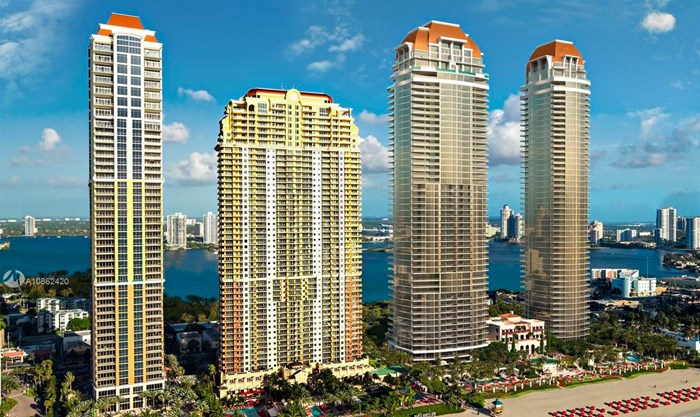 Topped off this May and on track for an early 2022 completion, developers of the two-tower Estates at Acqualina have announced the addition of a brand-new amenity. Villa Acqualina, the 5-story 45,000-square-foot, residents-only amenity complex is set to gain a health and fitness sanctuary overlooking the ocean called AcquaFit. Designed by the STA Architectural Group, the luxury fitness facility will offer a combination of wellness and sports training to meet the needs to live a healthy lifestyle among its residents.
The Estates' complex is home to a south tower called 888 Via Acqualina and north "boutique" tower called 777 Via Acqualina. The two ultra-luxury towers and amenity villa share space with the Five Star, Five Diamond Acqualina Resort & Residences on the beach. Both 50-story condo high-rises offer a combined 248 residences. Other amenities offered at the 5-story villa include an ice-skating rink, 4-lane bowling alley, golf simulator, Formula One racing simulator, surfing simulator, boxing ring, soccer field, Wall Street traders' clubroom, movie theater, speakeasy, cigar lounge, and New York's famous Greek restaurant Avra Miami.
Prices for remaining units range between $ 4.6 million and $11 million, while penthouses are priced upwards of $31 million.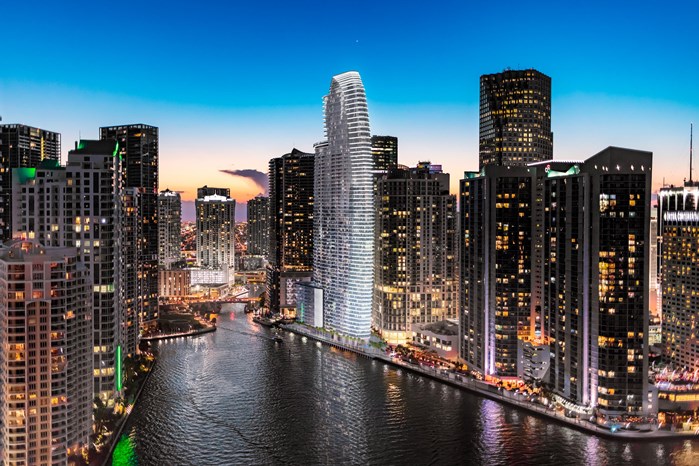 As Miami's art scene begins to pick up, this year, developer G&G Business Developments seems to be taking the lead by welcoming artist Fabio Mesa to its 52nd floor, virtually accessible art gallery. Currently on display, "The Dreamers" exhibit features paintings of Mesa's "signature human crowds" and will be open for viewing through November 15. For the September opening of the exhibition, the artist also created an original piece to convey his own expression of the Aston Martin Residences. 
On track for a 2022-23 completion, the sail-shaped Aston Martin Residences are close to topping off with construction reaching the 66th floor. Designed by Revuelta Architecture, the 391-unit statement tower will feature signature touches privy to Aston Martin's finest rides including number plinths, signature stitching, and color palettes. Boasting of the only deep-water, superyacht-friendly marina in Downtown, residents of the branded building will also gain access to a sky lounge, infinity pool, world-class spa, two cinemas, a kids' room, barber station, butler service, and more.
Prices start at around $1 million for remaining condo units, while penthouses are available for upwards of $50 million.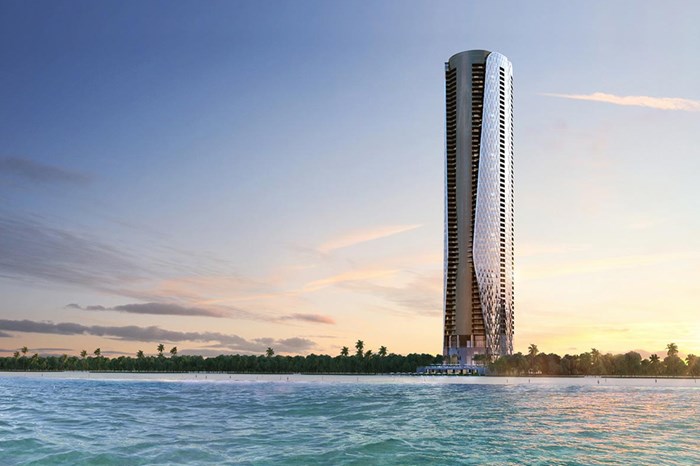 Proposed to be the tallest beachfront tower ever built in the United States, developer Gil Dezer is making sure his diamanté tower is tough as diamonds too. According to an engineering report, the building is being designed to withstand winds up to 175 miles per hour and have a 115 mph "Serviceability Design."
Designed by Sieger Suarez, the 60-story cylindrical tower will feature a highly reflective diamond-like façade created using triangulated glass. The world's first Bentley Motors-branded residences will also feature custom lighting, sustainable materials, and signature scenting. With just 4 units per floor, each of its 200 luxury condos will open up to direct ocean views and come with a 4-car sky garage serviced by the Dezervator (patented car elevator).
With construction expected to begin in early 2023, amenities at this oceanfront luxury skyscraper will include a pool, spa, gym, whisky bar, restaurant, cigar lounge, cinema, beautifully landscaped communal gardens, and more.
Read more about Bentley's commitment to sustainability, lifestyle at these branded residences, and location here.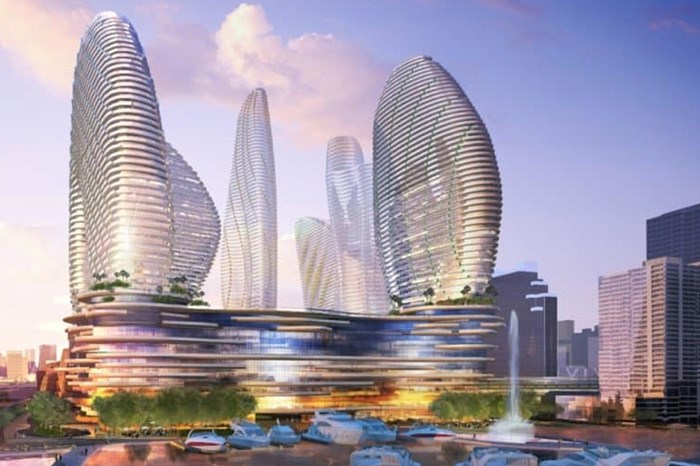 Revived after a four-year hiatus with a FAA approval in August, Genting is moving ahead with filings to developing a Monorail and Bus station at its Resorts World Miami site. The Monorail station will connect Downtown to Miami Beach with a scenic 3.5-mile ride running parallel to the MacArthur Causeway. For more in-depth information on the SMART plan, go here.
Genting's One Herald Plaza site is also set to feature three 649-foot towers. The 60-story waterfront towers will also offer access to a baywalk and marina. For more on Genting's original site plans from 2011, progress on bringing a casino to Miami, and other Resorts World updates, go here.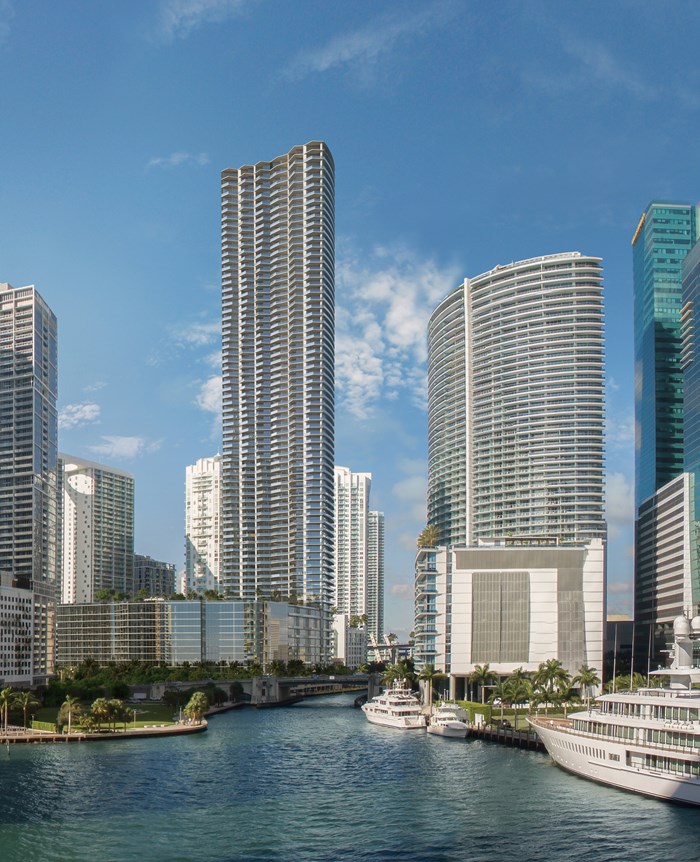 Related Group's most luxurious project-to-date is now 50% reserved after launching sales this June. Developer Related Group teamed up with Barry Sternlicht's SH Hotels & Resorts to bring the Baccarat brand to Miami.
Designed by Arquitectonica, the 75-story luxury tower will feature an undulating, reflective façade reminiscent of French crystals. Interiors of all 324 condo units will be styled by Meyer Davis Studio as a fusion of 18th-century Paris and 21st-century Miami, with a touch of 1930s Art Deco influence.
These riverfront residences will offer high-end amenities such as a marina with luxury yacht dockage and "house yacht," riverfront restaurant, swimming pool, clubroom, game room, children's playroom, spa, beauty salon and barber, grand salon event room, wine cellar, private workspaces, business center, and more. 
This Baccarat-branded project is scheduled for an early 2022 groundbreaking and fall 2025 completion. The three-tower complex at 444 Brickell (inclusive of Baccarat) is planned to carry a total of 1,400 residences, a 250-room five-star hotel, class-A office space, and retail. 
Prices range from around $1.1 million to $3.5 million per unit, with a choice of one- to four-bedroom residences. The penthouses will be upwards of $14 million.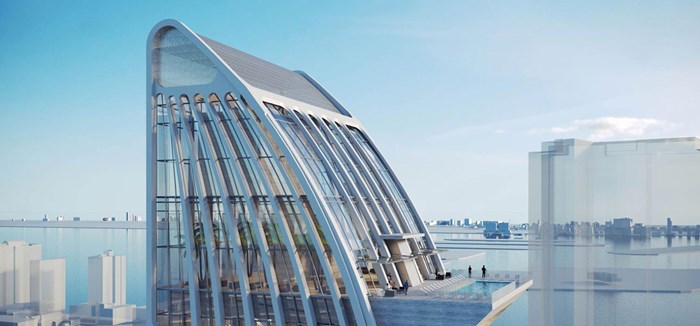 Recently approved by FAA to be the 2nd tallest tower at the Miami Worldcenter, Legacy developer has revealed more details of what future residents can expect from this 100% sold-out tower. According to the latest plans filed with Miami's Urban Development Review Board, the condo-hotel will have:
A business lounge, ballroom space, restaurant, retail, and giant wellness center at its base

A 9th-floor pool deck including an indoor lounge/breakfast area, outlined by villas

Office space will be decked above the pool deck, followed by hotel and condos
Designed by Kobi Karp, the 50-story luxury tower will house 310 condos styled to bring alive its trademarked microLUXE living concept. The condo-hotel will also be the first to feature an Accor (Morgans Original hotel) and pandemic-ready wellness retreat. The 10-story medical center will house the world's first Blue Zones wellness center. Blue Zones is a preventative health company centered around teaching people how to live healthier lives using fitness, meditation, and healthy eating. Legacy's medical center will also feature physician offices, labs, pharmacy, a full AI-powered diagnostic center and rooms outfitted with medical gas and ventilator capabilities, plus outpatient surgery.
Other key amenities at the ultra-luxury Legacy will be Downtown's largest (1-acre) hotel pool deck, a "Singapore-inspired" cantilevered pool hanging 500 feet in the sky, America's largest rooftop glass atrium with 7 stories of indoor palm trees, a members-only international business lounge, signature international restaurant, grand ballroom, shul with a kosher kitchen, multiple water features, plus a wide range of wellness facilities ranging from cryotherapy chambers to a vitality spa, IV nutrition therapy, sports medicine, and supporting physical therapy.
Prices ranged between $350,000 and $500,000.


---
Miami Pre-Construction Projects- Watchlist
---
In a trio of deals, the Melo Group has amassed about 35,000 square feet of land next to the Signature Bridge. The developer paid $16.5 million for the assemblage. The land is zoned to allow the development of a 24-story building with 500 units per acre. Read more details here.
A California-based firm has secured about half of the 254 units at Bay Park Tower in a condo bulk buyout deal. The 13-story bayfront tower was built in 1961. The old building is pending a $10 million concrete restoration. Pricing the deal at $150 million and hoping to get at least 95% of unit owners on board; if successful, the California-based buyer will be able to tear down the building for a new 36-story building with 150 units per acre.
Residential Project for former RedSky property – Wynwood
The Related Group, TriStar Capital, Lndmrk Development, and Tricera Capital paid $26.5 million for a 1.3-acre property at 2700 Northwest Second Avenue in Wynwood. The developers plan on building over 300 residential units on the site. The property's previous owner had planned to build a mixed-use development with 72 residences, 68 hotel rooms, 11,000 square feet of ground-floor retail, and 47,000 square feet of offices on the site.
Like a pre-construction project you see? Call, chat, or e-mail us to help purchase your next home in any of your favorite pre-construction condos, anywhere from Miami up to Fort Lauderdale.


---

Love to stay updated on the latest projects in Miami or Fort Lauderdale? Subscribe to our blog to receive all the monthly updates in your inbox.
Share your thoughts with us
Sign up now
Get news and updates delivered to your inbox