Midtown Walmart Construction Stopped – What You Need to Know
Dec 27, 2016 December 27, 2016
It has been almost six months since the retail giant laid a finger on its construction. After breaking ground in January and completing foundation work by June 23, Walmart applied for its permit for vertical construction. The only problem was, it did not own all the land needed for the supercenter.
While the discount chain owns 4.6 acres with frontage on NE 31st Street, it has no access to the frontage at North Miami Avenue or NE 1st Avenue. Walmart is in talks to obtain a unity of title from Midtown Opportunities, however, getting one from Midtown Miami CDD could be a whole different story.
Also, the 203,000 sq. ft. supercenter has been heavily opposed by area residents, business owners and community activists. Let's see why:
1. First of all, residents (and I) agree that Walmart doesn't belong in the urban core. Residents would be perfectly fine driving out to get to a Walmart, if need be.
2. It will stand in stark contrast to the ultra-high-end retail neighborhoods close by such as Design District.
3. It doesn't elevate the neighborhood in any positive way, and neither does it match the economic level of the path of gentrification in the area. This has most people considering that such an addition could actually bring down property prices.
4. Many consider a Fresh Market, Trader Joe's or other similar food store to be a more suitable choice given Midtown's character.
5. Most are crying foul at the corruption of City officials for passing such a vote.
In my honest opinion, a Walmart can definitely be a convenient and affordable addition to shopping in an area. However, when you weigh down the options for Midtown, it's really just a bad choice for residents and the neighborhood.

Here is a Brief history of Walmart in Midtown
It all started in 2011, when a report came out informing that the retail giant plans to occupy 160,000-square-foot of land in a newly flourishing Midtown. The initial proposal, which included a 184,000 sq. ft. supercenter topped off by 10,500 sq. ft. of third-party retail and about 550 parking spaces, was rejected in February 2013 for not meeting local regulations. However, the discount chain, equipped with a redesign by Gensler, won approval from the city commission in August 2013.
Come 2014, Walmart purchased land worth $8.2 million between North Miami Avenue and Midtown Boulevard. What followed was a year-full of litigations filed by residents for dodging one regulation or the other. However, a state judge ruling against a final appeal helped the multinational retail corporation break ground in January 2016.
We are crossing our fingers that the residents of Midtown keep fighting this monstrosity!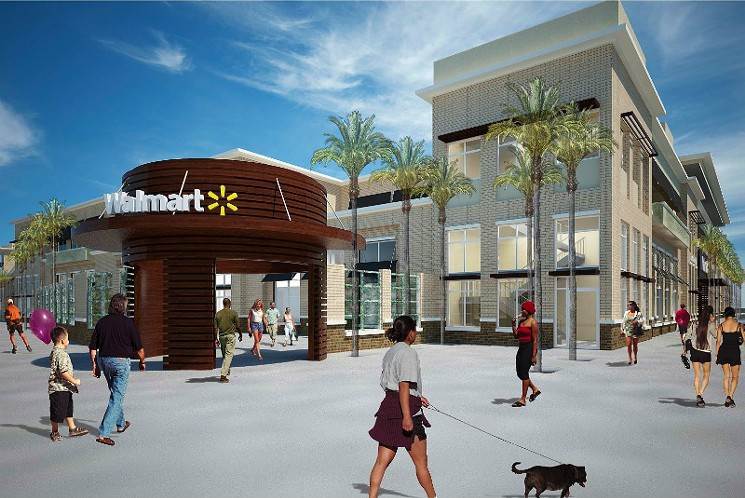 Share your thoughts with us
Sign up now
Get news and updates delivered to your inbox