MLS Miami Condo Snapshot: Real Estate Market is Holding Steady
Apr 09, 2020 April 09, 2020
With all the upheaval and changes to our work-life balance in this time of social distancing, a key question on most people's minds is 'how is the residential real estate market reacting?' A quick, two-week survey from the MLS shows that the Miami condo real estate market is holding fairly steady in the face of the coronavirus, with closings continuing and new listings coming online, but with signs of some slowdown expected as the industry grapples with how to manage showings and deals in light of recent restrictions. 
Our MLS survey took into account a total of about 9,000 condo listings across greater Miami and the Miami Beaches. Read on for details on how the Miami condo market has fared from March 30th, 2020 to April 6th, 2020.




Buyers and Sellers Move Forward with Closings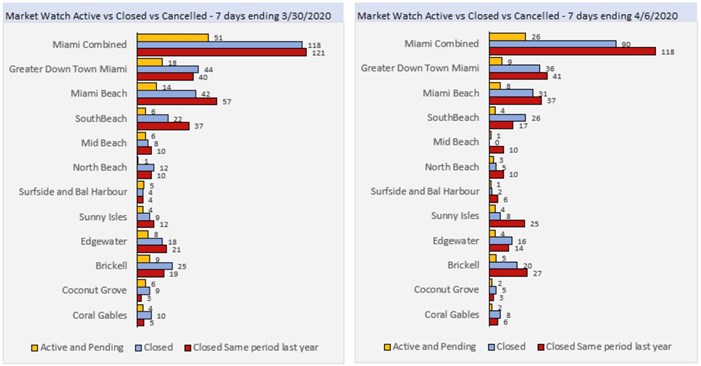 Contrary to what most people would imagine, the condo market in Miami is working as usual. Looking at the week ending March 30th, condo Closings showed little change for the same period a year ago - 118 condo sales closed compared to 121 closed sales in 2019, a decrease of just 2%.
Further, looking into the last week ending April 6th, there were a total of 90 closings, indicating that only some buyers are being cautious, while a majority are continuing on with business. Additionally, many realtors and clients are moving to virtual closings, making the process rather seamless.


Under Contract & Pending Sales Show Some Caution
Similarly, there were a total of 51 Miami condos either "Active with Contract" or "Pending Sale" for the week ending March 30th, which shows that people are still buying.  At the end of last week, that combined total decreased to 26. However, that doesn't necessarily indicate that buyers are pulling out. These numbers are reminders that buying homes is an essential service, and we should expect to continue to see buyers and sellers coming to agreements and condo sales closing.

Condo Listings Status Steady
Another positive indicator that shows the condo market is holding steady is that new listings remained stable for the week ending April 6th, rising to 136 compared to 135 from the previous week. Also, for condos coming back on the market, last week saw only 9 fewer listings (73 compared to 64).  
And again, contrary to what some might expect, it doesn't seem sellers are pulling their listings either. There were only 12 additional canceled listings between the two weeks. And last week actually saw decreases in listings Temporarily Off the Market, with only 88 sellers taking their condos off the market compared to 105 units the week before. Withdrawn listings also don't seem to indicate any seller panic, as the change between the weeks was minimal -- 20 listings were withdrawn the 7 days ending March 30th compared to 22 withdrawn listings for last week. Withdrawn listings are listings that still have an active listing contract between the buyer and seller, but are no longer being shown in the MLS. 

Pricing
Changes Minimal
Another positive trend we noticed for the Miami condo market is that there have not been any substantial pricing decreases over the last two weeks. Only 1.2% of listings posted price decreases compared to the same week a year ago. For the last seven days, there were even fewer listings that lowered their prices -- only 92 condos showed price decreases against a 106 from the week before. In fact, the number of listings reporting price increases went up by 8 (19 compared to 11). This just shows that buyers are still interested and sellers are getting a fair deal in Miami.


Conclusion: Miami's Condo Market Staying Active
Our quick, two-week analysis has revealed that while there doesn't seem to be a shortage of new listings, and closings are taking place as usual with pricing remaining neutral, it's likely we're going to see a slowdown for the time being. This is largely expected because as social distancing requirements are put into effect, showings are becoming more difficult to do depending on the location, with some condos not allowing showings at all.  So while the condo market in Miami is still active and not frozen, with no strong indications of panic seen on the buyer or seller sides regarding the current global situation, there is some slow down. 
Also, for those who might be wondering about the longer-term economic health of the real estate market, and if the limited mobility and social distancing could end up increasing the number of distressed properties on the market, most of the real estate and economic experts report that it should be minimal. Others are predicting a bigger impact, but with the increasing Federal and State government reprieves in process, owners of residential real estate and small businesses should find it easier to remain in good standing with their loans and mortgages. In the end, time will tell.
---

Have questions about the data? Want more information about how the market is reacting or need to discuss your potential condo purchase or sale? Call us anytime, and we will absolutely help.
Share your thoughts with us
Sign up now
Get news and updates delivered to your inbox