Most Family-Friendly Condos in Coconut Grove
Dec 08, 2020 December 08, 2020
One of Miami's oldest neighborhoods, Coconut Grove has always been a family favorite with its leisurely pace of life, scenic boulevards, and nautical lifestyle. With a community built to make you feel right at home, it's natural to pick this vibrant neighborhood to settle down in. However, zeroing in on the perfect home can be a bit tricky with many choices, which is why we have ranked the most family-friendly condos in the neighborhood, helping you on your house hunt.
So, which condo buildings are the most family-friendly in Coconut Grove? Condo BlackBook has created the following point system to rank the most family-friendly condos in Miami neighborhoods, awarding them a point each for all the following family-friendly amenities:

Point Ranking Legend
| | |
| --- | --- |
| Amenity | Score (Out of 10) |
| Dedicated Kids' Room | +1 |
| Dedicated Teen Room | +1 |
| Dedicated Kids' Pool or Playground | +1 |
| Game, Club, Social Room - Billiards, Entertainment system | +1 |
| Onsite Sports Facilities - Tennis, Basketball, Volleyball, Bocce, etc. | +1 |
| Two or More Pools | +1 |
| Library/Theater | +1 |
| Onsite Green Space, Park or Promenade | +1 |
| Pet-Friendly | +1 |
| Proximity to Beach or Park | +1 |

Bonus Points
Additionally, some condos may get Bonus Points for outstanding family-friendly amenities, such as golf simulators, bowling alleys, or other luxuries that help Mom and Dad make the kids and themselves happy! 
But before we dive into the list, let's take a look at what makes Miami's Coconut Grove neighborhood so great for families:


---
Why Choose Coconut Grove?
---

One of Miami's most established neighborhoods, Coconut Grove has been voted the "2nd Best Place to Raise a Family in Miami" according to niche.com's 2020 rankings. It's also listed as one of 2020's 5 Best Places to Live in South Florida.
So, what makes Coconut Grove so special? Well, everything from its rich tropical foliage to relaxed Bohemian vibe, historical attractions, museums, parks, collection of top-rated schools, and an outdoor lifestyle make it one of the most unique and gorgeous places to anchor down with the family.
Living in Coconut Grove, you can expect to run into wild peacocks as you enjoy a walk along its scenic oak-shaded streets. The Vizcaya Estate and Gardens plus Kampong Botanical Garden add more color and fragrance to this vibrant neighborhood's already lush scene. There are also parks aplenty that range from the quietly tucked Ingraham to the dog-friendly David T. Kennedy and multipurpose Peacock Park. Also known as the 'Sailing Capital of Miami', not only will you find international regattas such as the U.S. Sail Miami setting off from one of Coconut Grove's many marinas, but also fellow residents boating for a sunset or weekend spin. (Read more about the Coconut Grove's top marinas and yacht clubs here.)
In addition to all of the above, Coconut Grove also features a rare selection of boutiques, outdoor cafés, restaurants, and shops - making it a truly family-friendly neighborhood.


---
Top 3 Family-Friendly Condos in Coconut Grove
---

Based on our CondoBlackbook Family-Friendly Condo Ranking legend above, here are the Top 3 Most Family-Friendly Condo Buildings in Miami's Coconut Grove neighborhood.
2627 S Bayshore DR, Miami, FL 33133
Avg. list price: $998/sq. ft.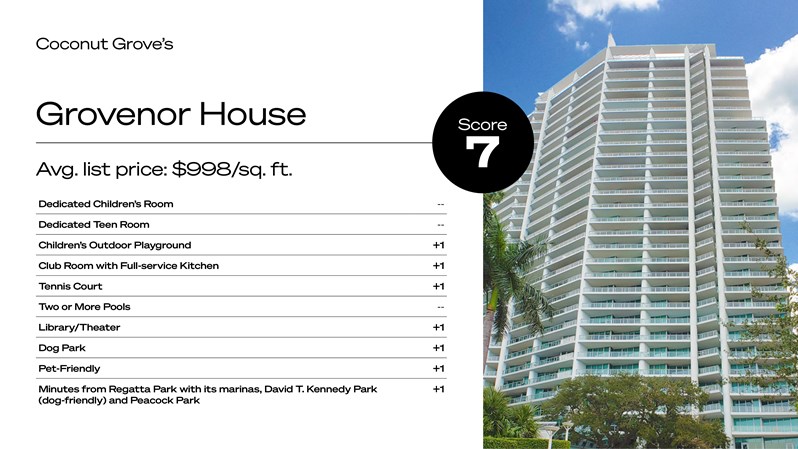 Perched right across from Fresh Market, Starbucks and the famous marina basin of Coconut Grove, Grovenor House sits in the heart of the neighborhood. Developed by one of Miami's top condo developers, Ugo Columbo, this waterfront family-friendly condo building is designed by Revuelta Vega Leon Architects. Setting a new standard for luxury living in the Grove, this 32-story development features 166 expansive condos with sophisticated finishes. Along with many upscale amenities, family amenities include a library and theater, a tennis court, an outdoor playground, a dog park, exclusive access to the "Grovenor Link," a touchpad concierge that directly connects them with local theatres, movie halls, and restaurants for reservations, besides providing first-class in-house services.

Bonus Points - 2
Grovenor House gets 2 Bonus Points for the following additional Family-Friendly Amenities:
Meditation Garden

State-of-the-Art Fitness Center
2669 S. Bayshore Drive, Miami, FL 33133
Avg. list price: $1,153/sq. ft.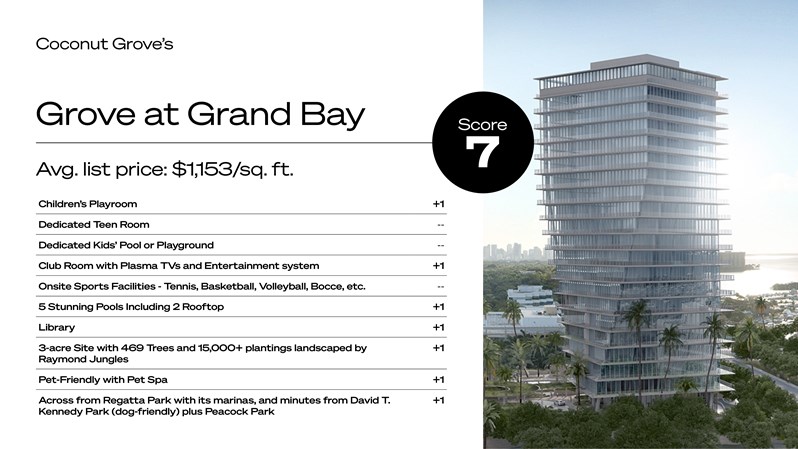 The iconic, easily distinguishable "twisting and dancing" twin towers of the Grove at Grand Bay are designed by the internationally renowned Bjarke Ingels. Sitting across from Coconut Grove's famous regatta and marina basin, they are a beacon of boutique luxury in the heart of the Grove great for families. The towers have a dedicated children's playroom, multiple pools, a library, three acres of park space and are pet friendly, not to mention the location is across the street from Regatta Park. Developed by the Terra Group, one of Miami's leading condo developers, these bayfront towers rise 20 stories each, with the north tower housing 59 condos and the south tower only 37. Each of its modern residences is designed to maximize space, comfort, and views for grand living by the Bay.

Bonus Points - 3
Grove at Grand Bay gets 3 Bonus Points for the following additional Family-Friendly Amenities:
4,000+ square-foot fitness center and spa with private treatment rooms and Jacuzzi

Resident's Lounge

On-site Art Gallery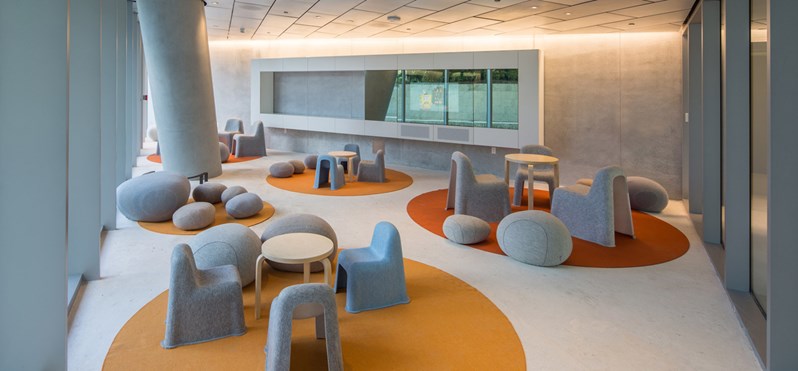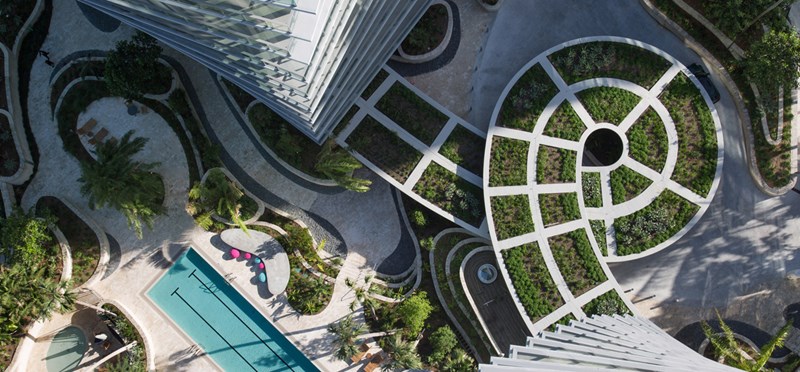 2811 S Bayshore Dr, Coconut Grove, FL 33133
Avg. list price: $1,963/ sq. ft.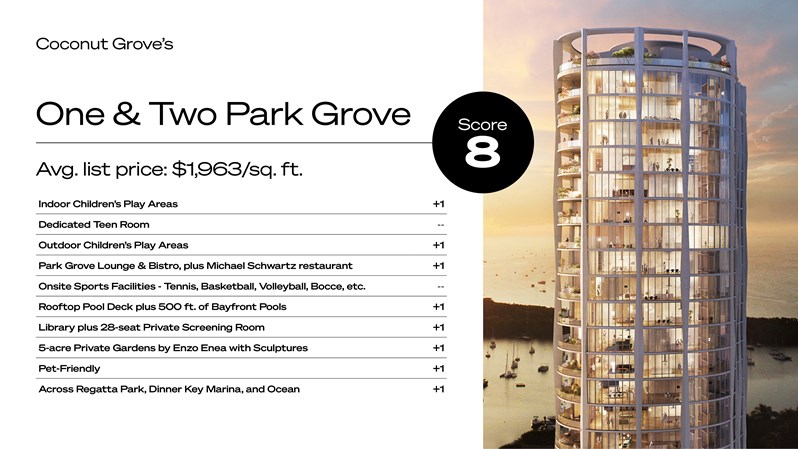 Across the road from the coveted Regatta Park (where world-class sailing competitions take place) plus the newly renovated CocoWalk open-air mall, One and Two Park Grove are built for high-end, family living. Designed by the Pritzker Prize-winning architecture firm OMA/Rem Koolhaas, these stunning, almost cylindrical glass towers draw inspiration from the Grove's palm trees. Their all-glass façade is designed not only to maximize Bay views, but also create sun-filled homes that blur the lines between the outdoors and indoors.
The amenity spaces at these unique, LEED®-Certified buildings are designed by Meyer Davis Studio and feature world-class services and lifestyle options curated by Colin Cowie perfect for families, including five acres of private park space, an outdoor children's play area, indoor children's rooms, an onsite restaurant, and a library and movie room. Each of the upscale residences at Park Grove feature baths and kitchens designed by William Sofield to exude minimalist elegance. It is also worth noting that while One Park Grove rises 20 stories with only three luxury residences per floor, Two Park Grove rises 22 stories with four luxury residences per floor.

Bonus Points - 4
One and Two Park Grove get 4 Bonus Points for the following additional Family-Friendly Amenities:
Nautical Concierge for Booking Yachts, Boats, Sailing Lessons, etc.

Butler Service

Storage for Bicycles and Watercraft

Wine tasting rooms with private wine storage and private dining & event space

Mind-body wellness fitness center, spa and lounge including yoga and spinning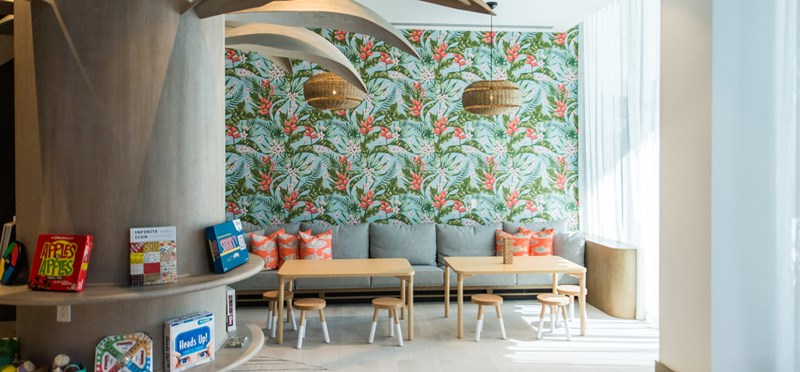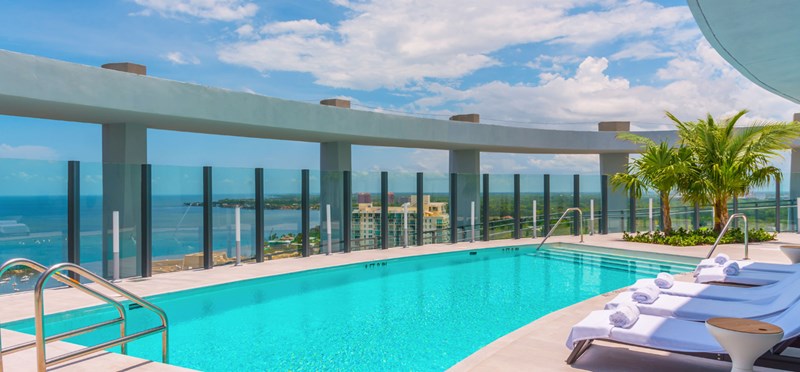 Do you want more information about Family-Friendly condos in Coconut Grove or other Miami Neighborhoods? Give us a call at (305) 697-7667 or email us anytime.
---
Best Preconstruction Family-Friendly Condo in Coconut Grove
---
2655 S Bayshore Dr, Miami, FL 33133
Avg. list price: NA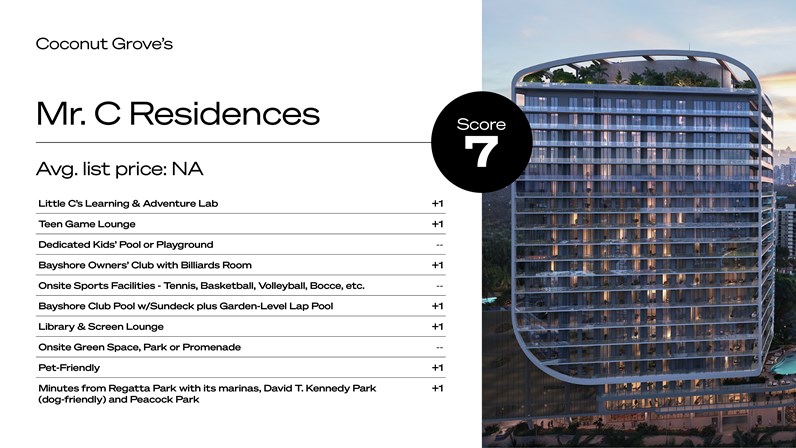 Just minutes from all the world-class sail action in Coconut Grove's yacht club and marina basin, Mr. C Residences is set to deliver the internationally-acclaimed hospitality of the Cipriani brothers to condo living in Miami. Developed by David Martin's Terra Group, the 20-story sail-shaped twin-towers are designed by Arquitectonica and feature interiors with impeccable finishes by Meyer Davis Studio. Each of the 118 modern condo residences have been styled with open floor plans and European refined yet casual elegance in mind, ready to deliver 5-star, family living in the Grove. Family-friendly amenities will include multiple pools, a learning program for small children (Mr. C's Learning Lab), a teen game lounge, a billiards room, library and screening lounge, and pet-friendly. 

Bonus Points - 4
Mr. C Residences gets 4 Bonus Points for the following additional Family-Friendly Amenities:
Signature Café, Specialty Gourmet Market, Wellness Lounge and Juice Bar

In-Home Delivery from Café

Butler Service and Housekeeping Service Available

Whole-Body Fitness Zones including yoga, Peloton, and Wellness Lounge & Spa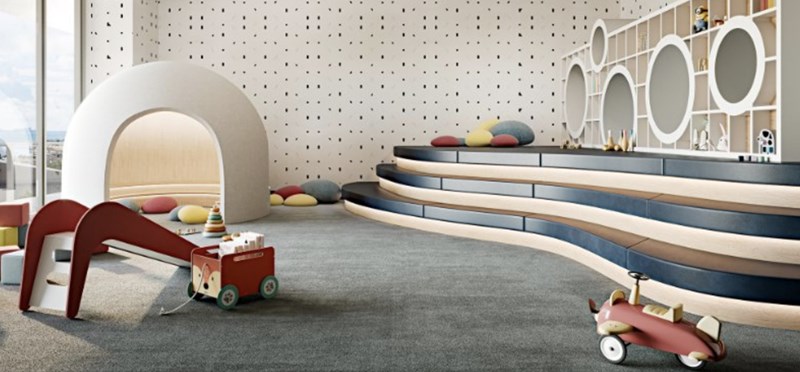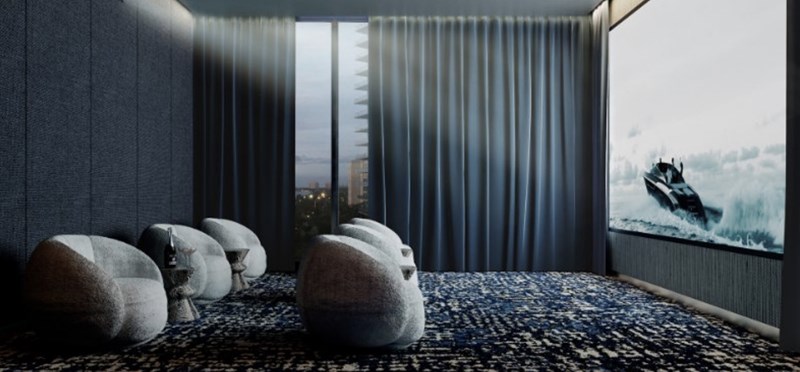 ---
How Safe is Coconut Grove?
---

This scenic, family-friendly village is one of the safest neighborhoods in Miami. With its tree-lined boulevards and suburban feel, you will find plenty of residents out for a walk, jog or bike along the Groves' scenic streets. This is also why it ranks as #2 on the "Best Neighborhoods to Raise a Family in Miami" according to niche.com' survey. The 2020 survey also gives Coconut Grove a grade A in terms of "Good for Families," "Diversity," "Public Schools," "Outdoor Activities," and "Nightlife".


---
Top Schools in and Close to Coconut Grove
---

Being one of the oldest established neighborhoods in Miami, it's no surprise that Coconut Grove houses some of the world's finest private schools such as Ransom Everglades School, Carrollton School of The Sacred Heart, and St. Stephen's Episcopal Day School.
The vibrant neighborhood is also home to many other above-average institutions including the Coconut Grove Elementary School, George Washington Carver Middle and Elementary School, Mater Brickell Preparatory Academy, Mater Grove Academy, and Silver Buff Elementary.
For more information on the best pre-schools and private schools in Miami, simply follow the links for Condo Blackbook's list of top 10s.


---
Best Shopping in Coconut Grove
---

CocoWalk has always been the central shopping and entertainment hub of this urban village. And, with its recently completed renovations, it is back to claiming its No. 1 spot. Post revival, the iconic shopping mall is all set to feature 150,000 square feet of carefully curated retail therapy suited to local needs, a health club, restaurants, cafés, a Cinepolis, and a beautiful central courtyard. (The complex also features a newly constructed 5-story office building).
Besides CocoWalk, Commodore Plaza is another popular, open-air shopping mall that houses an eclectic mix of boutiques and eateries in this vibrant neighborhood. You will also find a unique mix of boutiques, antique stores, jewelry stores, avant-garde fashion stores, and more strewn across the tree-shaded boulevards of Coconut Grove.
For groceries and farm-fresh produce, residents usually head to the local Milam's Market, Fresh Market, or Saturdays-only Organic Market. The Grove also features two Starbucks – one on Grand Avenue and another along S. Bayshore Drive.
See a Coconut Grove condo that's perfect for your family? Or need more options? Call or email us here and an expert will help you find one that fits your bill.
Share your thoughts with us
Sign up now
Get news and updates delivered to your inbox