Need more Miami Art? Here are Miami's Top 25 Art Museums
Nov 23, 2021 November 23, 2021
South Florida has become an increasingly important and influential player in the international art world, thanks to the many high-end cultural offerings that this area has to offer, as well as the annual art fairs, including Art Miami and Art Basel Miami, that bring international visitors. Miami is also home to a wide variety of prestigious art museums, along with some of the world's most iconic private art collectors, many of whom have opened cutting-edge exhibition spaces to showcase their private collections of contemporary art here in the city.  
Revisit Old Masters, discover emerging contemporary artists, or learn about our rich Caribbean and Latin American talent. Explore the worlds of Art Deco design, decorative arts, and architecture, or immerse yourself in an interactive moving image installation. Stroll among garden sculptures, or take in a sprinkling of the illusionary, the erotic, or the supernatural. Whatever your taste in art, Miami offers plenty of opportunities to catch a little culture and enjoy some of the area's exquisite array of wildly diverse art museum spaces. 
Check out our favorite 25 Miami Art Museums below:

Perez Art Museum Miami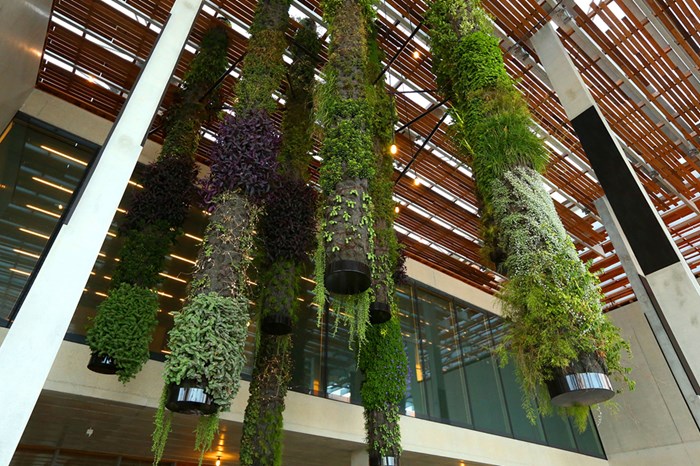 View of the hanging gardens, designed by botanist Patrick Blanc - Photo by World Red Eye

Perez Art Museum Miami (PAMM), set in the Downtown Arts District near Edgewater and Wynwood, PAMM is Miami's foremost art museum and one of the city's  architectural wonders. Designed by the renowned firm of Herzog & de Meuron, and surrounded by a vast deck overlooking Biscayne Bay, the LEED certified structure is inspired by the Stiltsville homes built offshore along the Florida coast during the 1930s. PAMM's permanent collection features international modern and contemporary art from Latin America and the Caribbean, Africa and the African diaspora, and diverse works from the 20th and 21st centuries. The museum offers art classes, artists talks, special events, concerts and outreach programs serving the local community. 

Institute of Contemporary Art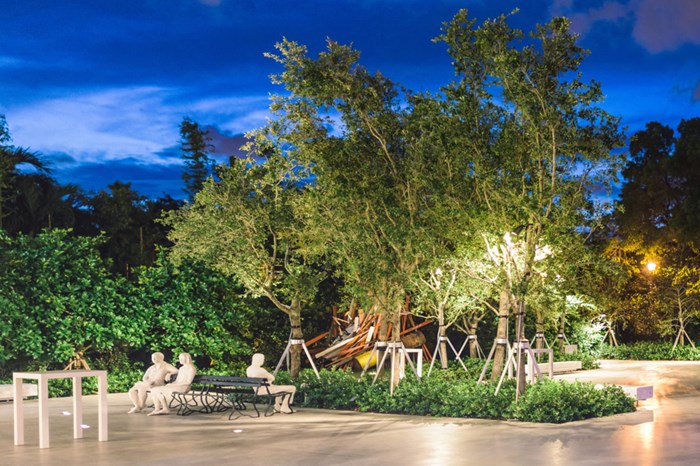 ICA Miami Sculpture Garden - Photo by Javier Sanchez.


Institute of Contemporary Art Miami (ICA) is a jewel set in the heart of the Design District and presents touring exhibitions and a diverse range of work by both renowned and up-and-coming artists. With free admission, an innovative curatorial approach, and a gorgeous structure and location, ICA Miami is one of the defining edifices of contemporary Miami culture. ICA's programming also emphasizes local, emerging and under-recognized artists, providing ongoing opportunities to broaden your artistic horizons and stay abreast of the local and global art scene.

Bass Museum of Art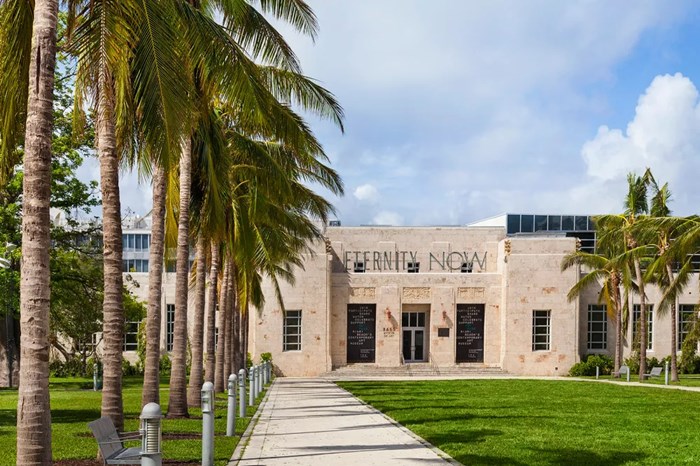 The Bass Museum of Art is a small but impressive art museum located in Miami Beach and showcasing work from its eclectic permanent collection, ranging from Old Masters to contemporary artists from around the world. Founded in 1964 by John Bass and Johanna Redlich, the Museum began as a collection of over 500 works of Baroque and Renaissance paintings, textiles and sculptures that Bass bequeathed to the City of Miami Beach with the condition that the museum remain open to the public in perpetuity. Set in an Art Deco building from the 1930s, and fully renovated in 2017, the Bass currently houses 16,000-square-feet of exhibition space set on a vast lawn across the street from the beach, and has added several public art works to their permanent collection.

Museum of Contemporary Art (MOCA)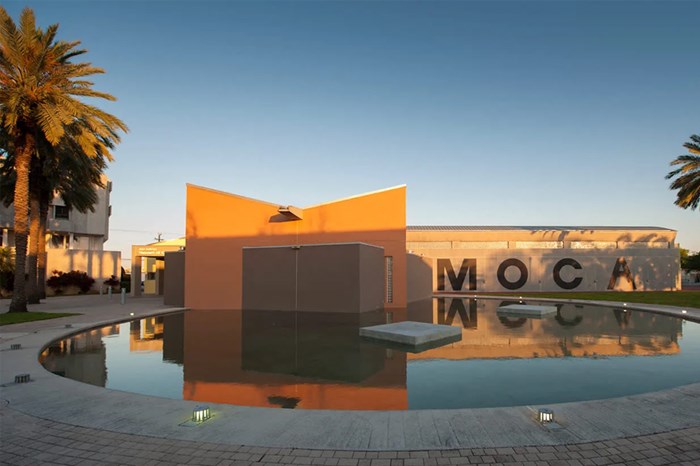 Museum of Contemporary Art, North Miami (MoCA NoMi) is another small museum near Aventura, Sunny Isles Beach, and North Miami Beach, with edgy touring exhibits and a contemporary collection, as well as outreach and educational activities serving the community. MOCA's collection includes a robust assortment of sculptures, paintings, and works on paper, along with some 500 works by local, national, and international contemporary artists, including such iconic names as Keith Haring, George Segal Pablo Cano, Alex Katz, Edward Ruscha, and Teresita Fernandez, among many others.

Museum of Art and Design (MOAD)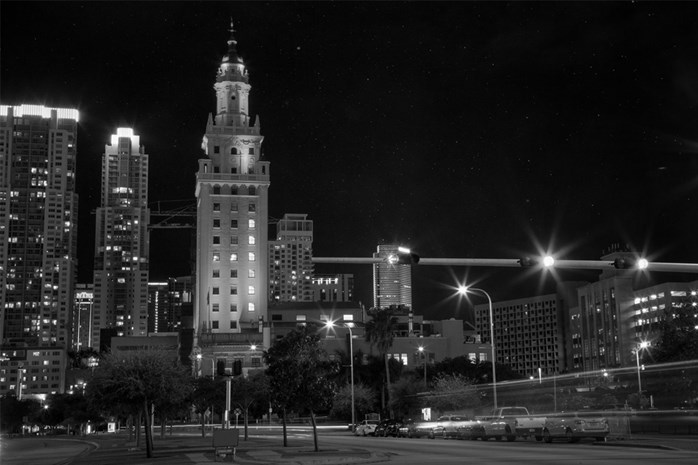 Museum of Art and Design at Miami Dade College (MOAD) is located in the heart of Miami's Downtown Arts District, at the National Historic Landmark Freedom Tower building, built in 1925 as the home of the Miami Herald. The museum features expansive galleries showcasing work by emerging and established artists and designers, and presents rotating exhibits and educational programming. 
Its permanent collection includes a range of work by artists from around the globe, with an emphasis on Latin America and Caribbean artists. The Freedom Tower earned its name because it was used as a processing center that provided assistance for Cuban refugees fleeing political persecution in the 1960s, and the museum also houses a collection of archives documenting this important period in Miami's history.

Lowe Art Museum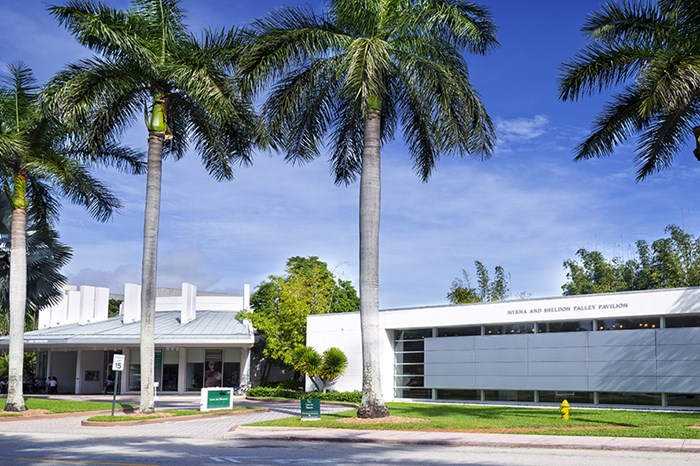 Lowe Art Museum in Coral Gables, originally established by a gift from philanthropists Joe and Emily Lowe in 1950, opened its doors in 1952 as South Florida's first art museum, and is now part of the University of Miami. The Lowe houses 19,250 objects spanning 5,000 years of human creativity on every inhabited continent, including works of fine art as well as culturally or historically significant archaeological and ethnographic artifacts. The Lowe also maintains a diverse collection of public sculptures installed throughout the University of Miami campus in Coral Gables, and offers an array of public programming and events. 

The Wolfsonian Museum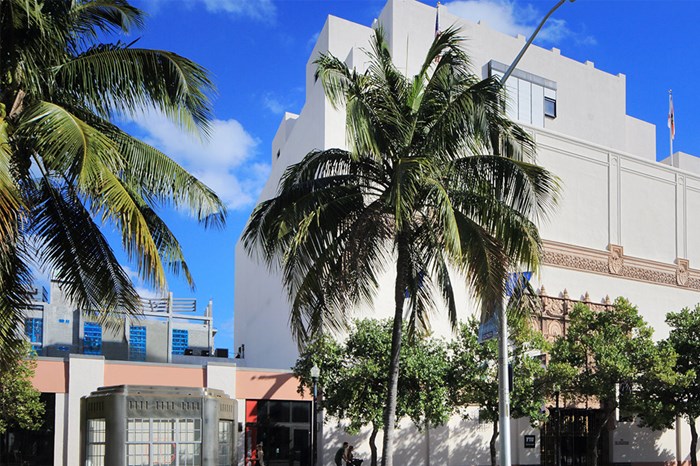 The Wolfsonian-Florida International University, housed in a gorgeous Mediterranean Revival building in the heart of South Beach, is home to a unique museum, library, and research center that features a collection of 200,000 artworks, photographs, design objects, and publications dating from 1850 to 1950. The Wolfsonian's unique mission is to "shed light on the persuasive power of art and design," while exploring "what it means to be modern." Led by Chief Curator Silvia Barisione, the curatorial team creates fascinating exhibits combining historical posters, household objects, clothing, machines, photographs, and films to illustrate their themes.

Patricia & Philip Frost Art Museum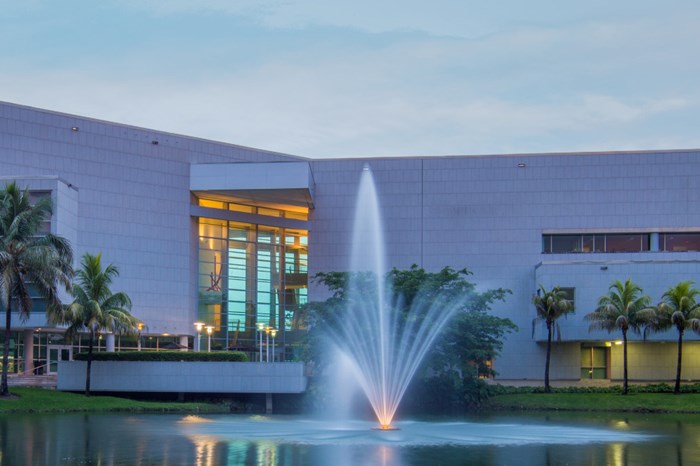 Patricia & Philip Frost Art Museum, located in University Park on the Florida International University campus, houses an eclectic collection of artworks, artifacts, objects, and sculptures spanning pre-Columbian objects to contemporary photography and printmaking, with an emphasis on works by Caribbean and Latin American artists.  The Frost also exhibits traveling exhibitions, and hosts ancillary activities such as artists' talks and events. 

NSU Art Museum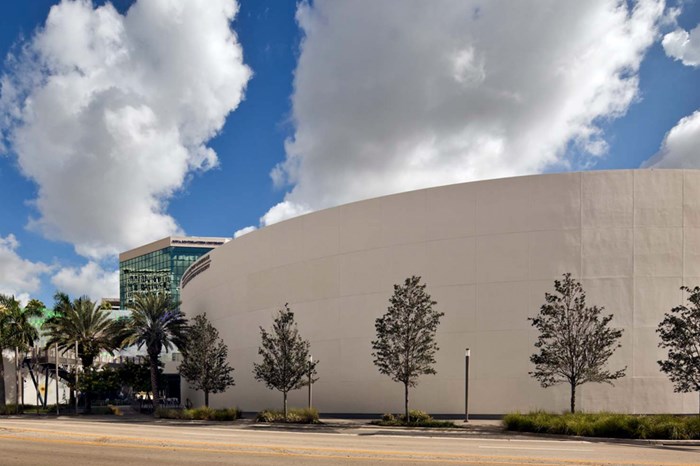 Nova Southeastern University (NSU) Art Museum in downtown Ft. Lauderdale was founded in 1958 as the Fort Lauderdale Art Center and is now managed by NSU. The museum is located in a modernist building designed by Edward Larrabee Barnes, and spans 83,000 square feet.  Set midway between Miami and Palm Beach, NSU Art Museum is considered the hub of the South Florida Art Coast and features 25,000 square feet of exhibition space and a celebrated international exhibition program. Its permanent collection features over 7,500 works by diverse artists across all disciplines, spanning the 19th to 21st centuries, with a significant number of works by Latin American and African artists, as well as women, and artists from the African Diaspora. 

National YoungArts Foundation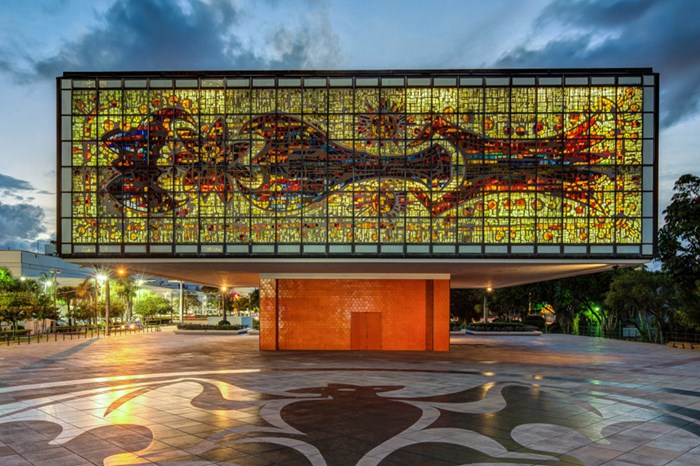 National YoungArts Foundation/Young Arts Gallery in Edgewater is located in the iconic Bacardi Tower, as part of a larger campus recently redesigned by Frank Ghery, to foster the development of America's emerging creative talent. The Bacardi Tower, a Miami architectural icon, was designed by Cuban architect Enrique Gutiérrez in 1963, and features two panels of blue and white ceramic murals by Brazilian artist Francisco Brennand. The Gallery features exhibitions by YoungArts award winners, as well as guest artists. The Jewel Box, also located on the YA campus, features spaces for performing arts workshops, rehearsals, and public performances.   

Rubell Museum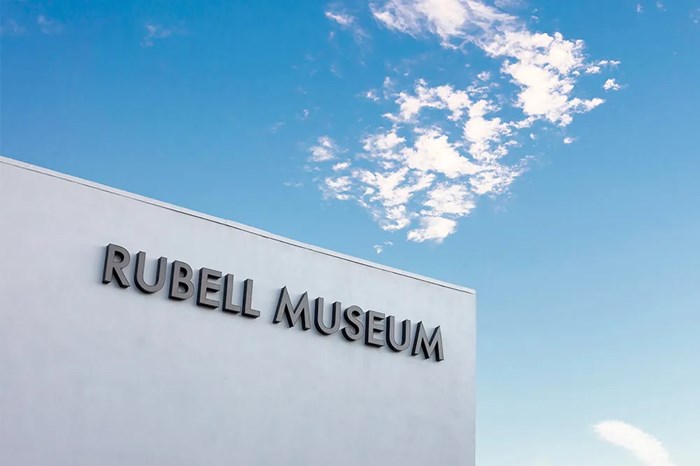 The Rubell Museum, formerly of Wynwood and now in Allapattah, is stewarded by Don and Mera Rubell, two of Miami's most well-known and important art collectors. The collection includes about 7,200 works by over 1,000 artists, and that number increases yearly by the hundreds. The Rubell presents rotating exhibits at their 100,000-square-foot warehouse refurbished by Selldorf Architects. The museum consists of 40 galleries, a library, and a restaurant, and houses one of the most controversial and edgy contemporary art collections in the U.S. and the world. 

de la Cruz Collection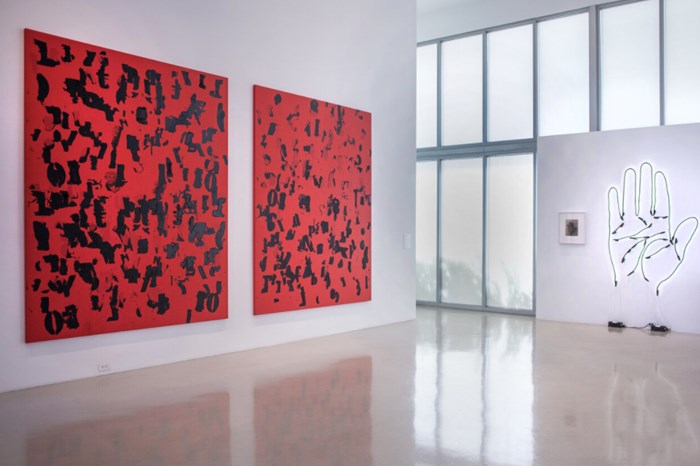 de la Cruz Collection Contemporary Art Space in the Design District is owned by businessman and art collector Carlos de la Cruz and his wife Rosa, and houses their impressive art collection, which they open to the public free of charge. The 30,000 square foot museum provides annual exhibitions with an emphasis on contemporary art, and supports the local community through public programming that includes lectures and artists' talks, educational workshops, student travel, and college preparatory programs.

Girls' Club Collection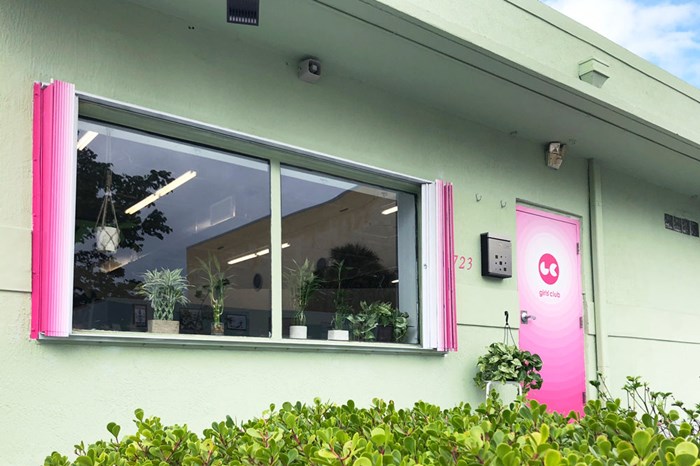 Girls' Club Collection in Ft. Lauderdale is a private foundation and alternative exhibition space established in 2006 by visual artist Francie Bishop Good and her husband, David Horvitz, housing a collection of over 800 works of art, 80% of which are by female contemporary artists.  As the only private collection in the world that is currently open to the public and focused specifically on the work of women, Girls' Club curates rotating exhibitions, and provides educational programming, publications, and events that transform lives, support local artists, and expand South Florida's cultural horizons. 

Juan Carlos Maldonado Art Collection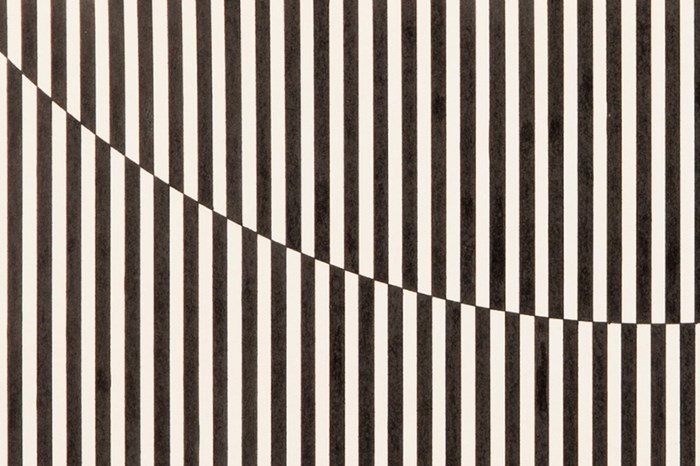 Juan Carlos Maldonado Art Collection: Ernesto Briel: Iridescent Geometries | Miami Design District

Juan Carlos Maldonado Art Collection (JCMAC)  is a unique private collection that supports and promotes the study and recognition of Geometric Abstraction and constructivist work in diverse disciplines. The collection traces the development of geometric abstraction in Latin America from the 1930s to 1970s, and focuses primarily on modern art. The collection also features works by European and North American artists such as Alexander Calder, Victor Vasarely, and Kenneth Noland, whose constructivist ideas and use of chromatic planes, optical illusions, and kinetic effects strongly influenced Latin American artists.

The Margulies Collection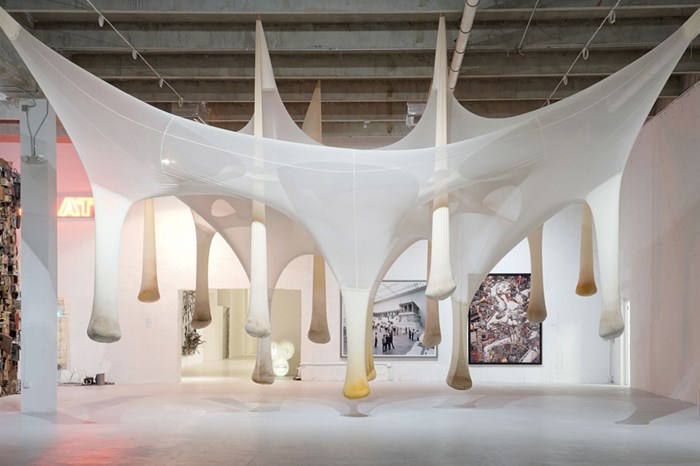 The Margulies Collection, housed in a 50,000 square foot warehouse in the Wynwood Arts District, presents work from the private collection of Martin Z. Margulies, who has been collecting art since the 1970s. The Margulies collection features over 4,500 works, with an emphasis on photography and large-scale sculpture. Established in 1999, the Margulies Collection donates its admission fees to benefit Lotus House, a local shelter that provides advocacy for homeless women and children. The collection also provides educational programs and an international loan program to other art institutions.

Vizcaya Museum & Gardens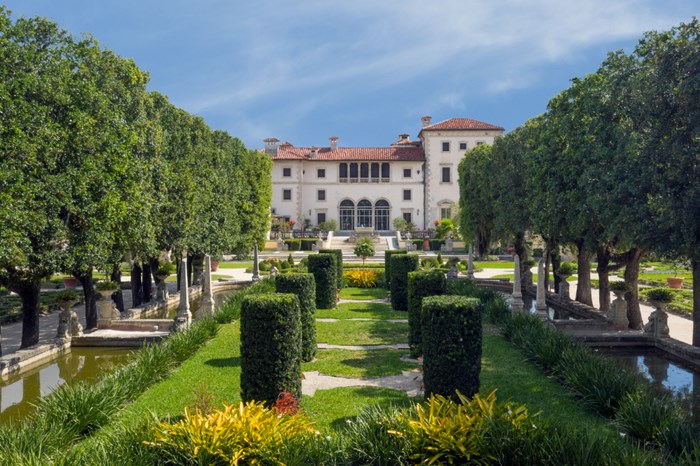 Vizcaya Museum & Gardens was built between 1914 and 1922 as the waterfront villa and estate of local industrialist James Deering, who was also an art collector and conservationist. Set in a natural mangrove forest on the waters of Biscayne Bay in Coconut Grove, Vizcaya is one of Miami's most unique museums, housing an eclectic collection of furniture, tapestries, sculptures, and collectables from around the world, as well as early 20th-century paintings. Set in a Mediterranean Revival villa, amid manicured European gardens and grottos, fountains, garden sculptures, and other ornate architectural features, Vizcaya also houses a collection of exotic subtropical flora and fauna. The museum hosts special events, such as film and lecture series, as well as commissioned installation works by contemporary artists.

Coral Gables Museum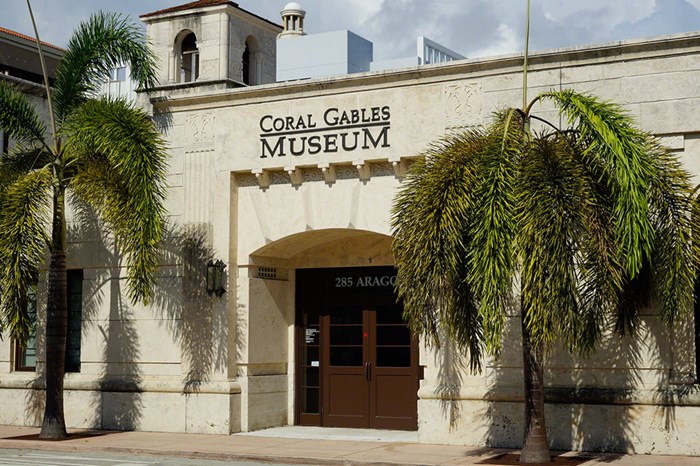 The Coral Gables Museum began its life as a humble police and fire station in The City Beautiful, but now consists of a 3,000-square-foot gallery and a 5,000-square-foot public plaza that curates exhibits and programs that celebrate Coral Gables and explore the built environment. The permanent collection focuses on the civic arts of architecture, as well as urban and environmental design, and works detailing the history, vision, and cultural landscape of Coral Gables.

Museum of Graffiti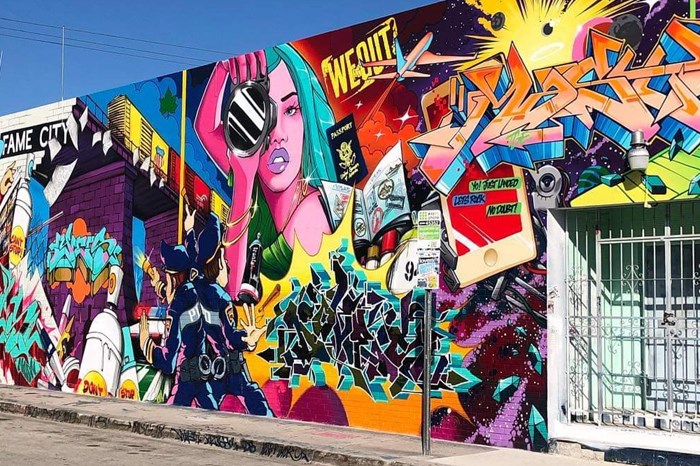 Museum of Graffiti is Wynwood's only art museum, and showcases street art and graffiti artists, with exhibitions that provide insights into the history of graffiti, its trends, urban subculture, and the thousands of artists who have transformed public spaces through their vibrant works.

Jewish Museum of Florida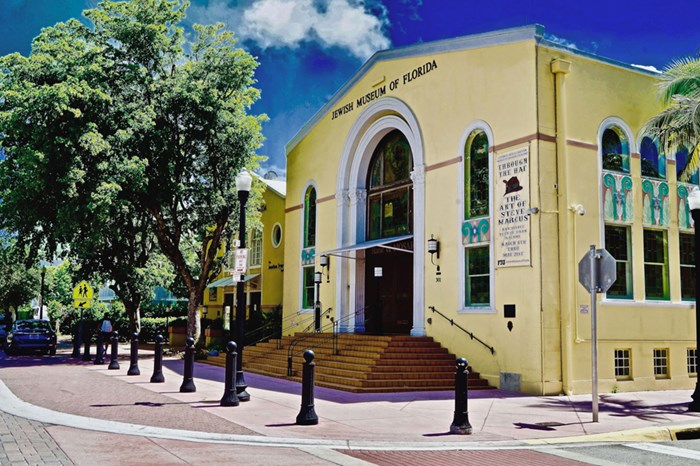 Jewish Museum of Florida at FIU in South Beach is set in a magnificent Art Deco structure built in 1936, that features a Moorish copper dome, 77 stained glass windows, a collection of Art Deco chandeliers, and marble bimah.  The museum is home to an eclectic collection of artworks by diverse artists in varying disciplines, as well as films, historic objects, and artifacts that address a broad array of topics pertaining to the history and culture of Miami Beach's international Jewish community, with many works by Jewish artists from Latin America and the Caribbean. 

Haitian Heritage Museum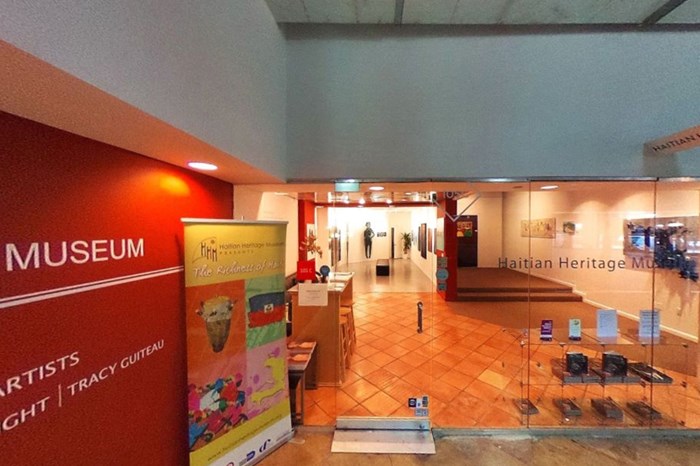 Haitian Heritage Museum in Little Haiti is committed to preserving and showcasing Haiti's rich culture and heritage in Miami and globally through curated exhibits of Haitian art, historic artifacts and a collection of celebrated Haitian literary works. The museum also hosts special events such as Haitian musical concerts and film series, as well as guest lectures, and artists' talks. 

Cubaocho Museum and Performing Arts Center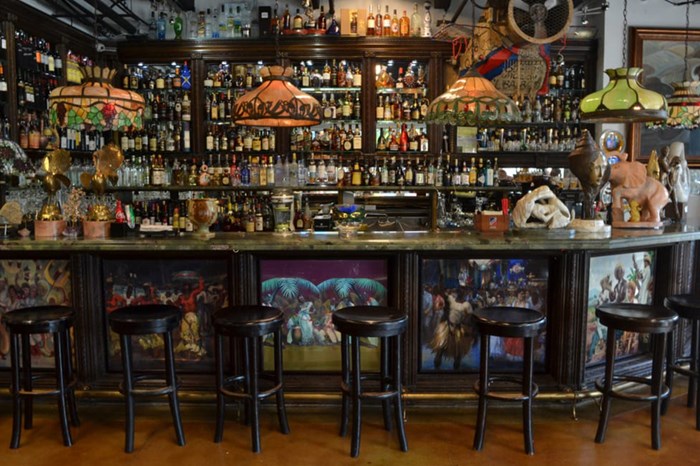 Photograph: Courtesy Yelp/Yami G.


Cubaocho Museum and Performing Arts Center in Little Havana is another of Miami's most atypical museums, as the museum also serves as an alternative gathering space in which "art, music, dance, cigars, and mojitos converge." Cubaocho houses a collection of 19th century and early- to mid-20th century Cuban art, a research library focused on the history of the rum and cigar industries, and a bar with an impressive selection of international rums. The museum hosts diverse special events, and concerts featuring everything from salsa to Cuban jazz legends.

Wilzig Erotic Art Museum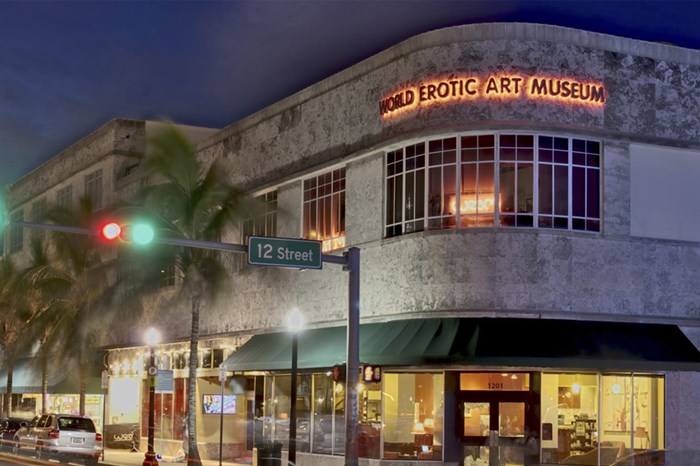 Photo courtesy Robert Harbour

Wilzig Erotic Art Museum (WEAM) in Miami Beach is another uniquely Miami experience. A museum, library, and educational resource center, the WEAM uses its collection to illustrate and educate the public on the history of erotic art. Showcasing the wildly eclectic collection of the late Naomi Wilzig, the WEAM exhibits erotic art and artifacts gathered from around the world, spanning centuries of human civilization. Roman antiquities and pre-Columbian artifacts are featured along with Japanese shunga illustrations, and Old Masters such as Rembrandt join 20th century artists like Salvador Dalí and Robert Mapplethorpe. Truly an unforgettable experience.

Wiener Museum of Decorative Arts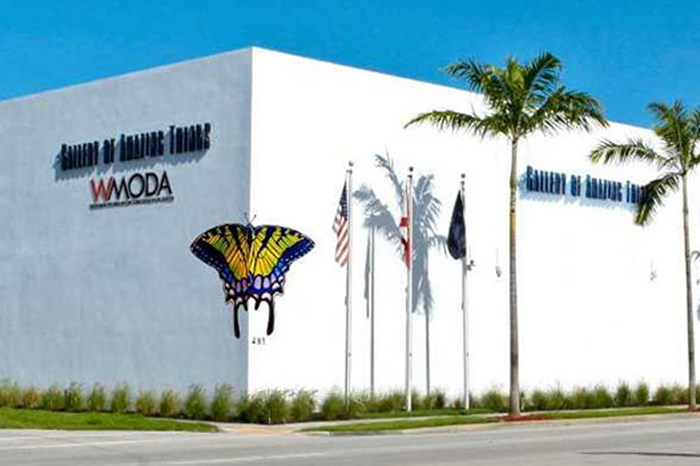 The Wiener Museum of Decorative Arts (WMODA) is a small museum in nearby Davie that houses a world-class collection of ceramic art and studio glass pieces. The museum also features curated exhibits of decorative fired art works from their permanent collection. In addition to a significant collection of gorgeous glass pieces by Lalique and Chihuly, the museum also houses a collection of British and European pottery and porcelain from the 19th and 20th centuries, including Wedgwood, Royal Doulton, and Lladró. 

Museum of Illusions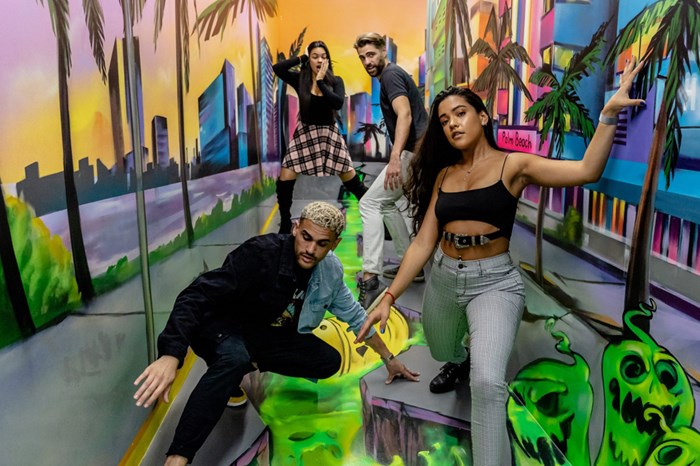 Museum of Illusions in Miami Beach is the stuff of social media dreams, offering a series of unique experiences that provide an endless supply of imaginative backgrounds for selfies – which are highly encouraged. Fuel your imagination with over 40 eye-popping 3D illusions and works of visual wizardry, inspired by pop art, cartoons, movies, current events, and human curiosity. Take a magic carpet ride, experience the thrill of walking on the edge of a skyscraper, or risk your life crossing a menacing lava bridge. In the "Smash It!" space, you can release any inner negativity by directing your stress-filled thoughts to smash dishes. Conceived and created by experimental artists, the Museum of Illusions has become one of Miami's most popular museum attractions.

Coral Castle Museum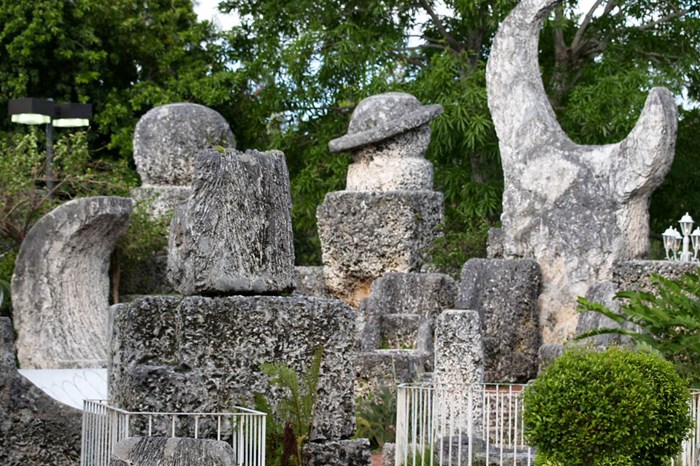 Coral Castle Museum in Homestead is perhaps Miami's weirdest museum of art, but is definitely a worthwhile attraction with a supernatural mystery behind it. The legend surrounding the 1,100-ton natural stone structure is that it was built single-handedly by a Latvian immigrant named Edward Leedskalnin, a self-taught engineer known for developing theories of magnetism. Built entirely in secret as an homage to an unrequited love, no witnesses ever saw Ed actually building the castle between 1923 and 1951. In fact, rumors circulated that Ed had supernatural powers, as he claimed to possess "the secrets of the pyramids." Whatever you choose to believe about this mysterious assemblage of unique, hand-crafted stone sculptures, it's worth a drive out to Homestead to check it out. The Coral Castle was added to the National Register of Historic Places in 1984. 
Fortunately for local art lovers, the artistic renaissance and expansion that we've seen here in South Florida in recent years doesn't seem to be slowing down any time soon, so we can count on enjoying these fabulous art experiences – and perhaps some additional new ones – for years to come. Have a favorite museum or art collection we've missed? Let us know - we're on Instagram at @blackbookproperties or send us a message here! 
Share your thoughts with us
Sign up now
Get news and updates delivered to your inbox