New 76-Story Tower Proposed by Architect Charles Sieger for Downtown Miami
Jul 24, 2015 July 24, 2015
A new 76-story residential tower has been proposed for the downtown Miami area by Charles Sieger, an architect from the area.
Sieger's company, Sieger's Liquid Lofts, LLC, which Sieger owns a 100% stake in, is taking charge on the project, which will be located at 37 Southwest First Street, next to the Macy's in downtown Miami. It will be built on a half-acre lot, replacing the parking garage that is currently there.
If the project is approved, the tower would house 482 residential units, some commercial space, and some restaurant space. The plan does also call for 314 parking spaces, even though they are not required to do so, due to the closeness of the Metromover station.
The tower's highest point, 866 feet above ground, will be an architectural feat, and the plan is being reviewed by the Federal Aviation Administration in order to make sure it is legal. The top of the building itself will only be 822 feet above the ground.
The Miami board will need to grant the company a setback variance. The Planning and Zoning Department of Miami is recommending that the plans and approval be denied.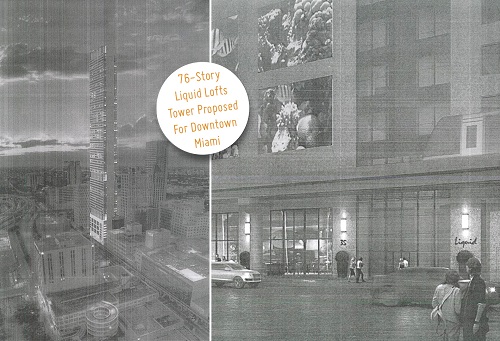 Source: thenextmiami.com
Photo credit: thenextmiami.com
Share your thoughts with us
Sign up now
Get news and updates delivered to your inbox