New Soccer Field Coming to Paramount Miami Worldcenter
Feb 12, 2015 February 12, 2015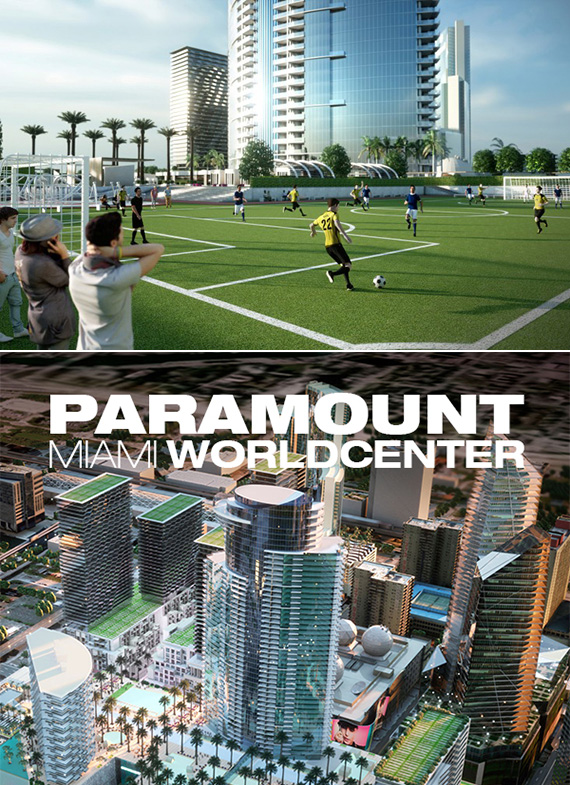 As the Miami Worldcenter is developing its recently announced Paramount section of the megaproject, Miami Worldcenter, a new soccer field is being added to the ninth floor, complete with all the needs and amenities of a fun day of soccer.
Daniel Kodsi, developer of Paramount Miami Worldcenter, released this information and a rendering of the 60-story project, saying that the ninth floor will be the "recreation deck," and will house tennis courts, pools, a running course, and of course, the soccer field. 12 Balinese-styled, two-story villas are around the pools, while other water features will be scattered on the same floor.
On the recreation deck's indoor section, residents are able to work out in the fitness center or boxing studio, or enjoy the jam room with drums, guitars, a piano, and a recording room.
The $400 million Paramount condo project is being developed in partnership with developers Nitin Motwani and Arthur Falcone of the Miami Worldcenter. It is expected to finish by the summer of 2018.
The billion dollar Miami Worldcenter is being built on 28 acres of land in the downtown Miami area. It is being built by Suffolk Construction.
Source: therealdeal.com
Photo credit: Paramount - paramountmiami.com
Share your thoughts with us
Sign up now
Get news and updates delivered to your inbox